Craving something sweet? These vegan sweet potato pancakes are the perfect healthy dessert and you can even serve them at breakfast! Give them a try!
The sweet potato is a starchy, sweet-tasting root vegetable. Though both of them may be called potatoes, sweet and normal, white potatoes are actually pretty distant relatives, and sweet potatoes also have fewer calories.
Sweet potatoes are a rich source of fibers and they contain plenty of vitamins and minerals, such as iron, calcium, selenium, vitamins B and C. Just as carrots, whose taste they resemble a little, they are high in the antioxidant beta-carotene, which, once consumed, converts into vitamin A. You may get 35-90% of your daily recommended value of vitamin A depending on the potato's size, and that's pretty amazing.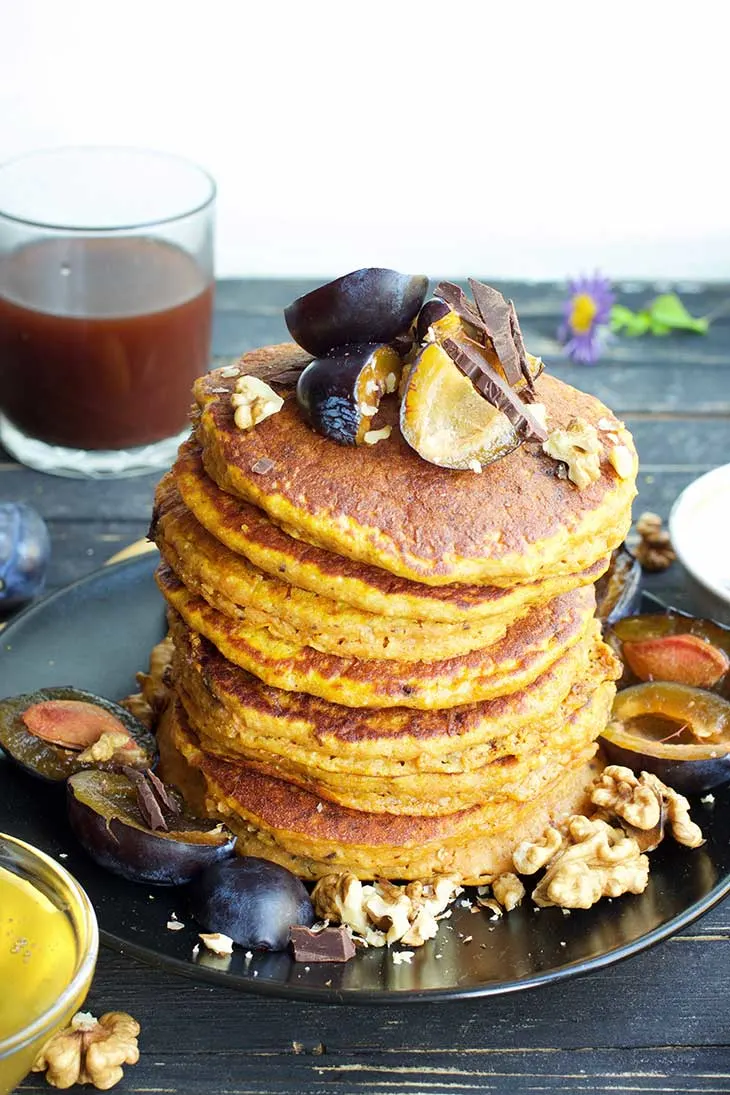 It's also known for improving digestion when consumed regularly, due to its high fiber content… and it's delicious as well! Beyond classic Christmas casseroles, you might be surprised to find the sweet potato in some dessert recipes as well, such as pancakes. Yep, you've read it right.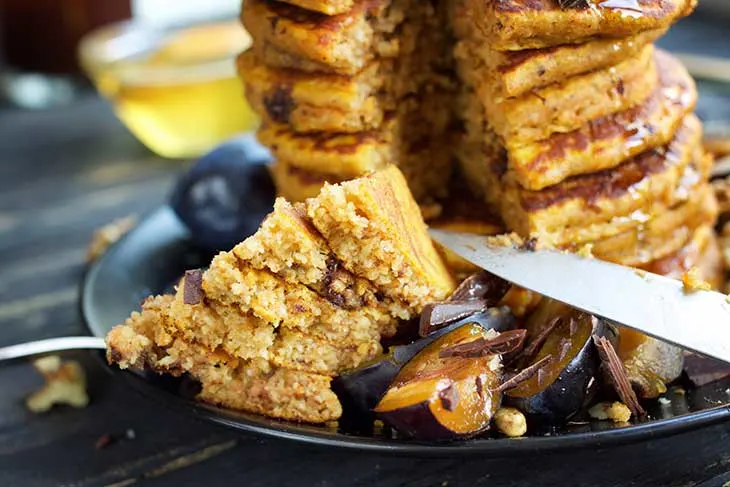 Let's face it. When you're feeling under the weather, it's gloomy outside and you've had a bad day, a few things will cheer you up more than cooking a batch of fluffy pancakes. When you're sad, they're a mood-lifter; when you're happy, they're a means to celebrate.
There's really no bad time for this delicious dessert, as American pancakes are a gift from the heavens. They're often served in stacks, topped with a square of butter over which you might drizzle maple syrup or honey.
The perfect pancakes should be thick, but light and fluffy. They should be sweet, but not too sweet, allowing you to add toppings such as maple syrup, chocolate or fruit without them being overwhelming. And most of all, they should be enjoyed even by the pickiest eater.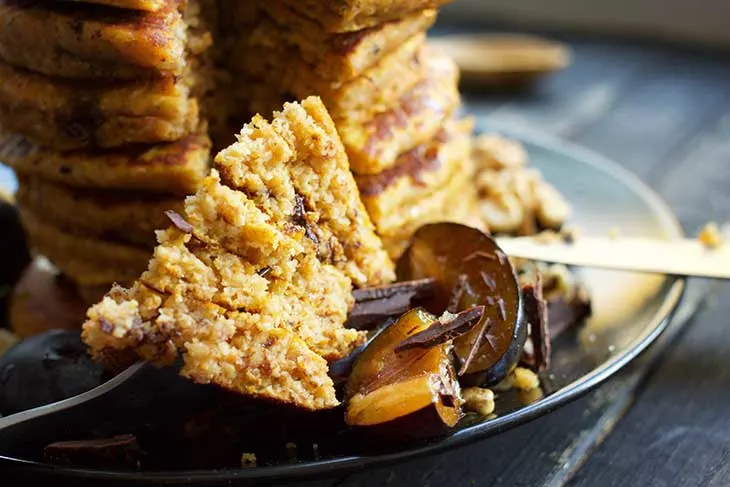 Unlike crepes, American pancakes are much thicker; this allows for additions to be mixed into the batter, such as blueberries, chocolate chip cookies, and even bacon. But usually, the traditional American pancake batter contains a lot of sugar, which, I'm sure you know, is not that great for you.
For a nutritional value boost, you can replace the sugar content with mashed sweet potatoes. They are sweet, soft and moist, and act as an amazing base for a variety of baked goods. Adding this to your pancake mixture will give your pancakes a sweet flavor without the use of sugar, plus a boost of fiber while keeping the moisture and thickness of the batter.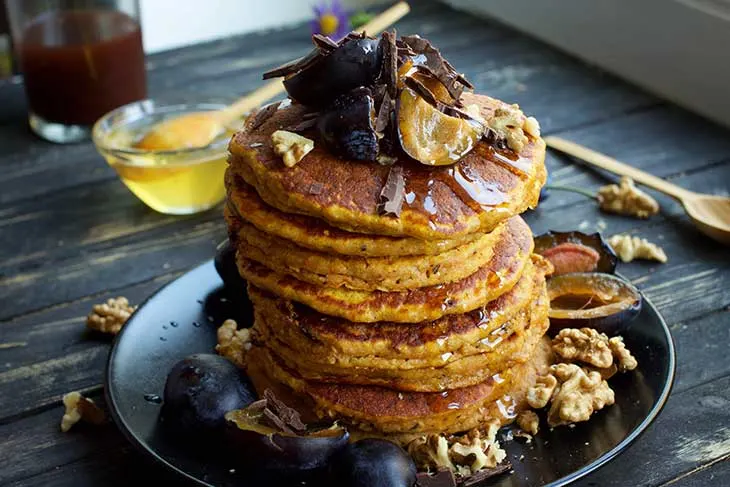 The mashed sweet potatoes resemble the pumpkin flavor a bit, so it will give a cozy, festive vibe to the pancakes, and a lovely light orange color. Plus, this can be a really affordable habit and a way to use those sweet potato leftovers from last night's dinner, which you probably would've dumped in the trash anyway. The sweet potatoes won't ruin your pancakes in any way!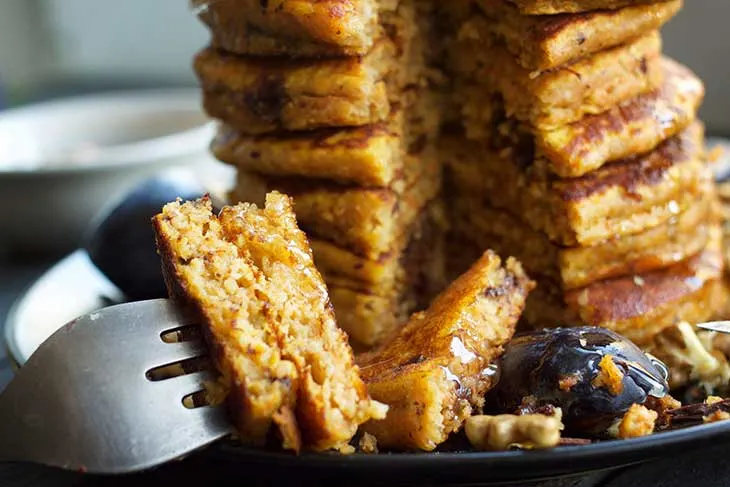 You can top these amazing vegan sweet potato pancakes with just about anything you like. Some delicious options are fruits (bananas, berries, plums, peaches and so on), whipped cream, yogurt or chocolate chips. You can drizzle some maple syrup over them if you like your pancakes a bit sweeter, but bear in mind that the sweet potato really does its job as a sugar-replacement here, so don't overdo it.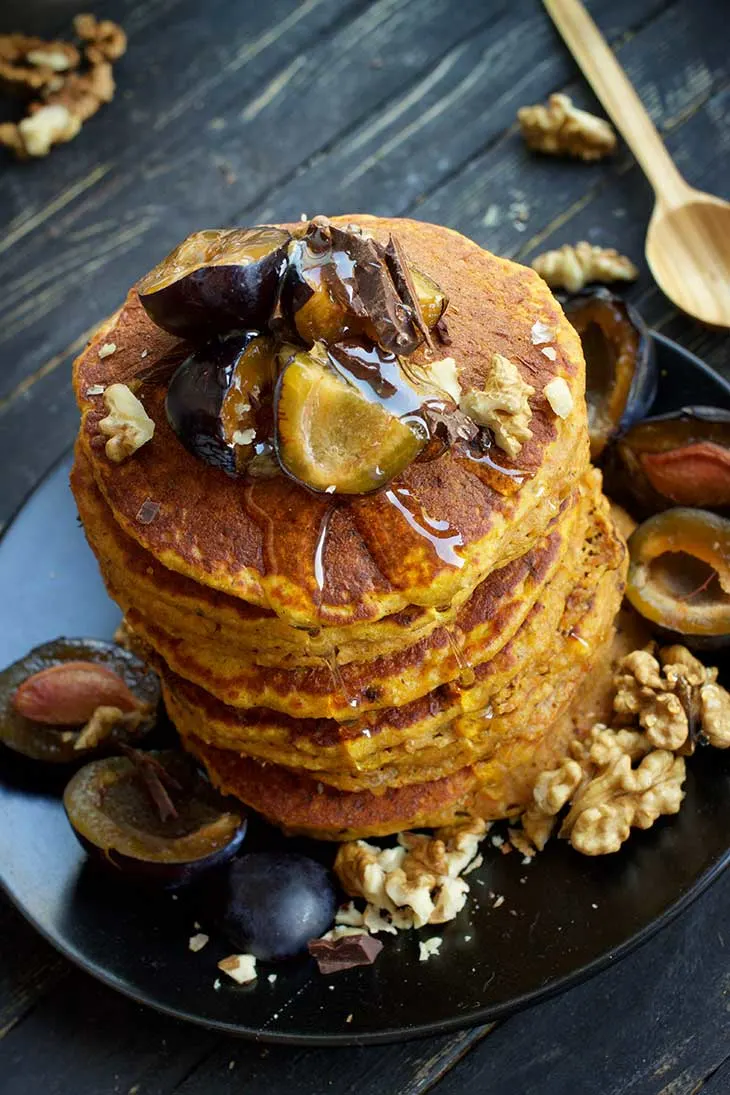 Try this recipe for healthy and delicious vegan sweet potato pancakes the next time you're having some sweet potato leftovers, or even on a regular lazy Sunday morning when you feel like making pancakes. It's sure to become one of your favorite breakfasts and you're going to wonder where has this recipe been all your life! 🙂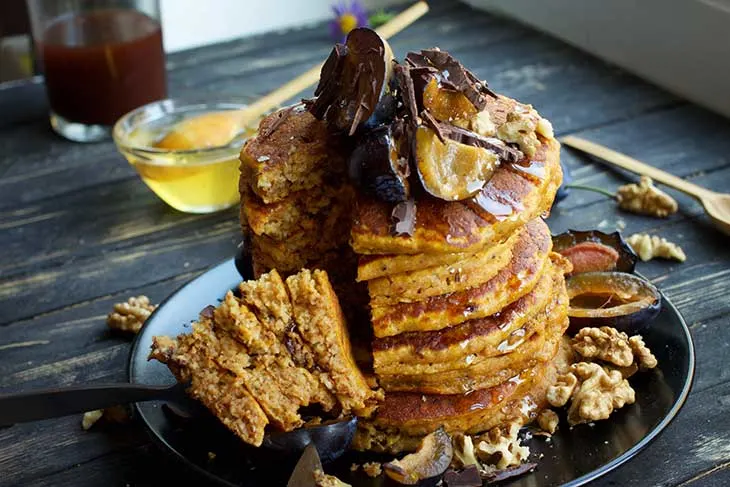 Yield: 2+
Vegan Sweet Potato Pancakes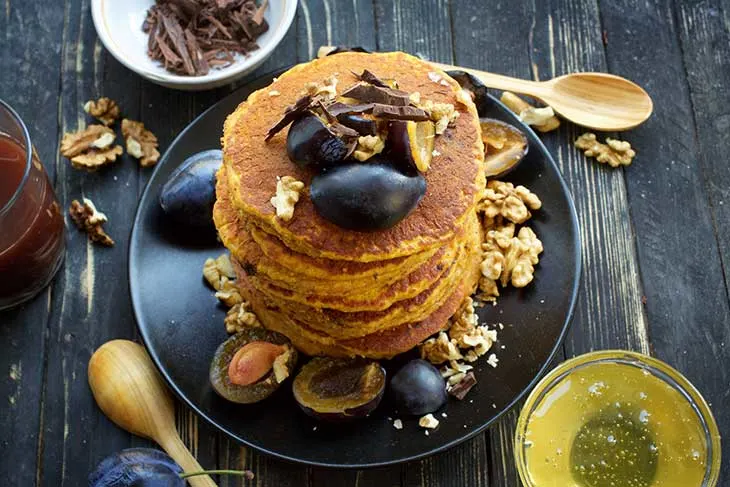 Craving something sweet? These vegan sweet potato pancakes are the perfect healthy dessert and you can even serve them at breakfast! Give them a try!
Ingredients
200g (1 ¼ cups) old-fashioned oats
½ tsp baking powder
½ tsp baking soda
½ tsp salt
250ml (1 cup) nut milk
200g (1 cup) sweet potato puree, canned or fresh
2 flax eggs = 2 Tbsp flaxseed meal + 2 Tbsp water
3 Tbsp maple syrup
2 Tbsp coconut oil
2 tsp apple cider vinegar
1 tsp vanilla extract
½ tsp ginger powder
½ tsp cinnamon
½ tsp nutmeg
2 Tbsp coconut oil for frying
Instructions
In a small bowl, add the flaxseed meal and water for the flax eggs. Set aside.
In a blender, add the old-fashioned oats, baking soda, baking powder, salt and blend until you get an oat powder.
Add the milk, sweet potato puree, flaxseed mixture, syrup, coconut oil, cider vinegar, vanilla, ginger, cinnamon, and nutmeg.
Mix for a few seconds until smooth.
Set a skillet on a medium heat.
Add a little bit of coconut oil.
When hot, scoop about 1 ½ Tbsp batter into the skillet.
Cook for about 2-3 minutes, then flip it over and cook for 1 more minute.
Repeat with the rest of the batter.
Serve with fresh fruits and nuts. Add some more syrup if you wish.
Nutrition Information
Yield
2
Amount Per Serving
Calories

997
Total Fat

51g
Carbohydrates

113.6g
Protein

20.7g