Here's a delicious classic dessert turned 100% vegan – the carrot cake! Give this vegan carrot cake with frosting a try and you won't regret it a bit!
Carrot cake is something that seemed odd to me at first – vegetables? In a dessert? I think it's safe to say that I was a little reluctant. After the first bite, I thought "Hmm… interesting". And after the second, I was completely hooked. The classic carrot cake remains one of my favorite desserts ever! 🙂
As it happens with many of the world's greatest recipes, the roots of the carrot cake are disputed throughout the world. Many believe its oldest ancestor to be dating from as back as 1591 when the Brits published a recipe for "pudding in a carrot root" (originally typed pudding in a carret root).
This one was basically a stuffed carrot, and while that may sound gross, it had many similarities with our beloved carrot cake: shortening, cream, eggs, raisins, sweetener, scraped carrot and breadcrumbs (because they were cheaper than flour).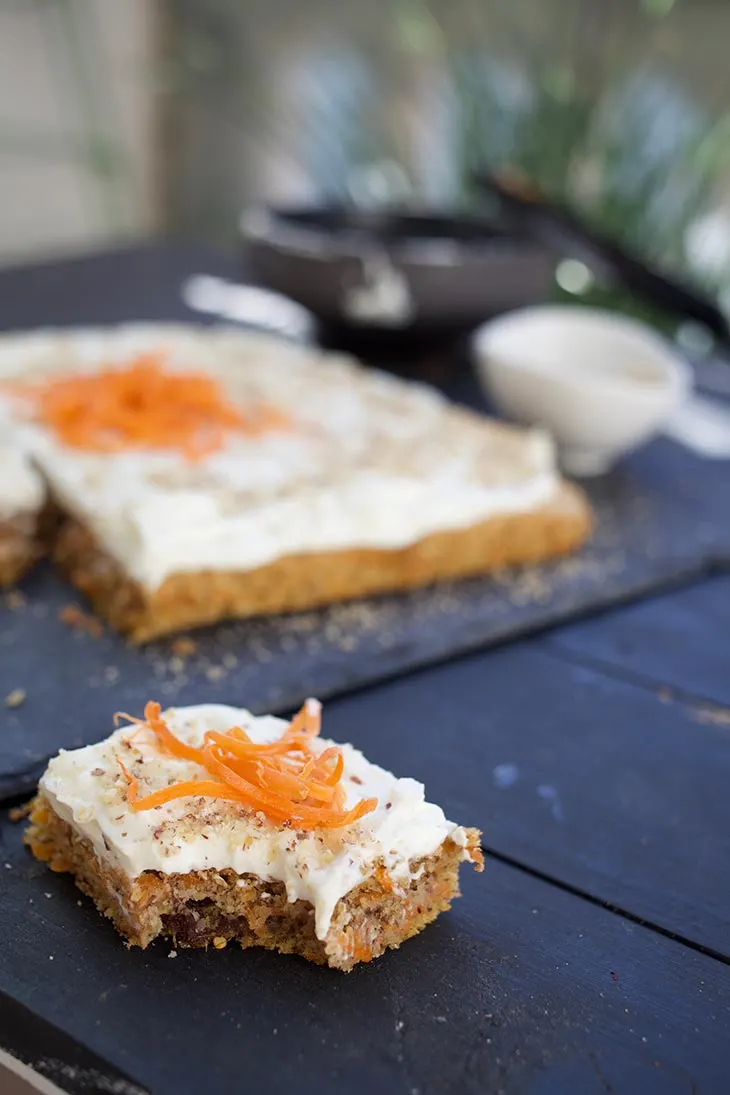 These types of puddings were a common occurrence during the Middle Ages, and carrots were widely used in desserts because their natural sweetness was usually cheaper than sugar and other sweeteners. So yeah, many people used carrots as a substitute for sugar – who would've thought?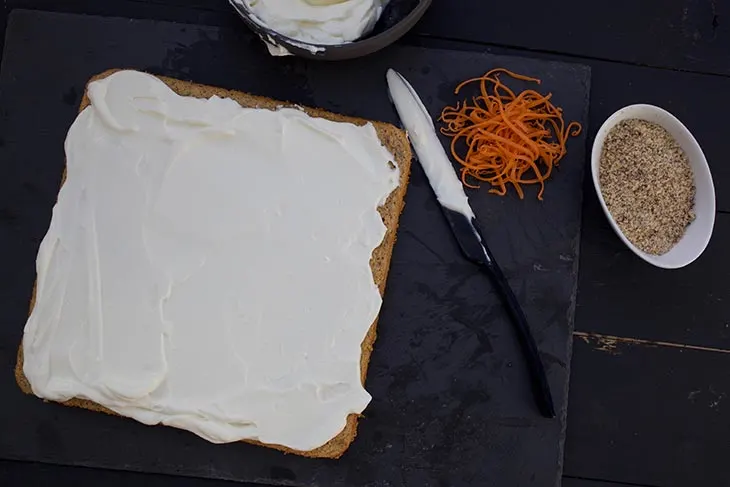 But carrot cake gained its popularity during World War II, thanks to food rationing. In Great Britain, sugar was rationed to 230g per week, so carrots became a substitute for sweetener. People began using them for cakes, biscuits and other desserts.
Nowadays, sugar isn't a problem anymore. In fact, it's one of the cheapest ingredients around the world. So what could stop us from making this amazing recipe for vegan carrot cake? 🙂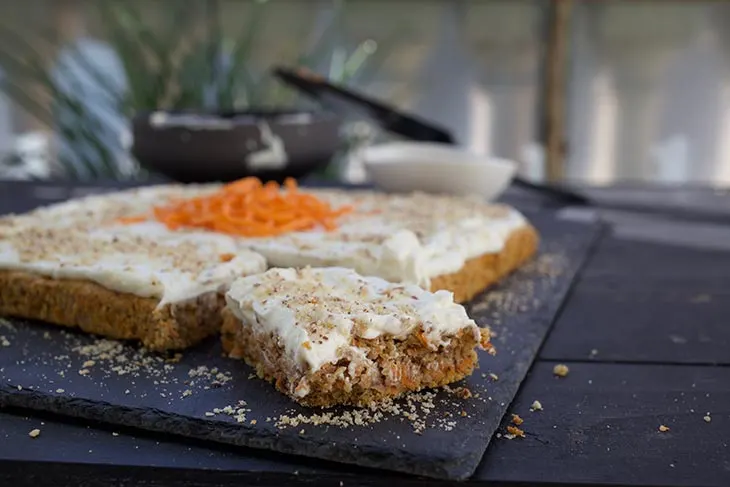 Carrot cake is pretty easy to "veganize", as it already contains a lot of vegan ingredients. The hardest part would probably be the frosting. You can make a cream cheese-like frosting using some blended nuts.
From my experience, a mix of macadamia and cashews works best, as they're naturally sweet nuts and when blended they acquire a creamy, smooth texture. You then need to add some sugar and some lemon juice to counterbalance all of that sweetness. In order to get this super creamy texture, I recommend soaking your macadamias and cashews in advance and using a high-speed, good quality blender.
Other frosting options would be coconut cream and plain blended vegan cream cheese. Today I decided to use vegan cream cheese because I want this recipe to be delicious, easy and quick! 🙂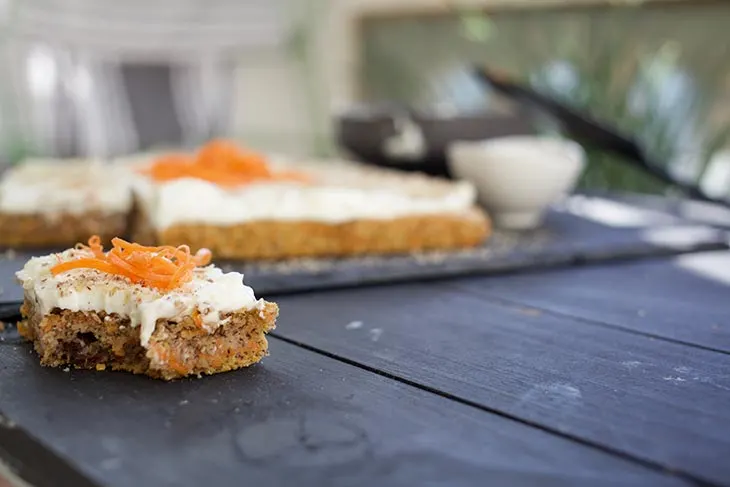 This cake turned out amazing. It has a spongy, moist texture, and the sweetness is just on point – not too much, not too little. And now that I think about it, you can pretty much enjoy this cake without guilt, 'cause it's probably the healthiest dessert option out there! If you don't go overboard with the sugar, that is. I mean, you're getting your veggies in! In a cake! That's insane, y'all!
For an extra boost of health and yumminess, you can add chopped walnuts, cashews or hazelnuts inside the carrot composition. They're going to contrast really nicely with the softness and fluffiness of the cake, and it's always nice to get a bit of that crunchy factor in. Not to mention all of the health benefits of nuts, which I'm sure you know by now.
And carrots are pretty amazing, too! How many times have you heard an old man tell you to eat carrots so you won't wear glasses? Carrots are an amazing source of beta carotene (as their name suggests). Beta carotene converts into vitamin A, which is amazing for our bodies.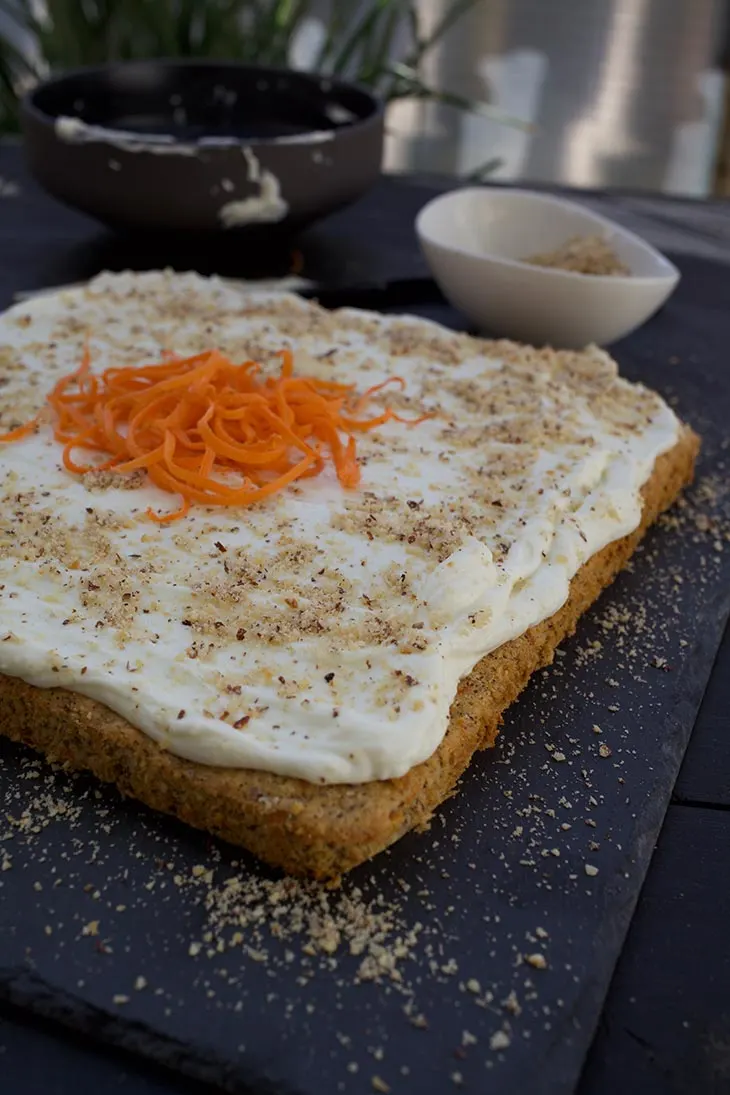 A vitamin A deficit may result in night-blindness and keratomalacia – so now you know why they say carrots are good for the eyes! However, too much vitamin A can be toxic – so don't do that either. Carrots are also an amazing source of fiber, vitamin K1, potassium, and antioxidants. And to think you can benefit from all of these things whilst enjoying a piece of cake… It's like a dream come true, I know!
Once your frosting is done, it's going to contrast nicely with the slightly orange color of the cake. You can leave it like that and it's going to be really delicious, or you can go one step further and decorate the cake. A simple solution would be sprinkling some cinnamon – easy and effective. Another popular alternative would be to use grated carrots and grated hazelnuts.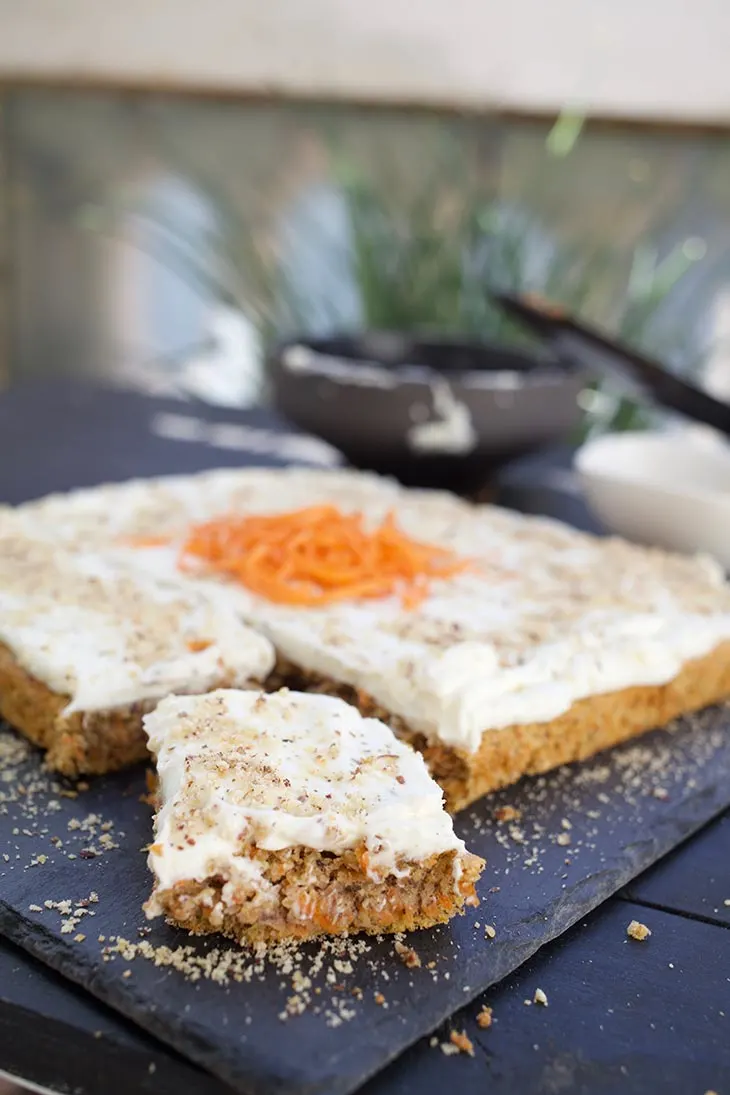 A fresh carrot cake is a perfect dessert for basically any season. It's amazing in the autumn, as it goes really well with all the pumpkins, the yellow and orange leaves and the overall cozy atmosphere that calls for a piece of something delicious. You can enjoy it with a hot cup of coffee and lots of cinnamon.
And the carrot cake is amazing during the hot season as well. Serve it in the garden, near the roses, next to a glass of cold milk or iced coffee and a good book in your lap. It's an amazing way to sneak in some vegetables into children's diet, as well. In fact, try this little experiment: give some carrot cake to a 5-year-old and ask them to tell you the secret ingredient. I'll bet he won't be able to tell it contains any trace of vegetables! 🙂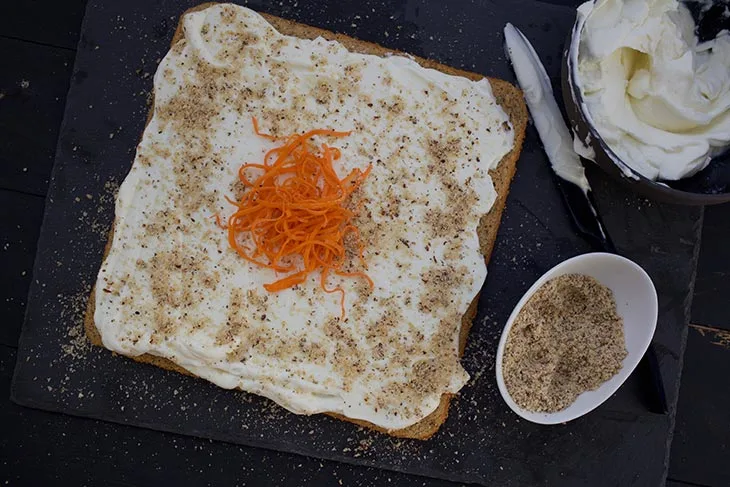 If you're going to try my carrot cake with frosting recipe, make sure to tell me how it went! And if you liked it, feel free to make it every weekend for your friends and family – everyone's going to love it!
Yield: 8
Vegan Carrot Cake with Frosting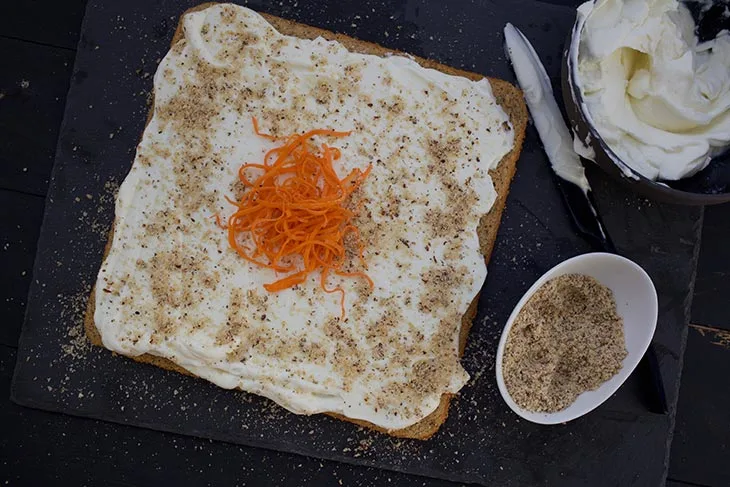 Today I want to show you a delicious classic dessert turned 100% vegan - the carrot cake! Give this vegan carrot cake with frosting a try and you won't regret it a bit!
Ingredients
90g (1 cup) grated carrots
80ml (⅓ cup) vegetable oil
3 Tbsp light brown sugar
1 tsp vanilla essence
120ml (½ cup) almond milk
180g (1 ½ cup) flour, use GF if needed
80g (½ cup) hazelnuts, chopped
½ tsp baking powder
½ tsp baking soda
1 tsp ground cinnamon
½ tsp ground nutmeg
½ tsp ground ginger
½ tsp salt
4 Medjool dates
For the vegan frosting:
225g (1 cup) vegan cream cheese
2 tsp lemon juice
1 tsp vanilla
50g (½ cup) icing sugar
Instructions
Preheat the oven to 180C. Grease and line a baking pan.
Peel and grate the carrots and set aside.
In a large bowl, whisk the oil, sugar, and vanilla for a few minutes until the sugar starts to dissolve. Then stir in the milk.
Sift in the flour, baking powder, baking soda, cinnamon, ginger, nutmeg and salt and gently combine.
Stir in the hazelnuts, dates and grated carrot.
Transfer the batter into the baking pan and cook for about 25 minutes or until lightly golden on the edges.
Allow to cool for about 10 minutes, then turn out onto a wire rack and let cool completely.
Meanwhile, prepare the frosting:
Combine all the frosting ingredients into a bowl with a hand mixer on low. Mix until well-incorporated and fluffy. Do not overmix!
Spread the cream cheese on the cake and sprinkle with grated carrots and finely chopped hazelnuts.
Nutrition Information
Yield
8
Amount Per Serving
Calories

346
Total Fat

17g
Carbohydrates

48g
Fiber

3g
Sugar

25g