Do you want to know how to make vegetarian tempura? Here's an easy recipe for making crispy and delicious vegetable tempura.
After Vietnam and India, now it's time for Japan! I love this month's Asian recipes challenge (part of this year's project of exploring the world cuisines and veganize their most popular recipes). I discovered so many interesting recipes and turning them vegan has been quite difficult in some cases.
Now, about this vegetarian tempura recipe. Did you know that tempura actually has Portuguese origins? Yup. It was a shock to me too. Tempura is a Portuguese dish brought to and popularized by Japan.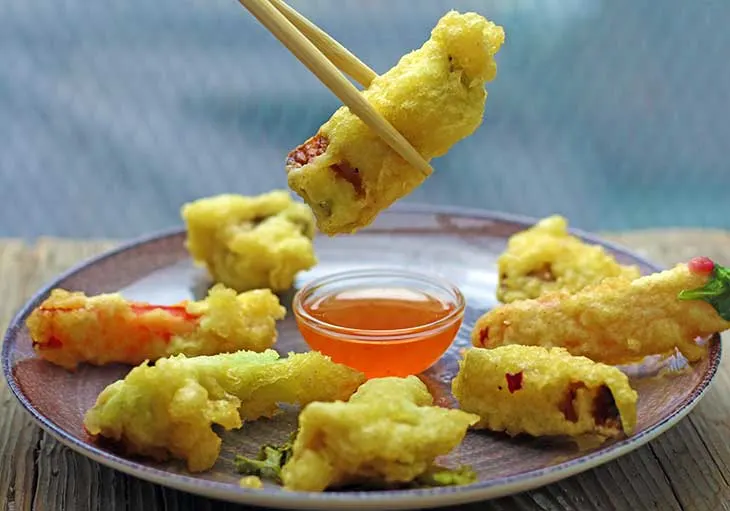 The tempura batter is light, has a crepe-like consistency and it's usually whisked on top of ice cubes to keep it cold. Also, using cold ingredients, such as cold sparkling water, is a must.
What about the veggies? Here are some tempura vegetables you can use: eggplants, zucchinis, yellow squash, sweet potato, broccoli, snow peas, wild mushrooms, peppers.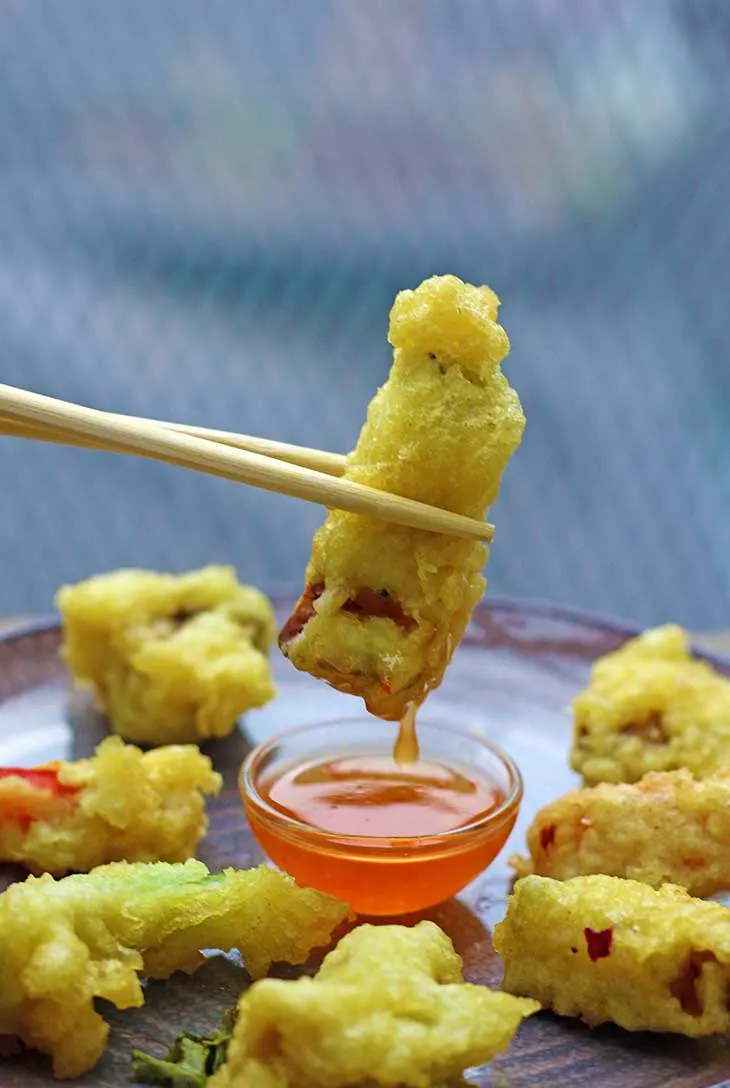 My vegetarian tempura recipe is actually vegan. Making vegetarian tempura is extremely easy and you can find so many different recipes on the web. The tempura batter is exactly the same as for the seafood tempura and includes egg yolks. The challenge for me was to find something that could replace the egg yolk in this recipe.
After some testing, I found out that psyllium husks (the ingredient that I use in all my vegan patties. You MUST have this in your pantry, always!) and aquafaba mixed together have the same consistency as egg yolks and do wonders in this batter, resulting in a delicious vegan tempura that's no different than the original recipe.
Also, you can make this gluten-free, but I haven't tested it yet. I used all-purpose wheat flour but rice flour can be used too. It may turn a bit lumpy but it should work.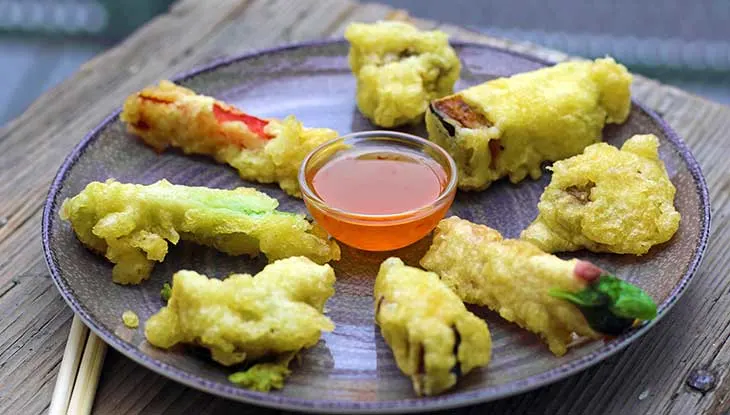 If you want to know more about the wonders of the Asian cuisine, I wrote this detailed guide which shows you some of the best recipes Asia has to offer.
Hope you'll like this easy vegetarian tempura! Don't forget, if you give my recipes a try, take a photo and tag me on Instagram @gourmandelleblog and use the hashtag #gourmandellerecipe. I will feature you on my Facebook page and/or Instagram Stories! 🙂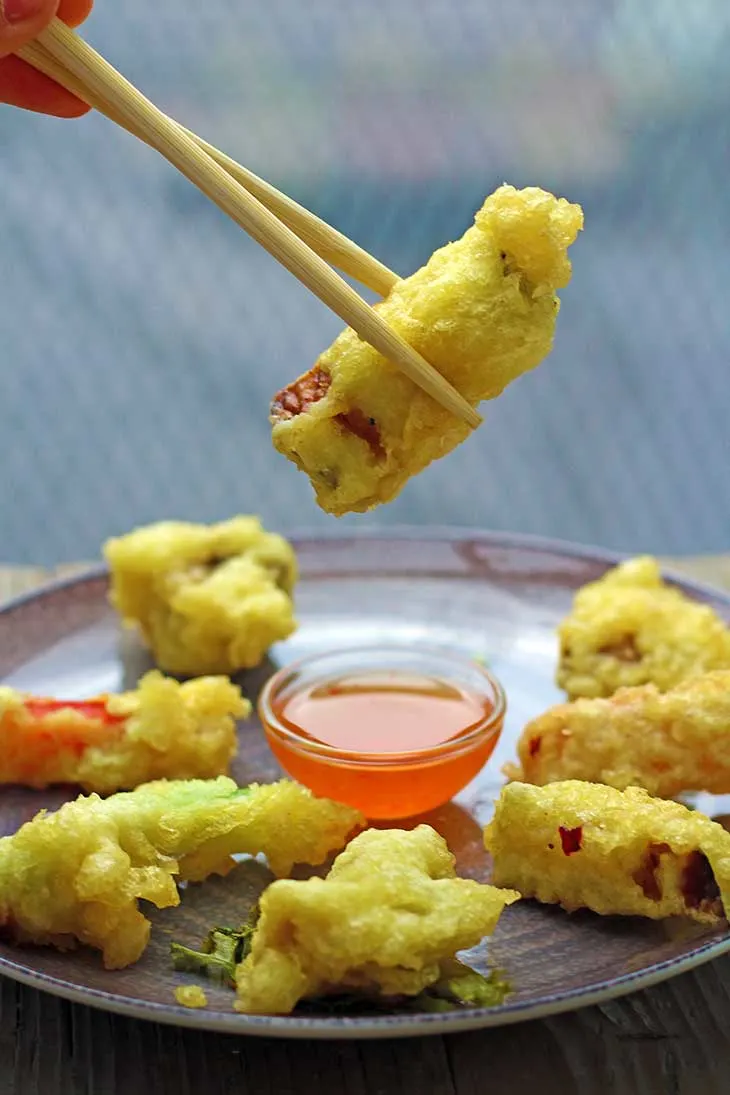 Yield: 4
Easy Vegetarian Tempura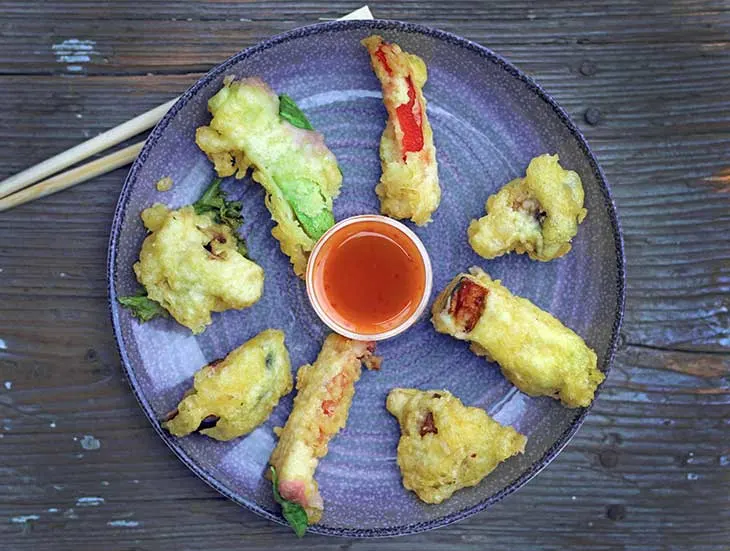 Do you want to know how to make vegetarian tempura? Here's an easy recipe for making crispy and delicious vegetable tempura.
Ingredients
2 zucchinis, medium
2 eggplants, medium
2 red bell peppers
4 Tbsp cold aquafaba, canned chickpea water
1 Tbsp psyllium husks, ground
240ml (1 cup) cold sparkling water
1 tsp baking soda
2 Tbsp cornstarch, sifted
180g (1 ½ cup) all-purpose flour, sifted + more for dusting
480ml (2 cups) oil, for frying (I used sunflower oil)
ice
Dipping sauce:
sweet chili sauce
soy sauce or tamari
Instructions
Cut the vegetables into ~1 cm sticks.
In a large bowl, combine the sifted flour with cornstarch and baking soda.
Add ice in a large bowl and place another bowl inside. Add the aquafaba in the smaller bowl and whisk it until frothy. Pour in the cold sparkling water, then mix in the dry ingredients: psyllium husks, flour, cornstarch and baking soda.
Whisk until it reaches the consistency of a crepe batter (similar to the consistency of cooking cream). Be careful not to whisk it too much or it will get too thick.
Pour the oil into a pot and place it on the stove, on medium heat. Wait until it reaches 180C (360F).
Dust each piece of vegetable with some flour, then gently add it to the batter and mix it in. You can use a pair of chopsticks for this.
Test to see if the oil is ready by dropping a small tempura piece in it. If it goes to the bottom and then comes up immediately, it's the right temperature. Otherwise, if the veggies don't drop to the bottom, it's too hot.
Fry ~3 pieces at a time and don't overcrowd the pan or they will end up greasy and even stick together.
Cook is vegetable tempura for 1-2 minutes on one side, then gently turn it on the other side for one more minute, until both sides are golden.
Fish the veggies out using a slotted spoon and place them on a paper towel.
Serve right away with the dipping sauce.
Nutrition Information
Yield
4
Amount Per Serving
Calories

1283
Total Fat

116.8g
Carbohydrates

48.3g
Protein

9.5g