Reteta vegetariana, sanatoasa pentru chiftelute de linte rosie. Chiftelutele se pot servi ca atare sau se pot manca in burgeri vegetali. | This is a delicious vegetarian recipe for lentil veggie burger patties, with vegan version. 

  Recipe in English
  Reteta in Romana
This is the easiest veggie burger ever! For those of you who don't know yet, I don't like spending a lot of time in the kitchen. I never make recipes that require a lot cooking and I avoid baking as much as possible. I like simple recipes. Simple, healthy and delicious recipes! This is one of them
These red lentils burger patties are ready in no time and are so good I received tons of compliments for them. I even made them twice in a row as they were eaten super-fast! I'm sure, even the pickiest eater will love them.
I know there are tons of red lentils burger patties recipes out there but if you want the easiest and quickest red lentil patty this is the recipe for you.
P.S. Today is the first day in the 10-day Ohsawa diet I'm going to keep. I posted some details about it on my FB page here and can't wait to finish it and share with you my thoughts about it. Hope it will be as great as I heard, despite the fact that it's one of the most difficult diets ever! Wish me luck!
Red Lentil Veggie Burger Patties with Greens
This is a delicious vegetarian recipe for lentil veggie burger patties, with vegan version.
Ingredients
1 cup red lentils
1 bunch parsley, chopped
1 bunch dill, chopped
1 medium onion, diced
1 egg or 1 mashed potato
4 garlic cloves, mashed
sea salt and ground pepper, to taste
breadcrumbs – about 2/3 cup, more or less
Instructions
Add lentils in a pot and cover them with water. From the moment they start boiling, let them boil for about 15 minutes and then remove from heat.
Strain the lentils very well and put them in a large bowl.
Start mashing them a little, using a fork.
Add the egg/mashed potato, chopped onion, parsley, dill, mashed garlic, breadcrumbs, sea salt and pepper.
Using a fork, or your hands, start mixing the composition. It has to be sticky and easy to mould. If it's not it means that you didn't strain the lentls very good and the composition is too wet. No problem, just add breadcrumbs until it has a dough-like consistency.
Spray a non stick pan with some oil. Not too much.
Put the remaining breadcrumbs in a large plate.
Make the patties and then dip them in the breadcrumbs.
Put each patty on the frying pan and let it fry about 2 minutes on each side.
That's it! Serve with mashed potatoes or use them to make burgers and sandwiches.
Notes
You can bake them too. Grease a large pan and place the patties. Cook 15 minutes on one side and another 15 on the other, at 180C.
http://gourmandelle.com/lentil-and-greens-patty-sandwich-veggie-burger/
Copyright: 2014 Ruxandra Micu | www.gourmandelle.com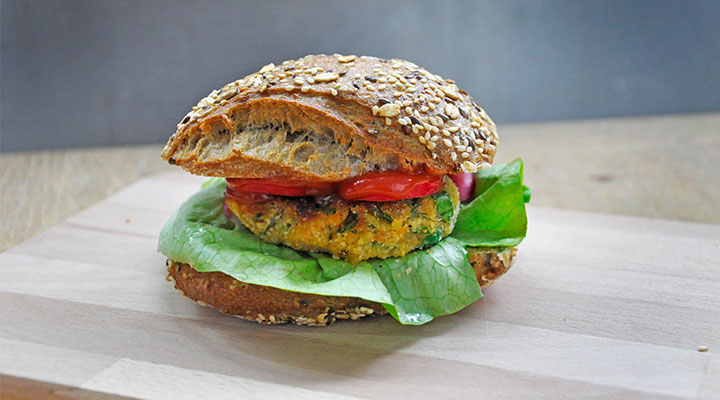 Lentils fan? Check out these delicious and super easy to make red lentils recipes: Lentils, Veggies and Mushroom Bake, Red Lentil Creamy Pâté and Creamy Red Lentil Soup .
Reteta asta de chiftelute de linte rosie este una din retetele mele preferate! De fapt, daca stau sa ma gandesc mai bine, toate retetele de burgeri vegetali sunt preferatele mele
Reteta de chiftelute de linte rosie e super simpla! Amesteci ingredientele, faci chiftelutele de linte si le prajesti in putin ulei. Gata!
Am primit o multime de complimente chiar de la non-vegetarieni. Daca vrei sa iti ademenesti prietenii sau familia sa manance vegetarian, reteta asta de chiftelute de linte rosie este una obligatorie pe care trebuie sa o prepari!
Chiftelute de linte rosie
Ingrediente pentru 15+ chiftelute de linte rosie:
1 cana linte rosie
o legatura de patrunjel, maruntit
o legatura de marar, maruntit
o ceapa medie, maruntita
un ou sau 2 cartofi fierti, facuti piure
4 catei de usturoi, pisati
sare de mare si piper, dupa gust
pesmet – aprox. 2/3 cana
Instructiuni:
Fierbe lintea timp de 15 minute, apoi scurge-o bine de tot si pune-o intr-un bol.
Paseaza lintea folosind o furculita.
Adauga oul/cartofii fierti facuti piure, ceapa maruntita, patrunjel, marar, usturoi, pesmet, sare si piper.
Amesteca bine. Compozitia trebuie sa fie lipicioasa si usor de modelat. Daca nu e, inseamna ca nu ai scurs bine lintea. Nu e nicio problema, adauga pesmet pana ajungi la consistenta dorita.
Incinge putin ulei intr-o tigaie. Nu trebuie sa folosesti mult.
Pune pesmetul intr-o farfurie adanca. Acopera fiecare chifteluta cu pesmet si apoi pune-o la prajit, 1-2 minute pe fiecare fata.
Asta e tot! Merg de minune in burgeri si sandwichuri sau pur si simplu servite alaturi de piure de cartofi si salate.
Sfat: Chiftelutele se pot face si la cuptor. Se unge o tava cu putin ulei si se aseaza chiftelutele. Se lasa la cuptor, la 200C, 15 minute pe o parte si 15 pe cealalta.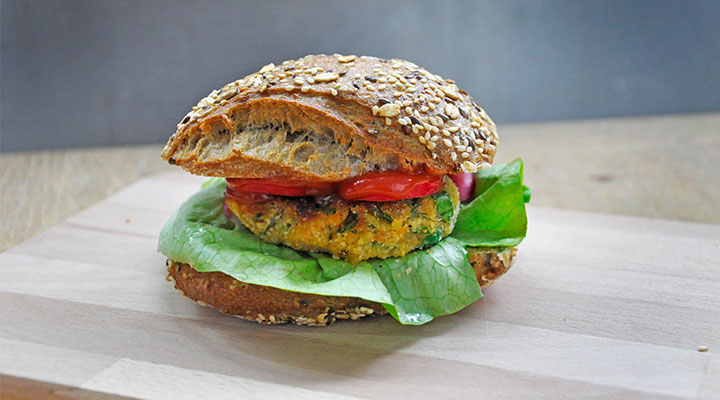 Iti place lintea? Iata mai multe retete delicioase cu linte:Drob Vegetarian, Pate cremos de linte rosie si Supa crema de linte rosie.