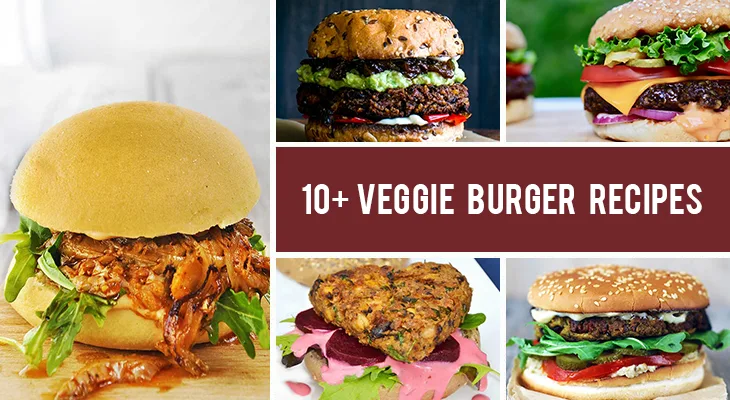 Get more than 10 awesome, tested veggie burger recipes even omnis will love! These veggie burgers have meaty textures, great ingredient blends and delicious flavors!
Who doesn't love a yummy, delectable burger? While burgers are great to taste, too much grease or unhealthy fillings can adversely affect health in the long run. That is why I have come up with a way so you can continue to enjoy burgers without worrying about health and fitness.
Let me introduce you in the world of veggie burgers – a world full of healthy and guilt-free ingredients, delicious spices and sauces and amazing garnishings! There are countless ways and ingredients that you can use in order to achieve the perfect veggie burger – so you must use your imagination and you will be impressed. The sky is the limit!
And because I want to inspire you to try some new, delicious and addicting veggie burger recipes, I compiled this list with more than 10 of my favorite veggie burger recipes. You will find here many options, fit for each taste! Some of these veggie burger recipes are for veggie burger patties only. Just add a burger bun, some sauces, lettuce leaves and veggies and you can make a veggie burger on no time!
Go vegan – these 17 mouth-watering veggie burger recipes will leave you asking for more.
Update: I recently added even more yummy and healthy veggie burger recipes for you to test out! Let me know which one is your favorite!
Check out my favorite gluten-free and vegan burger buns >>>
Beans/legumes, vegetables, spices, herbs and onion/garlic, egg/similar substitute, breadcrumbs – the perfect veggie burger has it all! Check out this veggie burger guide before going any further with this list!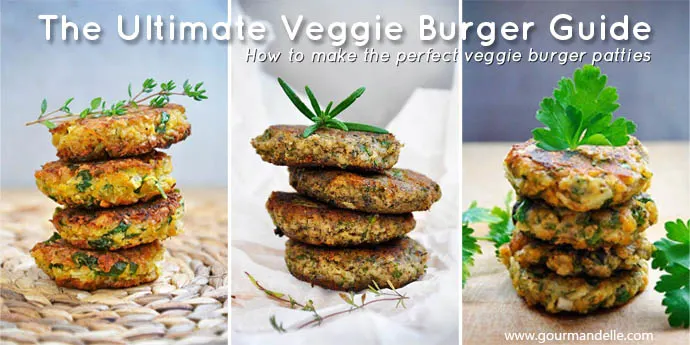 Especially during summer (who am I kidding, all year round!) I adore all kinds of vegan burgers, and this one is an undisputed favorite. This vegan burger is incredibly juicy, made of bulgur and mushrooms and dressed up with lots of spices. Just how I like them! Give it a go! 🙂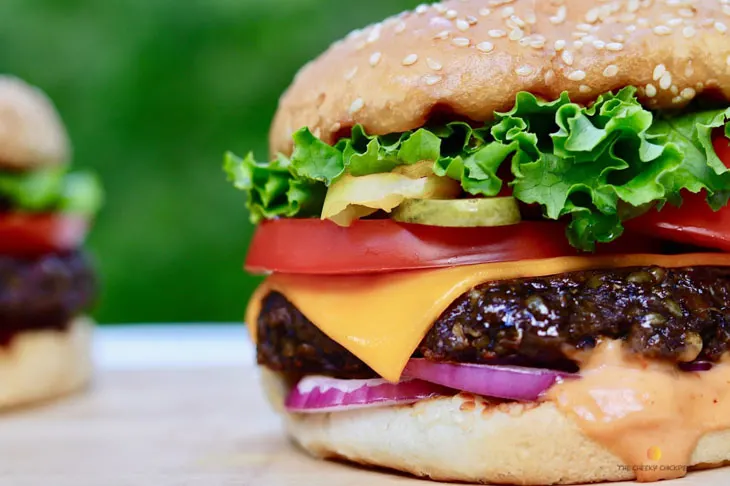 I'm simply in love with this recipe for its fantastic textures! If you're looking for a nourishing, protein and fiber-packed burger that will surprise you, this recipe is for you! This burger is made of a chunky, incredible mix of black beans, rolled oats, walnuts and more, and served with mouthwatering caramelized onions. Do I need to say more?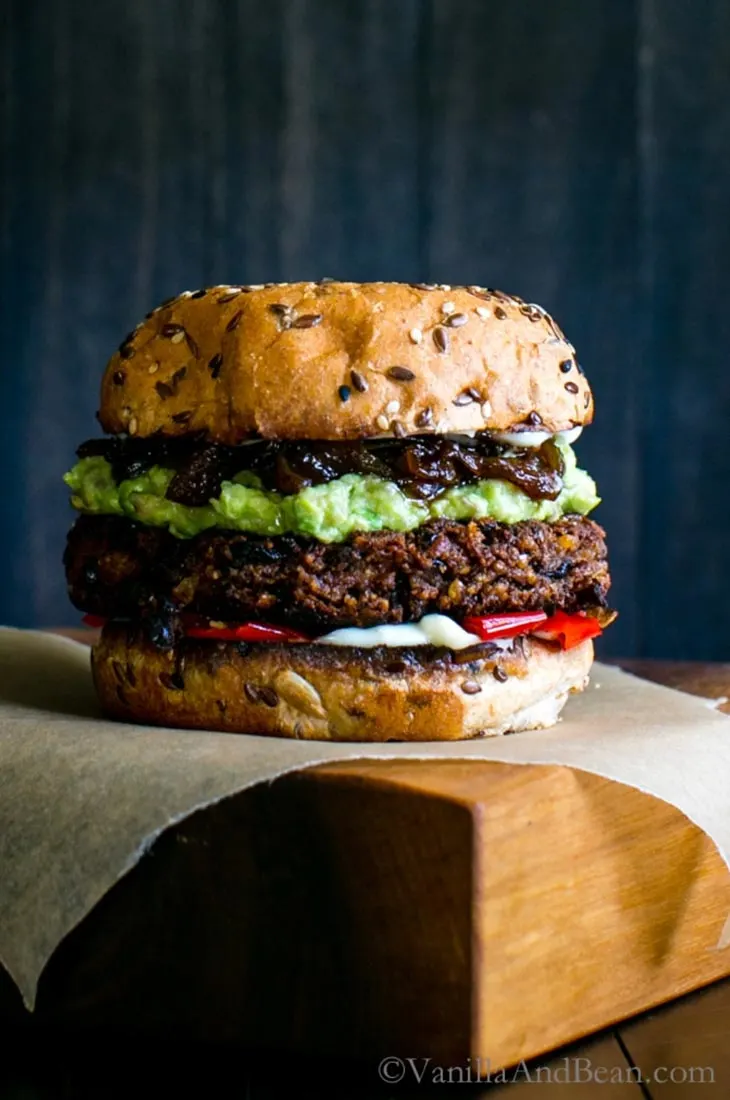 Whoever knows me, knows I'm crazy about eggplants – I always think of new ways of including them in my meals. This eggplant burger is super easy to make, flavorful thanks to the incredible za'atar and served with creamy vegan mayo. You just have to try it and see for yourself!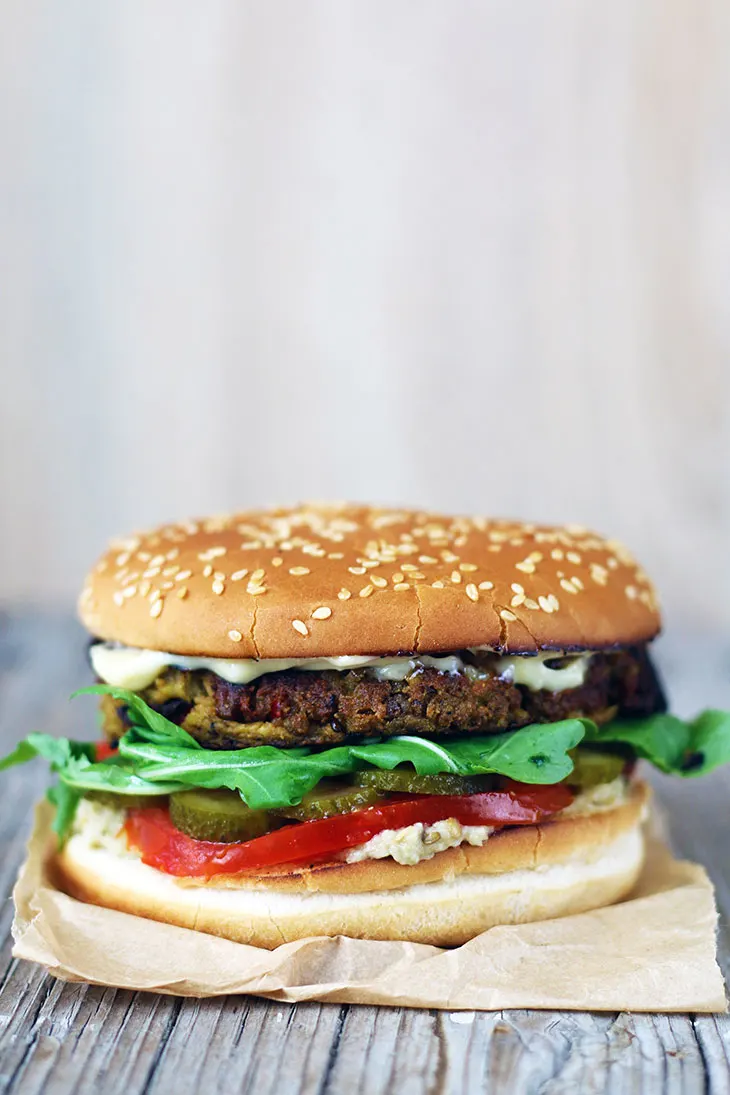 This recipe speaks for itself and it is one of my absolute favorites because it shows the versatility of Oyster mushrooms. This vegan pulled pork burger with caramelized onion bursts with flavor from the BBQ spices and caramelized onions. Give it a try!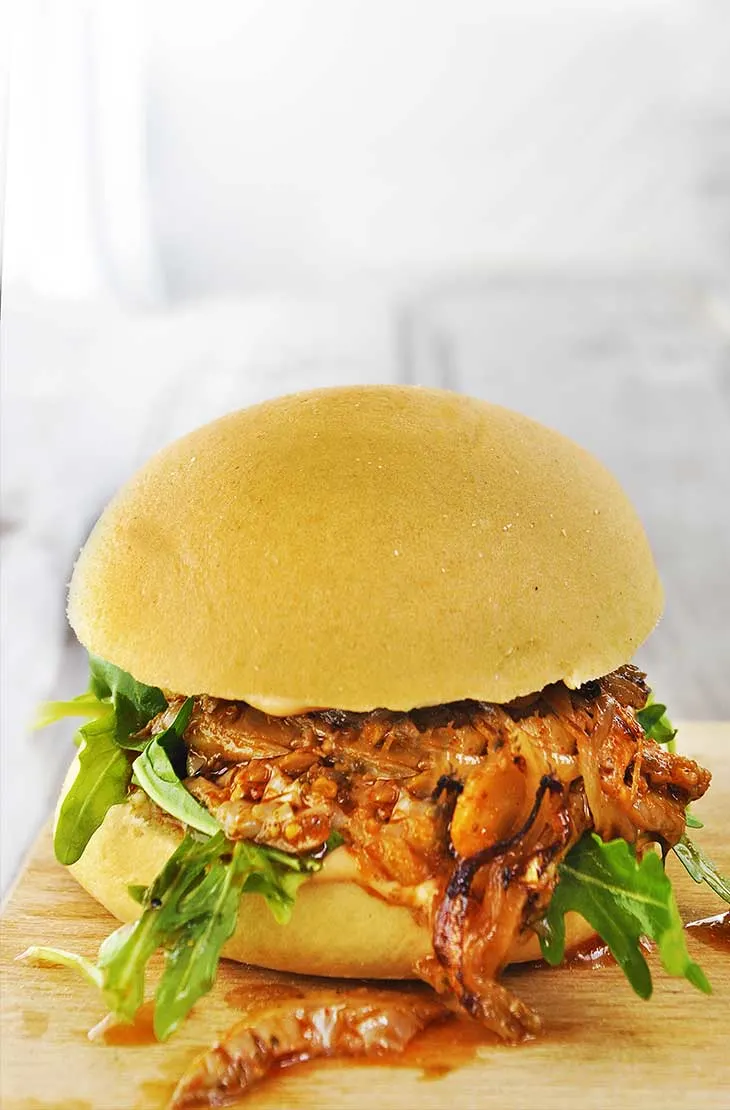 This is an easy, delicious and barbecue party-friendly burger recipe, starring once again my favorite ingredient – Oyster mushrooms! Their texture and flavor is incredible and nourishing, and they're bound to satisfy vegans and omnivores as well!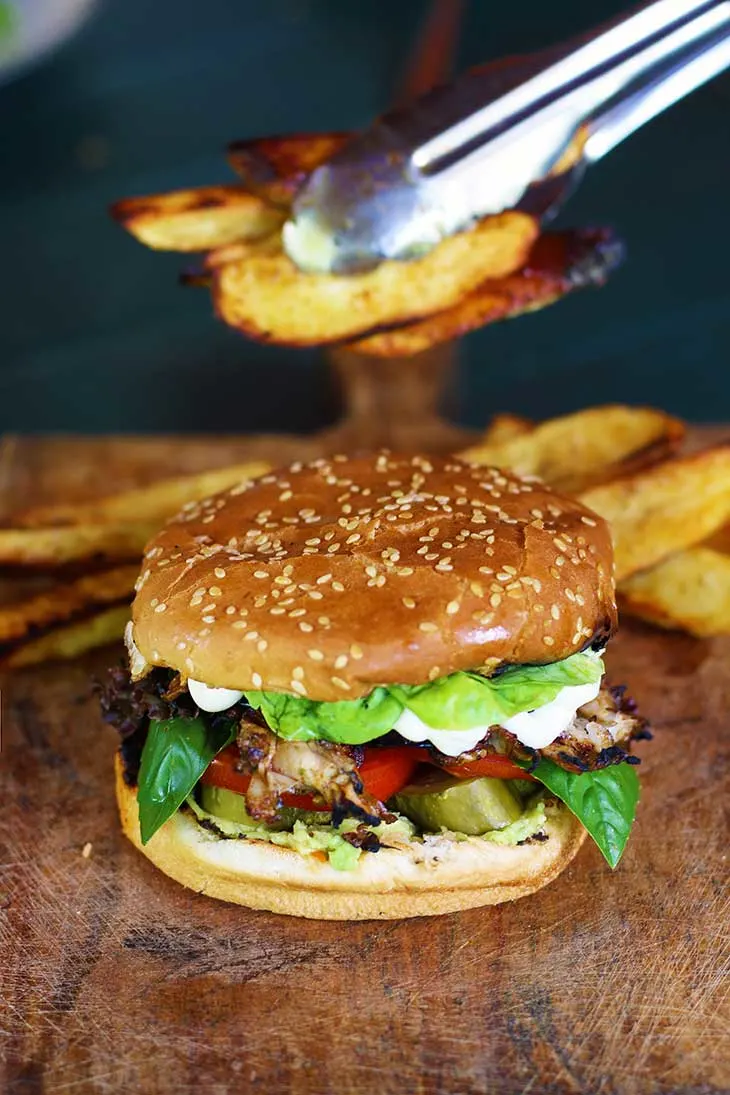 This is another healthy burger, full of protein thanks to the combination of beans and mushrooms, making for a great school or work lunch! The herbs and spices in the patty as well as the garnishes guarantee and explosion of flavors, so you're definitely not going to get bored!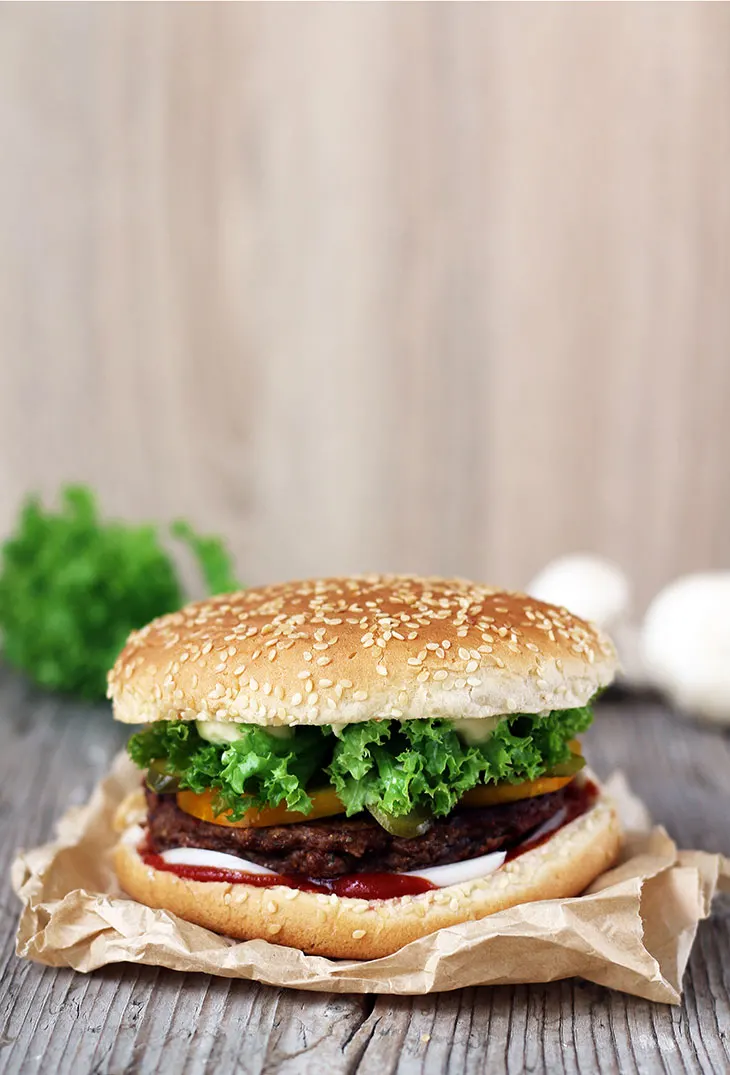 Did you know chickpeas and buffalo sauce is a brilliant combo in a burger? Chop up some green onions, cauliflower, carrots, and celery to ensure it is nutritious as well. This amazing combination will surely make you fall in love!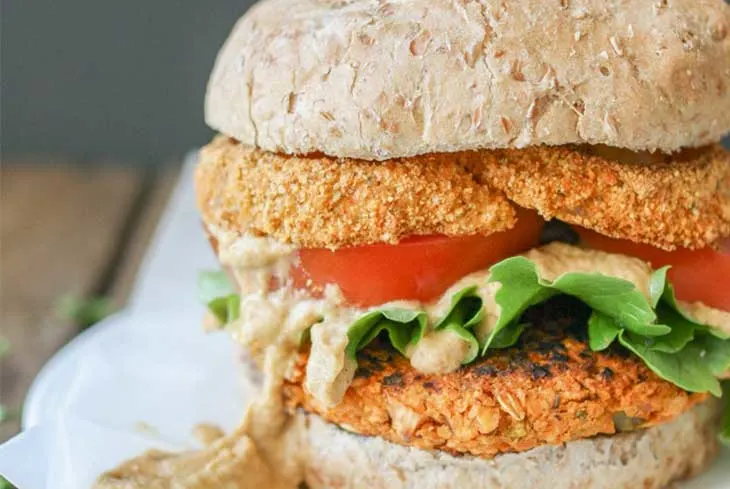 There are so many ways to experiment with lentils and sweet potatoes! Add some parsley, onion, breadcrumbs and potato to create appetizing patties. They're so delicious and healthy, you won't miss the taste of meat at all!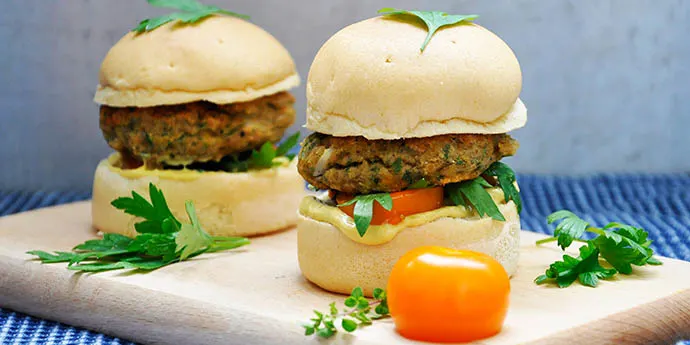 This mushroom burger is packed with cooked brown rice, onions, garlic, thyme, and chickpeas – how could it not taste amazing? Plus, it has an amazing texture that is both filling and tasty!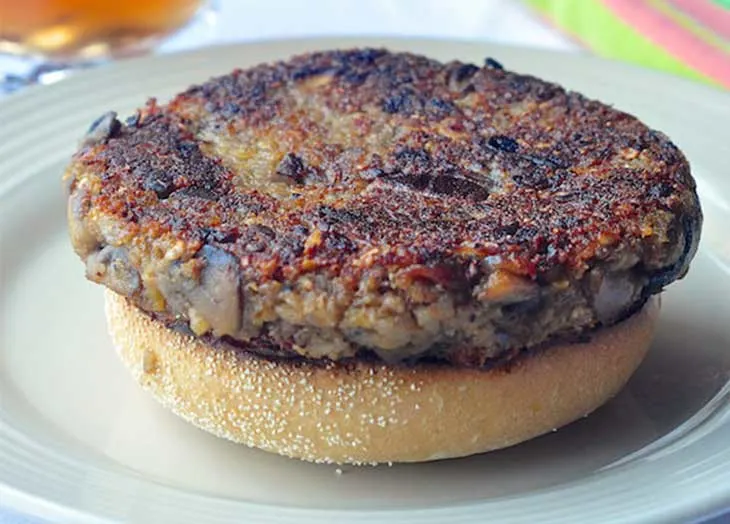 These adzuki beans veggie burger patties are vegetarian, healthy and rich in proteins! These patties resemble very much the texture and taste of ground beef. This is one of the best veggie burgers recipes I've ever tried so far!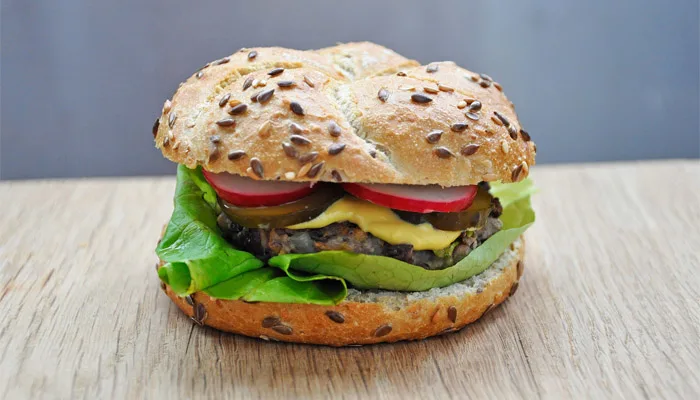 Lentils and amaranth might be an unusual mix, but together their flavor is just out-of-the-world with parsley, onion, and potato adding their own flavor and nutritional elements. You must give it a try and see for yourself!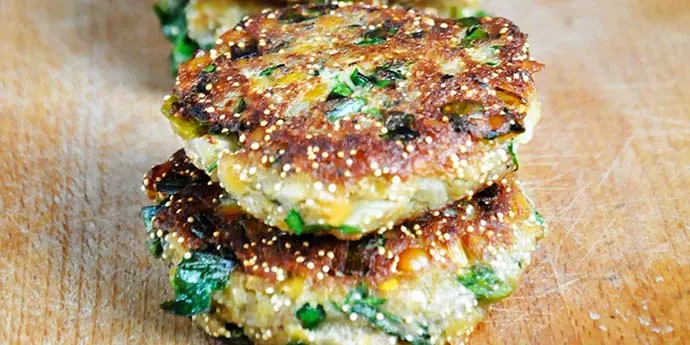 Discover the essence of New Orleans in this savory vegan burger with brown rice, dark red kidney beans, and black beans. This combination of flavors sounds amazing, right?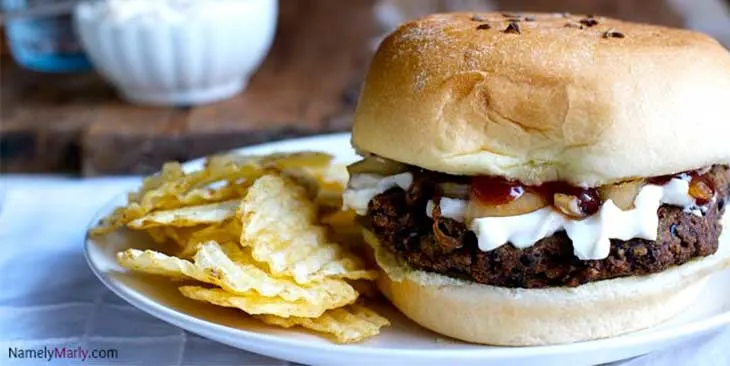 The garnishing – salad leaves, sliced baby beets and pink marie sauce – is quite creative and contrasts well with spicy chili paste used for flavor. Apt for V-day, as it looks extremely cute!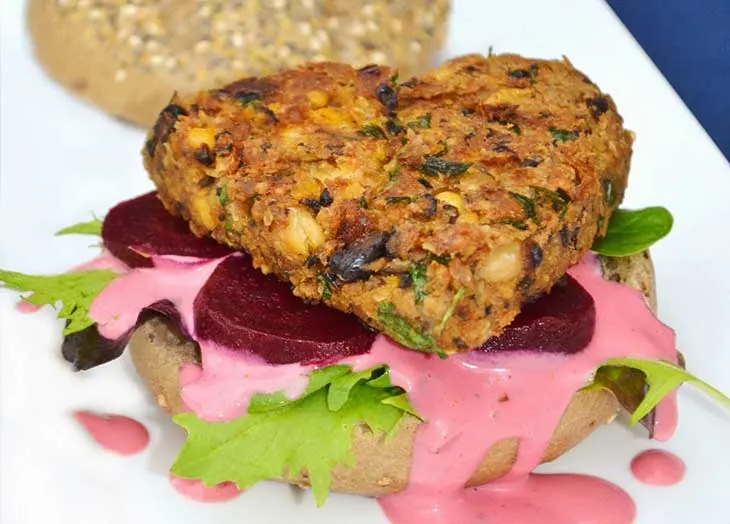 A dash of cumin, cinnamon, cayenne, coriander, clover, and all spice powders are a heady mix that lends a delicious taste when used with lemon and yogurt. Give it a try for your next lunch or dinner!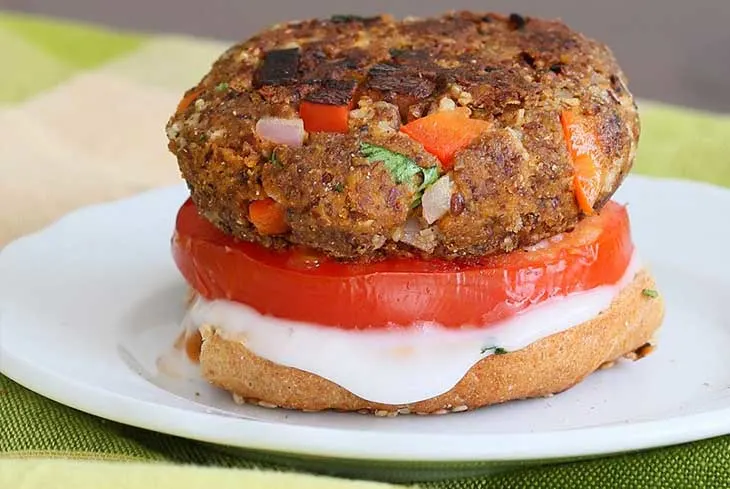 Easy to make, these patties contain lots of healthy veggies for a super flavorful result. Needless to say these vegan patties are extremely nutritious and tasty!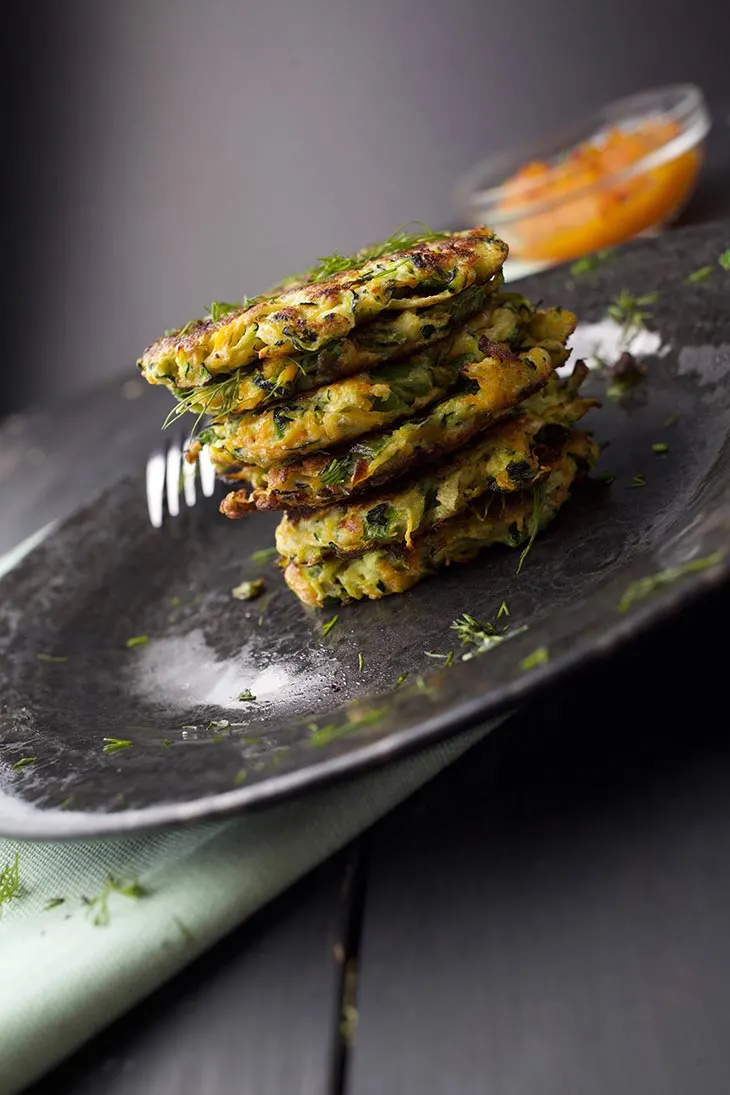 Use avocados, sweet onions, and crisp baby romaine lettuce as add-ons, while the patties are just lip-smacking with brown rice, garbanzo beans, creamy tahini spread and sweet corn. An absolut must for any party!

Wow! You will have your hands full for the next few days – ready, get set, and go!