Learn how to make the most delicious vegan vegetable fritters in no time! They're perfect for meal prep and can also be made from leftovers.
Sometimes I like to sit and reminisce on the times when I was a kid. I remember that I loved to wake up early in the morning and have a hearty breakfast. I used to love the vegetable fritters that my mom made back then. They simply filled me with a sense of reassurance and were a wonderful way to start a gloomy school day! 🙂
Whenever I become nostalgic, I try to recreate certain things that made me who I am today (Remember my rice pudding recipe? Exactly like that!). And that includes mom's veggie fritters. Of course, being vegan I can't use eggs anymore, but luckily I know a thing or two about some perfect replacements. So let's get started, shall we?
Today's recipe is a cruelty-free, healthier alternative to one of the best snacks in the world. It's a quick and easy-to-make appetizer for the time when you can't be bothered to cook for more than 10 minutes. It's the appetizer for an active lifestyle! I'm talking, of course, about vegetable fritters! 🙂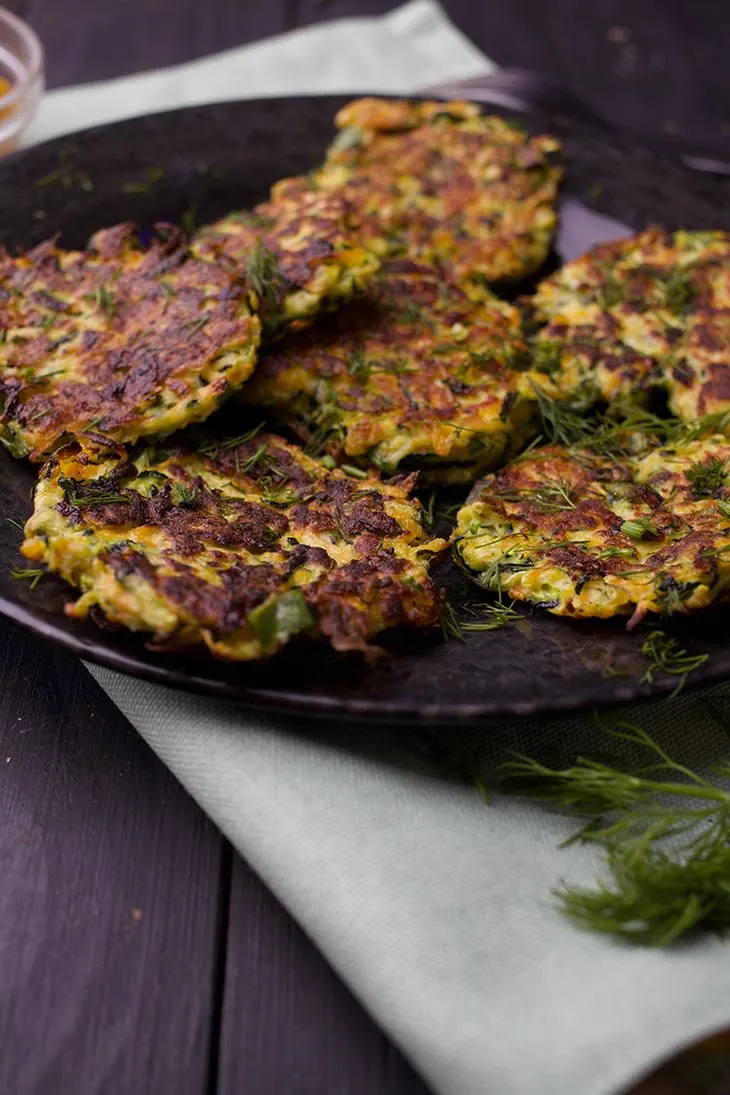 Vegetable fritters are one of the most loved snacks by kids, but that doesn't mean only the little ones should get to enjoy these delicious breakfast-lunch-dinner-suited delicious bites of healthiness.
Veggie fritters are made with lots of fresh veggies, and even if the main recipe you'll find everywhere includes carrots, cucumbers, and zucchini, you can experiment with your own favorite veggies. If you're bored with eating, say, a Mexican vegetable mix, you can turn it into one of these fritter ideas.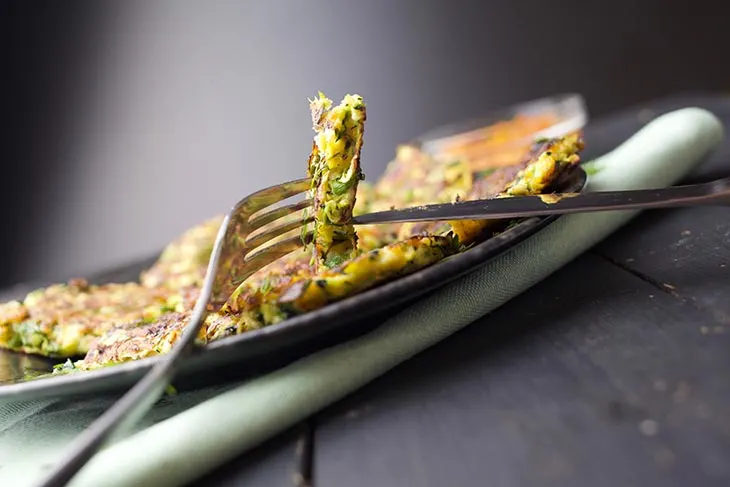 Vegetable fritters can be made so fast, that they're a perfect snack (or, even better, dinner!) for the time when you come back from work, exhausted, in no mood to cook.
Next time you happen to do so, and want to order something, think twice, look in your fridge for things you could chop and fry together. You can whip up some fritters in a matter of minutes, and then eat them as they are, or have them with a salad if you aren't starving right away.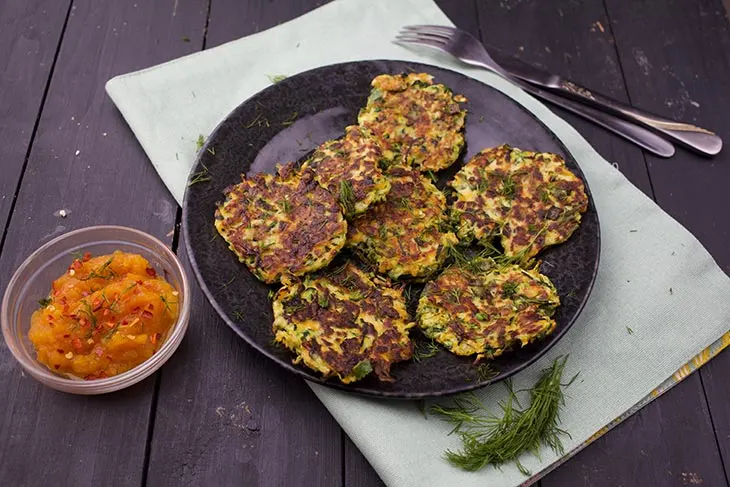 You would believe that, when making vegan fritters, you will have to replace the dairy ingredients with your favorite replacements, and the same for the eggs. But what if I told you that for this recipe you only need your shredded veggies, some flour, some herbs and… that's pretty much it? 🙂
Standard fritters are something like mini-omelets with a bunch of extra stuff put in them. But that doesn't mean they can't be as tasty when they're vegan! All you have to do is figure out what you like to put in your fritters.
I like zucchini, and more classic vegetable combinations, like red pepper, fresh cucumber, and, of course, scallions. Red onion can add a savory element to the mix, while red pepper makes it sweeter. You can mix and match as you wish, the world is yours!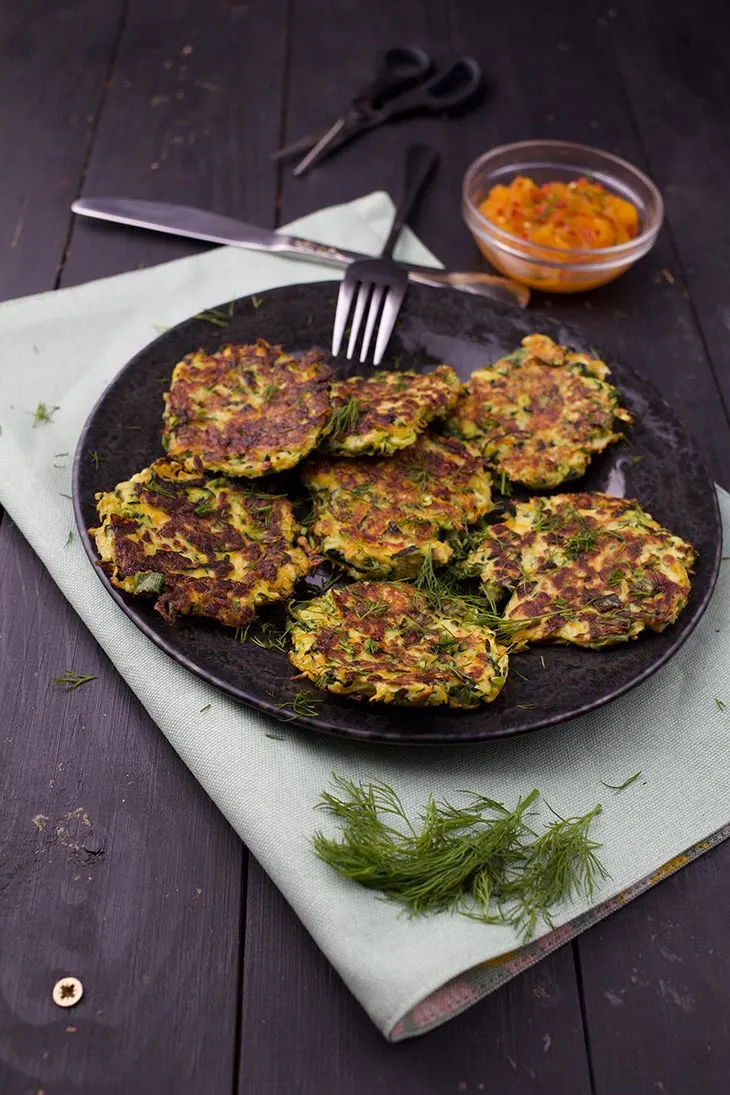 The one thing you have to keep in mind regarding the ingredients for fritters is that they have to be chopped very finely. That's why I decided to directly shred them today!
As for the dip – of course, you need a dip with your fritters – even though I love a good chutney, another alternative would be mashing some avocado with lime juice. If you're into hot sauce, use your favorite one! A good dip will complement your fritters in the most beautiful way.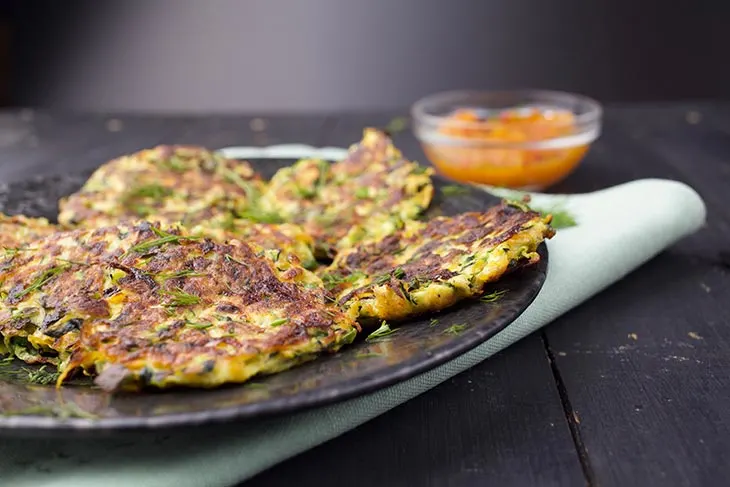 Vegan vegetable fritters are a very versatile snack. You can serve them for breakfast, lunch or dinner, brunch or midnight snack – if you're hungry at 2 AM, for example. Who's judging?
If you're having a festive dinner, make sure to include some fritters on a tray full of other appetizers. Let me tell you, they will become an overnight sensation with your friends and family! Even the cheese experts will agree that these fritters are delicious!
Here's another idea that just popped in my mind – why not make a fritter sandwich? You can use your fritters as a patty in a burger, but this time we're talking about a healthy vegan sandwich, having the fritters as a base. You can try different condiments, too. The fritters go best being salty, but pepper and spice make everything nice, too!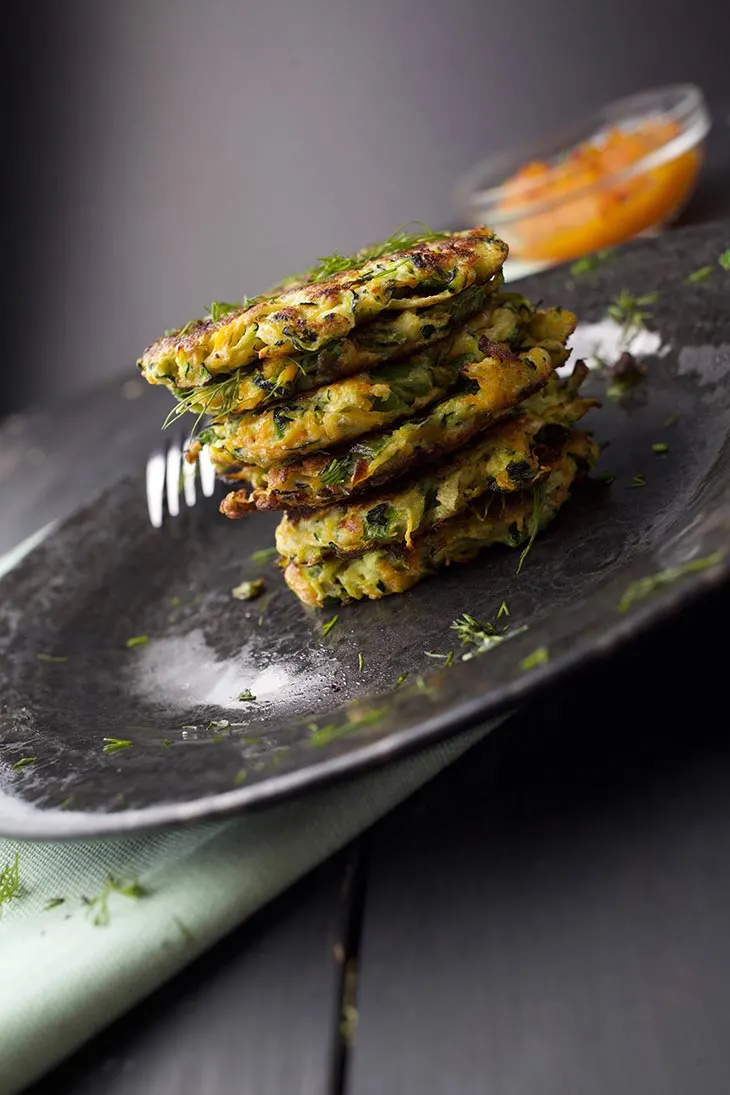 I hope you'll enjoy making this simple but effective recipe. Please tell me how it went, and if you tried serving it differently than I had suggested! I am always curious to hear your thoughts and suggestions! 🙂
Yield: 7
Vegetable Fritters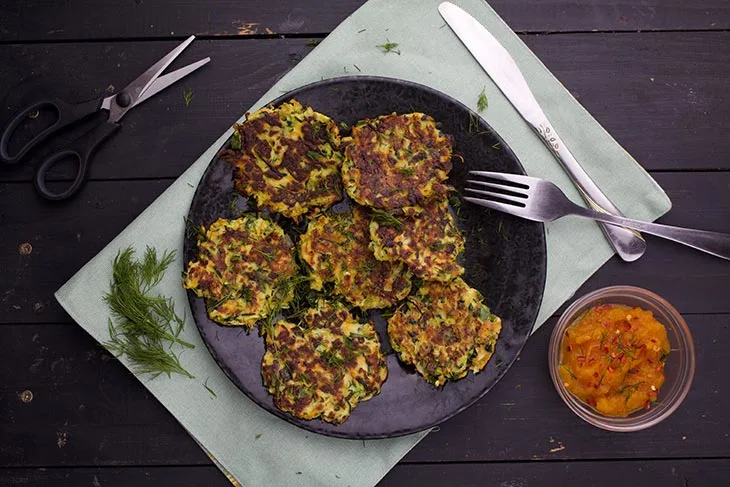 Learn how to make the most delicious vegan vegetable fritters in no time! They're perfect for meal prep and can also be made from leftovers.
Ingredients
150g (1 cup) shredded zucchini
150g (1 cup) shredded carrots
1 clove garlic, minced
35g (⅓ cup) sliced scallions
2 Tbsp parsley, chopped
2 Tbsp dill, chopped
40g (⅓ cup) flour
1 tsp thyme
½ tsp oregano
¼ chili powder
salt and pepper to taste
2 Tbsp olive oil
sauce to serve, I used hot mango chutney
Instructions
In a large bowl combine the shredded zucchini, carrots, green onions, dill, parsley, flour, garlic, chili, oregano, thyme, salt, and pepper.
Stir together until well-combined. Allow the mixture to sit for at least 10 minutes.
Heat a skillet with olive oil over medium heat.
Scoop out about 1 Tbsp of the veggie mixture at a time into the skillet.
Cook for about 5 minutes on each side until golden brown.
Serve with your favorite sauce!
Nutrition Information
Yield
7
Amount Per Serving
Calories

122
Total Fat

7g
Carbohydrates

14g
Fiber

4g
Sugar

5g