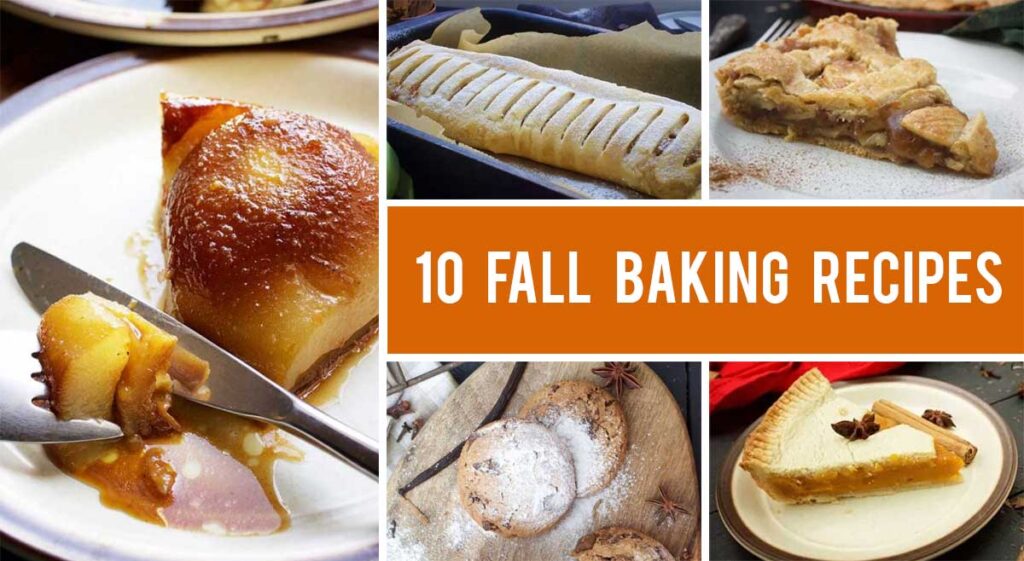 In the mood for some baked autumn goodies? Here are 10 fall baking recipes that will make your home smell absolutely divine!
The leaves are falling, the air is getting crisper and you can smell the pumpkin spice in the air. It's that wonderful time of year when you can go apple picking and start baking all kinds of delicious things.
I love fall baking because it feels so comforting. Baking brings back memories of home and youth, but also gives me something to do with my hands while the entire house smells heavenly! 🙂
The fall season is all about the warm, cozy smells of cinnamon and apples, which makes it the perfect time for baking. It can be so tempting to load up on pumpkin pies and apple-cinnamon muffins from the grocery store, but why not save some cash by cooking those delectable treats at home instead?
Fall fruit to use in baking
Apple, pear, and pumpkin pies are all staples of fall baking. But don't forget about other seasonal favorites like cranberries, grapes, and quince.
Quinces are hard-to-find fruit that looks similar to apples but have an incredibly different flavor profile. I just love eating plain quinces or using them in sweet pies! The same goes for plums – the sweet taste of these fruits can be used in place of apples or pears in your favorite recipes!
Pumpkins are a classic autumn ingredient, and it's easy to see why. They're a staple of Halloween decorations and Thanksgiving feasts alike, but people often overlook their culinary potential. If you've never tried cooking with pumpkin before, then it may come as something of a surprise that they have a subtle flavor that pairs perfectly with other fall ingredients like apples and pears.
As for grapes? They're easy to find at the farmer's market or in any grocery store during the early fall months. And they're great added as a garnish on top of pie slices!
If you're looking for a delicious way to bring true autumn flavor into your kitchen this fall, try using the following fruit:
Baked desserts are an easy, comforting way to enjoy the flavors of autumn. They're sweet, which is also associated with comfort. Baked goods are often shared with friends and family, so here's another reason why you should start baking some goodies today! Plus, desserts that are baked at home are a way to create a homey feel in your kitchen.
Okay, I've gone through some of the most popular fall baking recipes, from pumpkin pies to pear tarts. As you can see, there are so many options that it's easy to find one that suits your tastes. And now you might want some actual recipe inspiration, right?
If that's so, then I invite you to take a look at my curated list of 10 fall baking recipes that I prepared for you. So if you're looking for a way to celebrate fall with some delicious desserts in your home (or just want some extra treats), then look no further than these recipes! They're easy and simple, but they'll make your home smell like fall — in the best possible way.
Happy baking! 🙂
10 Fall Baking Recipes That Will Make Your Home Smell Like Autumn
In the mood for some baked autumn goodies? Here are 10 fall baking recipes that will make your home smell absolutely divine!