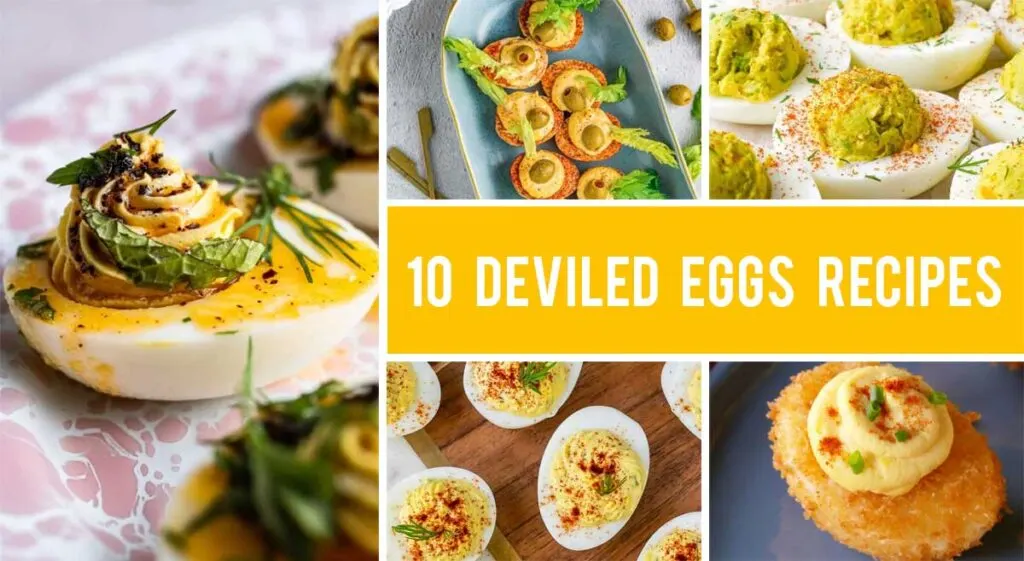 Looking for some yummy food inspiration? Here are 10 deviled eggs recipes that are super simple to make. All your guests will love them!
Deviled eggs are delicious, and they are also very easy to make. There are many ways in which you can dress up deviled eggs, and in case you're looking for the best recipes as well as some tips for making them, you're in the right place! 🙂
Dive into the world of culinary delight with my curated list of deviled egg recipes that are set to tantalize your taste buds. From classic renditions to innovative twists, I've compiled a range of options that cater to every palate. Discover the epitome of taste and indulgence with these best deviled egg recipes. This rendition combines creamy yolk filling with the perfect blend of spices, delivering an explosion of flavors in every bite.
Best Deviled Eggs Recipes
Turkish Deviled Eggs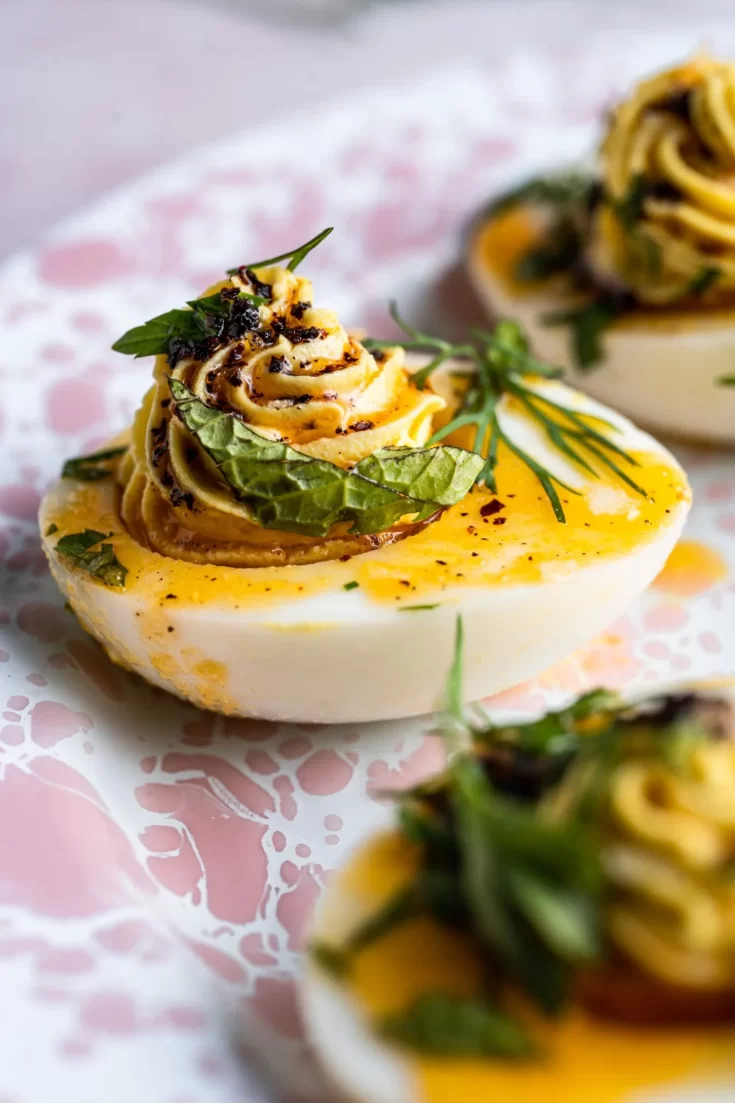 If you love Turkish cuisine, then you'll definitely love these deviled eggs. They're so simple and full of flavor, you won't believe it! Recipe created by Leisure Fanclub.
Bloody Mary Deviled Eggs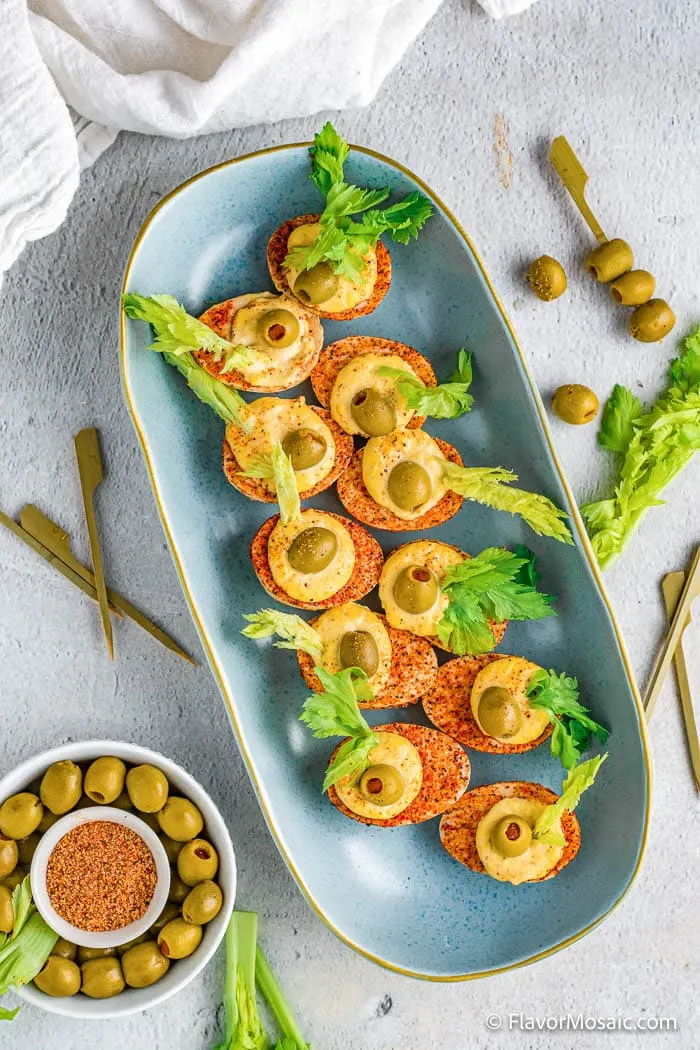 In case you're craving something fancier, then try these Bloody Mary deviled eggs. They have a special flavor that you will surely love! Recipe created by Flavor Mosaic.
Healthy Deviled Eggs with Avocado and No Mayo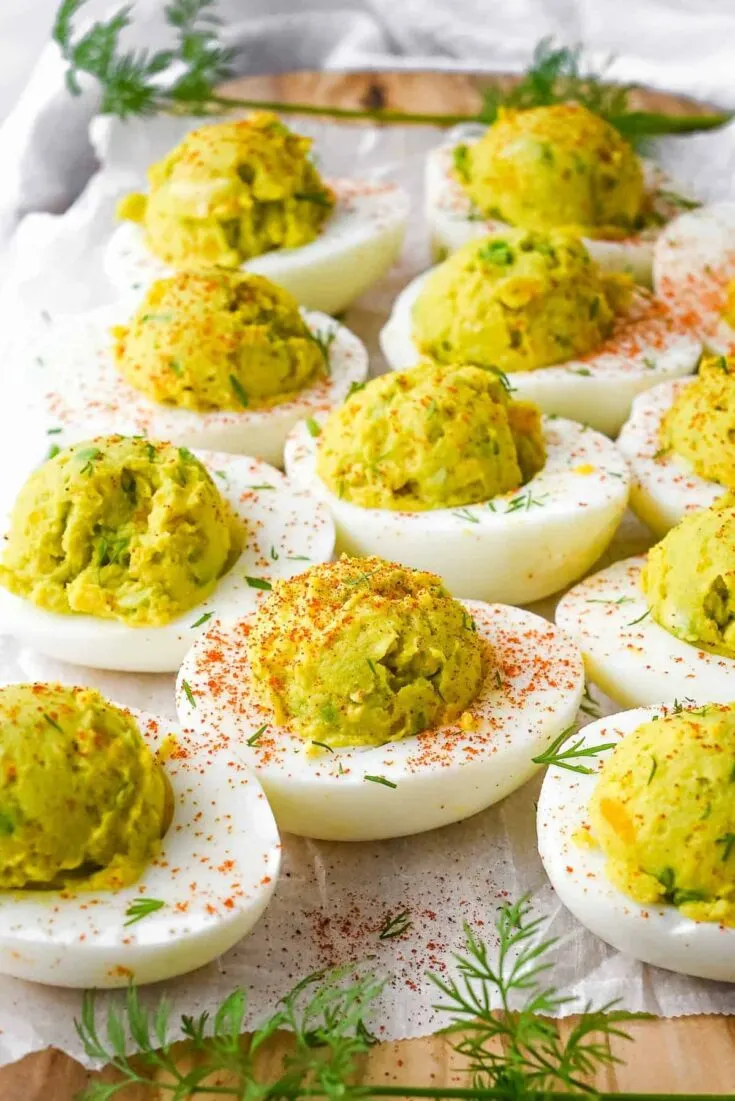 No mayo? No problem! These avo-filled deviled eggs are healthier than the traditional recipe and 10x more delicious! Recipe created by Momma Fit Lyndsey.
Easy Deviled Eggs: Effortless Delights. Simplify your cooking routine with these easy deviled eggs recipe. With a straightforward preparation process, these deviled eggs are a testament to simplicity without compromising on taste.
Dill Pickle Deviled Eggs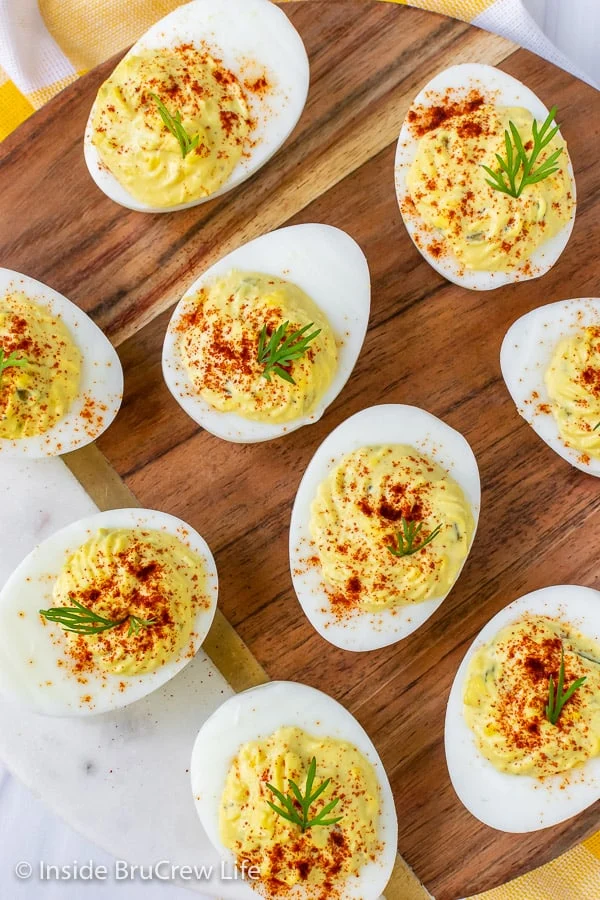 Here's another recipe you can try that resembles the traditional recipe in its simplicity and delicious taste. Give it a try! Recipe created by Inside BruCrew Life.
Fried Deviled Eggs: Crispy Delicacies. Indulge in a unique texture experience with these fried deviled eggs. The combination of velvety filling and crispy exterior offers a delightful contrast that is sure to impress.
Fried Deviled Eggs Recipe – How to Make Fried Deviled Eggs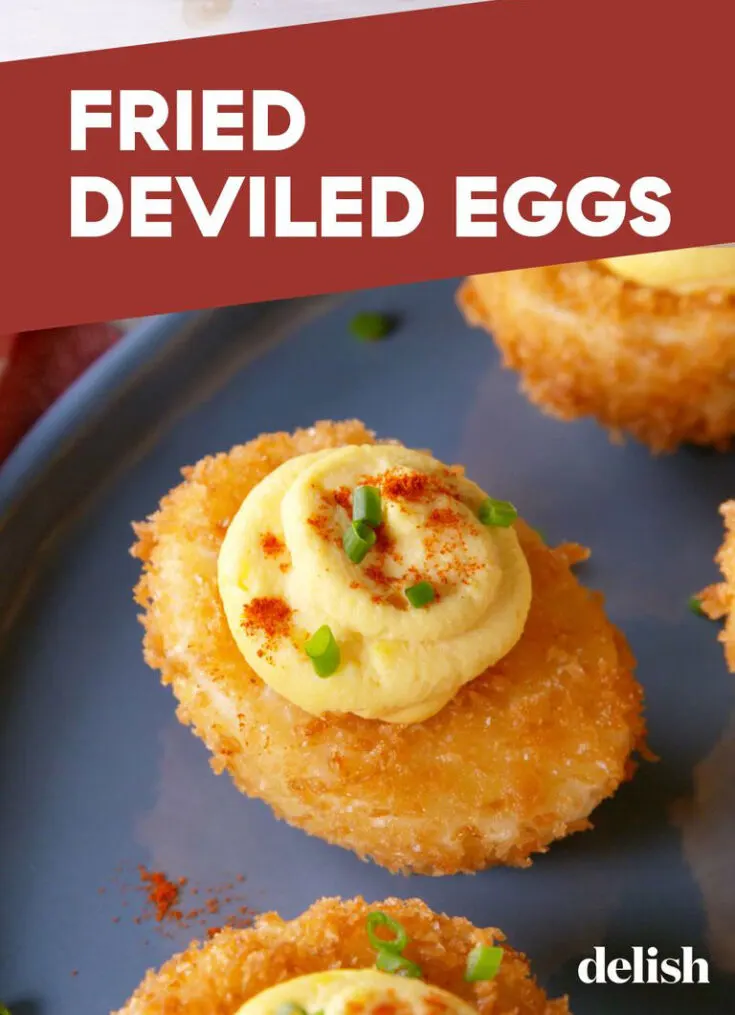 Did you know you can make fried deviled eggs? Yes, it's possible and the result will simply blow your mind! Recipe created by Delish.
Deep Fried Deviled Eggs: A Twist of Indulgence. Experience the epitome of indulgence with the deep fried deviled eggs. The golden, crispy exterior perfectly complements the creamy filling for an unforgettable taste.
Mexican Street Corn Deviled Eggs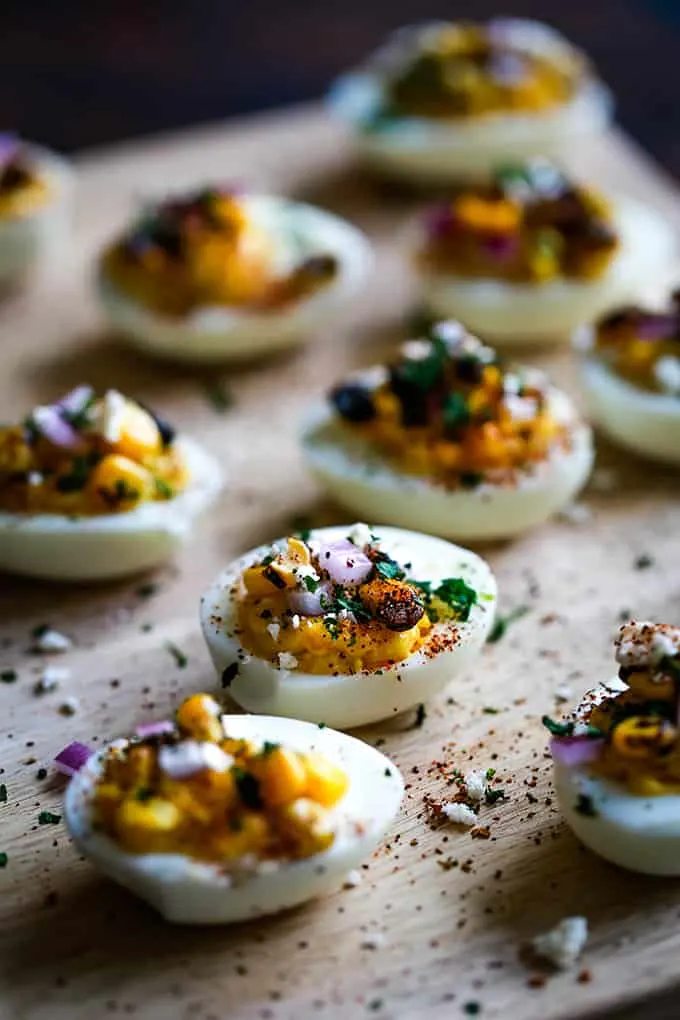 Mexican, anyone? Here's how to make the most delicious and refreshing Mexican street corn deviled eggs. To die for! Recipe created by Melanie Makes.
Southern Deviled Eggs Recipe: A Taste of the South. Transport your taste buds to the southern charm with the southern deviled eggs recipe. This rendition pays homage to tradition while adding a touch of southern flair.
Classic Deviled Eggs Recipe: Timeless Elegance. Pay homage to tradition with these classic deviled eggs recipe. Elevate any occasion with these timeless delicacies that bring together the perfect balance of flavors.
Best Deviled Eggs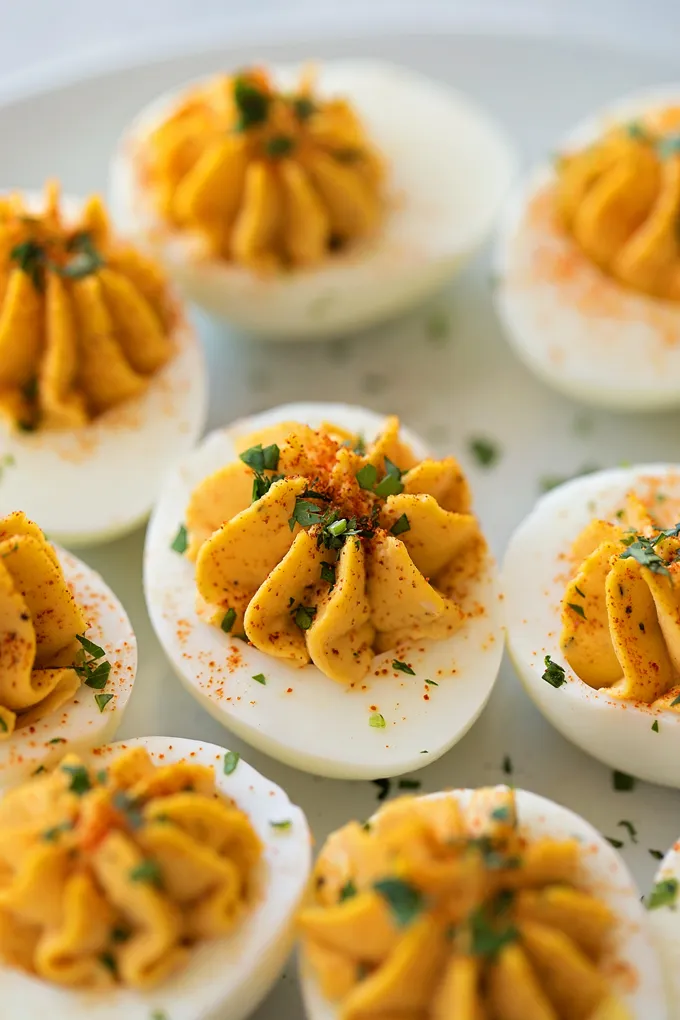 Are these the best deviled eggs? I don't know, but there's only one way to find out. Give this recipe a try! Recipe created by Lifemade Simple Bakes.
French Onion Deviled Eggs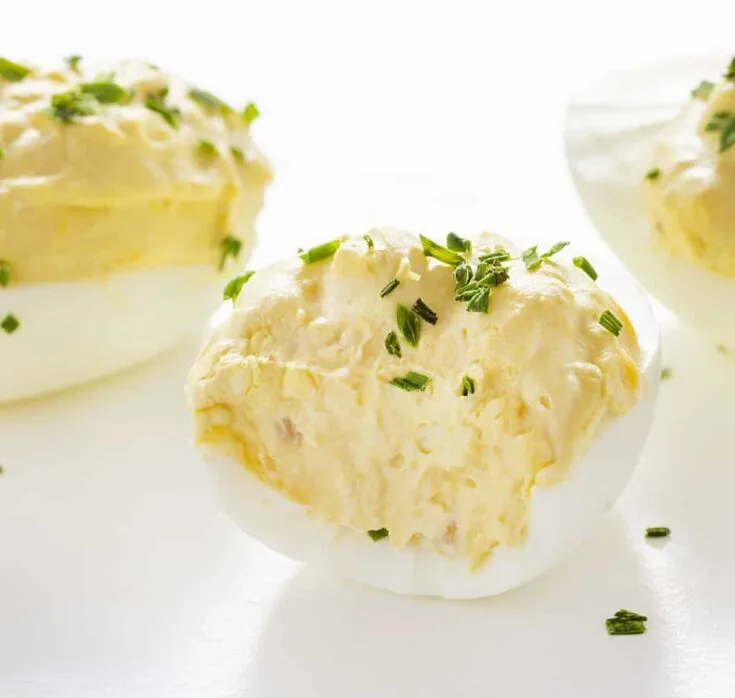 Here's how to make French onion deviled eggs, a recipe that, once tried, will surely change the way you look at deviled eggs! Recipe created by I Am Homesteader.
Spicy Deviled Eggs: A Kick of Heat. Ignite your taste buds with the spicy deviled eggs. The perfect balance of heat and creaminess makes these eggs a hit at any gathering.
Pimento Cheese Deviled Eggs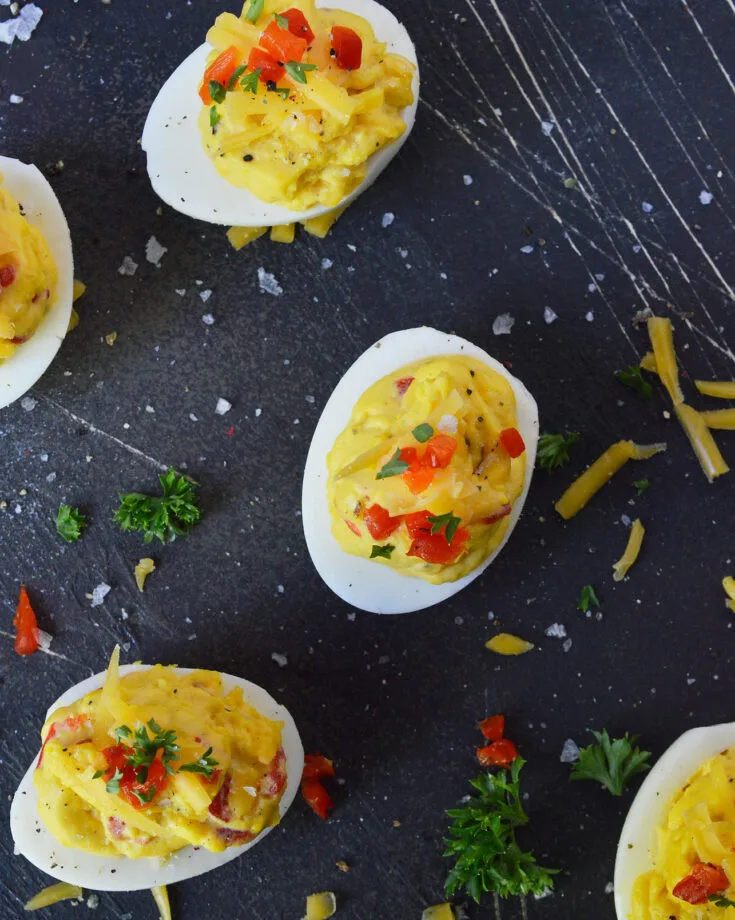 I'm a big fan o pimento and this recipe is absolutely amazing. Give it a try and you'll definitely love it! Recipe created by Wonky Wonderful.
Keto Deviled Eggs: Low-Carb Delights. Embrace your keto lifestyle with the keto deviled eggs. These low-carb treats are a guilt-free way to enjoy the creamy goodness of deviled eggs.
Deviled Soy Sauce Eggs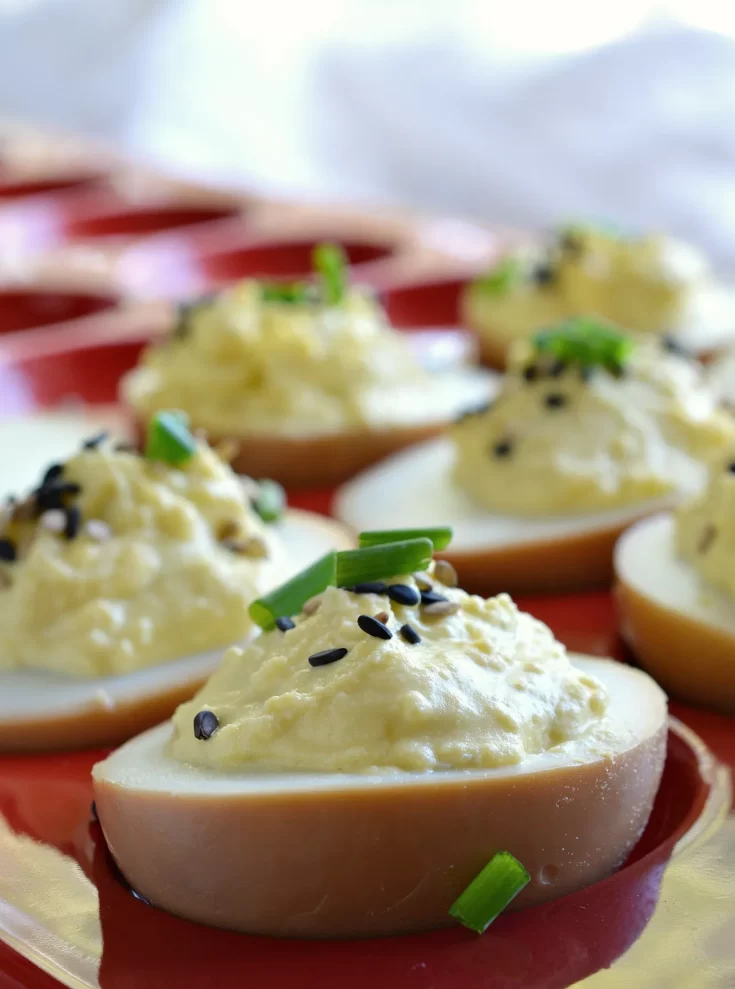 Do you know the Japanese boiled eggs marinated in soy sauce? This recipe will show you how to make those eggs filled with a yummy mixture that will have you obsessed! Recipe created by Wonky Wonderful.
The origins of deviled eggs
Deviled eggs have been around since ancient times; even Marco Polo wrote about enjoying deviled eggs while traveling in China in the 13th century!
Deviled eggs are delicious little bites of goodness. There's nothing tricky about making them, and they're incredibly versatile — you can serve them as an appetizer or a snack, for dinner alongside your meal, or with a side salad for lunch.
Deviled eggs are perfect when you want something to eat that's light but still satisfying (and also delicious). They make great party food since they provide a lot of protein and are easy to prepare in large batches ahead of time.
The idea behind deviled eggs is simple: you take a hard-boiled egg, cut it in half and remove the yolk. Then you mash up that yolk with some mayonnaise, mustard, and other seasonings, scoop it back into the egg white halves, sprinkle with paprika and serve.
But since they're so easy to make and can be loaded with calories and fat (depending on how much mayo you use), deviled eggs are often not a healthy choice when served as an appetizer at gatherings like barbecues or parties.
Luckily, there are ways to enjoy this classic dish without sacrificing your health goals — and if you want to go even further than that? There are also healthy alternative ingredients that can be used instead of traditional mayo! You'll find some in the recipes I have selected for you below!
TIP: Make sure you refrigerate until ready to serve. Deviled eggs are best served cold, so take them out of the fridge at least an hour before serving!
How to eat and serve deviled eggs
You can eat deviled eggs in two different ways: by picking up the egg with your fingers or, if you're fancy enough, by using a fork and knife. Either way works great! The best part about deviled eggs is that they are super portable (just ask my mom!) which makes them perfect snacks to bring along.
You can serve deviled eggs at any kind of gathering, including:
Sporting events – If you're hosting a large meeting to watch your favorite team play, deviled eggs are the perfect snack to keep everyone happy and energized throughout the game!
Holiday parties – Whether it's a holiday party at work or with friends, deviled eggs are the perfect addition to any gathering. They're easy enough to make in large batches that everyone can enjoy them!
Summer picnics – What better way than a picnic to enjoy a sunny day?
In addition to these ideas, there are many more ways to use deviled eggs. I suggest trying them on sandwiches or using them as a topping for salads and other vegetable dishes!
No matter what kind of deviled eggs you make, they're sure to be a hit with your guests. Feel free to choose your favorite recipe from the list below! I hope these ideas will help inspire your next batch of eggy goodness.
Happy cooking! 🙂
Deviled Eggs Recipes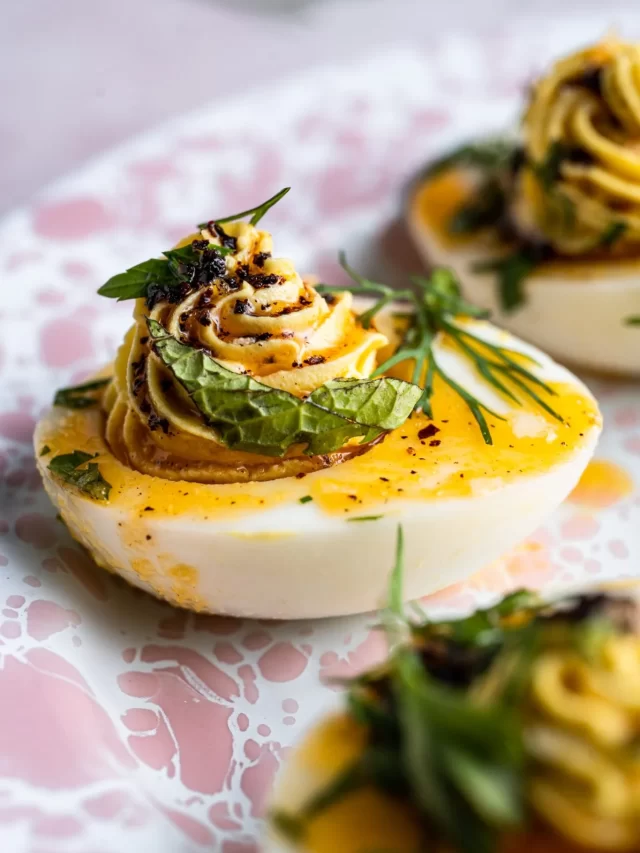 Looking for some yummy food inspiration? Here are 10 deviled eggs recipes that are super simple to make. All your guests will love them!
Instructions
Choose your favorite deviled eggs recipe.
Organize all the ingredients.
Prep a simple appetizer in less than half an hour!