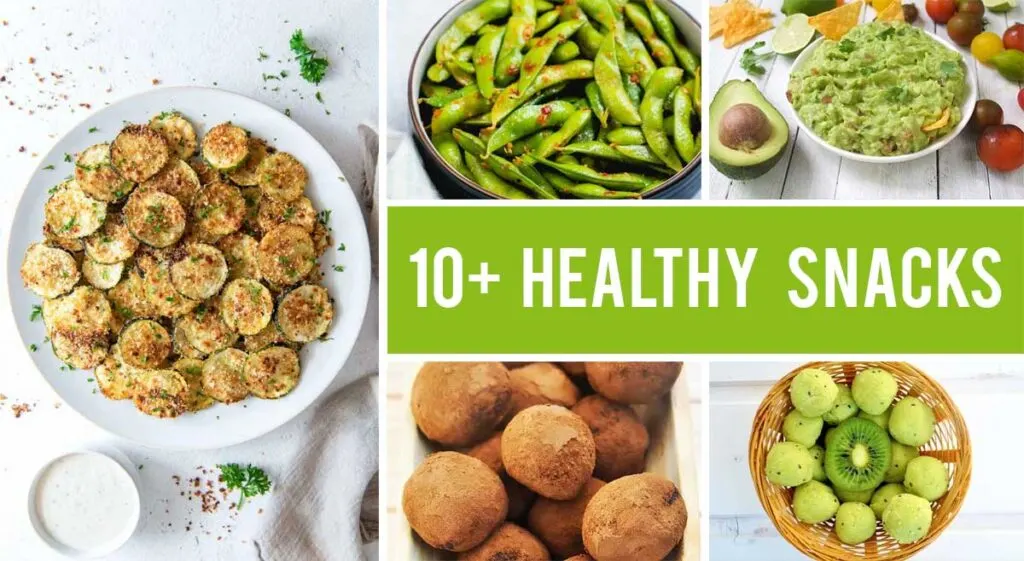 Are you looking for some recipe inspiration? In this list, you will find 10+ healthy snacks you can make in under 10 minutes. Divided into two categories: sweet and savory!
You know me – I love a good snack! And by "good" I mean three things: yummy, healthy (it's a must!) and quick as well. And if you feel the same, then you just opened the right article, my friends.
Snacks are real blessings on those days when you feel low on energy but you still have a couple more hours to go until you finish work. Or when you're watching a good movie with your loved one or with a group of friends. Or when you're in the car, picking up your kids from kindergarten but they can't stop screaming. Or when you've just come home from the gym. And I'm sure you can think of plenty of similar examples, right?
There was a time when I used to think that snacks = unhealthy food that you eat and, later on, you regret. Kind of a compromise that you make – you indulge in some yummy food knowing that you'll be sorry in a couple of hours. But it's so delicious, you deserve it! Although it's so not good for your stomach and health.
Well, not anymore. A long time ago I discovered healthy snacks and my life changed forever. I'm talking about homemade snacks made with healthy ingredients such as pure cocoa, avocado, veggies, fruit, spices, and more.
Don't get me wrong, this doesn't mean you have to eat triple the amount of snacks just because they're on the healthy side. As I always say: moderation is key, especially when it comes to sweets and snacks.
Another big advantage of the healthy snacks I'll be talking about today is the fact that they're extremely quick to make. No more than 10 minutes, just like the title says! A little bit of tossing, some cutting, some baking, mixing, rolling and that's about it. Nothing complicated here.
If I think about it, even a kid could make these snacks with no problems! And if we're talking about kids I must say that yes, all the healthy snacks you'll find below are suitable for kids as well (unless they have a specific allergy to one of the ingredients, of course). How amazing, right?
Okay, I'm sure you're already feeling snacky, right? I know I do! So without further ado, I invite you to take a look at my list of healthy snacks you can make in under 10 minutes.
The list below contains some of my all-time favorite recipes from my own portfolio, as well as some incredible recipes from some other food bloggers that I admire and that I definitely recommend you follow.
Trust me, the hardest part will be to choose only one snack to make! And, by the way, I divided the recipes below into two categories: sweet and savory. To suit your tastes, of course. From crispy zucchini to exotic avocado truffles with kiwi, I'm absolutely convinced you'll find something to love down below.
Click on the titles, buttons, or images to access the step-by-step recipes for these healthy snacks. And don't forget to have fun!
10+ Healthy Snacks You Can Make in Under 10 Minutes
Are you looking for some recipe inspiration? In this list, you will find 10+ healthy snacks you can make in under 10 minutes. Divided into two categories: sweet and savory!
Savory
Forget about potato chips for a second and give these baked zucchini chips a try as soon as possible. You'll be totally impressed, I promise!
Recipe created by Flavor the Moments.
I'm always in the mood for crispy chickpeas and this recipe is absolutely perfect. Give it a try!
Recipe created by Running in a Skirt.
Here's another surprising recipe for you: baked cucumber chips. Some incredible, but it's definitely do-able. Mixed with salt and vinegar - what do you think?! It's addictive!
Recipe created by Low Carb Yum.
These spinach balls may not look extremely impressive, but they're all about taste and health. And so easy to make! Don't judge a book by its cover!
Recipe created by Dishing Delish.
I just love little red and orange peppers stuffed with cream cheese. If you like them too, you may want to try making your own at home, it's such a fun experience!
Recipe created by Running in a Skirt.
I always loved edamame, but ever since I discovered this recipe for spicy edamame, my world has changed completely. I could eat these on a daily basis for sure, they're just so good!
Recipe created by A Couple Cooks.
Ever tried making guacamole, one of the easiest and most delicious dips of all time? You have no idea what you're missing on! Here is how to create the best ever guacamole!
Sweet
I always love a good old no-bake recipe. Especially when it comes to energy bites. Perfect as a morning snack or after a good workout!
Recipe created by Gimme Some Oven.
Peanut butter lovers, you might want to hear this: chewy peanut butter balls. Oh, I can't even begin to describe the taste, it's amazing!
Recipe created by Gina Burgess.
Frozen grapes are simply fail-proof. And way better than those sour candies you can buy from the supermarket! GIve them a try and you'll never not think about them, trust me!
Recipe created by Healthy Little Peach.
These are the creamiest raw chocolate truffles ever! These avocado-date chocolate truffles are not only extremely delicious but healthy too!
If you want a quick, sweet and healthy vegan snack, make these raw exotic avocado truffles with just a few ingredients!
These raw protein power carob hemp truffles are some of the best raw truffles you'll ever eat! These are super-creamy, melt in your mouth and above all, they're super-healthy too!
Recipe for raw vegan Raffaello Bonbons, with coconut and almonds. Delicious is an understatement! Can you believe they're ready in only 10 minutes?!