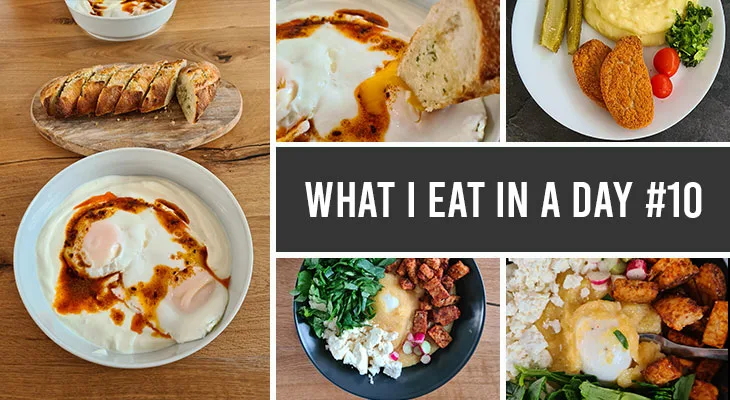 Discover the entire series of posts "What I eat in a day" here.
Breakfast
Today I woke up craving some Turkish eggs. So I got inspired by the original recipe and I tweaked it a bit to my own liking, ending up with a delicious breakfast. I used 10% fat buffalo yogurt combined with a clove of finely grated garlic and a little bit of smoked salt. The smoked salt gives a subtle flavor to the yogurt and, of course, it gives a boost of flavor. Not to mention the garlic, it's simply irreplaceable in this recipe!
You may already know that the eggs used in the traditional Turkish eggs recipe are usually poached, but I prefer cooking them in a pan like sunny side up eggs. When you cook them over low heat, you can reach a perfectly runny yolk. I find this method to be easier and faster than poached eggs. And they're equally delicious too!
Okay, now that we have the flavored yogurt and the soft-cooked eggs, there's only one step left. I melted a little bit of butter, mixed it with chili flakes and smoked paprika, and then poured the melted composition over the eggs on a plate. The end result is simply amazing! 🙂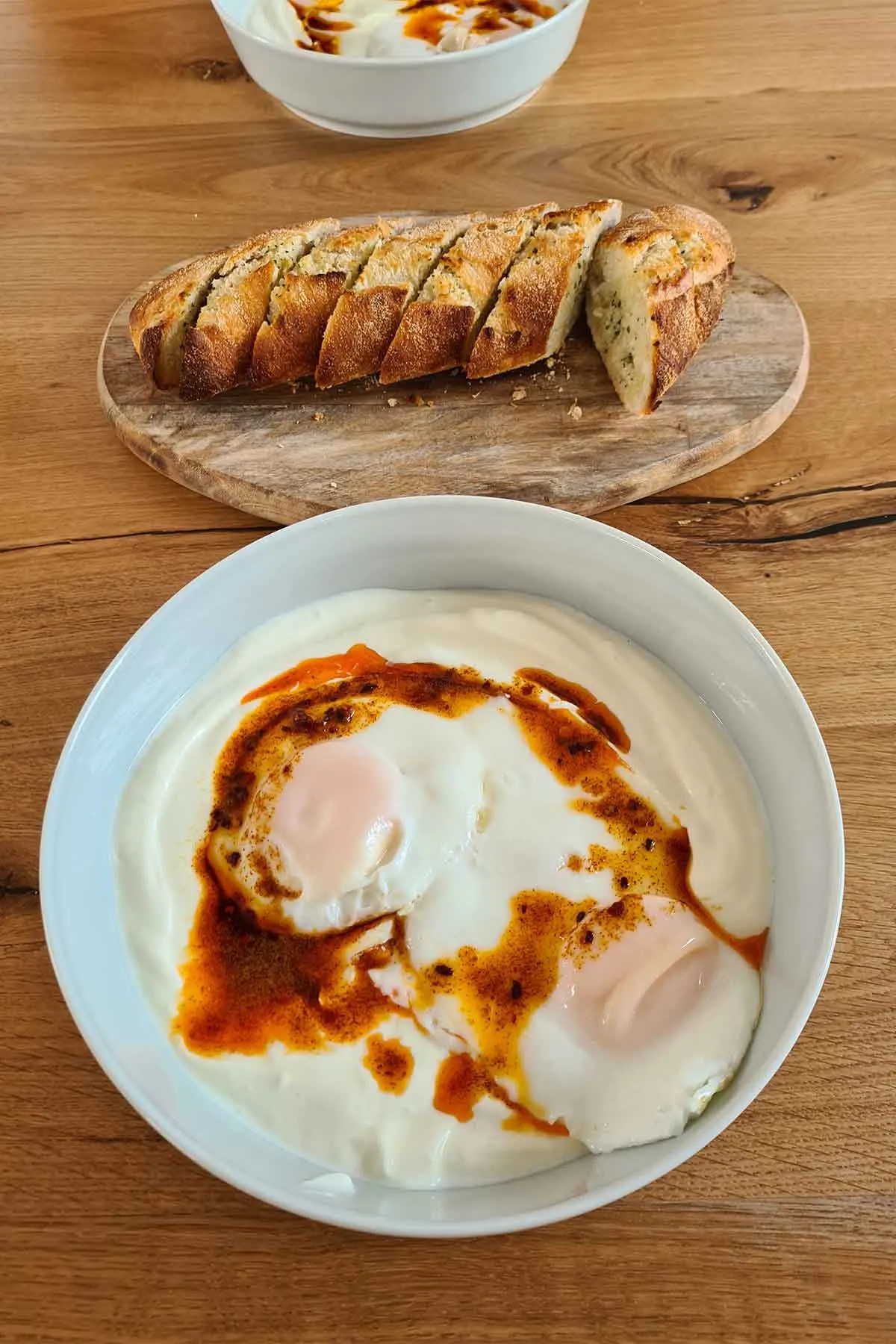 I served everything with a warm, crunchy baguette, fresh out of the oven. I absolutely adore the frozen baguettes from Lidl, the ones with garlic or herbs. I recently discovered similar ones in Mega Image as well. So now I always have a stash of frozen packages in my freezer, which I usually serve for breakfast once or twice a week. When they come out of the oven, these baguettes can really transform a boring breakfast into a real delicacy!
I usually split one baguette into 2, so one portion means 1/2 of a baguette. A package from Lidl has 2 big baguettes, which means enough bread for four portions.
If you need more inspiration for egg breakfasts to start your day with, here are some other recommendations: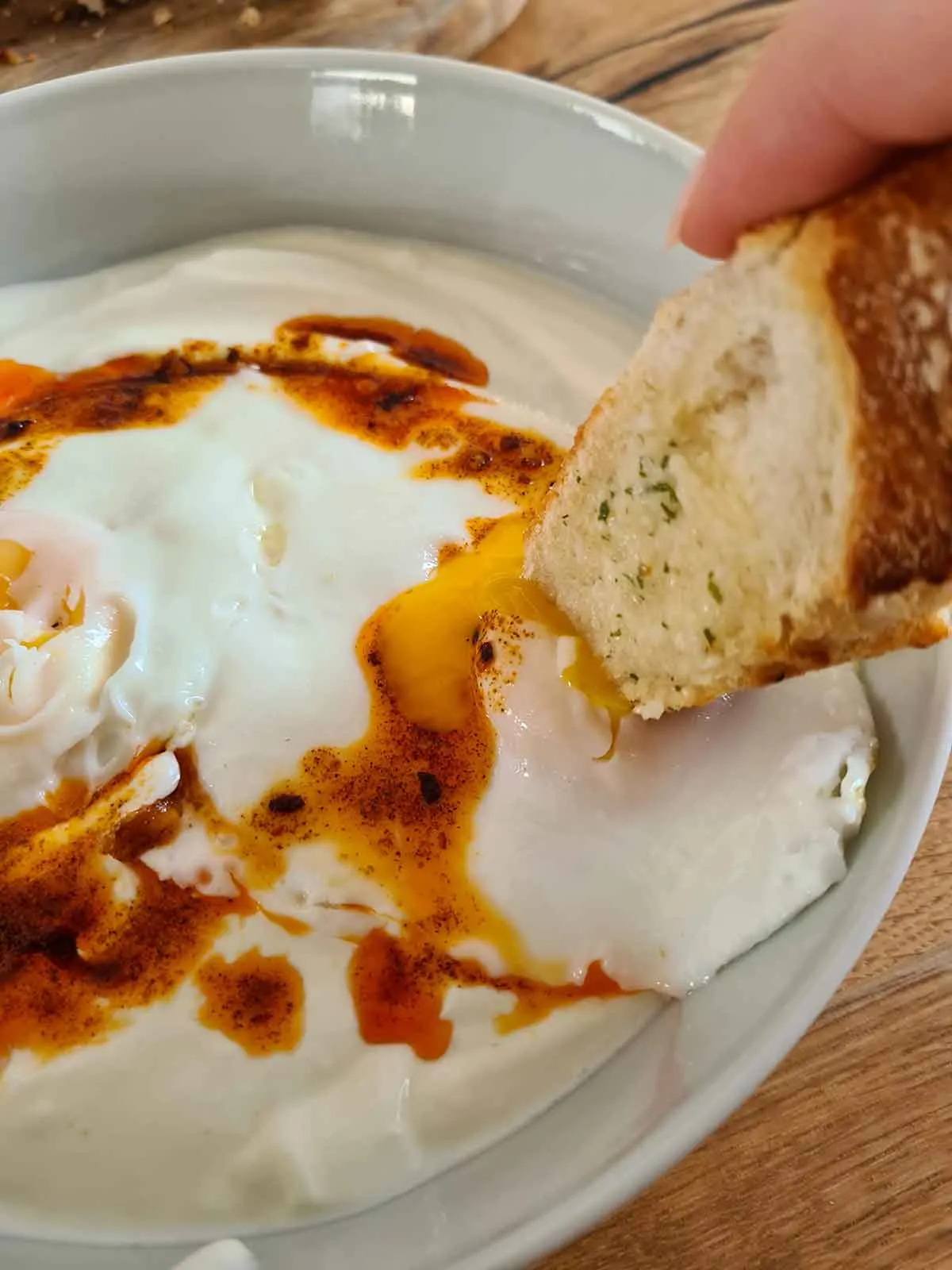 Lunch
Because today was kind of gloomy, we wanted to stuff ourselves with lots of comfort food. So, for lunch, we decided to make my favorite food in the world – veggie schnitzels with mashed potatoes! 🙂
I used the vegan schnitzels from Naturli, which are super yummy and easy to prepare. I usually cook them in the oven for 20-25 minutes. I have a "no frying" policy in my home, so I can't even remember the last time I fried something… nonetheless, the oven-cooked schnitzels are super delicious and crunchy on the outside!
Now let's talk about the mashed potatoes. I always prepare them using the same recipe and I end up with 4 generous portions. I use 6 potatoes, peeled, and cut them into small cubes. I boil them in salty water until tender. Then I strain them, but I keep one cup of liquid to fix the consistency along the way. I add around 50g of goat butter and I mix everything with the hand mixer until I end up with a fine, fluffy consistency. I usually don't add any more salt because my mashed potatoes are already salty from the water in which I boiled them.
I served this absolutely wonderful lunch (told you it's my favorite food in the world!) with pickles and a salad made with various greens from the garden.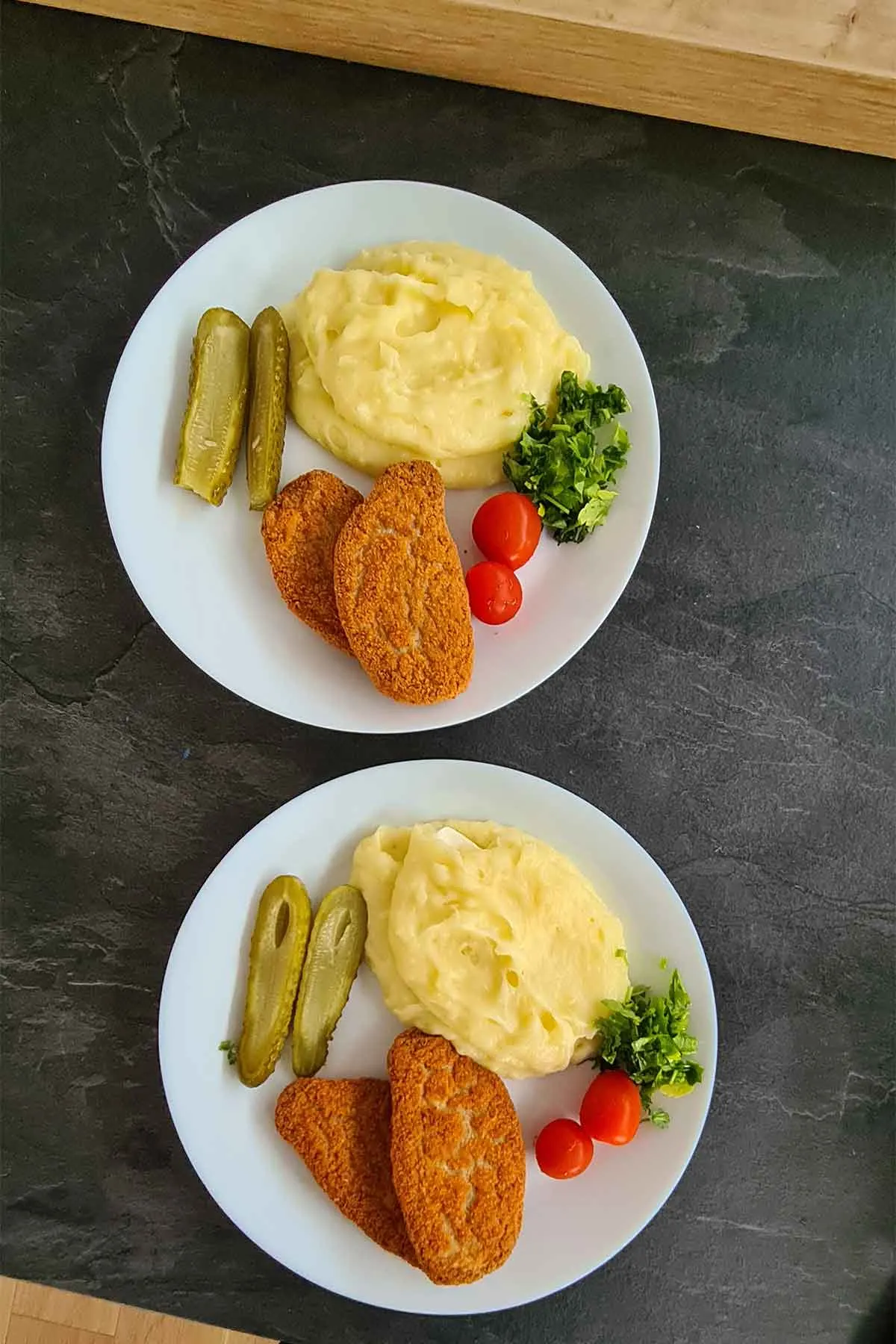 If you think this recipe sounds good, here are some other similar recipes from my blog that include either schnitzels or mashed potatoes:
Dinner
Today's dinner was in line with our mood: comfort food for cold days. So I decided to make some creamy polenta, served with some yummy things such as crushed goat cheese, a ball of buffalo mozzarella in the middle, some freshly picked spinach leaves, and baked smoked tempeh. If you never tried serving mozzarella under hot polenta, I definitely recommend it, it's absolutely delicious!
Same with the tempeh. I know a lot of people avoid using it because it's not very easy to find (at least where I live) and maybe also because it's kind of a strange ingredient. But I definitely recommend you try it at least once – who knows, maybe you'll fall in love with it! 🙂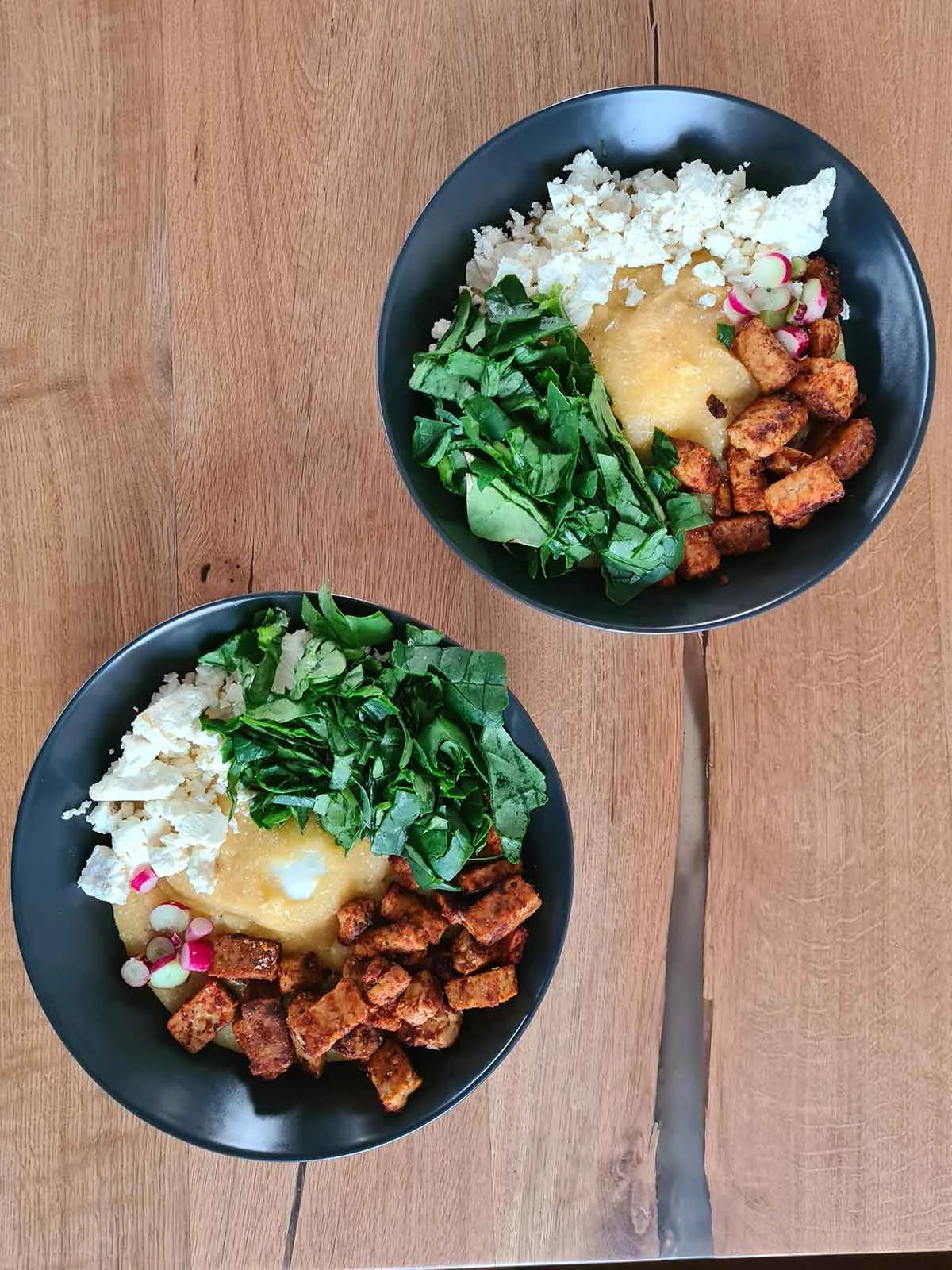 I recommend the tempeh from GymBeam, it's the one I usually use and it's very good. For today's dinner, I cut it into small pieces and I mixed it with very little oil and some smoked paprika. Then I cooked it in the oven for 15-20 minutes. It's absolutely yummy!
Here are some more polenta-related recipes in case you need some more inspiration: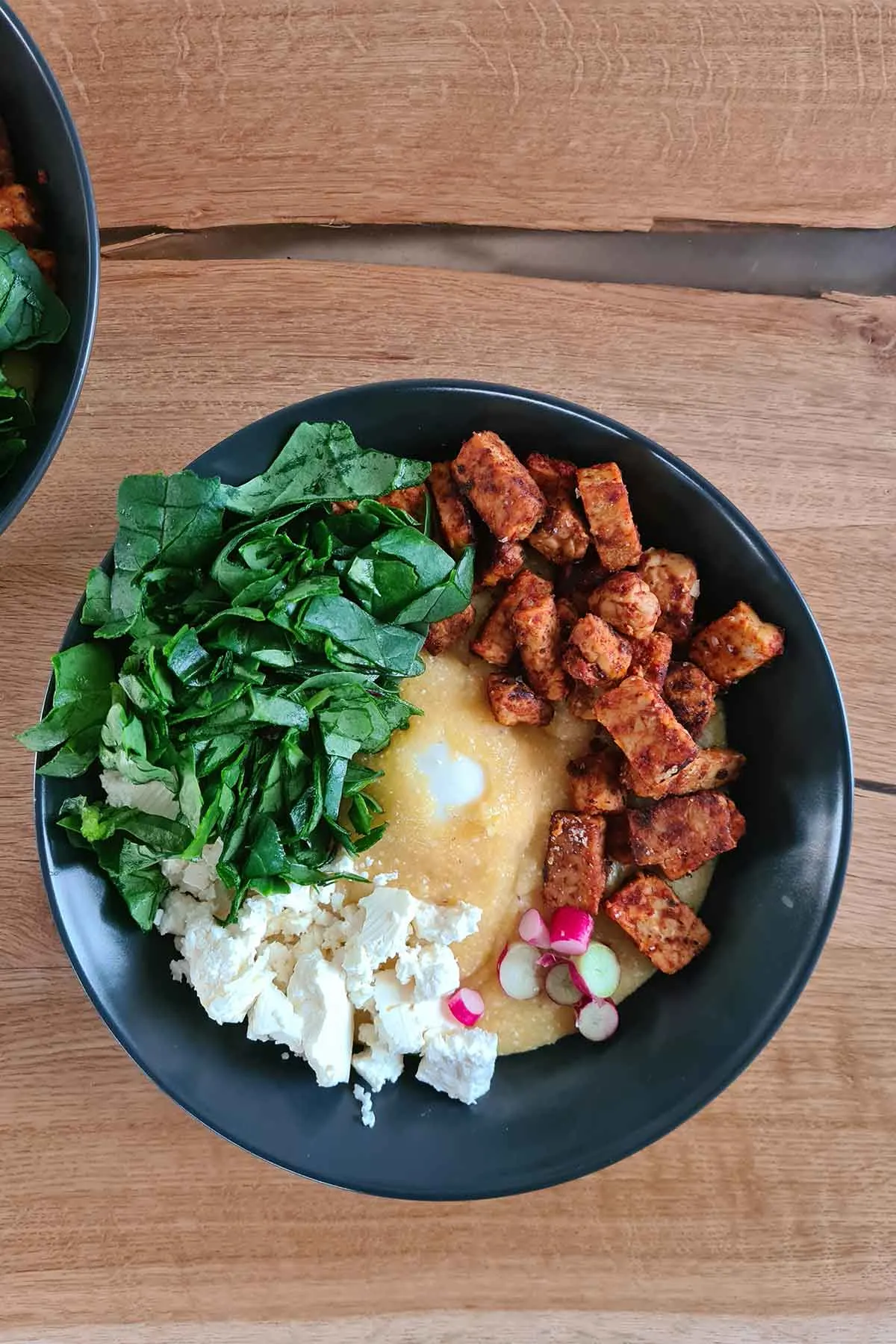 I hope you got some inspiration from today's menu! 🙂