This vegetarian mushroom shepherd's pie is the perfect comfort food, even the pickiest eaters will love! It also has a vegan version.
This mushroom shepherd's pie is an absolutely must-try for all of you vegans/vegetarians who sometimes miss the taste of meat. This recipe was first made by my mom, who is eating less and less meat and she's trying to "vegetarianize" all recipes that she cooks. I'm am so happy that I succeeded in changing my parents' eating habits for the better, even just a little. 🙂
Shepherd's pie is a classic comfort dish that originated in Britain and has been a staple meal for centuries. It dates back to the late 18th century. The dish became popular as a way to use up leftovers and stretch ingredients during times of food scarcity, and remains a comfort food staple in Britain today.
This is a savory meat and vegetable pie topped with mashed potatoes, that was originally made with leftover meat and vegetables. But today, I'm going to share with you a delicious vegetarian version of this classic dish.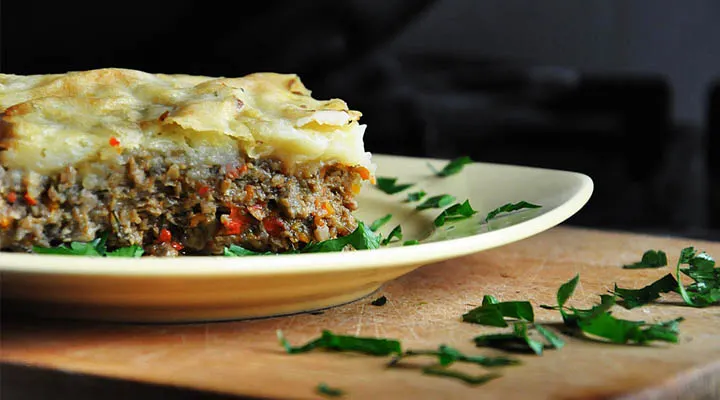 Yes, this mushroom shepherd's pie recipe takes a little longer to prepare, but it is totally worth it! This is one of my favorite vegetarian comfort food recipes. If you're looking for a budget-friendly, delicious vegetarian casserole recipe, this mushroom shepherd's pie is just perfect!!
This dish is a great way to get your daily dose of vegetables and is perfect for a cozy night in. It's a twist on this classic dish, you can try adding different types of mushrooms or vegetables to the filling, such as chopped kale or chopped Brussels sprouts. You can also add different herbs and spices for extra flavor.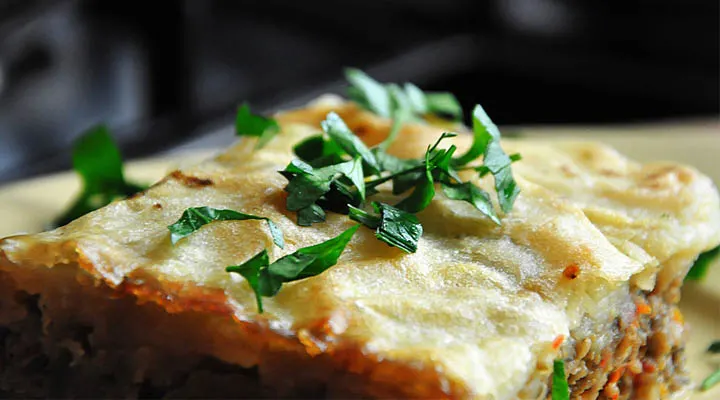 Do you want to try other types of shepherd's pie?
Looking for some creative shepherd's pie recipes? The possibilities are endless! Here are a few ideas to get you started:
Try it and let me know if you liked it as much as I did.
Yield: 10+
Vegetarian Mushroom Shepherd's Pie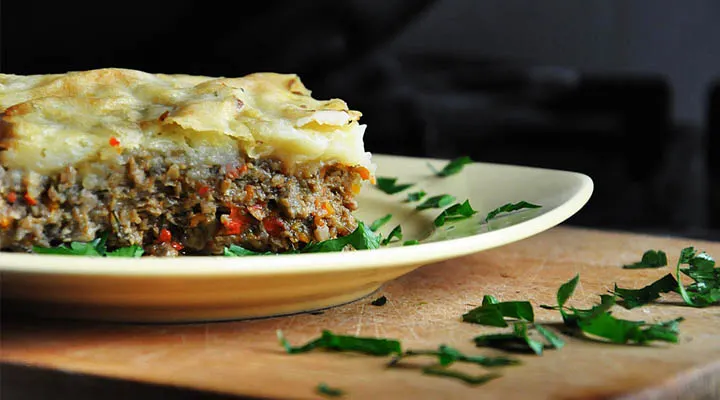 This vegetarian mushroom shepherd's pie is the perfect comfort food, even the pickiest eaters will love! It also has a vegan version.
Ingredients
1kg (35oz) red skin potatoes
100g (1 cup) soy granules
1 kg (35oz) button mushrooms
1 carrot
1 red bell pepper
2 onions, diced
1 bunch of dill, chopped
1 bunch of parsley, chopped
2 eggs, or 5 Tbsps nutritional yeast + 4 Tbsps tapioca starch, for vegan version
sea salt, to taste
½ tsp ground pepper
1 tsp sweet paprika
1 Tbsp dry thyme
2 Tbsps sunflower oil
Instructions
Peel potatoes and put them in a large pot filled with water. Boil them until they're tender. Mash them and let them cool for a while.
Chop the mushrooms, carrot and red bell pepper. Add them into your food processor and pulse until all ingredients are well mixed together.
Heat oil in a large skillet. Add the mixture above, diced onions, chopped dill and parsley, soy granules, eggs (or egg substitute) and spices. Sauté for 10 minutes.
* I added the soy granules without boiling them because the mushrooms contain a lot of water and these soy granules will absorb all excess water.
Put some parchment paper on the bottom of a casserole. Divide the mashed potatoes in two. Place the first half in the casserole and spread it with a spatula. Add the filling. Place over the other half of mashed potatoes.
Heat your oven at 392˚. Put the casserole in the oven. Cook for 40 minutes.
Don't serve immediately. Let it cool for at least half an hour.
Notes
I used a ~40x15cm casserole.
Nutrition Information
Yield
10
Amount Per Serving
Calories

90
Total Fat

3g
Carbohydrates

9.7g
Protein

6g