Ever tried making guacamole, one of the easiest and most delicious dips of all time? You have no idea what you're missing on! Here is how to create the best ever guacamole!
Are you hungry for some delicious, easy-to-make and packed with nutrients spread or dip? I thought so! Then you are definitely in the right place, as today we are going to make one of the most popular dishes of our time, a millennial favorite: the guacamole!
Guacamole is a dish that doesn't really need much of an introduction, as we all know and love its taste, the creamy texture, the amazing color and the way it brings joy into our kitchen! 🙂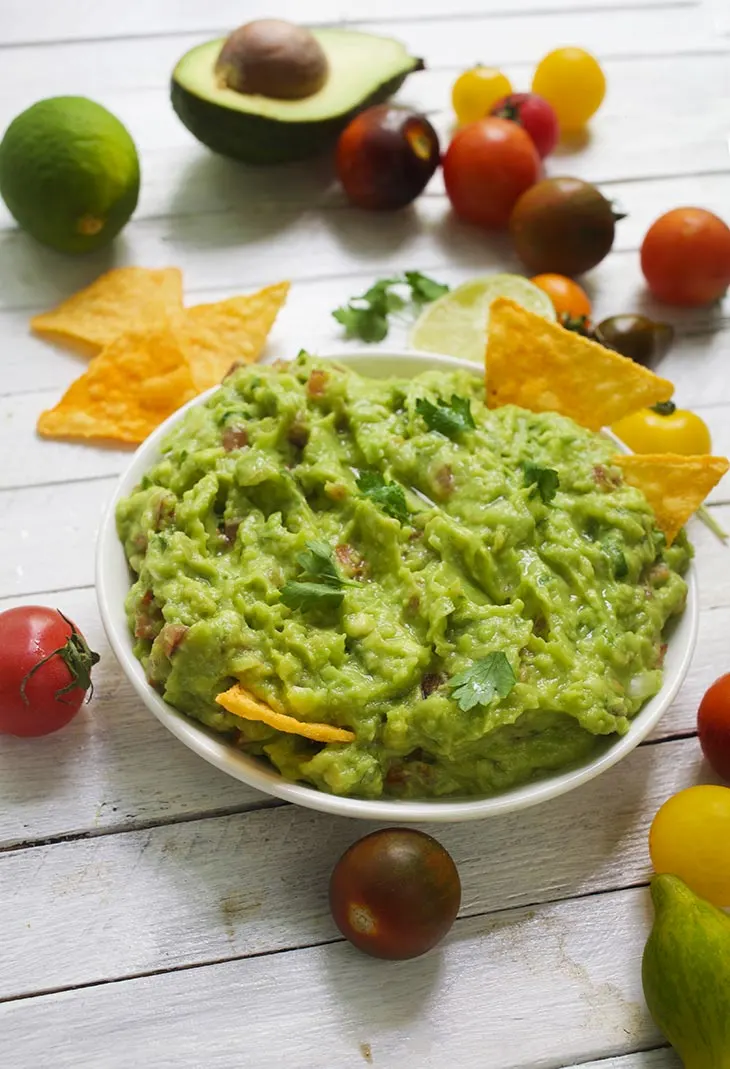 Although it is so popular in our time, its history actually dates back to the 16th century. It's the Aztecs that first made the Guacamole, in the territory that is occupied by Mexico today.
The modern name comes from the Nahuati word, āhuacamolli which translates literally into "avocado sauce". Probably the taste wouldn't have been so familiar then, as in those times it was made purely out of mashed avocados.
So maybe Guacamole is actually one of those things that get better with time, as the nowadays recipes feature lots of flavorful ingredients as well!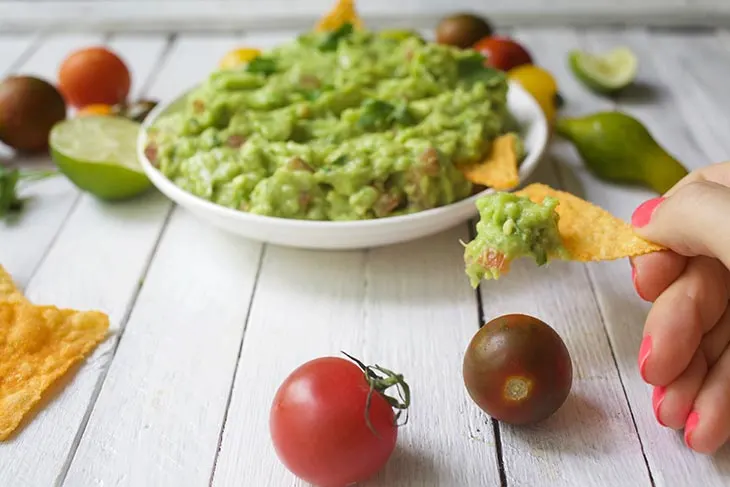 Although the roots of the guacamole link it to the Central American tradition, it has become assimilated into American cuisine and culture.
An interesting fun fact is that during the Super Bowl, guacamole is one of the most consumed products! And it's actually no wonder since it is so easy to make it, as well as eat it!
There is no wrong way to indulge in guacamole. My personal choice is spreading it on toast, yet there are so many more options.
Here are a few ideas: you can use it as a dip for nachos, put it on a sandwich, serve it with eggs, make it as a salad dressing or use it as a side dish for vegetables. It's amazing that something so easy to make has this much versatility!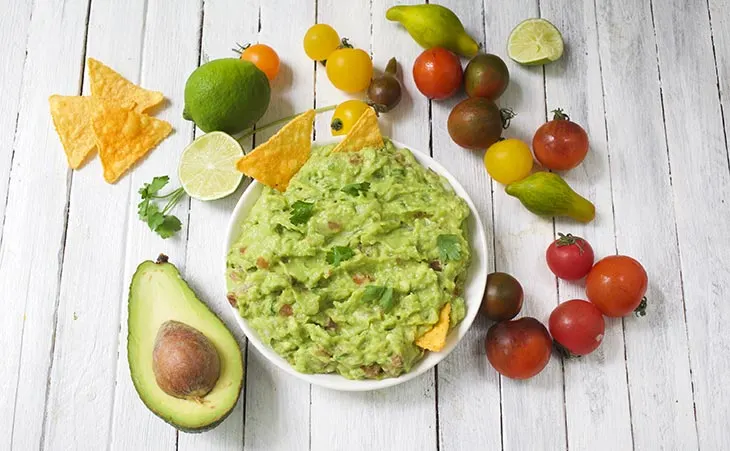 The fact that guacamole can be put together in minutes makes it very convenient for those days when you just want a quick run to the kitchen in order to obtain a meal.
There are many variations available to try, but the main ingredients for any Guacamole are avocados, tomatoes, onions and lime. There is really no excuse to not make it as often as possible.
The mashed avocados serve as a basis for adding the extra toppings, and everything is raw. You don't really need to worry about anything except finding the perfectly ripe and creamy avocados.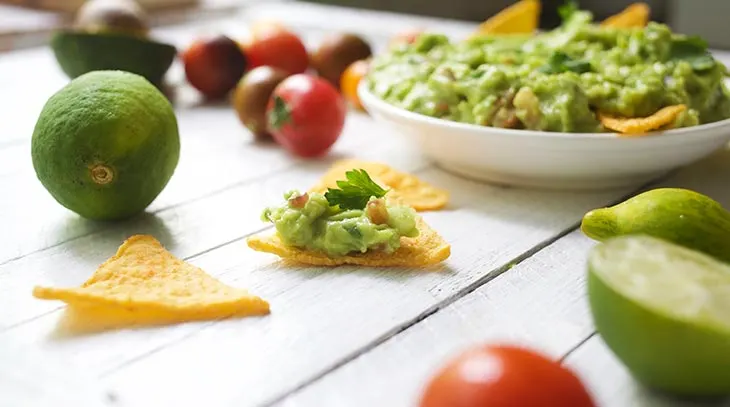 Now let's talk about the nutritional value of the guacamole. Having avocado as its main ingredient is so convenient, as avocado is a fruit packed with so much nutritional value. First of all, it is incredibly nutritious.
From only 100 grams of raw avocado, you can get 26% of the daily value (DV) of Vitamin K, 17% of Vitamin C, 14% of Potassium and so much more!
Impressive, right? 🙂 That's what I thought as well! The proven benefits of avocado consumption are helping maintain a healthy heart, protecting the health of the eyes, helping the prevention of osteoporosis, improving digestion while also helping the natural detoxification of the organism. Quite convincing!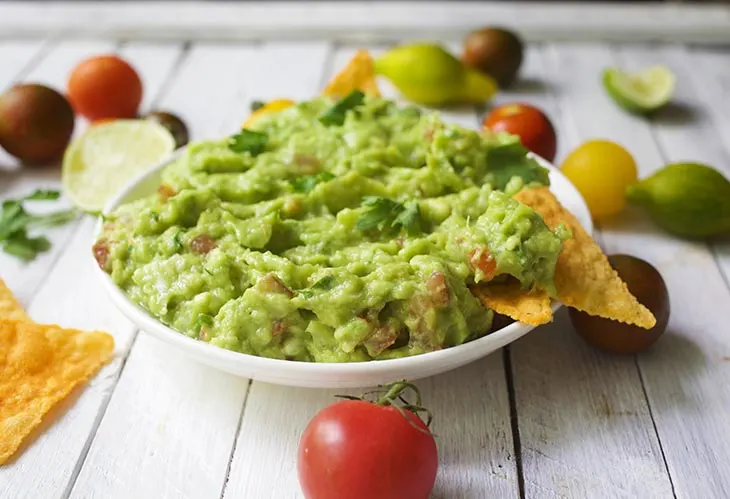 Now it is actually easy to understand why avocado, especially in the form of guacamole, has become so popular among those of us trying to maintain a healthy diet.
There's a wide misconception surrounding the fact that healthy eating is not as tasty and satisfying as junk food, yet this couldn't be farther from the truth! Trust me, all those stating that healthy food is not delicious could be instantly proven wrong by a bowl of freshly made guacamole! 🙂
The secret for amazing guacamole is using the right avocado. So here is what you should do when you go avocado shopping. The best way to check the ripeness of the avocado is by gently squeezing the avocado into your palm.
The ready-to-eat avocado should feel soft, but not mushy. The color of the avocado skin could also give you a clue: it should be darker in color, as more green ones suggest that the fruit is not ripe yet.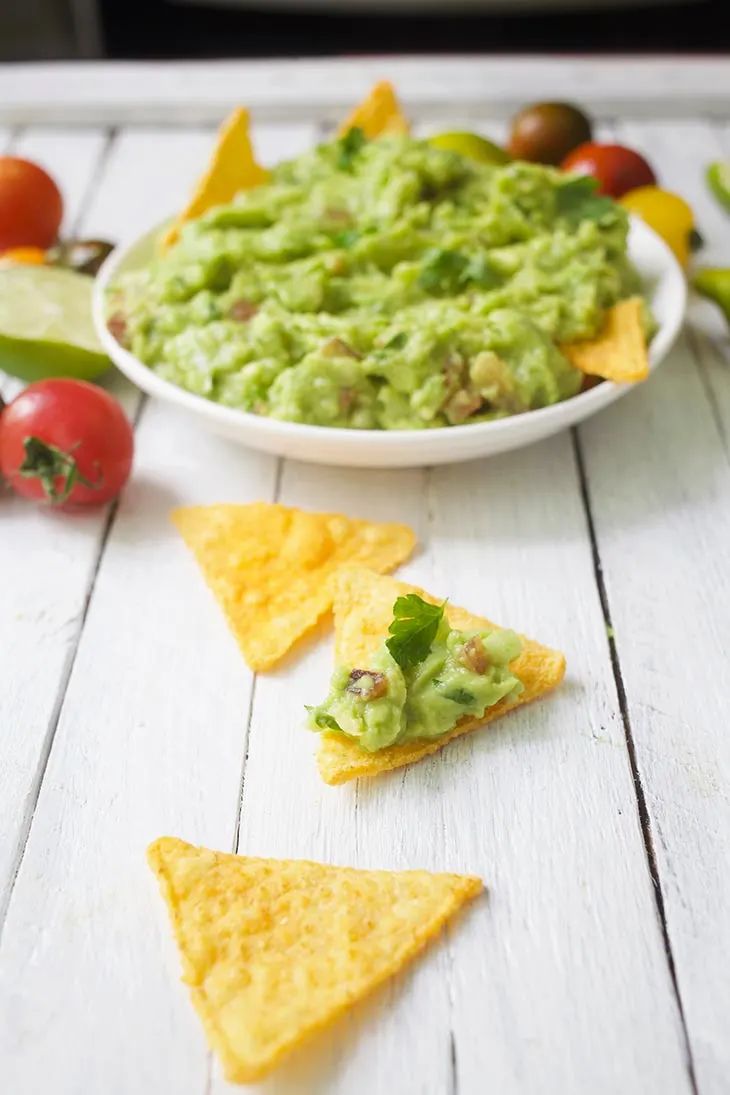 This being said, it's time to get together all the necessary ingredients and start our recipe. I promise that it will be one of the best versions of guacamole you've ever tasted and it would quickly become your go-to recipe for a quick and healthy snack. This guacamole will be the food star of any party! 🙂
Yield: 2 +
Best Ever Guacamole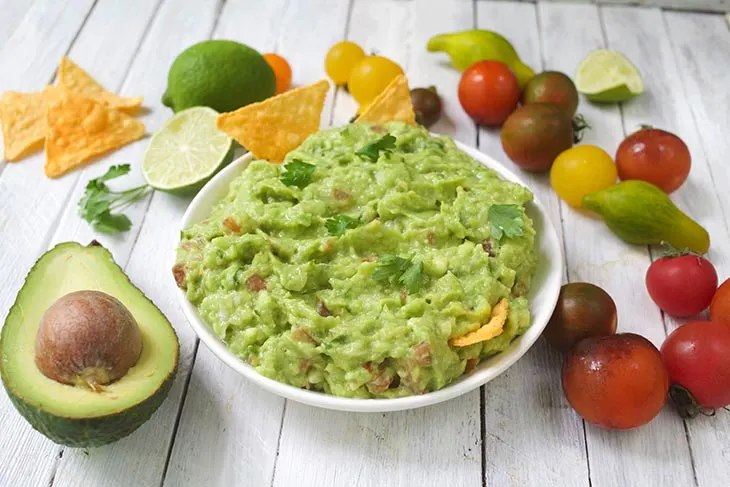 Ever tried making guacamole, one of the easiest and most delicious dips of all time? You have no idea what you're missing on! Here is how to create the best ever guacamole!
Ingredients
3 ripe avocados, peeled and pitted
½ white onion, finely chopped
2 plum tomatoes, deseeded, chopped
2 cloves garlic, minced
½ jalapeno, finely chopped
½ lime, juice of
3 Tbsp cilantro, finely chopped
½ tsp salt
½ tsp pepper
Instructions
In a large bowl, add the avocados and mash them with a fork.
Add the chopped onion, tomatoes, garlic, jalapeno, lime juice, cilantro, salt, and pepper.
Mix all ingredients to incorporate.
Serve with veggies or nachos!
Nutrition Information
Yield
2
Amount Per Serving
Calories

109
Total Fat

1g
Carbohydrates

7g
Fiber

5g
Sugar

1g