Are you a pizza lover? Then you will definitely love this low-carb, easy and delicious recipe for Portobello pizza! Give it a try!
Have you ever been at a party and someone asked you "if you could only eat one thing for the rest of your life, what would it be?" Most people always list their favorite dish, but I think that's actually pretty counter-intuitive.
I've always said pizza, and not just because pizza is delicious, but think about it – you have an infinitely customizable dish, popular all over the world, made with all sorts of ingredients, on which you can put whatever toppings you like, and it even has countless vegan options.
And then you might ask "but doesn't that mean a whole lot of carbs since you're always having crust?" and I might answer, well, think again!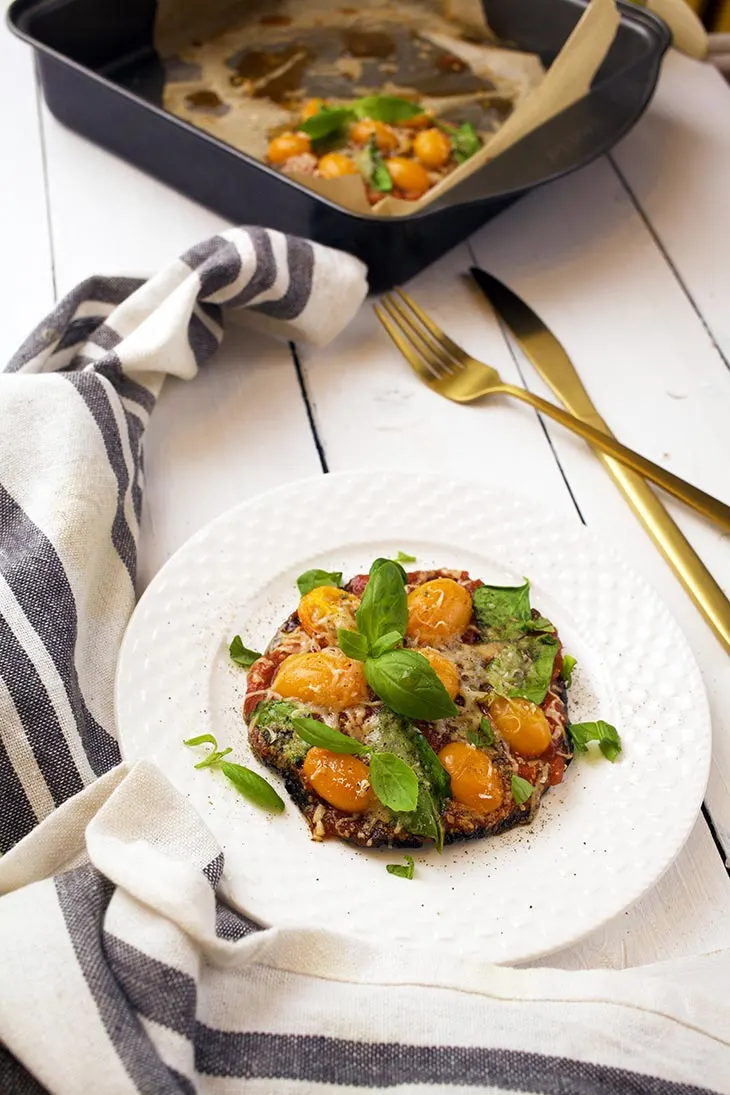 It's not exactly easy to pinpoint what pizza is. Ranging from the original Italian recipe, which was made only with dough, tomato sauce, mozzarella cheese and a few drops of olive oil, to the newest new-fangled broccoli feta cheese and pineapple pies, one could derive that pizza is made out of a number of ingredients on a dough, including two bases – one that sticks, and a sauce – that is left in the oven for some time, after which it gets sliced into even pieces, and shared across the table. Or not! 🙂
Modern fast food culture has pretty much imprinted in our brains that eating a whole pizza by your own is an okay thing to do. And I'm not going to argue against the relationship you have with food, but what if I told you that you can make smaller, healthier pizzas that are as tasty as the usual ones? Whoever said that you are forced to use dough as a base in pizza for all the tasty ingredients? Why not think outside the box and use another tasty ingredient? Am I starting to make sense here?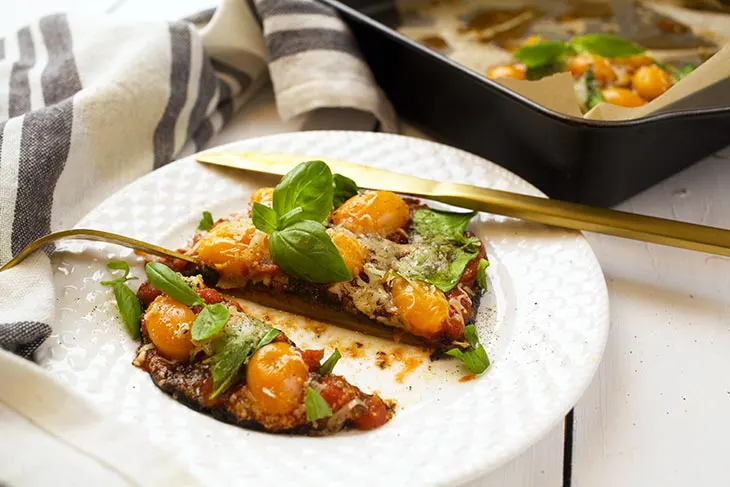 Today's recipe is me trying to show you a cool new way to diversify your diet, meanwhile subtracting nothing more from your favorite pizza recipes other than the dough itself. The Portobello Pizza recipe includes your favorite pizza ingredients – all the cheese, the sauce, meat (or its vegan replacements) or other ingredients – placed and cooked on top of a delicious portobello mushroom! 🙂 Amazing, right?
To make space for the ingredients, we are going to be separating the mushroom's cap from its stipe, and then we can start experimenting. You can use your favorite, classic pizza ingredients, like vegan cheese and tomato sauce, and whatever else you love. You can also experiment with pesto sauce instead of tomato sauce, add sun-dried tomatoes, corn and everything you can think about.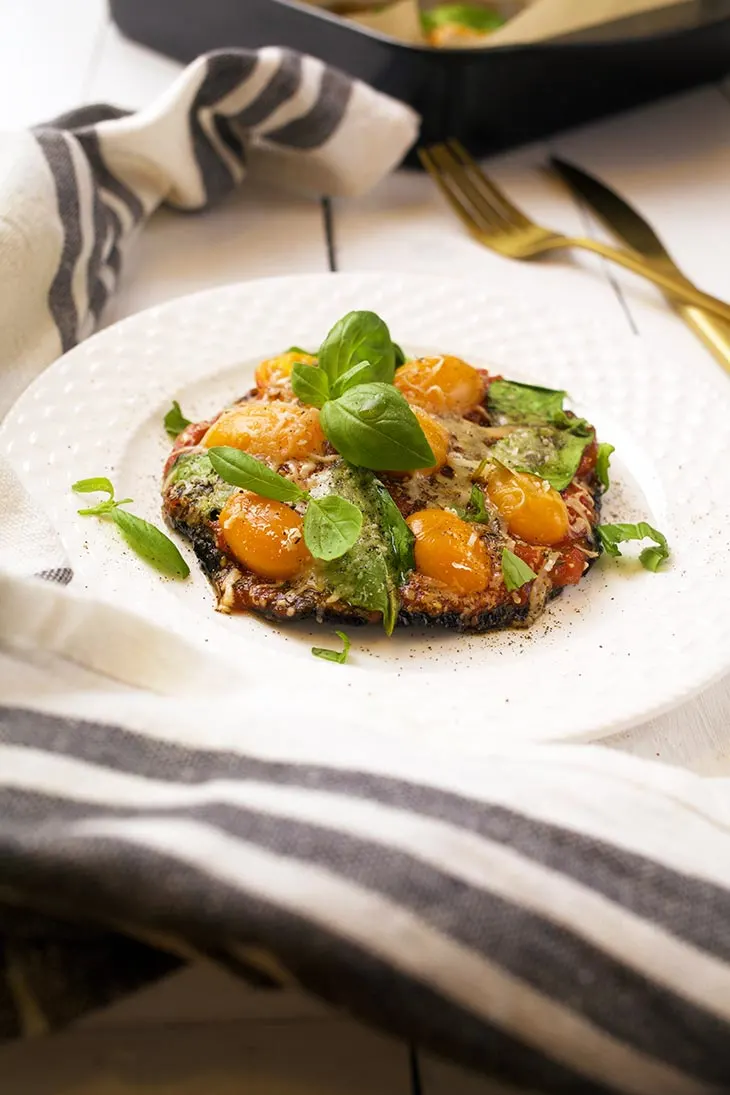 Because the portobello mushroom cap doesn't have such a large diameter as a pizza dough might have, you're going to want to make a bunch of these, akin to small pizzas, especially if you're planning to serve them to other people. And you should! They're a very fun snack, they can also be served as an appetizer, and they will definitely surprise a number of your guests who might not be used to see mushrooms prepared in this way!
So what are some of the benefits of replacing your pizza dough with a mushroom cap? Well, first of all, you've got the added nutritional value. Overall, you are going to get more protein and fewer carbs, and the overall experience will be just as tasty as a real pizza if you season everything properly and use the things you generally like. I would advise heavy experimentation on the vegan cheese side – smoked tofu and cashew cheese might work better here.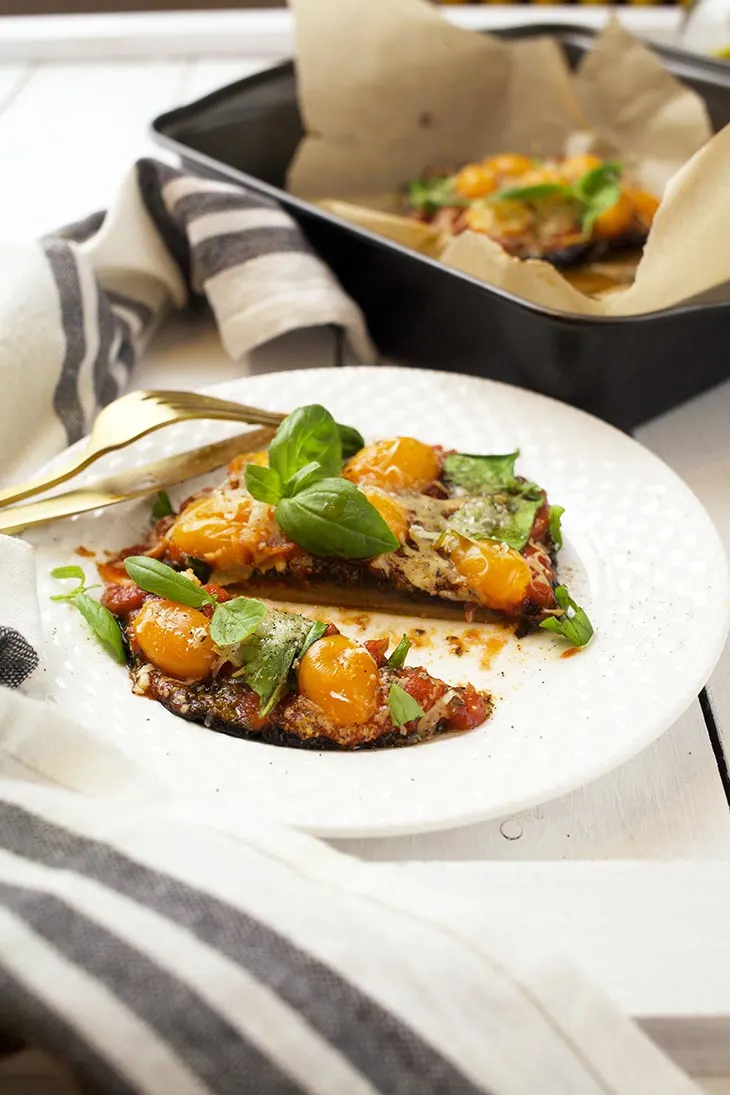 Different ingredients will react differently with the mushroom cap as opposed to the pizza dough. The cap will absorb liquid ingredients differently, like melted cheese or sauce. This is why I sometimes prefer to use cashew cheese and herbs, sometimes cherry tomatoes, other times I just put the classic vegan mozzarella and I love it either way.
I usually prefer a lighter kind of portobello pizza, but don't let that stop you from achieving your pizza dreams!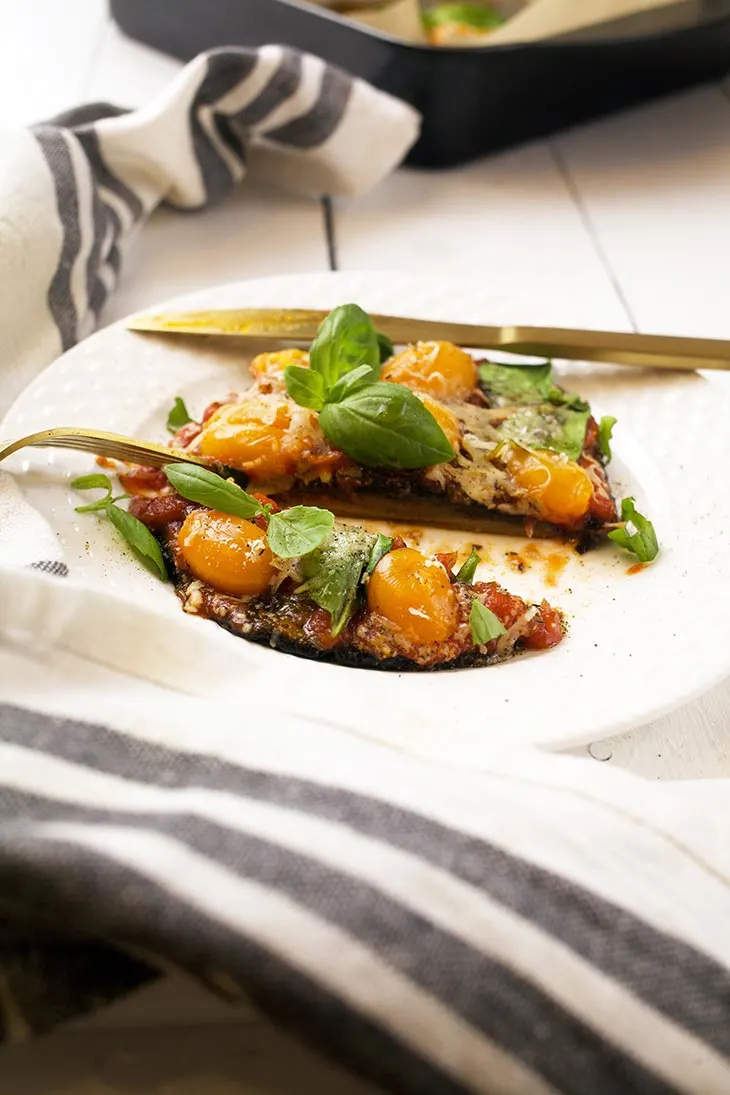 These portobello pizzas are going to be a delight next time you have your friends over! Make as many as you can, and use different ingredients for each batch! This way, you can make pepperoni portobello pizzas for your meat-loving friends, pesto-feta cheese for your vegetarian friends, and this version with cherry tomatoes, spinach and vegan mozzarella for yourself and your other vegan friends!
Sharing is caring, and there's nothing I enjoy more than cooking for my friends! Fun snacks like these will always lead to positive, pleasant experiences. Experimentation leads to the best things in food, which is how I suppose portobello pizza was first invented. 🙂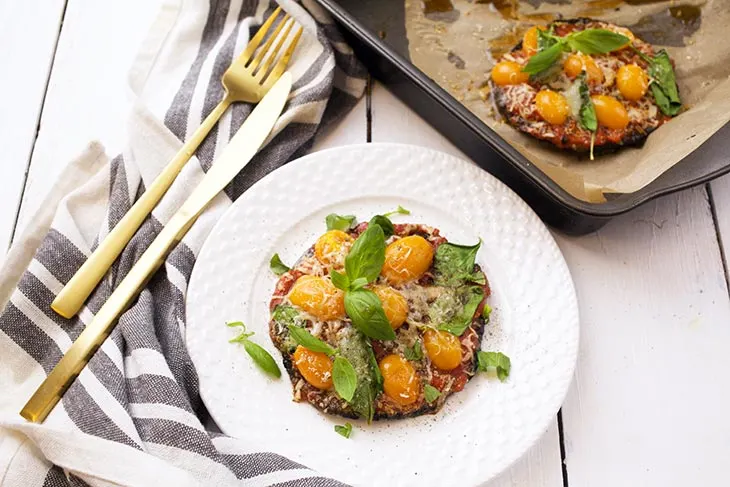 I wholeheartedly hope you'll enjoy making these special pizzas. Tell me how it went, and if it convinced you to switch from regular pizza! And most importantly, have fun!
Yield: 2
Portobello Pizza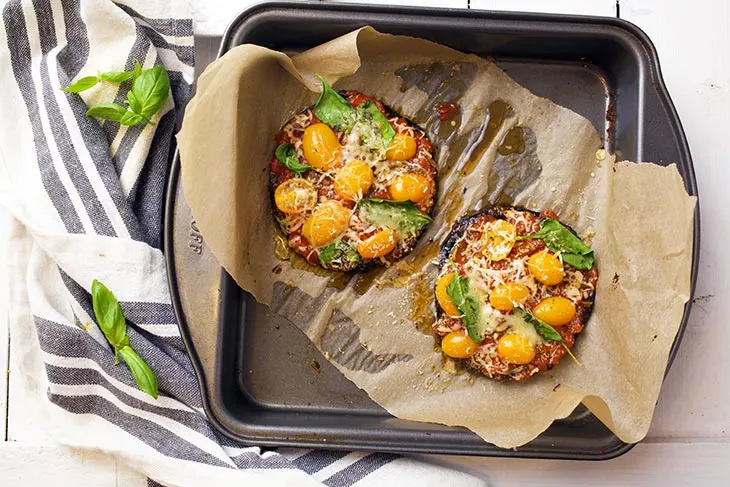 Are you a pizza lover? Then you will definitely love this quick, easy and delicious recipe for Portobello pizza! Give it a try!
Ingredients
2 large portobello mushrooms
150g (½ cup) yellow cherry plum tomatoes, halved
15g (½ cup) fresh spinach
4 Tbsp tomato pizza sauce
2 Tbsp finely chopped shallots
1 Tbsp olive oil
2 Tbsp vegan mozzarella
1 tsp oregano, dry
1 Tbsp vegan parmesan cheese
fresh basil leaves for topping
salt and pepper to taste
Instructions
Preheat the oven to 200 C. Cover a baking tray with baking paper.
Cut the mushrooms stems with a tablespoon and scoop the soft inside of the mushrooms.
Brush the scooped side of the mushrooms with olive oil, place on the baking tray with the olive oil side down and bake for about 7 minutes.
Take out the mushrooms, turn them upside down and cover with sauce, chopped shallots, dry oregano, spinach leaves, tomatoes halves.
Bake for about 15 minutes, sprinkle with mozzarella and parmesan and return to the oven for five more minutes.
Serve with fresh basil on top.
Nutrition Information
Yield
2
Amount Per Serving
Calories

135
Total Fat

9.3g
Carbohydrates

10.4g
Protein

2.2g