If you're a fan of flavorful and filling pastry, you're in luck! This recipe for vegan mushroom pinwheels is everything you want! Give it a try!
I don't know what other people are like, but I am the kind of person who simply loves having friends over my house. I love the atmosphere of a crowded house, and social gatherings have always managed to lift me up. I also get the feeling like I have to give something back, and what better skill to put to use for your friends than the wonderful gift of home cooking?
I have the best satisfaction when my friends come over and someone suggests ordering pizza and I say "We don't need to do that, I've made yummy snacks!". You should see the light on their faces, oh, what a blessing! 🙂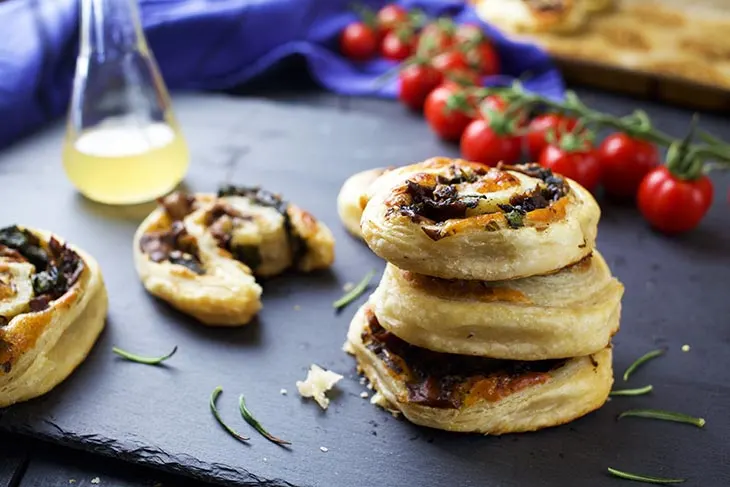 One of my favorite party snacks that I've been making lately are these vegan mushroom pinwheels. Some of my friends are vegan too, but others are not, so I thought that the best idea was to make one type of snack that everybody would like. And trust me – the moment you taste these pinwheels, you are going to feel better about your food choices!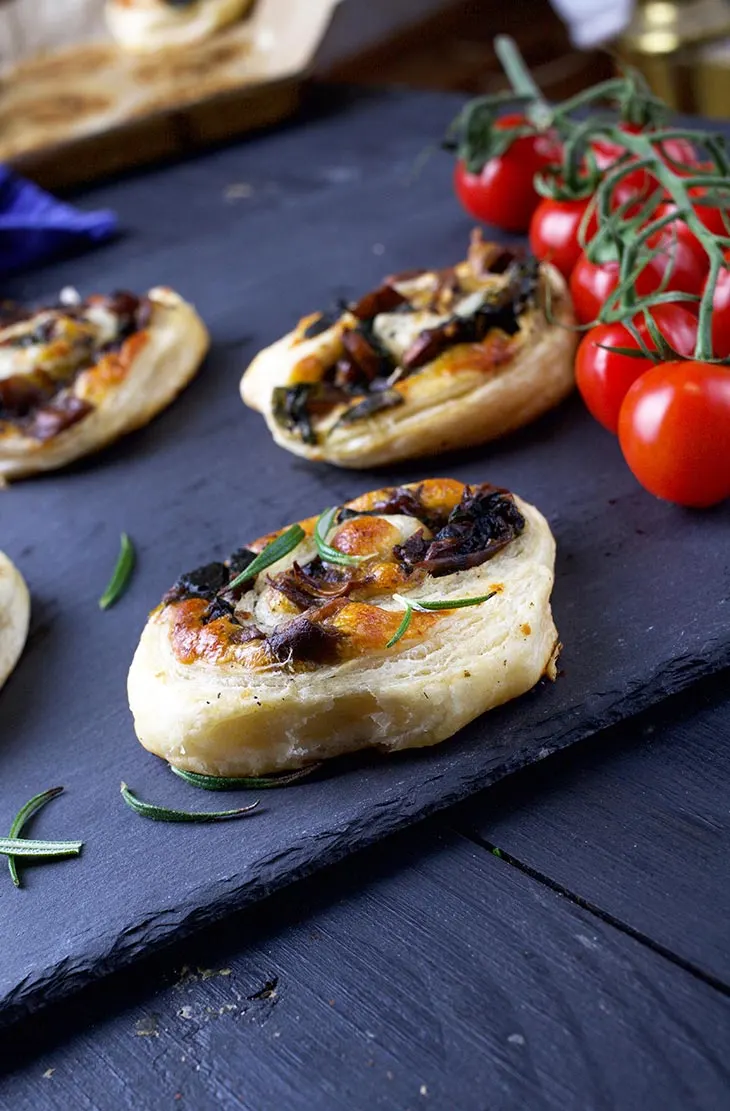 They are a quick and easy to make, versatile snack – and filling too! They can, of course, act as an appetizer for the main dish, or you can just do what I do and have them for snacktime with friends. Being pastries, you can even pack them in a lunchbox and take them with you when traveling, or at work!
Let's talk about how they are made for a bit. If you've been following my recipes, you'll notice that I adore mushrooms, I think they're one of the best things that are found in nature and you can cook. Mushrooms are one of the most widely used ingredients in vegan dishes out there, mostly due to their high protein content and their ability to imitate a meaty texture.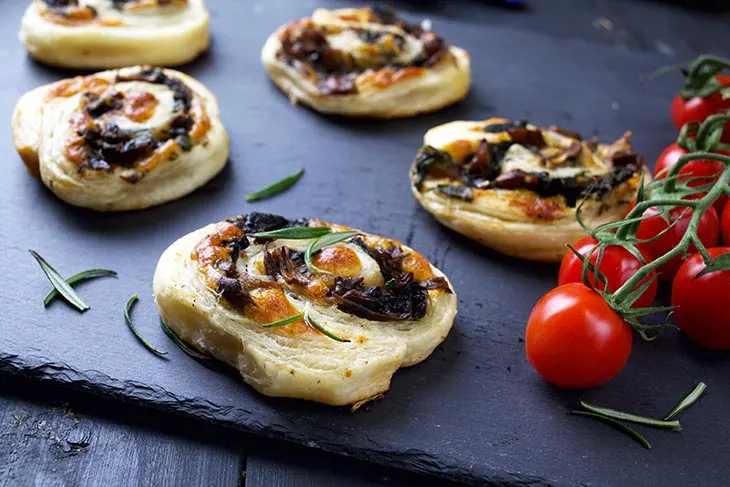 If you ask me however, I don't think that you need to enter that mindset in order to enjoy a good mushroom-based dish. I think the mushrooms play a decent role of a stand-alone filling by themselves, and you'll see that any meat lover would say that these vegan pinwheels are actually delicious on their own. I should also mention – my favorite mushrooms to use with this recipe are cremini and shiitake, but if you have any other favorites, like portobello or oyster mushrooms, don't hesitate to use them!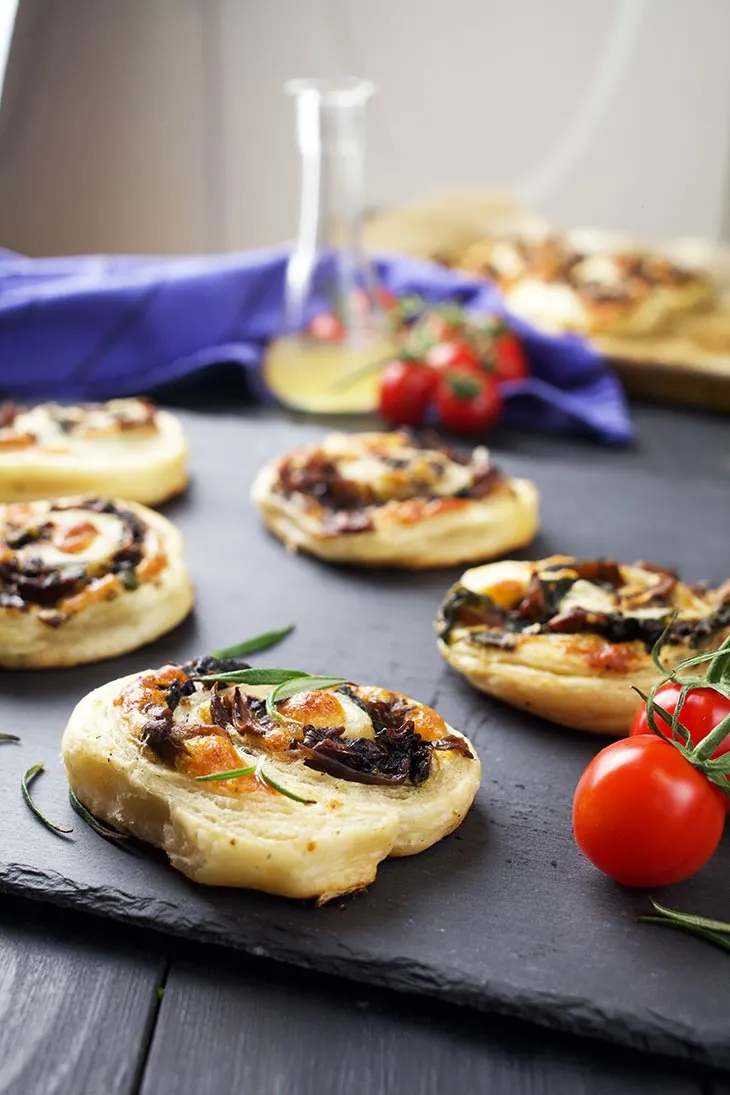 And even if they're the main star, mushrooms aren't the only ingredient that goes in these delicious pinwheels. After all, we have to add something to keep the mushrooms in place. And in this case, that something would be whatever your favorite version of vegan cheese is, that we will add to the mix, after the mushrooms and garlic and – I'd suggest – onions and spinach are simmering in the pan.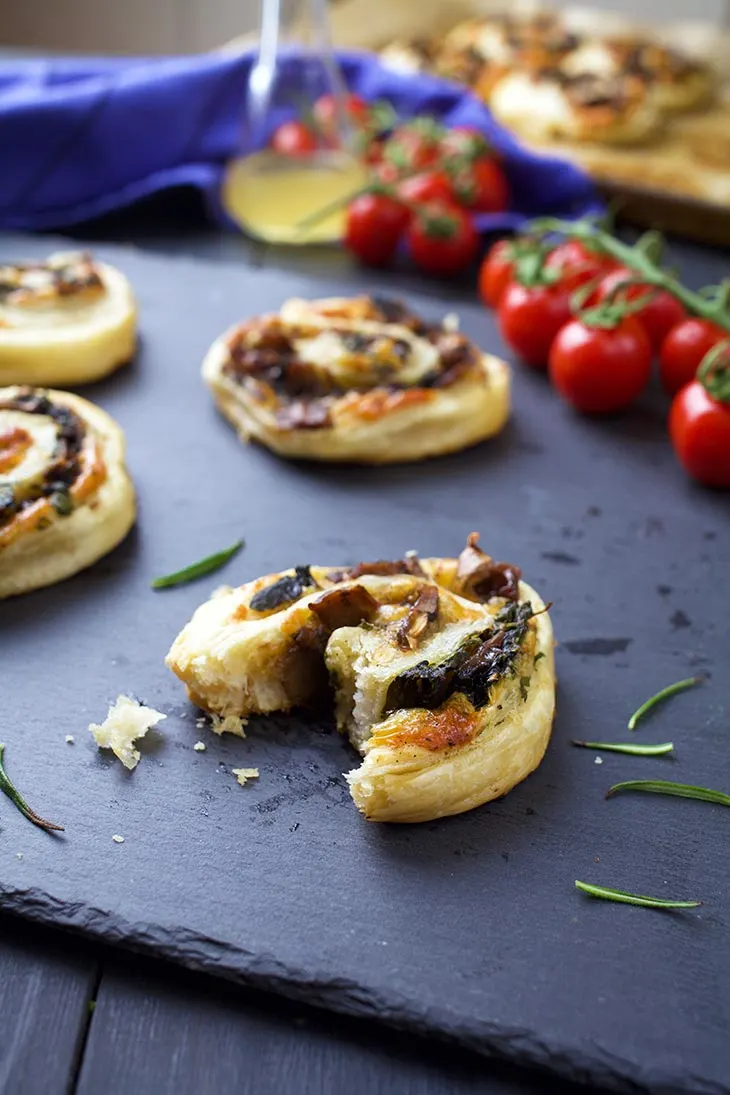 You can play around with the mix that you'll end up filling your pinwheels with. I for one love garlic, I think it pairs wonderfully with roasted mushrooms, and I will tend to use it very often in recipes like these. It never fails to bring the right amount of snap in every mushroom-based recipe. Garlic can also do a lot for pastry products like these pinwheels. Be sure to add sparingly, and enjoy!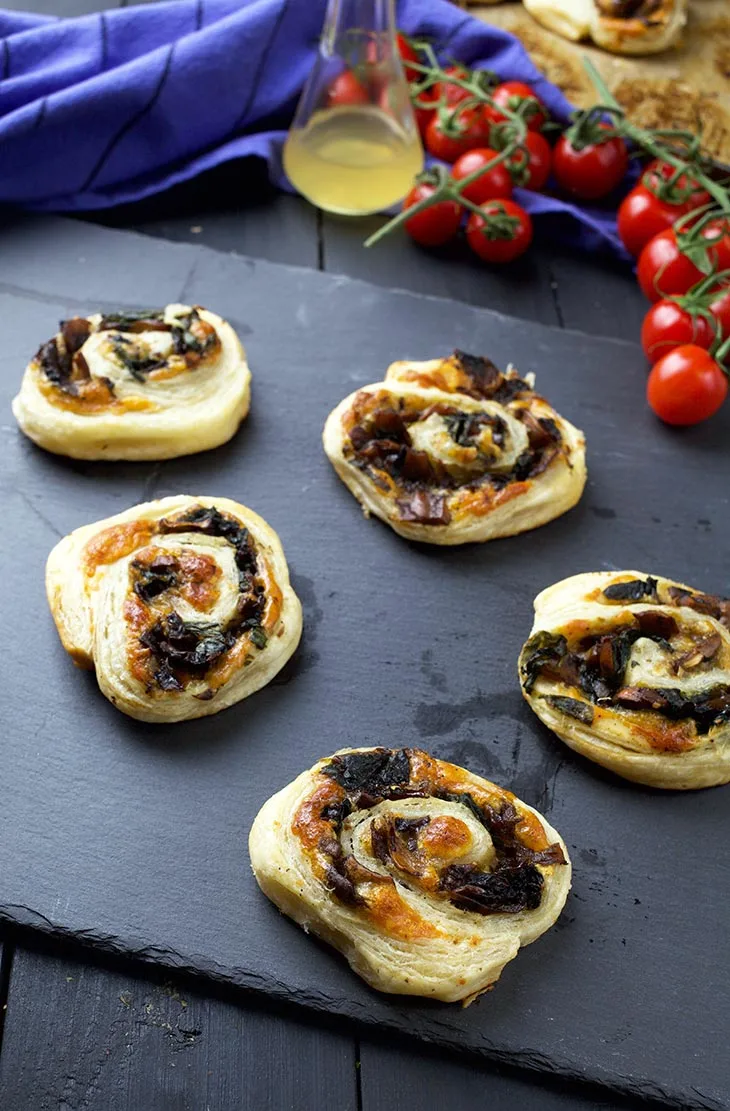 So picture this – the whole family is at the table, and you present them with a surprising new appetizer – vegan mushroom pinwheels! Some curious looks are hovering over the pastry snacks, but after the first bite, the smiles start coming in. Whether you are cooking these for your family, friends, or yourself, you'll be able to enjoy a tasty vegan recipe to the fullest!
Even the kids might like these! If they do, make sure to pack them some pinwheels for lunch at school.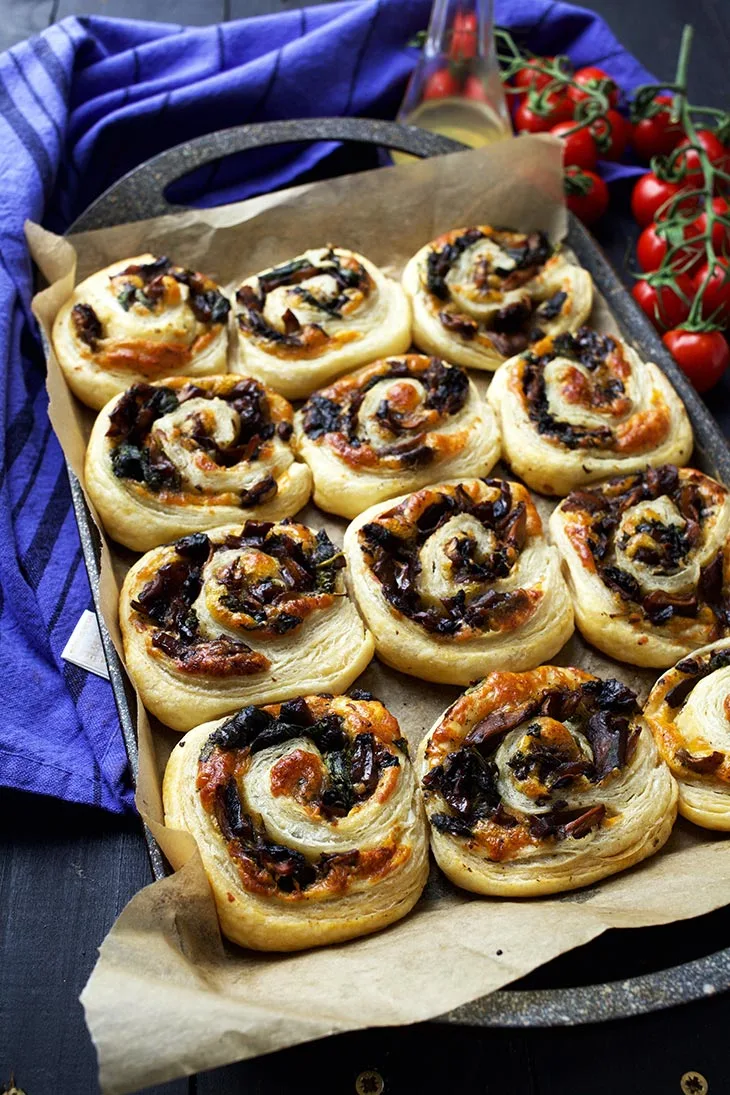 Pastries like these are some of my favorite things to make on a sunny weekend afternoon. However, the whole cooking process takes about half an hour, so you'll be able to cook them when you come from work, or in the morning before leaving for work. The most important thing is to have fun, and to enjoy the results of your work thoroughly – in this case, by stuffing yourself with delicious vegan mushroom pinwheels! 🙂
I hope you enjoy making this simple and efficient recipe! Be sure to tell me how it went, and best of luck out there in the kitchen!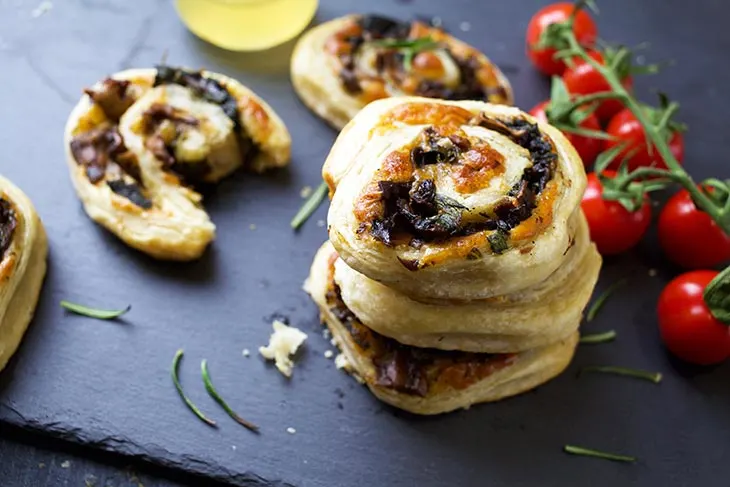 Yield: 12 pinwheels
Vegan Mushroom Pinwheels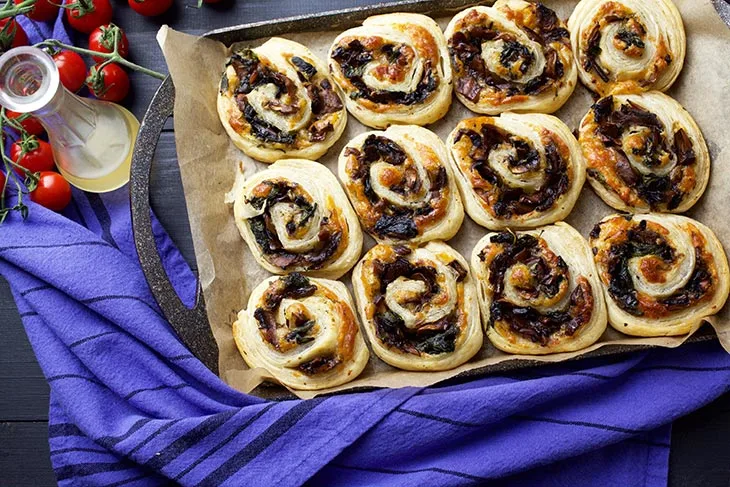 If you're a fan of flavorful and filling pastry, you're in luck! This recipe for vegan mushroom pinwheels is everything you want - easy, delicious and healthy, too! Give it a try!
Ingredients
1 sheet puff pastry, vegan (use GF if needed)
300g (3 cups) sliced cremini mushrooms
60g (2 cups) fresh spinach
110g (1 cup) vegan cheese, shredded
2 Tbsp olive oil + more for brushing
1 Tbsp coconut sugar
1 tsp dry oregano
1 tsp crushed garlic
1 Tbsp apple cider vinegar
1 tsp dry rosemary
1 small shallot, diced
Instructions
Preheat the oven to 200C.
Cove a baking tray with baking paper.
Heat a skillet on medium heat, add olive oil, shallots and crushed garlic.
Cook for about 3 minutes until translucent.
Add the mushrooms and continue to cook, stirring occasionally, for about 5 minutes.
Add oregano, rosemary, apple cider vinegar, sugar and continue to cook until the liquids evaporate and the mushrooms are caramelized, about 5 more minutes.
Add the spinach and stir to incorporate. Cook until the spinach is wilted. Set aside to cool.
Lay the puff pastry on a clean surface.
Spread the shredded cheese on a layer, evenly.
Then spread the mushrooms mixture on top.
Roll the pastry tightly, starting from the longer side.
With a sharp knife, cut the pastry into thick slices. Lay the slices on the prepared baking tray. Bake for about 25 minutes or until the tops are golden.
Nutrition Information
Yield
12
Amount Per Serving
Calories

74
Total Fat

5.1g
Carbohydrates

6.2g
Protein

0.8g