Cream of vegetables soup – a tasty and comforting treat ready in 30 minutes. If you love hearty veggies, this is today's recipe for you!
When I look out the window and I see the dull, cold weather outside, there's only one thing that pops into my mind: comfort food. Creamy soups, to be more precise.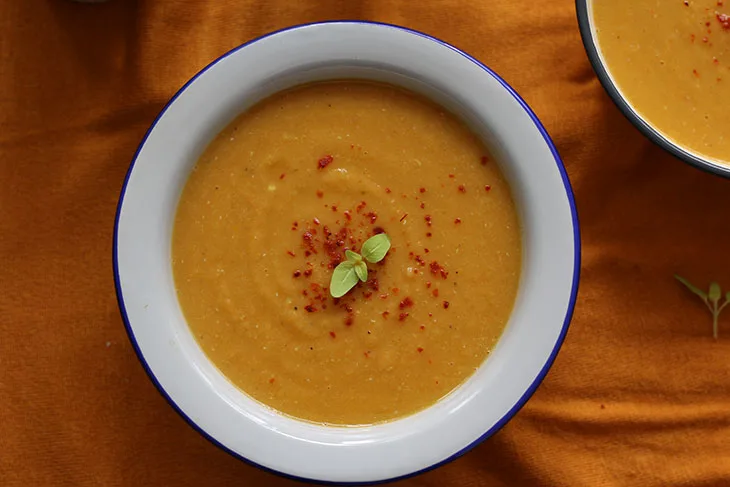 I mean… what could cure a bad day better than a big bowl of cream of vegetables soup? Carrots, potatoes, zucchini, parsnip, sweet potatoes, and some good ol' olive oil. Can you think of a better combo? Because I literally can't! 🙂
What I love most about creamy vegetable soups is that, besides their amazing taste, they're extremely easy to make. Seriously. You just need to boil some veggies and then throw them in a blender with some cooking cream (vegan in my case), spices, and olive oil and you're good to go. It doesn't get easier than this, trust me.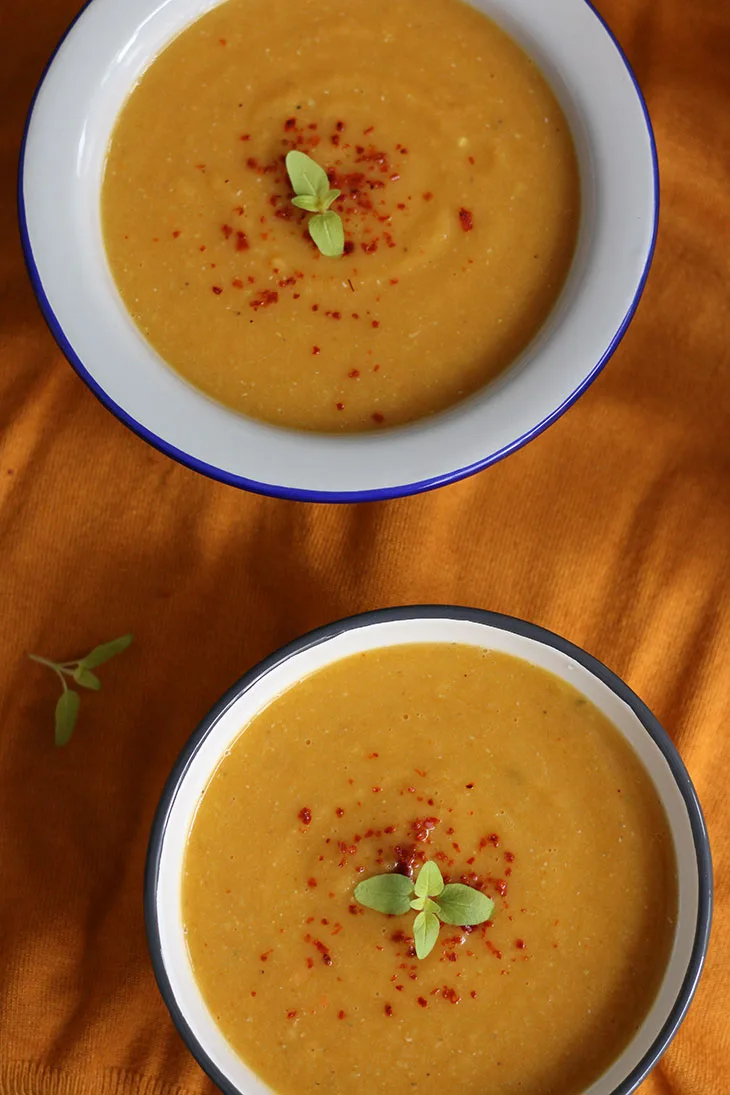 Another amazing thing about this cream of vegetables soup is its versatility. In case you don't like carrots, you can omit them completely. Or replace them with something else – kidney beans, broccoli. Whatever floats your boat, really. If you're not a fan of vegan cooking cream, just use coconut milk instead.
If you love a spicy soup, add some chilies before blending your vegetables. And so on. The sky's the limit when it comes to a yummy cream of vegetables soup and I'm all for it!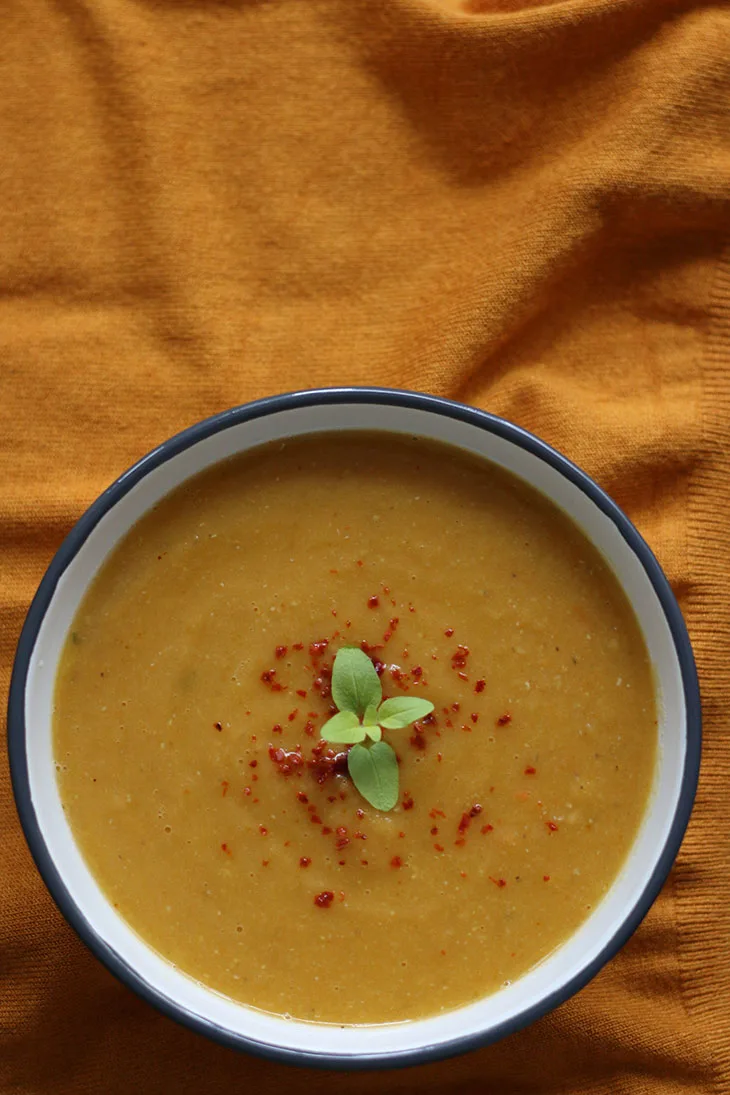 You can make it vegetarian, vegan or even gluten-free. It's extremely easy to adapt and improve and if you hate throwing away old veggies as much as I do, you can even prepare it with whatever scraps or leftovers you have in the back of your fridge or in your pantry. See? It's all about advantages here!
TIP: It's always better to cut your veggies the same size before boiling – this way the cooking time will reduce and you won't have to wait ages for the veggies to boil!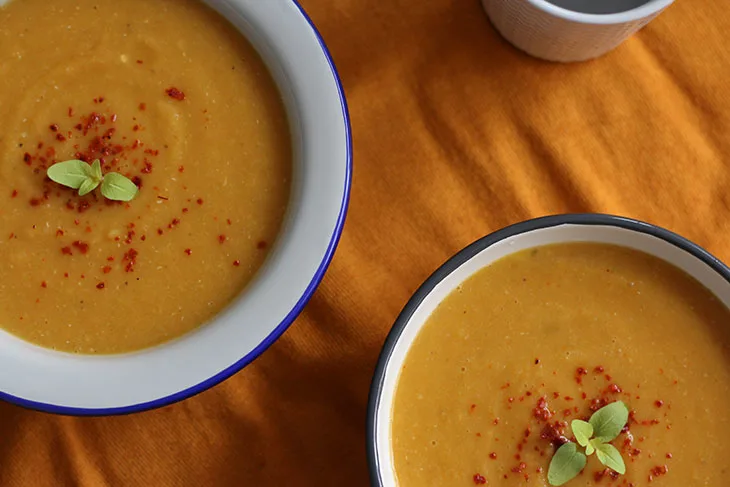 TIP #2: If you like your cream soup with a little bit of texture, you can keep some veggies and cut them into small pieces instead of blending everything in the mixer. Or you can boil some lentil and add it into the soup after you have the puree – easy and customizable!
In case you don't want this recipe to be vegan, you can use dairy cooking cream or yogurt if you want to be on the lighter side. I prefer using rice or soy vegan cream, as it doesn't have a strong flavor compared to coconut cream, for example. But you can enjoy it as you please!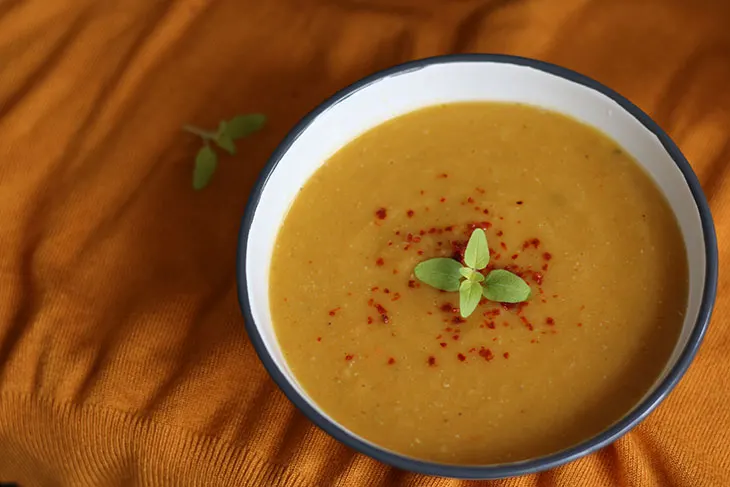 For this recipe, in order to speed things up and to preserve as many ingredients as possible, I used some of the water in which the veggies have boiled to adjust the soup's consistency. If you prefer a thick cream of vegetables soup, you'll have it. If you prefer a more liquid consistency, it's super easy to adjust it.
You can also use some veggie stock if you want. I prefer using what I have on hand – and this water is flavorful enough in my opinion. But here's something to keep in mind: if you want this recipe to be gluten-free and you decide to use store-bough veggie stock (or even chicken stock), make sure you buy a gluten-free version. Yes, some of them contain gluten!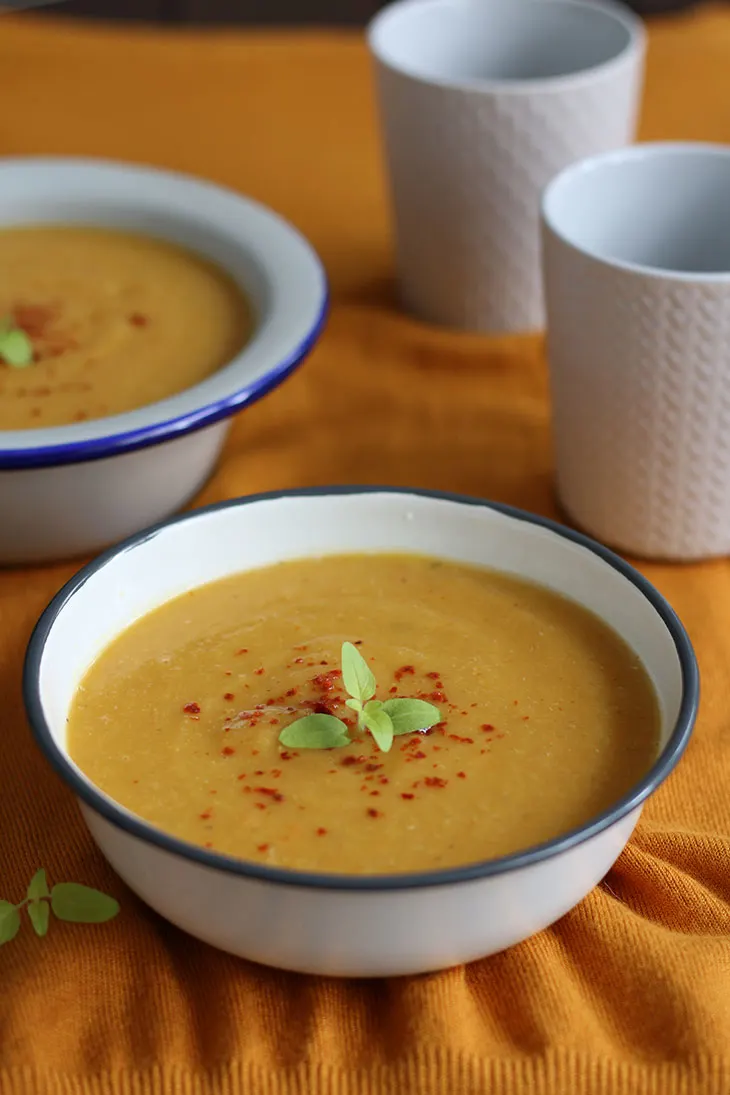 This cream of vegetables soup is amazing for meal prep too! You may know about my love for organization and meal prepping and this soup is a #1 recommendation.
You can make it in advance for the following week and keep it in the fridge for 3-4 days. It doesn't have dairy, so it won't go bad as quickly – another advantage of being vegan, hehe! If you have leftovers you don't plan on consuming too soon, you can also freeze them. It freezes wonderfully for up to 3 months. But make sure you add some water after you unfreeze it, as it'll be thicker than the original.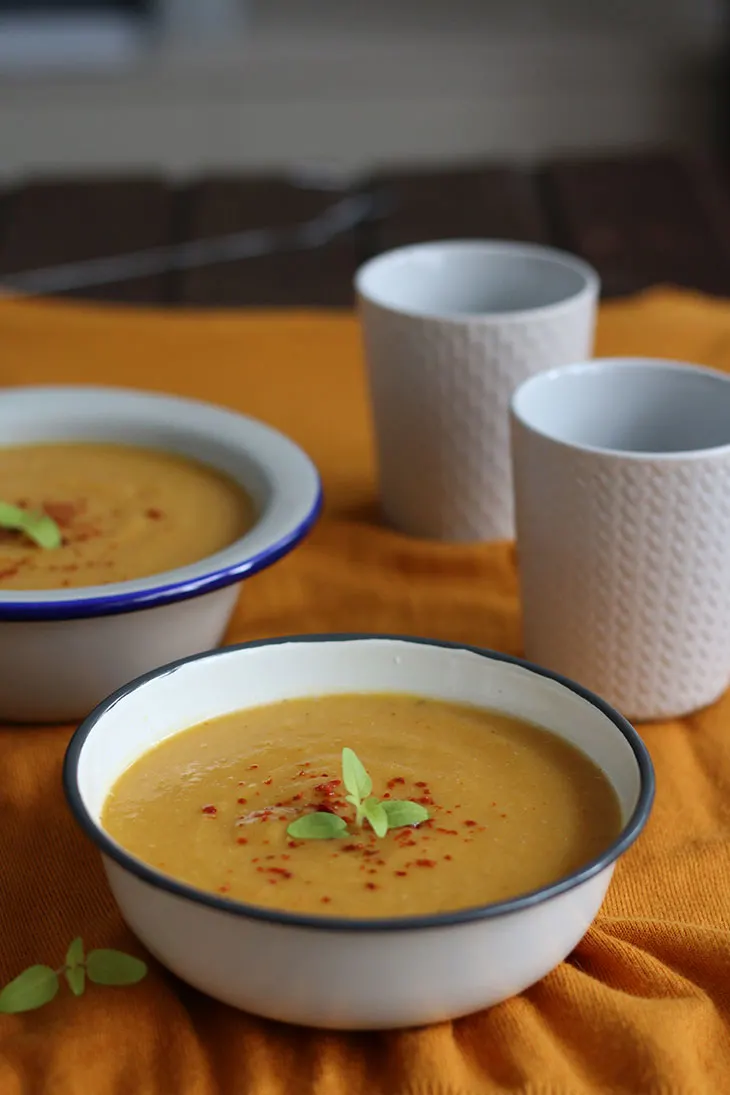 These being said, I hope I convinced you to try this delicious cream of vegetables soup soon. If you do so, don't forget to come back and let me know how it went. I'm always curious to read your opinions and experiences.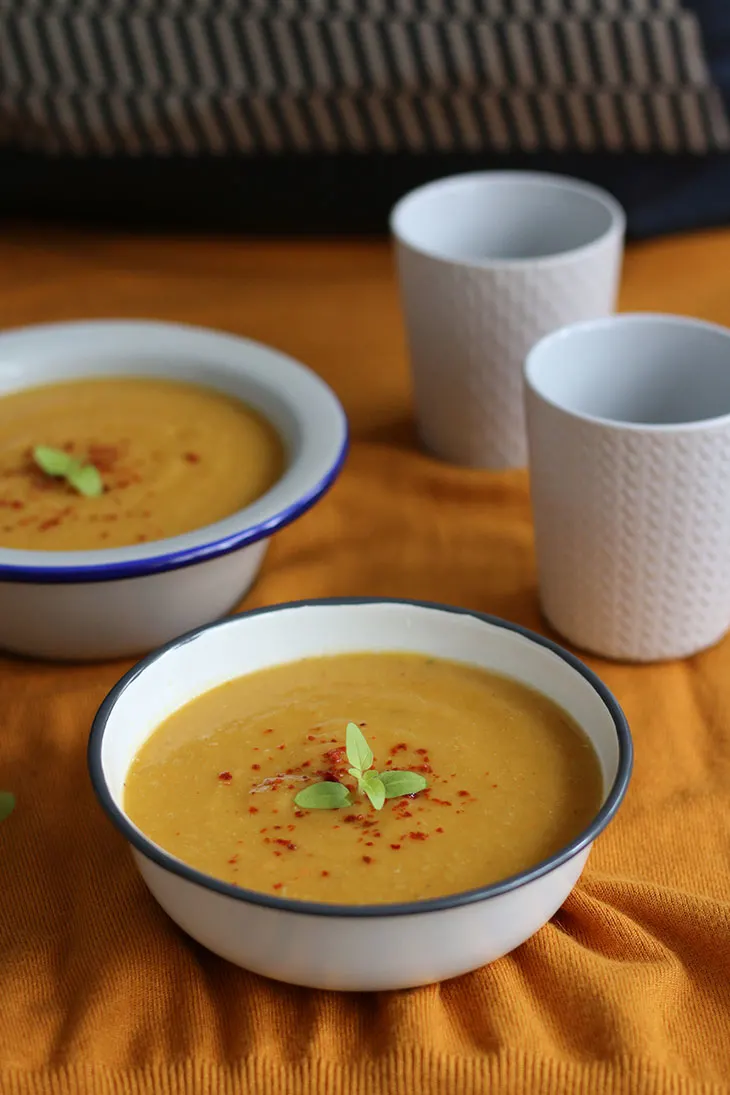 And if you need some more vegan soup inspiration, here are a couple of quick recommendations:
Happy cooking!
Yield: 6 portions
Cream of vegetables soup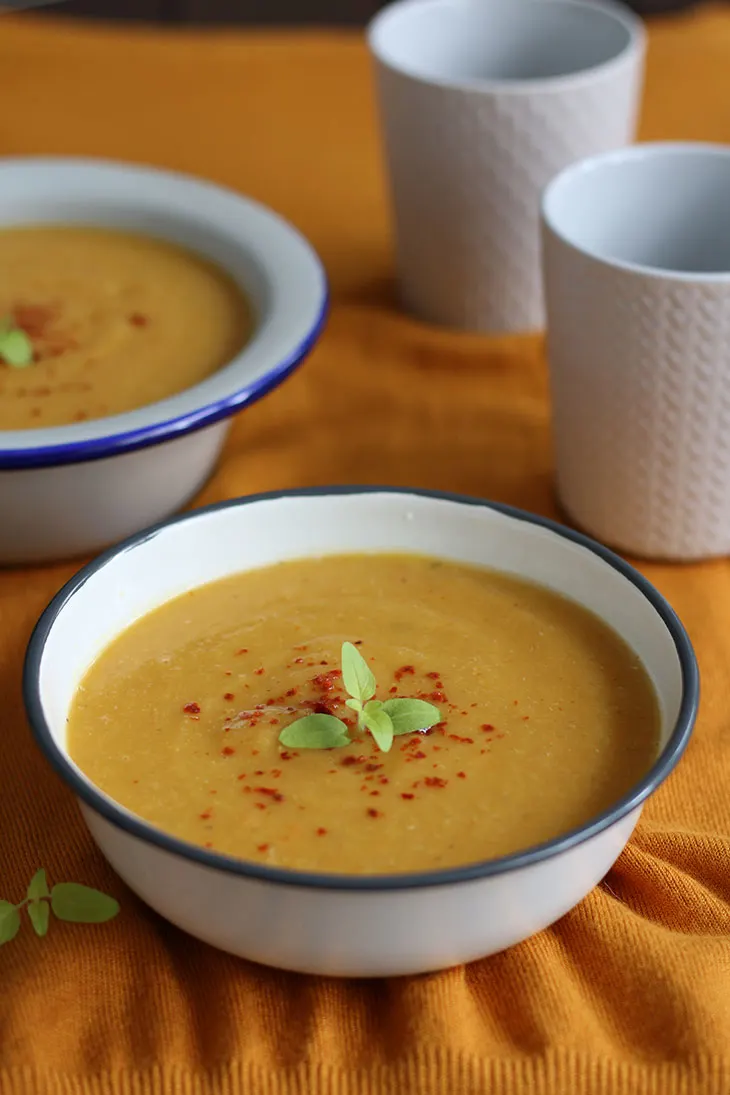 Cream of vegetables soup – a tasty and comforting treat ready in 30 minutes. If you love hearty veggies, this is today's recipe for you!
Ingredients
5 big carrots
2 potatoes, peeled
1 zucchini
1 parsnip, peeled
1 sweet potato, peeled
4 Tbsp olive oil
250ml (1 cup) vegan cooking cream, rice or soy
the water in which the veggies have boiled, as much as you want (we'll use it to adjust the soup's consistency)
salt and pepper, to taste
Instructions
Cut the vegetables into cubes and put them to a boil in water with a little bit of salt (except for the zucchini, which you'll add after 10 minutes).
Let the vegetables boil for 20 minutes or until they're tender.
Turn off the heat and drain the water in which they boiled in a bowl.
Add the boiled vegetables to a mixer or blender with olive oil, cooking cream, and a bit of water.
Mix until you achieve a smooth cream. Add water until you reach the desired consistency.
Season with salt and pepper to taste.
Nutrition Information
Yield
6
Amount Per Serving
Calories

240
Total Fat

11g
Saturated Fat

2g
Trans Fat

0g
Unsaturated Fat

8g
Cholesterol

6mg
Sodium

97mg
Carbohydrates

32g
Fiber

5g
Sugar

5g
Protein

4g
I strive to keep the information as accurate as possible but make no warranties regarding its accuracy. I encourage you to make your own calculations using your preferred nutrition calculator.