If you're a fan of cream soups, then you'll surely fall in love with this recipe. Here's how to make vegan kidney bean soup – healthy and bursting with amazing flavors!
Now that the cold season is here, I'm all about comfort. Comfy clothes, comfy blankets, and comfort food. And what could be more comforting than a big bowl of hot cream soup?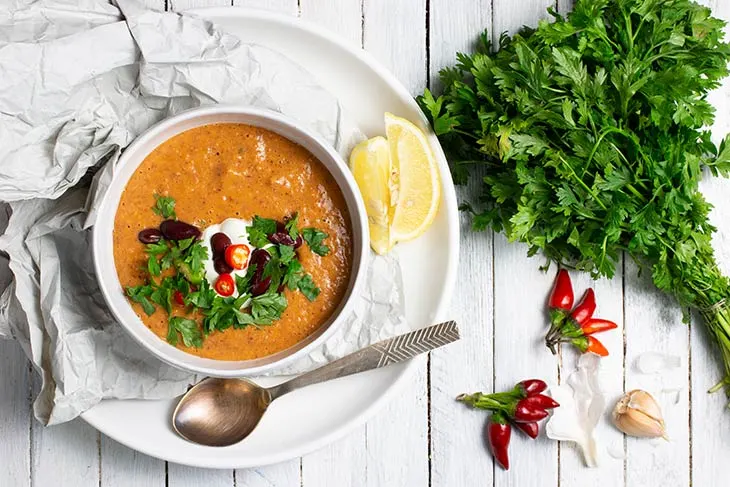 I've made several cream soups in the past that I shared with you here on the blog and I loved them all from the bottom of my heart. I've made a refreshing cream of avocado soup, a spicy pumpkin soup, a filling cream of broccoli soup, and the list can go on and on.
But as much as I love all these recipes, I felt something was missing. I felt like I didn't use one of my favorite ingredients in any of these soups. I'm talking about kidney beans, of course!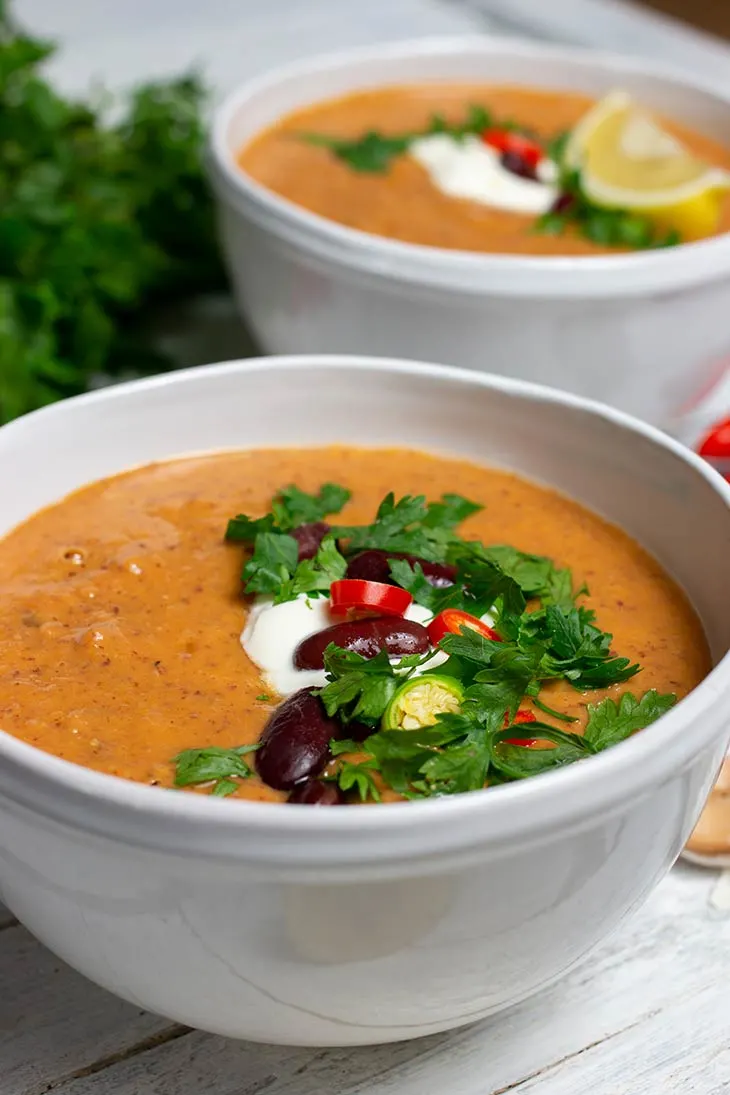 Except for being super delicious, kidney beans are rich in protein (and we all know how important proteins are in a vegan diet) and fiber as well. This means that adding them to a cream soup is an excellent idea.
In all honesty, I made a beans soup before and it turned out delicious. It was super hearty, but it wasn't a cream soup. So I thought I'd give this idea a chance too. And I don't regret it at all! This vegan kidney bean soup is absolutely amazing!
Imagine this: kidney beans, tomato paste, cloves, ginger, lemon juice, and chili peppers. As many chili peppers as you can bear! Mix all these together and you'll have this kidney bean soup.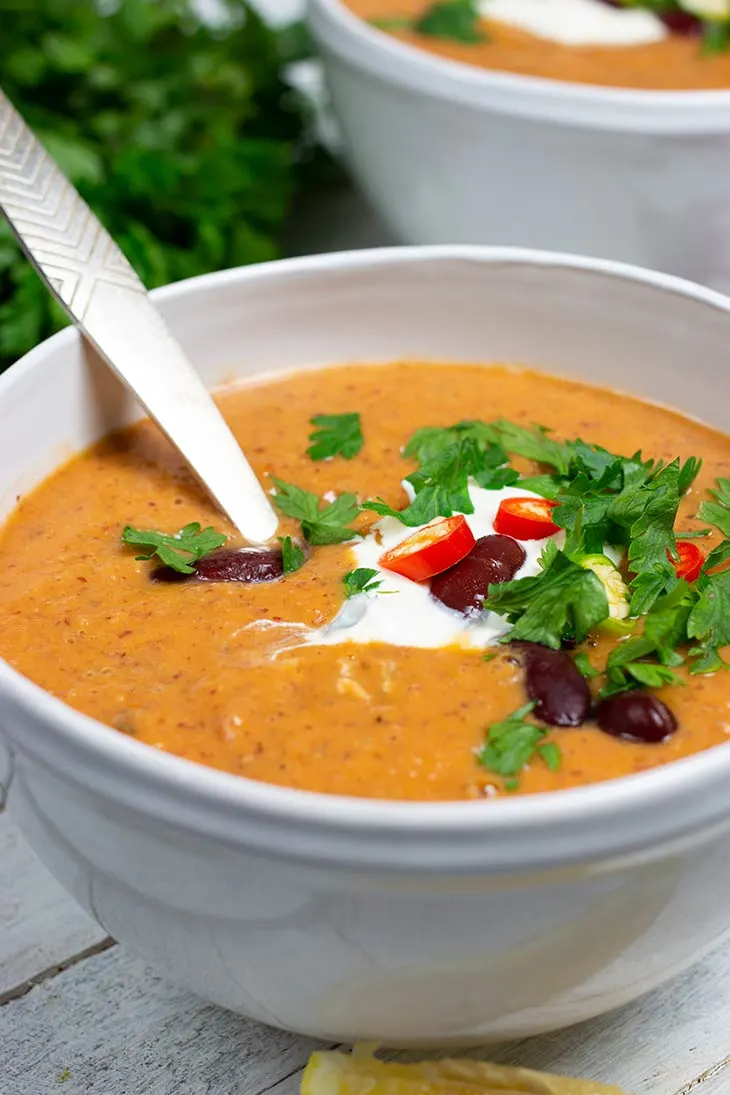 Sure, kidney beans can be boring at times, but that's only if you don't know how to pair them properly and how to season them with the right spices. Trust me, this soup is anything but boring!
Here are some reasons why I urge you to try this kidney bean soup ASAP:
It's filling;
It's bursting with special flavors;
It only contains healthy ingredients;
It's perfect for chilly weather;
It's ready in no time!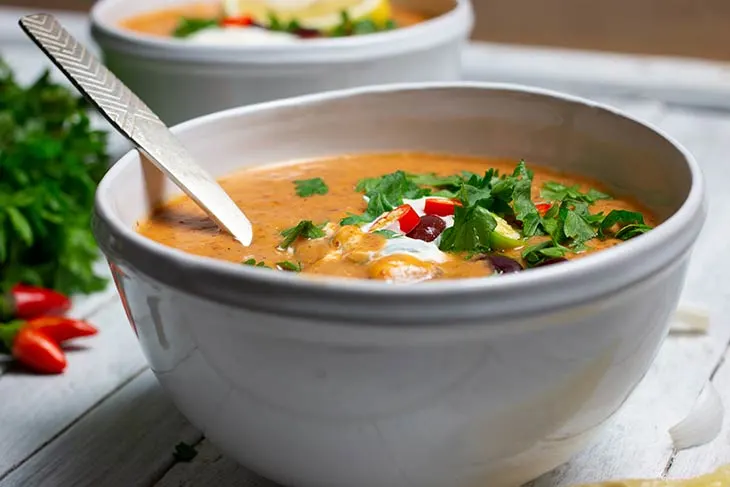 There are two options here and it really all depends on how much time you have on your hands. You can use dry beans and soak them overnight, then boil them when you're ready to make the soup. Or you can use canned beans in order to save some time. No judging here, as I truly believe that some brands of canned beans are just as good as the real deal.
Oh, here's another quick advantage: this kidney bean soup freezes well. So well that I can totally recommend it for meal prep! You may already know that I'm a huge fan of meal prep and I try to stick to it as much as I can. So if you're the same as me, make sure you prepare a bigger batch of this soup during the weekend and you can rest assured that you'll have plenty of portions of goodness for the following week to come! Efficiency at its best! 😉
In case you love beans as much as me and want to include them in your diet as much as possible, I also recommend checking out my recipe for beans and quinoa sliders and this sweet potato shepherd's pie that has some red kidney beans in it as well.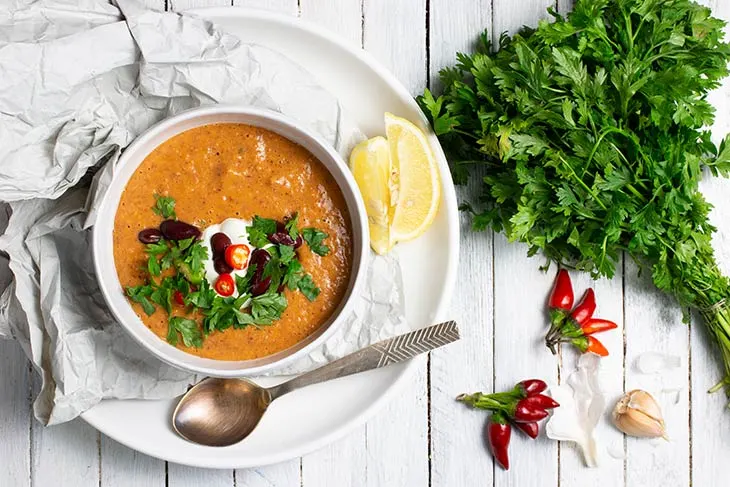 Except for the kidney beans, I also used chopped tomatoes, ginger, onions, cloves, and tomato paste in my soup. But you can also add other roasted veggies if you wish, the more the merrier!
This vegan kidney bean soup works perfectly as a hearty lunch or for dinner as well. You can pair it with some fresh bread, croutons or you can consume it as it is in order to limit the calorie intake. However way you choose to eat it, I'm sure you'll be more than pleased after you finish an entire bowl of steaming soup!
As for the spiciness, you can either use dry chilies or fresh ones and you can add as much (or as less) as you prefer. For serving, I recommend adding some freshly squeezed lemon, some parsley, and some vegan yogurt and top. And that's about it, lunch is served!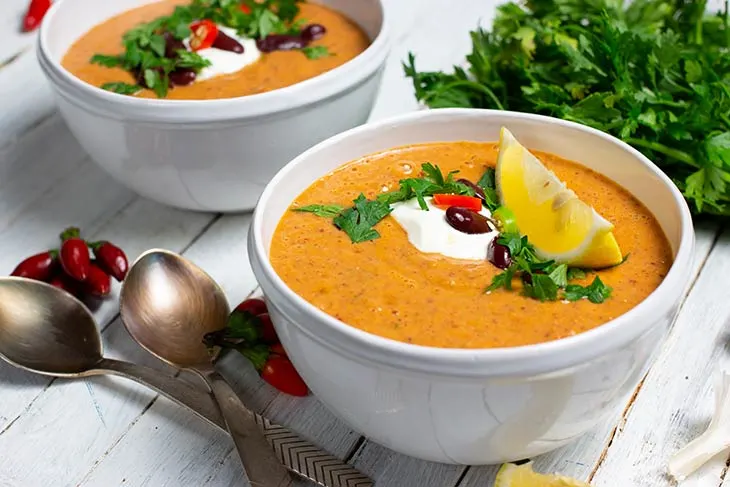 That's everything I wanted to tell you about this wonderful kidney bean soup today. I hope you'll give it a try soon and I hope you'll enjoy a big bowl of comfort once you're done. Happy cooking!
Yield: 4
Kidney Bean Soup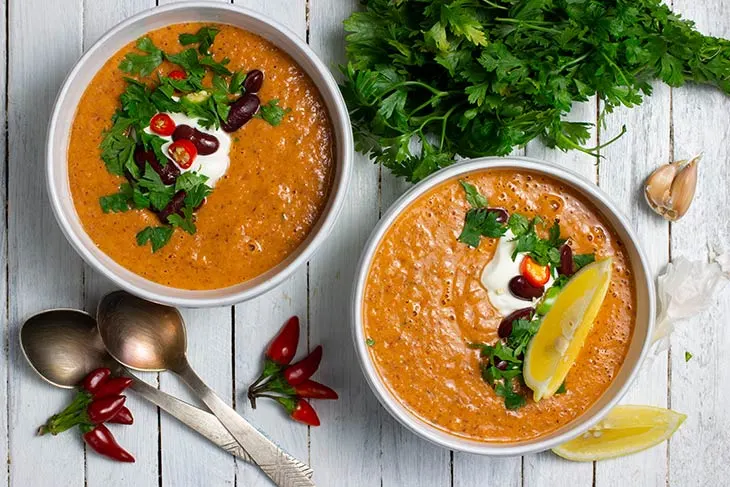 If you're a fan of cream soups, then you'll surely fall in love with this recipe. Here's how to make vegan kidney bean soup – healthy and bursting with amazing flavors!
Total Time
2 hours
15 minutes
Ingredients
200g (1 cup) dry kidney beans, soaked overnight (or you can use canned and save time)
1 red onion, chopped
400gr (1 can) chopped tomatoes
1 Tbsp tomato paste
3 garlic cloves, minced
1 tsp fresh ginger, minced
1-2 chili peppers
2 Tbsp lemon juice
Salt
Pepper
Chili pepper, parsley, vegan yogurt, lemon - for serving
Instructions
Drain the beans, transfer them to a pot with the garlic, ginger, onion, tomatoes, tomato paste, and chili peppers (keep them whole).
Cover with water and bring to a boil.
Cook over low heat for 2-3h or until the beans are cooked.
Take out the chilis and blend the soup until smooth.
Add the lemon juice, season with salt and pepper.
Serve with fresh chili, vegan yogurt, parsley, and lemon.
Nutrition Information
Yield
4
Amount Per Serving
Calories

129
Total Fat

1g
Saturated Fat

1g
Trans Fat

0g
Unsaturated Fat

1g
Cholesterol

3mg
Sodium

187mg
Carbohydrates

24g
Fiber

5g
Sugar

8g
Protein

8g
I strive to keep the information as accurate as possible but make no warranties regarding its accuracy. I encourage you to make your own calculations using your preferred nutrition calculator.