If you're an egg lover following a vegan diet, I have good news! Here's how to make vegan eggless 'egg' bites – simple, healthy, and yummy!
Let's start with the beginning. What are egg bites? In short, egg bites are tiny pieces of heaven made with scrambled eggs and various other ingredients such as veggies, meat, herbs and condiments. Egg bites are usually served, like many other egg-related dishes such as omelettes, for breakfast.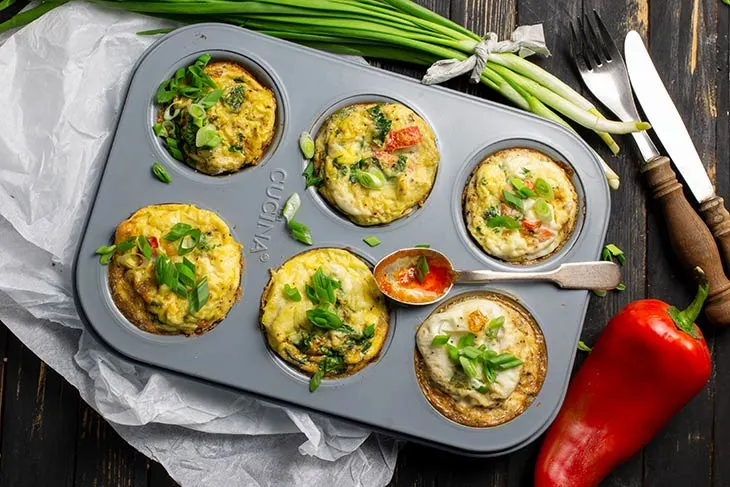 Egg bites are a great way to create a quick, hassle-free, filling breakfast. You just need to beat those eggs vigorously and throw your favorite ingredients in there. Then you simply have to fill a muffin pan with the resulting mix, bake, and you can start your day.
But can you make vegan egg bites as well? I mean, although there are endless vegan alternatives to almost any regular products and ingredients you can think of, it may sound a bit hard and complicated to mimic eggs. Or am I wrong?
Heh, worry not, reader, as it is totally possible to make vegan egg bites! We can call them eggless bites, as this name sounds more appropriate for this dish. Or you can call them mini vegan frittatas as well. Or tofu muffins, why not?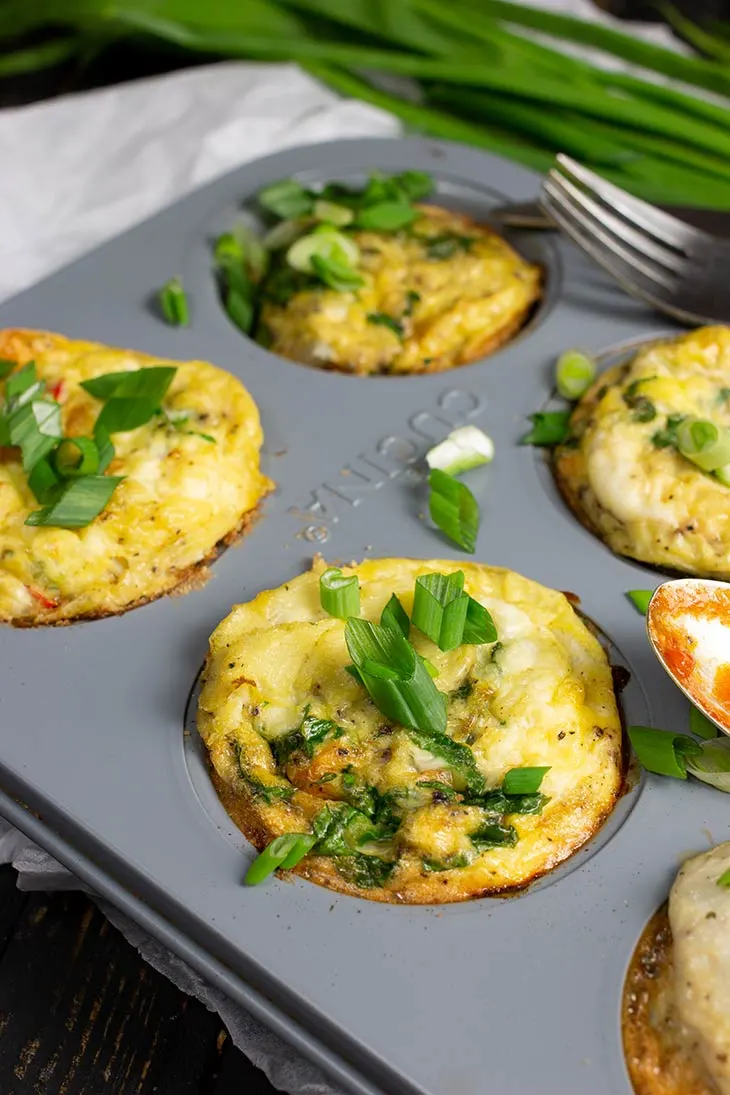 Regardless of how you choose to name them, these amazing vegan bites will make for the best protein-rich breakfast or snacks that you can take on the go. Plus, they freeze extremely well (both the batter and the bites themselves), so you can prepare them for meal prep as well. In my opinion, it's a win-win situation!
Another amazing thing about these eggless bites is that they're the definition of versatility. We have a base batter made of tofu, olive oil, and nutritional yeast, but the rest of the ingredients are your own personal choice.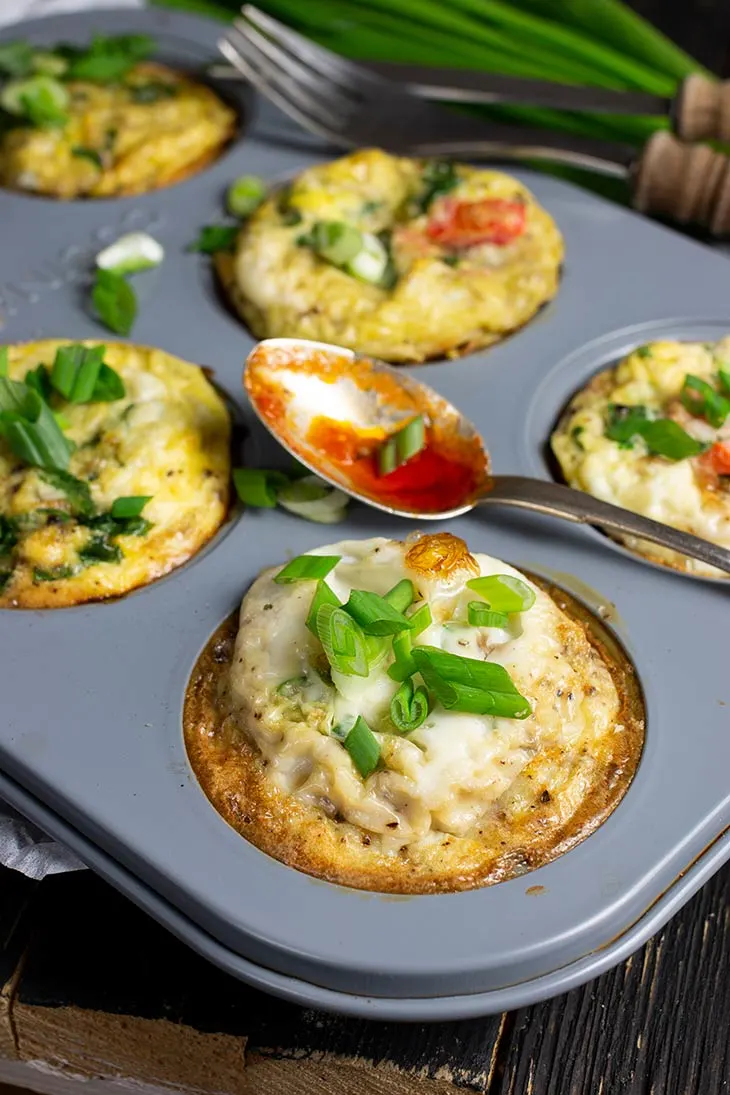 I chose to make a veggie-rich mix of carrots, baby spinach, onions, green beans, and bell peppers because I simply love this combo, but you can mix and match and even omit some ingredients if you feel like it. I see no problem in that and I actually recommend experimenting in the kitchen whenever you get the chance – this is how the greatest recipes of all times were created! And there's no better way to find out what you like and what you don't.
I recommend this recipe to anyone, really, even if you're just beginning with a vegan diet or vegan cooking. It's just so easy to make and it's ready in no time! The only effort you need to make is to mix all the ingredients together, and then throw your muffin pan in the oven. Then it's all about waiting. And that's really everything you need to do!
Tip: You can make this recipe with eggs as well, of course. Just replace the tofu with 3-4 beaten eggs and that's it!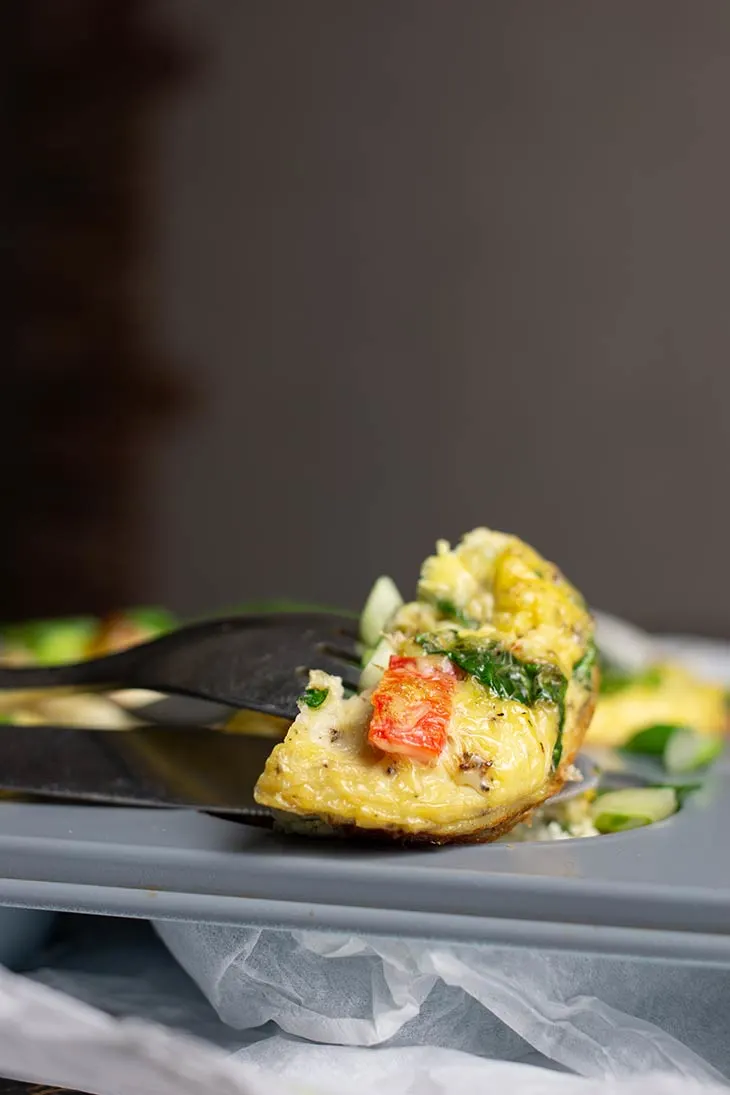 By the way, you make this recipe for eggless 'egg' bites even you have some old veggies laying in the back of the fridge and you have no idea what to do with them. Or if you have guests over, as these are cooked in batches so you'll end up with enough egg bites for everyone present.
Maybe you can even prepare an appetizer platter with these eggless 'egg' bites and some pumpkin hummus, zucchini rollups, and some mushroom rolls as well.
Some other ingredients that could work perfectly in this combination include tomatoes or dry tomatoes, olives, broccoli, and some homemade vegan mozzarella as well.
Even if these vegan egg bites have no trace of egg in them, the flavor will surely surprise you. They really DO taste like egg muffins! This is thanks to the tofu and nutritional yeast combination, which can work wonders in countless other vegan recipes.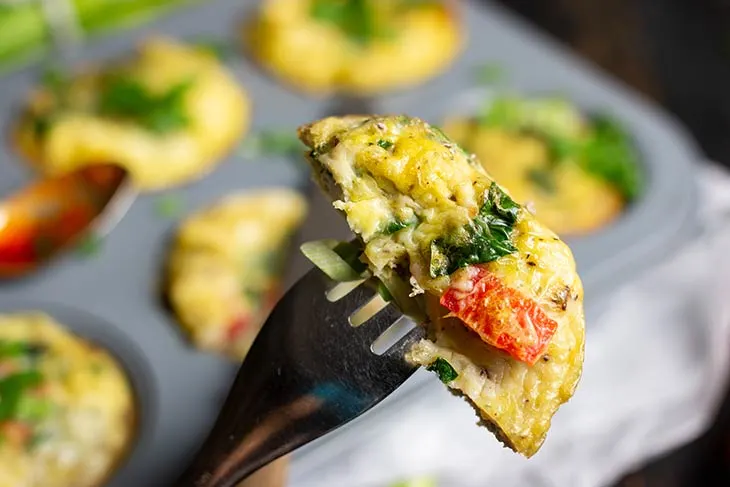 If your mornings are usually busy and stressful and you find yourself skipping breakfast a lot, these eggless 'egg' bites are the perfect solution. You can either bake them the night before or just prepare your batter for the next day. When you wake up, breakfast will be half-ready, so no more stress regarding what you are going to eat and no more skipping breakfast. Especially if you're a savory breakfast person, as I am! 🙂
So what are you waiting for? I urge you to try these vegan eggless 'egg' bites or vegan egg muffins the next time you're craving a savory breakfast or a quick snack. They're super yummy, they're full of healthy ingredients and they're ready in no time!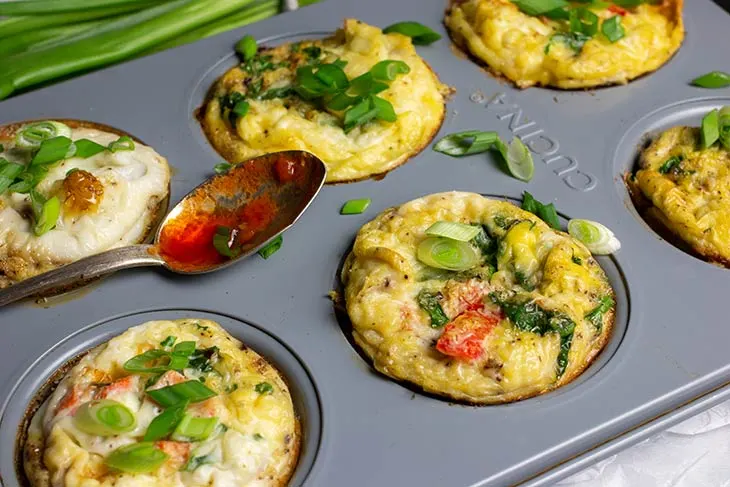 And if you decide to bake them soon, don't forget to tell me how it went. I'm sure you'll love them!
Yield: 6
Vegan Eggless 'Egg' Bites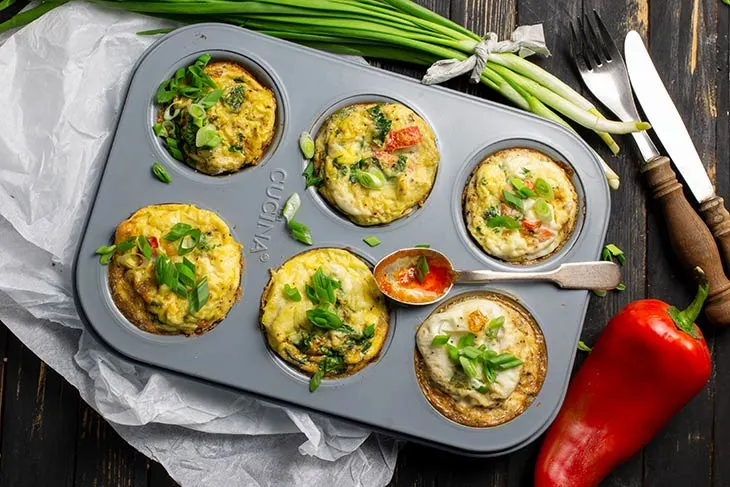 If you're an egg lover following a vegan diet, I have good news! Here's how to make vegan eggless 'egg' bites – simple, healthy and yummy!
Ingredients
300g (10 oz) firm tofu, drained
2 Tbsp olive oil
3 Tbsp nutritional yeast flakes
a couple of Tbsp frozen green beans
½ bell pepper, chopped
¼ medium carrot, cut into small cubes
some baby spinach leaves, chopped
½ medium onion, finely chopped
1 tsp turmeric
some chopped green onion, for decoration
Ground black pepper
Salt
Instructions
Add the tofu and olive oil to a blender and turn it into a paste.
Move it to a bowl and add the rest of the ingredients. Mix well.
Move the composition into a pre-greased muffin sheet. I used a small, 6-muffins baking sheet.
Bake at 180 degrees C for 15 minutes.
Sprinkle green onion on top when serving.
Nutrition Information
Yield
6
Amount Per Serving
Calories

72
Total Fat

5g
Saturated Fat

1g
Trans Fat

0g
Unsaturated Fat

4g
Cholesterol

0mg
Sodium

123mg
Carbohydrates

5g
Fiber

2g
Sugar

1g
Protein

3g
I strive to keep the information as accurate as possible but make no warranties regarding its accuracy. I encourage you to make your own calculations using your preferred nutrition calculator.