Here's how to make the perfect vegan cornbread with a subtle, spicy flavor! Check out the step by step recipe below and get a moist, soft cornbread every time!
Cornbread is, as you may have already guessed thanks to its name, a type of bread made of cornmeal. Cornbread is usually soft and spongy and it is baked together with some baking powder in order to achieve a soft, amazing texture.
Cornbread is a very famous American recipe which has become, over time, a real staple bread in the United States cuisine, especially in the Southern area of the country. It was "created" by poor people who couldn't use wheat flour for their bread, as it was much more expensive at the time.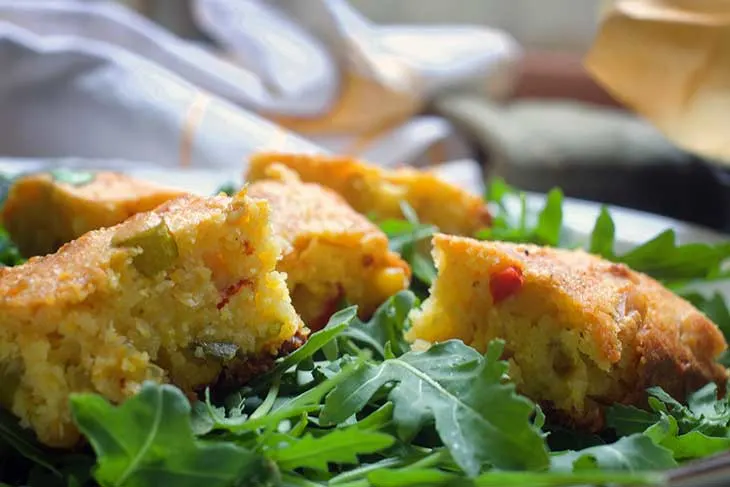 The Southern way of consuming cornbread is either very simple, with some butter or onions, or together with pinto beans, some barbecue meat or chili con carne, in order to achieve a filling main dish. Some Americans even rip it into smaller parts and eat it with a spoon out of a glass of milk or even buttermilk, resulting into a delicious snack, similar to cold cereal with milk.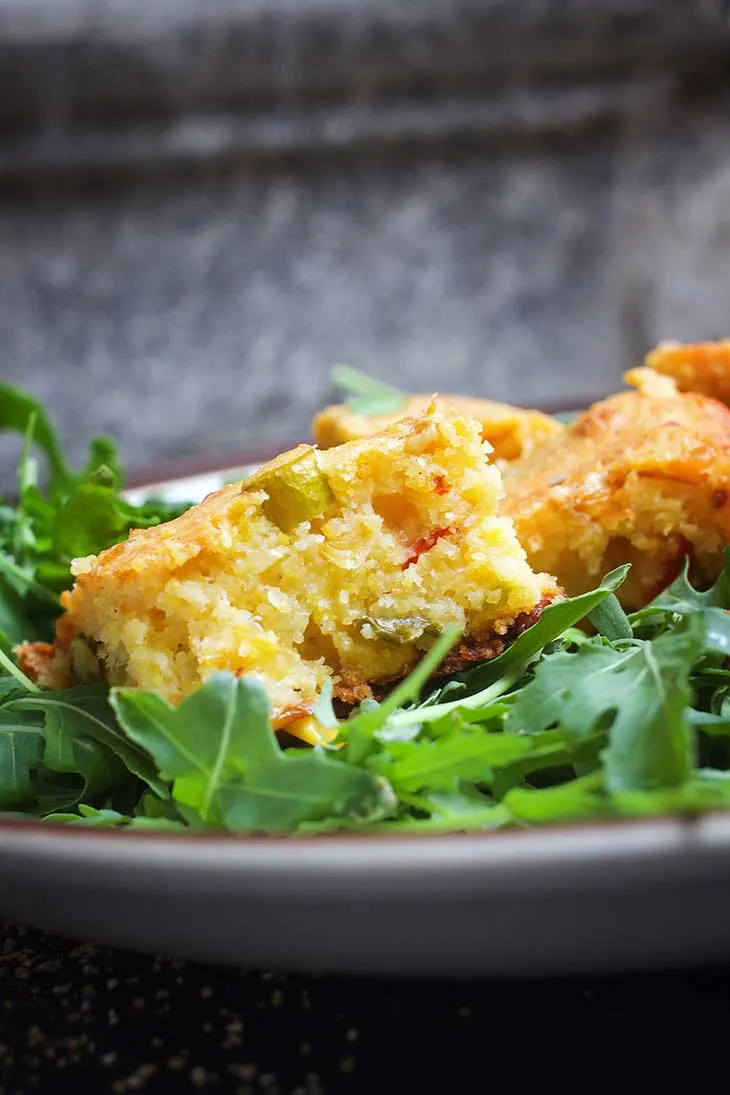 Over time, cornbread has been cooked using many different techniques, ranging from baking, frying and sometimes even steaming. If you decide to steam cornbread, this will result into a more pudding-like texture and some Americans even consider this to be the original recipe.
In the rural areas of America, people usually bake or fry cornbread in a pan and then bake it in the oven, resulting into an amazing crust. Moreover, in some Southern parts of the country, Americans even add some chunks of meat, such as pork inside cornbread, in order to transform it into a quick and filling dish.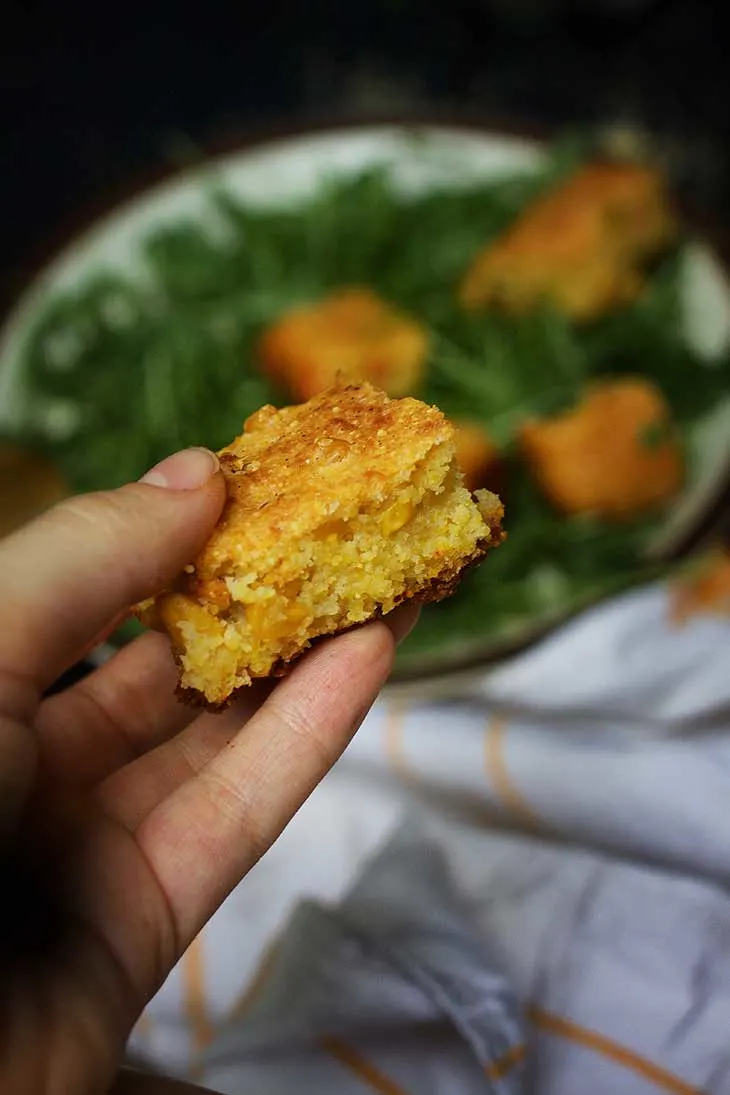 Regardless of the cooking technique, cornbread is still a very popular side dish, also used on Thanksgiving for stuffing the traditional turkey. There is a difference, though, in the way the people from the Southern US make it and the people from the North. In Northern US, cornbread is more similar to a cake, which means it's sweeter than the one made in the South, where it is also made with buttermilk.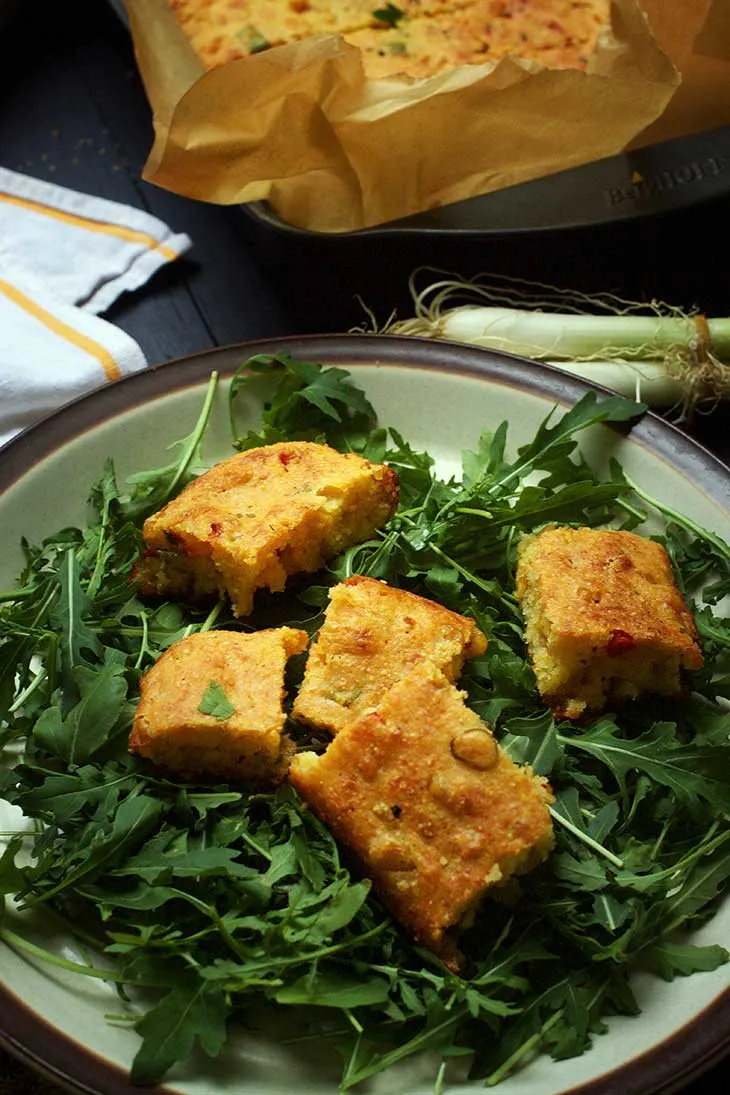 In today's recipe, I want to teach you how to make the vegan cornbread that has a very similar taste and texture to the real deal, but it is healthier. I also added some "secret" ingredients to make this even better! I like it with a hint of spiciness and if you like spicy food too, then you should definitely try this easy vegan cornbread recipe.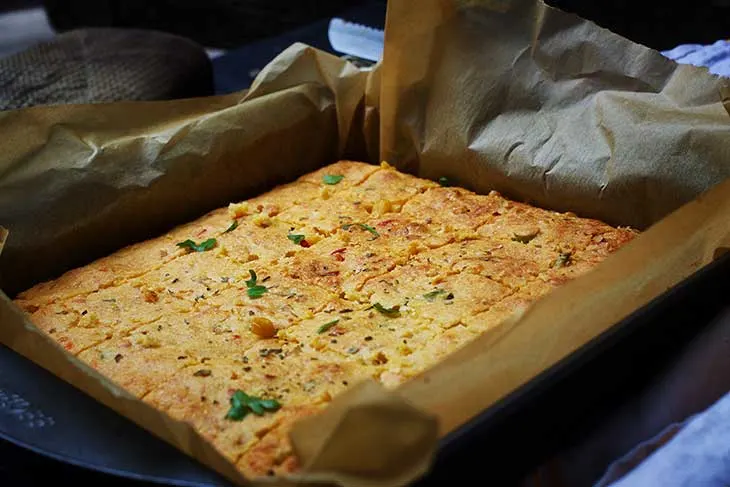 Yield: 6-8
Vegan Cornbread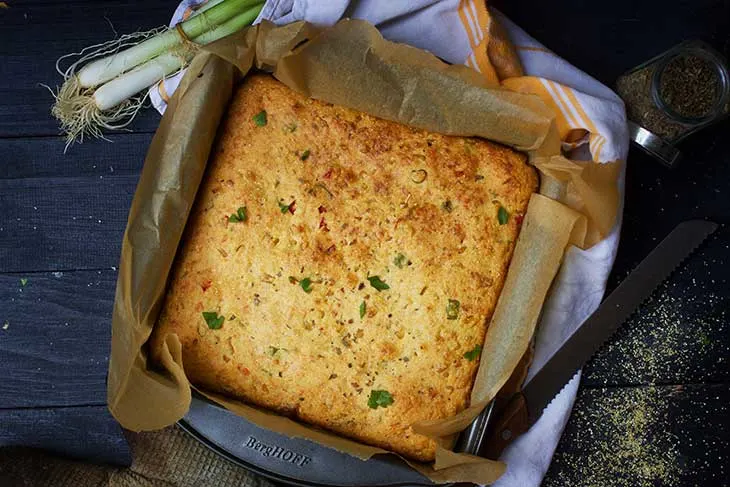 Here's how to make the perfect vegan cornbread with a subtle, spicy flavor! Check out the step by step recipe below and get a moist, soft cornbread every time!
Ingredients
140g (1 cup) cornmeal
120g (1 cup) flour
1 tsp baking powder
½ tsp baking soda
1 tsp salt
1 tsp brown sugar
250ml (1 cup) vegan milk
1 Tbsp apple cider vinegar
5 Tbsp psyllium husks
165g (1 cup) sweet corn, canned, drained
4 Tbsp non-dairy butter, melted
3 Tbsp red bell pepper, chopped
2 Tbsp spring onion, chopped
1 tsp red pepper flakes
½ tsp cayenne
2 Tbsp vegan cheese, shredded
Instructions
Line a baking dish with baking paper. Heat the oven to 200C.
Combine the cornmeal, flour, baking powder, pepper flakes, cayenne, baking soda, salt, and sugar in a large mixing bowl.
In another bowl, whisk together the non-dairy milk, vinegar, psyllium husks, sweet corn, bell pepper, spring onion, cheese and melted vegan butter.
Stir the wet ingredients into the dry ingredients until well combined.
Pour the batter into the prepared baking pan
Bake for about 20 minutes, or until lightly golden on top.
Nutrition Information
Yield
8
Amount Per Serving
Calories

194
Total Fat

5.4g
Carbohydrates

31.6g
Protein

4.7g