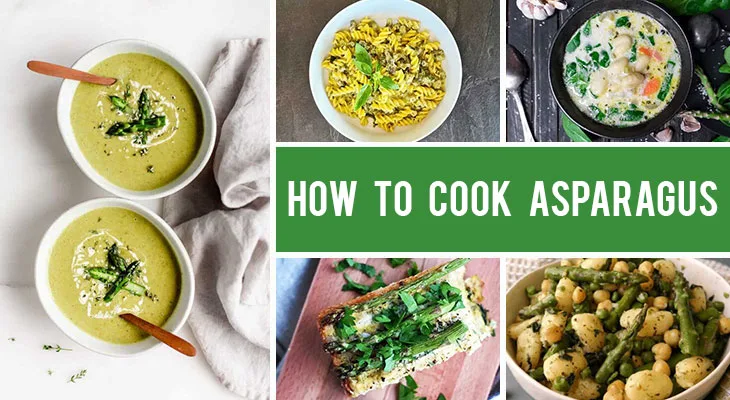 Do you want to find out more about how to cook asparagus? This article is your answer! You'll also get 10 asparagus recipes to try!
Asparagus is, in my opinion, one of the most underrated veggies of all time! It's mainly used as a sauteed or steamed side dish, but asparagus can be so much more than this, my friends! 🙂
Asparagus is a tender, crunchy spring vegetable that's incredibly delicious and easy to cook with. It's full of vitamins, it's light on the stomach and it makes for the perfect addition to any meal. Scroll down to find everything I have to say about this wonderful ingredient:
How do I prepare asparagus for cooking?
Before I tell you everything you need to know about the various ways of cooking asparagus, let's discuss the first step for a bit – which is preparing the asparagus.
NOTE: February to June is the best way to buy and eat asparagus! And if you haven't before, make sure you try white and purple asparagus too as soon as possible – these types are equally delicious.
First of all, you need to check that the asparagus is in its ideal shape. To do this, you must check the tips – they should be firm. Next, you can bring the asparagus home, give it a good wash and start preparing it:
Cut the tough, 'woody', white-ish part of the stem – this is the only non-edible part of the asparagus;
Peel the green outer layer with a knife or potato peeler;
Depending on which cooking method you're choosing, you might need to cut the asparagus into equal pieces.
That's it!
TIP: You can keep the ends of the asparagus to use for veggie stock, for example. So make sure you don't throw them away! If you cannot put them to good use right away, you can freeze them for later.
Now that the asparagus is all set and ready, let's decide on a cooking method:
How to cook asparagus
Here are the 5 best ways to cook asparagus:
Steamed asparagus
This is probably the most common way of cooking and consuming asparagus. Because asparagus is such a tender vegetable, steaming it takes little to no time and it also helps to preserve ALL the important vitamins and minerals. It's a win-win situation!
Fill a pan with water and place it on high heat. Once it starts boiling, place the asparagus in a steamer basket and place it on top of the pan. Let the asparagus steam for 2-4 minutes (until it gets bright green).
TIP: In case you're not consuming the asparagus right away, you can put it in an ice-water bath so it doesn't get mushy until eating time!
Sauteed asparagus
For this method, we'll need our asparagus cut into approx. 5-cm long pieces. Put some oil or vegan butter in a pan and set it on high heat. Add the asparagus and sautee it for 3-5 minutes, until they're tender and the color switches to light brown.
And… that's it! Season with salt to taste and the asparagus is ready to be eaten. Told you it's fast!
Boiled asparagus
Put a large pot on high heat with water and a little bit of salt. Add the asparagus and boil for 1 to 3 minutes, until tender. The bright green color should be a good hint. Season with salt and pepper to taste if you're eating it right away or put it in an ice-water bath if you're planning on eating it later. Ta-daaam!
Roasted asparagus
Ah, this is really one of my favorite ways of cooking asparagus because, except for the fact that it's quick and delicious, this method also gives asparagus an extra texture kick – and you can even pimp it with various other ingredients by simply adding them to the oven pan!
The process is, of course, extremely simple: coat the asparagus with olive oil and season with salt and pepper to taste. Place it on a sheet pan and bake (or broil) it on high heat (200C) for around 10 minutes. Don't forget to turn the asparagus after 5 minutes. It's good and ready when tender and when the tips are a bit browned.
TIP: You can also add some (vegan) parmesan on top for extra flavor!
NOTE: You can also cook asparagus on the grill outside if you have this option! It's delicious and it's ready in no time – a perfect barbecue addition for vegans and meat-eaters alike!
How to cook asparagus in a pan
In case roasting asparagus in an oven pan or boiling it in water sounds like too much hassle for you, there's always the option of pan-roasting it, which is a fail-proof method: heat a large pan on medium heat with olive oil or vegan butter. Cook the asparagus with the cover on for 3 minutes. It's ready when it's bright green and tender. Remove the cover and sear it for another 3-4 minutes until a bit brown and crisp. Season with salt and pepper and eat it asap.
Now that you know everything about how to cook asparagus, it's time to put all that knowledge to test with some yummy recipes, am I right? Luckily for you, I have made a selection with my 10 favorite vegan recipes with asparagus below – and all of them are quick, delicious, and super easy to make. Just pick your favorite and head over to the kitchen. Happy cooking!
How to Cook Asparagus | Tips, Methods, Recipes
Do you want to find out more about how to cook asparagus? This article is your answer! You'll also get 10 asparagus recipes to try!