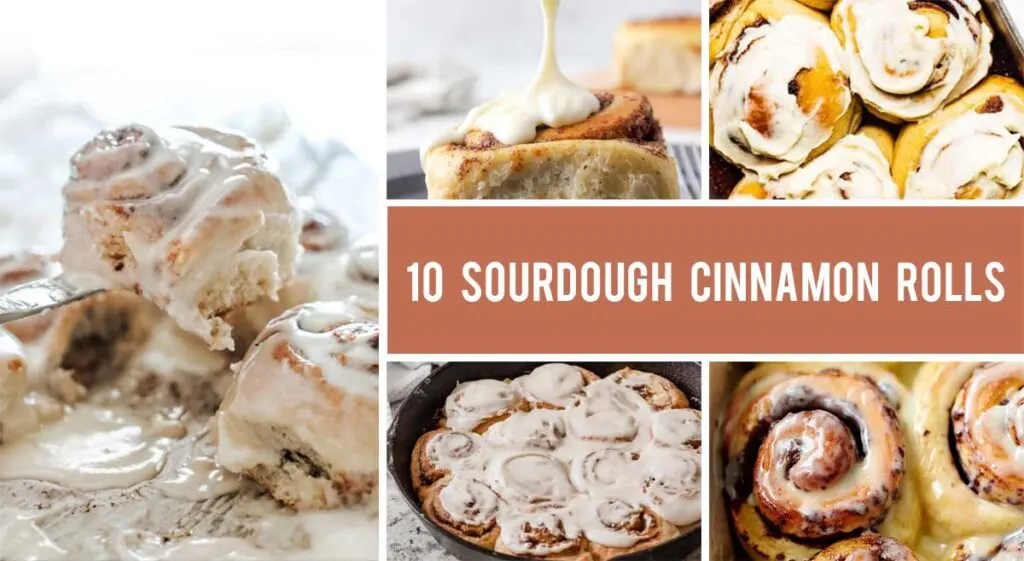 If you want to start experimenting with homemade sourdough, here's where to start! Here are 10 incredibly good recipes for sourdough cinnamon rolls!
Cinnamon rolls are a delicious treat that's been around since the 17th century. Everyone around the world is probably familiar with this amazing breakfast dessert – or I'm sure you've at least seen it in numerous coffee shops. But did you know you can make sourdough cinnamon rolls? For me, this is the ultimate sweet treat and I'll tell you everything about it down below!
Cinnamon rolls were created in Sweden during the 17th century when buns were baked with a glaze made of butter and sugar. This tasty treat was later brought to America by immigrants and served with cream cheese icing as we know it today.

But have you ever wondered why cinnamon rolls are so popular? After all, they're not exactly a healthy breakfast item — they're more like dessert in the morning. But let me tell you: there is something about eating a fresh-out-of-the-oven cinnamon roll that will make your face light up like the sun on the first day of spring.
The smell of cinnamon and sugar is simply irresistible, so it makes all the sense why it's so hard to resist in front of a fresh batch of cinnamon rolls. It's hard to not eat more than one — or two or three (but who's counting?).
While most people associate cinnamon rolls with breakfast (and rightfully so), they can also be enjoyed any time of day or night – and, in all honesty, I consider them to be more a dessert or a special sweet treat anytime during the day that the one thing you start your day with. Hey, you know I'm not a fan of sweet breakfasts! For me, cinnamon rolls are perfect for dinner parties or weekend breakfasts with friends.
Cinnamon rolls are not only delicious, but they're also incredibly versatile — the bread dough can be flavored or filled with almost anything.
For example, you can substitute the all-purpose flours usually used for cinnamon rolls with other options. Whole wheat flour will make a denser cinnamon roll with a nutty flavor; rye flour will give it a darker color and slightly tangy taste; oat flour gives the rolls a slight sweetness and makes them more nutrient-dense.
You can even go non-traditional by adding fillings such as chopped nuts, chocolate chips, or dried fruit after baking instead of before baking—or switch up what kind of topping you use by using maple syrup or a chocolate frosting instead.
Or, another alternative that I really love is to use sourdough when making your cinnamon rolls instead of regular yeast.
What's so special about cinnamon rolls made with sourdough?
In case you haven't noticed, I am a little obsessed with sourdough. It's true! I have written about sourdough bread and even shared my own sourdough starter recipe there. But what about cinnamon rolls? Why make them with a sourdough starter?
It's pretty simple: A sourdough starter adds a lovely tang to the flavor of the roll, as well as extends its shelf life.
A sourdough starter is a dough that's allowed to ferment for long periods of time. It tastes tangy and gives your cinnamon rolls a lovely zing. You can make a sourdough starter from scratch, it's really easy!
Once your sourdough has been prepared with water and flour, its probiotic properties will extend the shelf life of your cinnamon rolls by up to 10 days (compared with regular yeast). In addition, they're healthier than traditional yeast rolls because they contain less sugar and refined wheat flour.
The fermentation process also offers an incredible taste and will make these rolls rise better than those made with traditional baking ingredients.
Sourdough cinnamon rolls are the perfect way to start your day. They're soft and fluffy, with just enough sweetness so that they don't feel too heavy in your stomach. The best part is that they're also really easy to make — you only need a handful of ingredients!
In case you want to find out what's all this fuss about sourdough cinnamon rolls, I've put together a great list for you down below. Scroll down to find my favorite 10 recipes for sourdough cinnamon rolls that are almost too good to be true. Just pick your favorite and start baking!
Happy cooking! 🙂
10 Sourdough Cinnamon Rolls That Are Almost Too Good To Be True
If you want to start experimenting with homemade sourdough, here's where to start! Here are 10 incredibly good recipes for sourdough cinnamon rolls!