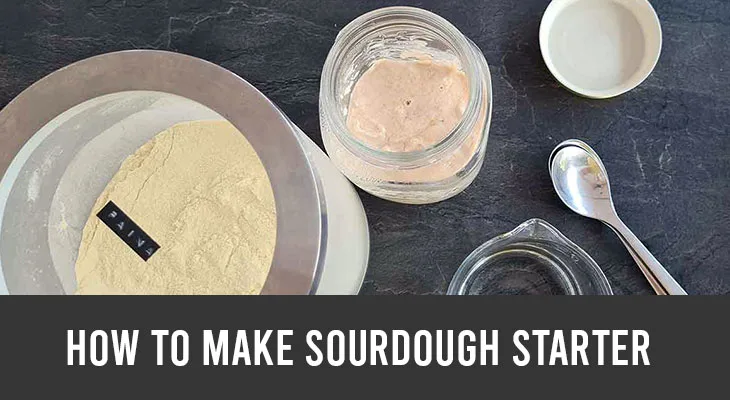 If you're thinking about making your own sourdough bread at home, this article will show you how to make your own sourdough starter the super-easy way!
Check out the other parts of the Sourdough Basics guide: What is sourdough and What is a leaven.
Contents:
How to make a sourdough starter
Now that you know all the theoretical things about sourdough, it's time to learn how to make a sourdough starter.
A sourdough starter is a fermented mixture of flour, water, and wild yeast. Once you have this mixture, you can use it to make bread dough that has a slightly tangy flavor—the result of the bacteria in your starter.
A sourdough starter is like a pet: If you feed it regularly and keep it happy, it will continue to live for years – this is called sourdough starter maintenance. But if you neglect its needs for too long, there's no guarantee that your sourdough will survive or return to life when given attention again, so you'll have to start again from scratch!
In case you're wondering where to buy a sourdough starter, the answer is simple: just ask someone you know if they can offer you a bit, so you can feed it and grow your own. In case you don't have any bread-passionate friends, you can check dedicated Facebook groups where sourdough lovers activate – some of them might be generous enough to offer you some or to explain how they made their sourdough starter kit!
But making your own sourdough starter is super easy, which is why I recommend doing it by yourself – the satisfaction is guaranteed! There are two basic ways to create your own sourdough:
either buy some pre-made active dry sourdough
or create a liquid culture from scratch by combining flour with water in equal parts (or as close as possible) in an airtight container at room temperature for 24 hours before adding more flour and water each day until the mixture begins bubbling vigorously; this indicates active growth!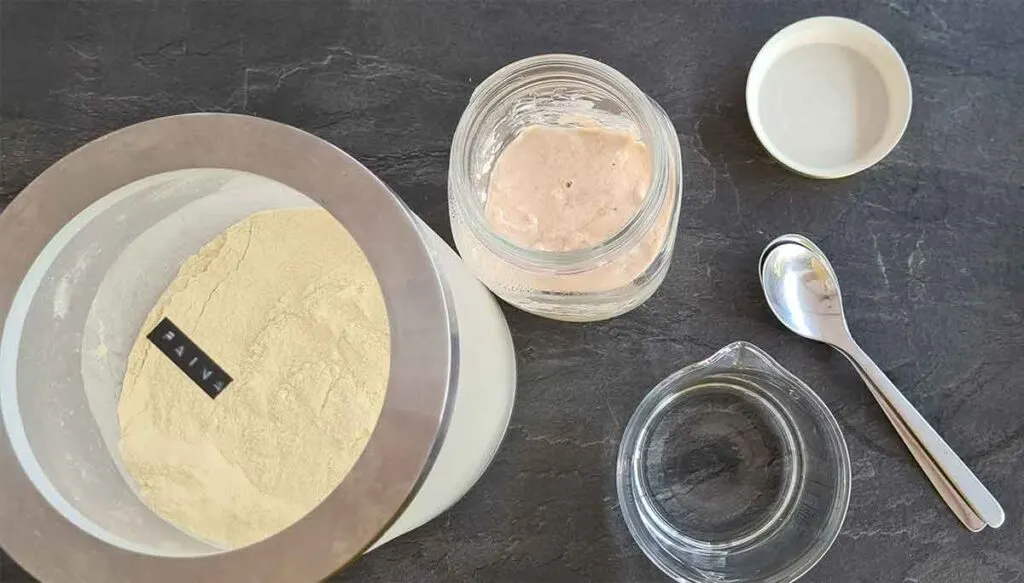 I recommend the second option if you want to make the best homemade sourdough bread! In case you agree, here's everything you need to know to make it:
Equipment and utensils needed:
1 large mason jar (min. 800ml)
1 stainless steel spoon
kitchen scale with the metric system (grams)
Ingredients:
100g whole rye flour or whole wheat flour
100g of water (at 28° C)
Important: All quantities are in grams, even for water, so make sure you use a kitchen scale. It's not optional!
For feeding (day 2 to 7):
100g of all-purpose flour per day
100g of water (at 28° C) per day
Instructions:
Day 1
Put the empty mason jar on a scale and write down its weight. You will need this number later.
Add 100g of whole rye flour or whole wheat flour to the mason jar.
Add 100g of water to the jar – not too hot, not too cold. I recommend warm water at around 28° C.
Using a clean stainless steel spoon, mix well. Cover with a lid but don't close it and leave it at room temperature until the next day.
Day 2
Discard some of the sourdough from the jar and only leave 100g of it in the jar. You can do this by weighing the full jar, subtracting the glass jar's weight, and then discarding enough of the sourdough so that, in the end, you only have 100g of it.
Don't throw away the discarded immature sourdough! You can use this immediately to make pancakes or wraps (find my recommended recipes below). Alternatively, store it in a casserole or another jar, which you'll label as "Discarded sourdough" and use it later.
Put the jar with 100g of sourdough on the scale and add 100g of water.
Mix well using a clean stainless steel spoon.
Add 100g of white all-purpose flour. Mix again.
Cover with a lid but don't close it tight; leave at room temperature until the next day.
Day 3-7
Repeat the process from day 2 until you reach day 7.
By then, you should have a mature starter for sourdough bread. If for any reason the sourdough is not yet bubbly as it should be, continue for a couple more days. You will get there! 🙂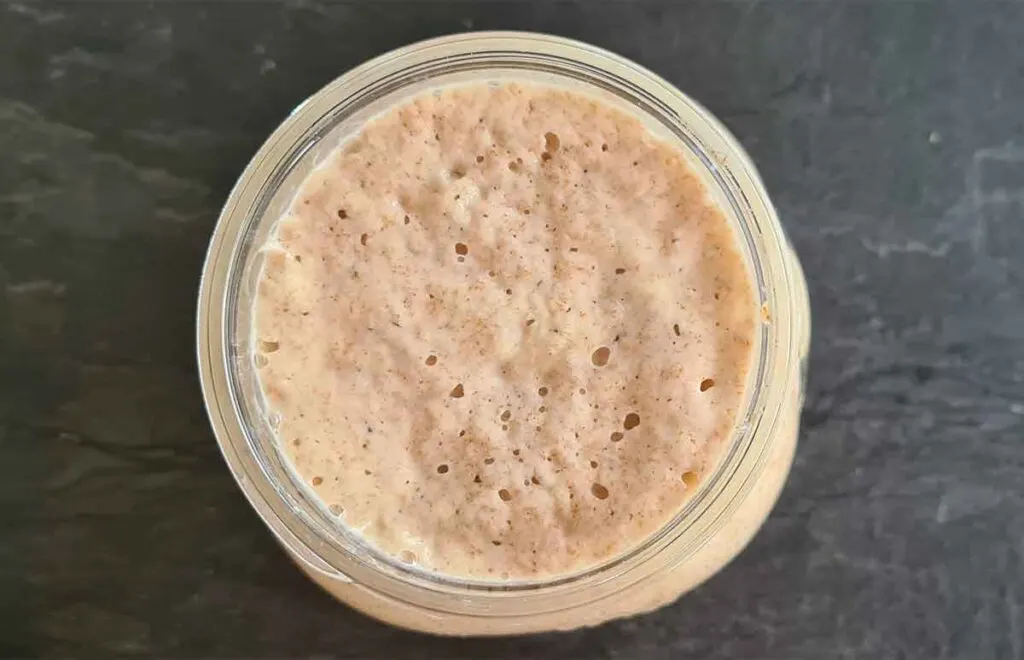 How to feed your sourdough starter
Sourdough starter – how to feed it? "Feeding" your starter is crucial if you want to preserve it for a long time without starting from scratch each time.
After you have a mature sourdough starter of about 300g, it will be ready to be used in recipes. Take out the quantity you need for the recipes you want to make.
Then, take 100g of starter and put it in another clean jar, and feed it like I previously explained, using 100g flour and 100g water. Discard the rest of the sourdough or use it for other recipes.
Here's the rule: You will always keep 100g of mature sourdough and use or discard the rest.
To make the maintaining process easier, you will now store your sourdough starter container in the fridge. Set a reminder to feed it once a week. And that's it! Now you'll have sourdough for years as long as you don't forget to feed it weekly!
Sourdough starter feeding
For each weekly feeding: take your sourdough starter jar out of the fridge and discard part of it, keeping only 100g of sourdough. Feed it with 100g of flour and 100g of water. Then leave it at room temperature for 8 hours so that the fermenting process takes place, then put it back in the fridge.
Sourdough discard recipes
So, what can you do with the discarded starter? Don't even think of throwing it in the bin; make time and start baking something delicious instead! Here are some of the best sourdough starter discard recipes you can try: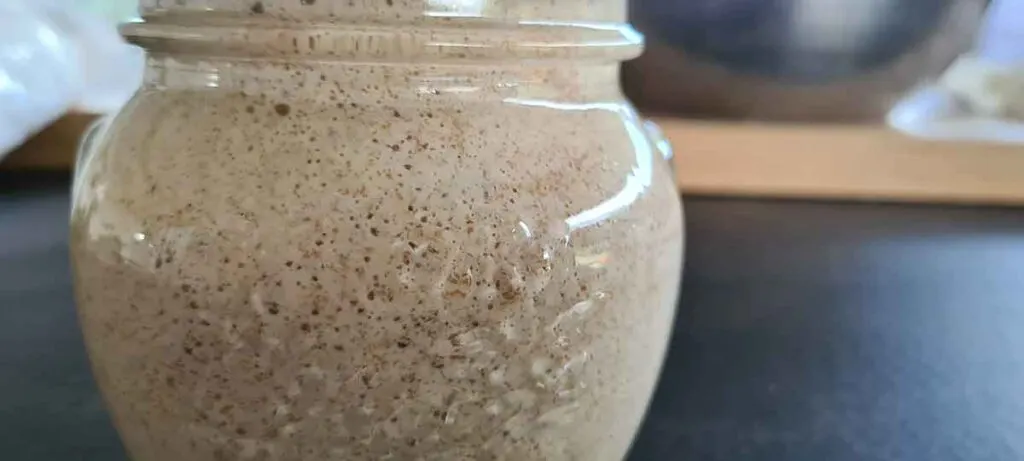 Recommended sourdough books for beginners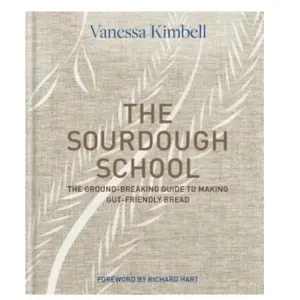 My go-to book for everything sourdough is 'The sourdough school' by Vanessa Kimbell. This book contains all the essential knowledge you'll ever need on the subject, including how to choose the best jar for a sourdough starter, what to do if your sourdough starter's not rising and some of the best sourdough starter uses!
This is, in fact, the book that made me fall in love with sourdough and artisan baking!