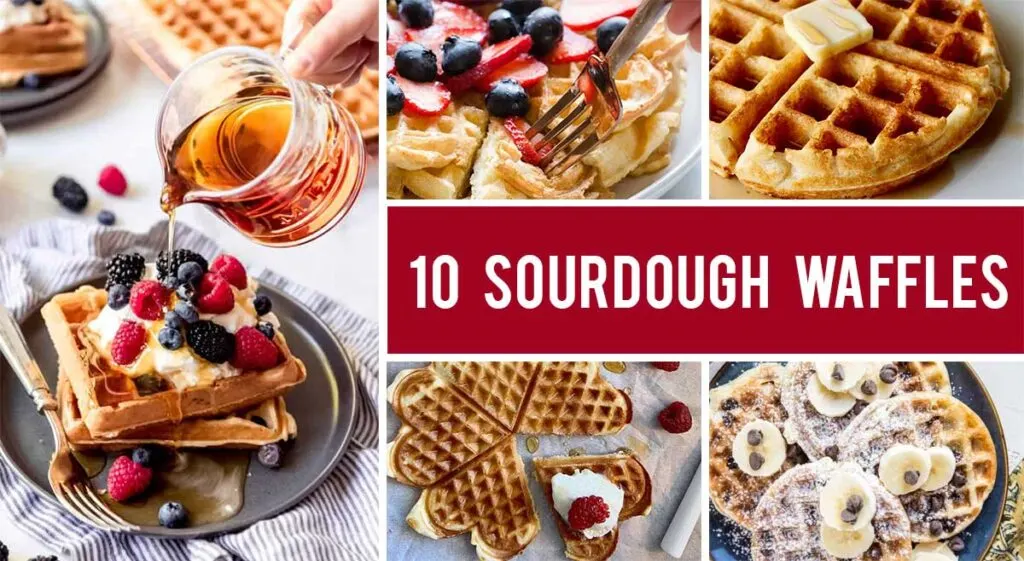 If you want to experiment with homemade sourdough, here's where you start! Here are 10 yummy sourdough waffles literally anyone can make!
When I was a kid, I had this idea that waffles were some sort of rare treat. They always seemed to be on TV or in movies when people were talking about breakfast, but my family never had them. Later in life, though, I found out that waffles are actually pretty easy to make at home — and they're a lot tastier than pancakes! So if you're looking for something different to serve up during brunch or breakfast (or simply when you're craving delicious carbs), read on for everything you need to know about making sourdough waffles.
But first, let me tell you a couple of interesting things about waffles in general.

Waffles are a popular breakfast food, and they come in many shapes and sizes. The basic batter is made of flour, eggs, milk or cream, and sometimes butter or oil. After the batter is poured on a hot waffle iron (a flat-bottomed cooking grid), it's cooked until golden brown. Waffles can be sweetened with syrup and/or topped with fruit or chocolate syrup as well as whipped cream or ice cream. They're often served with bacon and sausage too — it's no surprise that these savory breakfast treats are also famous for being snacks!
The history of waffles is a bit more complicated than you might think. Waffles have been around since the 15th century, but they didn't become popular in America until the early 1900s. The Dutch claim to have invented them, but most historians agree that they were actually invented in Belgium.
In any case, it's likely that this delicious breakfast treat originated as an alternative to bread products. Buckwheat flour was once considered cheap and easily accessible compared to wheat flour during times of famine or war — so it makes sense that people would turn their attention toward making something out of this grain.
Waffles are easy to make, can be made ahead of time, and can be made sweet or savory. They're also a great way to use up leftovers — you could pretty much throw anything into waffle batter! Cream cheese? Nutella? Bacon? Blueberries? Go crazy!
There are so many ways to eat waffles. Here are a few of my favorites:
With butter and syrup – if you're in the mood for something that tastes like a pancake but has more personality, go ahead and top your waffle with some butter and maple syrup (or another sweet spread). The combination of crispy crunchy outside and soft fluffy inside makes this classic breakfast combo one I'll never get tired of eating. It's also delicious when topped with fruit jam, chocolate sauce, or nuts as well as whipped cream or ice cream!
As an open-faced sandwich base – this idea is genius because it gives your entire meal structure while still allowing for creativity within each bite: you might want to add some tuna salad on top. Or avocado. Or tomatoes. Or all of them combined. The possibilities are endless!
What are sourdough waffles?
Sourdough waffles are made with sourdough starter, which you can easily make yourself at home. It's a mixture of flour and water that is allowed to ferment for several days before use. Once you have your starter going in a jar on the countertop, it can be kept in the fridge for months at a time and used to make everything from bread to pancakes or waffles!
Sourdough waffles are a great way to use up your starter if you have any leftovers from making pancakes or bread. And they come with a bunch of benefits as well. Sourdough waffles are healthier (easier to digest thanks to the probiotics created after the fermentation process) and more delicious (they have a more complex flavor).
The sourdough taste is more pronounced in these waffles, and the texture is different too. They're crispier on the outside, but still chewy inside like a pancake. Sourdough waffles are cheaper than regular ones. You don't have to buy special ingredients for this recipe — all you need is flour and water!
Sourdough waffles are more fun to make than regular ones. You can experiment with different ingredients, like adding cheese or chocolate chips. And your family will love them too!
Convinced? If you want to try experimenting today, scroll down to find my hand-picked selection of 10 sourdough waffles literally anyone can make. Just pick your favorite and head to the kitchen. I'm sure that any of these recipes will become a household favorite.
Happy cooking! 🙂
10 Sourdough Waffles Literally Anyone Can Make
If you want to experiment with homemade sourdough, here's where you start! Here are 10 yummy sourdough waffles literally anyone can make!