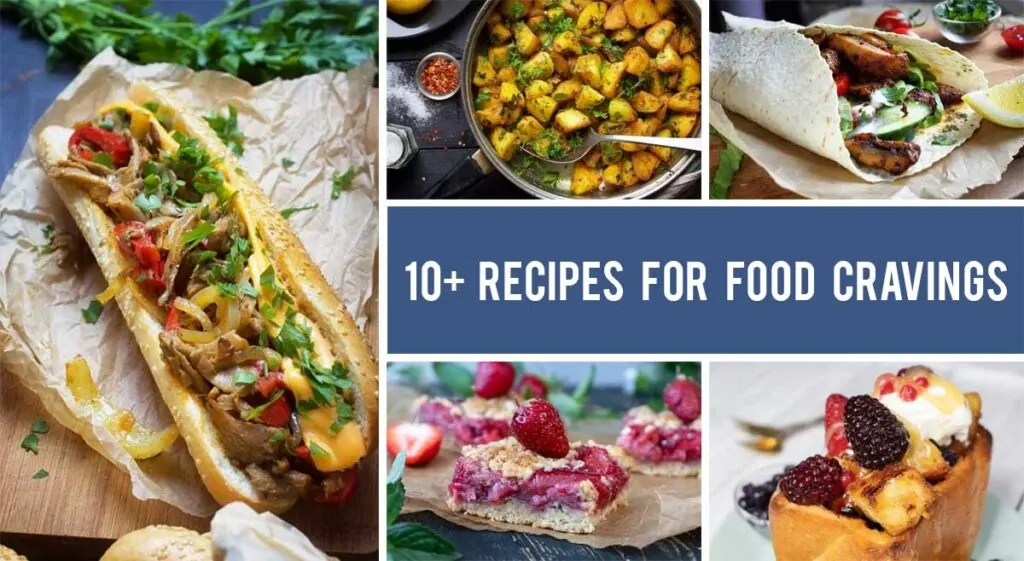 Are you looking for some recipe inspiration? In this list, you will find 10+ recipes to satisfy your cravings, both sweet and savory. Give them a try!
Food cravings. We all know them. We all have them. In the morning, in the middle of the day while you're working on that super important task, or even at night when you're trying your best to fall asleep because you're going to wake up in 5 hours or less.
Sometimes, all our brains can think about is food. And I totally get it. It's so good! A spoonful of Nutella. A big plate of pancakes with maple syrup and fresh fruit. Spicy potatoes. A juicy sandwich or wrap with veggies and protein.
Each one of us is different, which means that we all have different cravings. I, for example, am always craving savory stuff. Nachos, crispy potato chips, sandwiches, tacos, nuggets, and more. But I know people that are craving chocolate each and every day of their life. And I totally get that as well.
Sometimes, it's good to give in to our cravings and satisfy our bellies with whatever our body is asking for, even if, most of the time, that something isn't exactly healthy.
It's okay to indulge on some days, at the end of a very full working schedule. It's okay to take a break from your tight healthy-eating schedule on a weekend and enjoy a little bit of fast food.
The good news is that, nowadays, you can find healthy alternatives to any food you can think of in this world. Even fries and fast food wraps! This doesn't mean that the food you'll be eating will be boring – it'll just be a bit more nutrient-rich and, if you make it at home, it can even more delicious because you'll have the liberty to choose and add your favorite ingredients as you wish.
And because I want to offer you some inspiration for amazing recipes that will cure your mid-day cravings, I have put together this thorough list. Down below you will find more than 10 recipes to satisfy your food cravings, both sweet and savory. So you can choose according to your own preferences!
From juicy tacos, loaded fries, and saucy cauliflower wings to Nutella lava cookies and coffee or caramel tarts, I'm absolutely convinced you'll find at least one recipe that will drive you crazy in my list below. Trust me, I have only chosen the BEST recipes I could find out there for all our midnight cravings! This is the food you'll be dreaming about for days in a row, trust me.
So you better pick your favorite and head over to the kitchen, preparing your favorite cookies or veg-friendly fast food recipes.
Click on the titles, buttons, or pictures in order to access the step-by-step instructions and ingredients list for each of these recipes. I'm sure you'll have all your cravings satisfied or, in the worst case, you'll find even more amazing food to dream of. Oh, well! 🙂
Don't forget to leave a comment and tell me which of the recipes below is your favorite. Happy cooking!
10+ Perfect Recipes to Satisfy Your Food Cravings
Are you looking for some recipe inspiration? In this list, you will find 10+ recipes to satisfy your cravings, both sweet and savory. Give them a try!