Hasselback potatoes are a traditional Swedish recipe that will surely impress with both taste and texture. Here's how to make Hasselback potatoes.
Also called "Accordion potato" or "Pillbug potato" due to its unusual appearance, the Hasselback potato (Swedish: Hasselbackspotatis) is a perfect hybrid between all your favorite types of potato-based dishes, and for this, you can thank the Swedes. The Hasselback potatoes are not only a historic recipe but a sure way to impress your guests at dinner as well.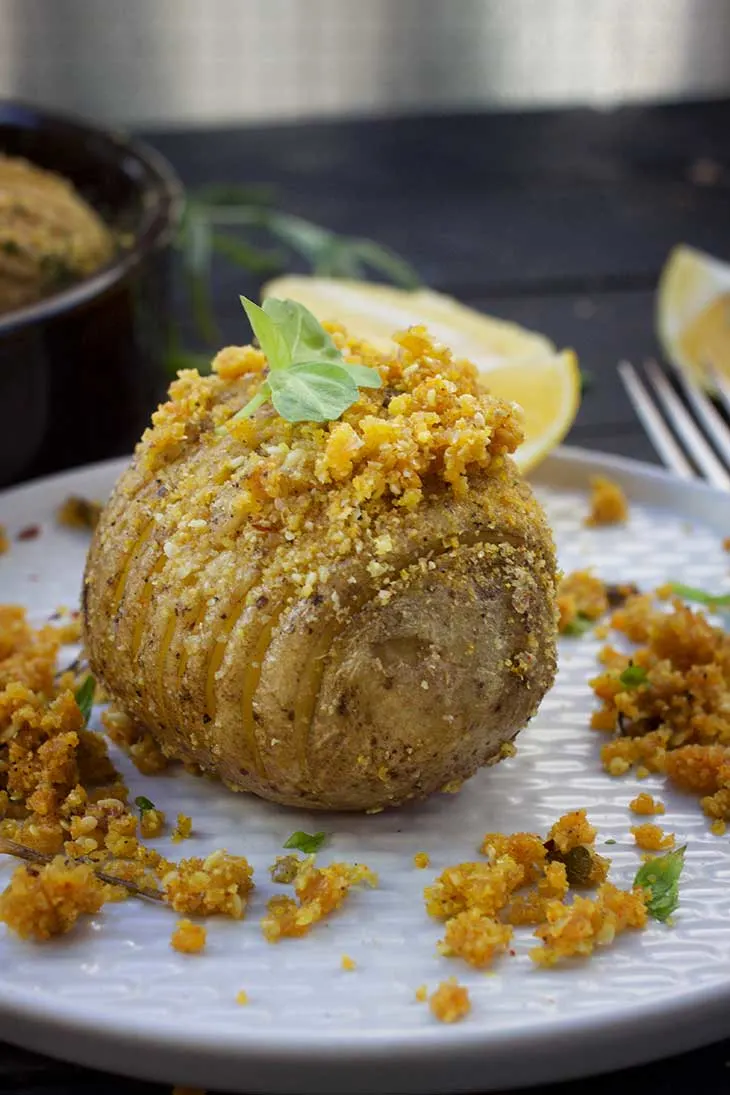 This dish was first made by chef Leif Elisson from Värmland and it gets its name from the place he worked at as a trainee – Restaurant Hasselbacken on the Djurgården island in Stockholm. Hasselbacken was first established in the 1700s as a tavern, then reopened in 1853 as Restaurang Hasselbacken, in a brand new building. The place was known for the grandiose celebrations that were held between its walls by Stockholm's rich upper class. So this place is quite full of history indeed.
Hasselback Potatoes were an instant hit in the 50s, not only because of their unique, comforting taste but also for their stylish, fancy look. However, from 1953 to the present day, people have taken this classic Swedish side dish and made it their own.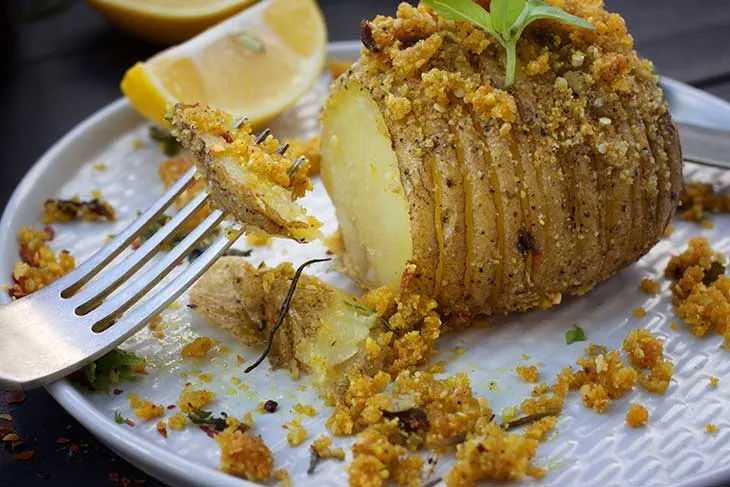 So what is a Hasselback potato after all? It's nothing more than a normal baked potato, sliced into thin wedges while remaining joined at the bottom. This slicing method makes the dish keep the comforting creaminess of mashed potatoes while retaining that satisfying french fry crisp on the outside.
The recipe is quick and easy and takes the same amount of time to make as regular foil-wrapped baked potatoes while looking ten times as fancy. So here's how to make this at home.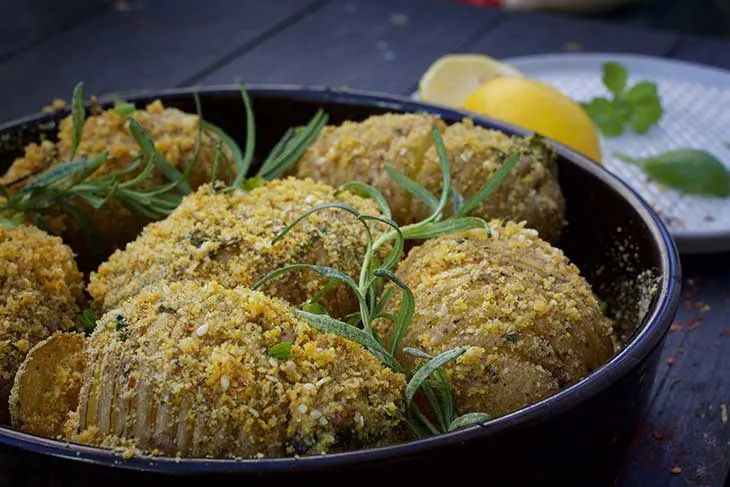 You start by choosing your potato type, as some are more suitable than others. Medium sized potatoes work best for this dish, while very small varieties such as new potatoes won't do the job that well. Such is the case for very large potatoes, and this has to do with the fact that the portion size is not appropriate for single servings. Usually, the portion consists of one or two potatoes per person.
After choosing your perfect potato, the next step is washing it thoroughly and scrubbing it to remove any dirt. Usually, you keep the skin on the potato as well, so you want to make sure there's no dirt left. The next step is patting it dry with a kitchen towel.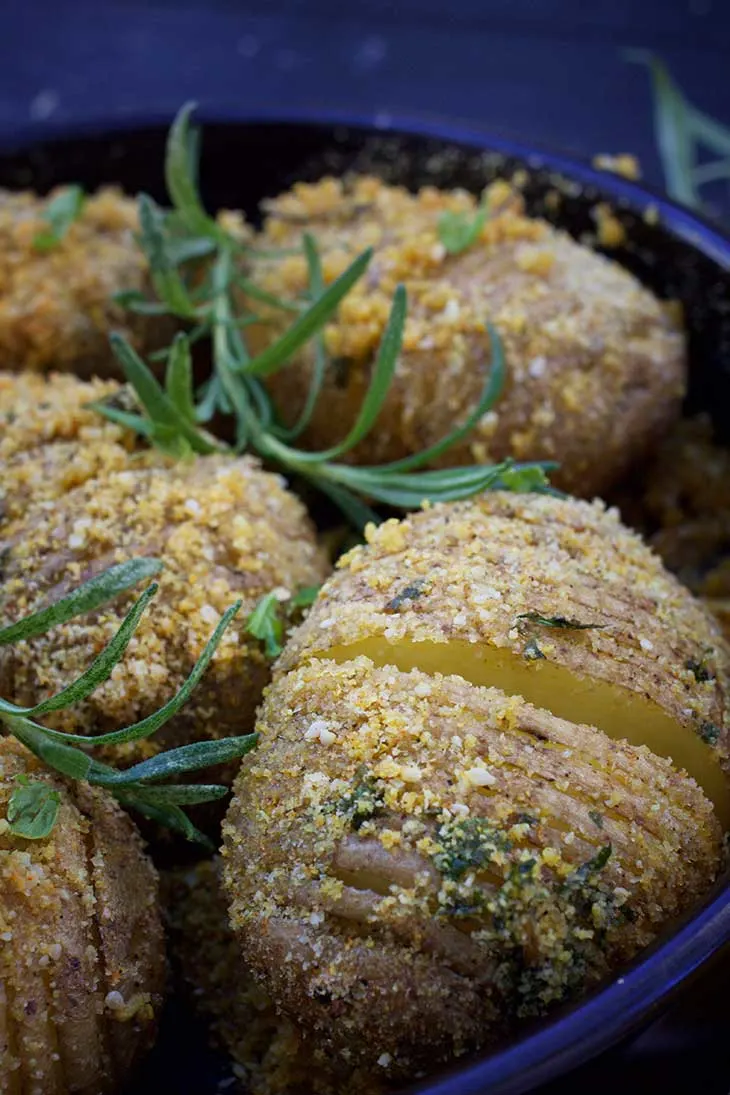 Slice it straight down, stopping halfway or quarter way. In order to do this, you can place it between the handles of two wooden spoons. This way, the knife will stop when it reaches the spoons and you'll make sure you won't cut the potato all the way through. If you tend to make this dish more often, you can acquire a special Hasselback cutting board for the process. If not, the spoons will do the job just fine. You can make the slices as thick or as thin as you like if they remain consistent.
Before popping the potatoes into the oven, grease them up on the outside. In their original form, Hasselback potatoes are usually greased with melted butter or aromatic oils. This is a very important step because the grease is absorbed in the roasting process, thus contributing to the softness and creaminess of the potato later on. As the potato cooks, the slices you cut will separate slightly, creating the famous accordion look.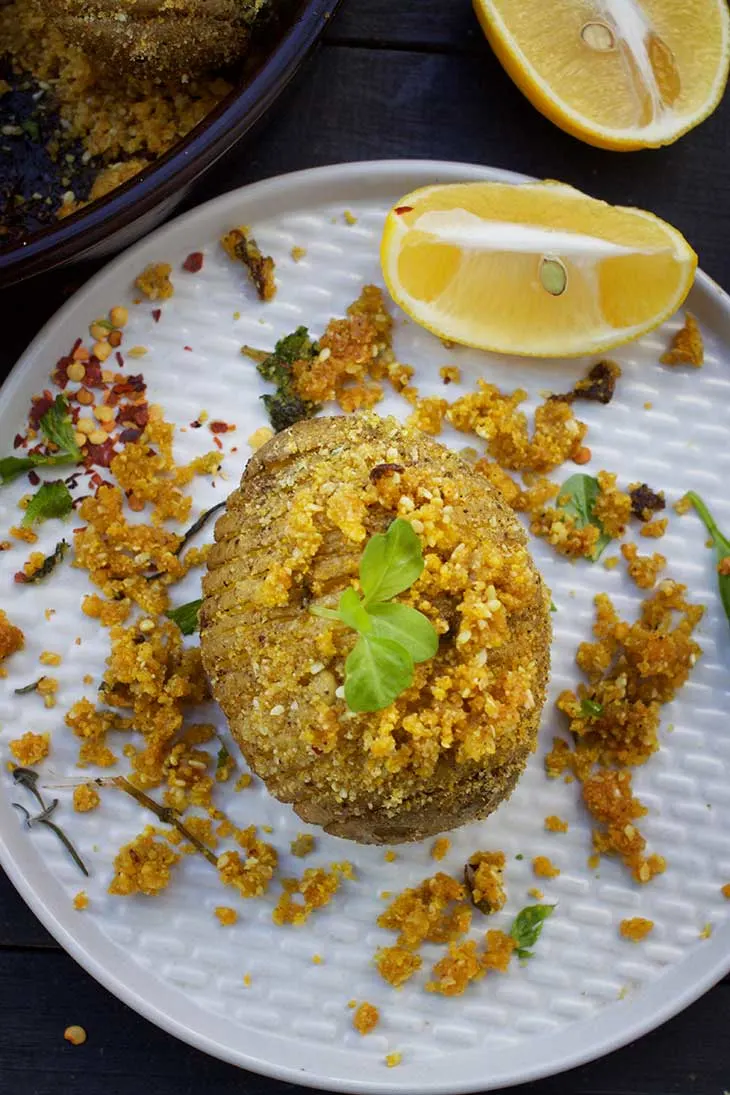 As with many other dishes, Hasselback potatoes went through a wide range of variations. The traditional seasoning is very simple and includes breadcrumbs and salt, but nowadays almost anything may be used. Some recipes call for things like lemon, fresh herbs or garlic – all of them delicious, though not traditional.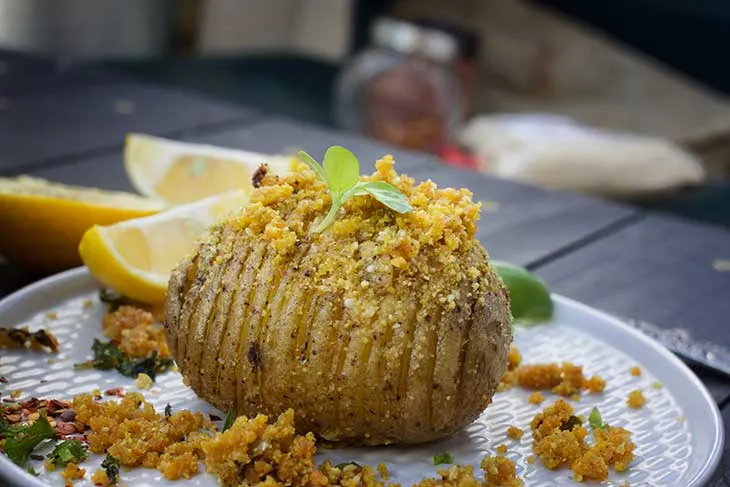 At the end of the day, it's up to you and your preferences. This is a very versatile recipe, and as long as you do the baking part right, you can play with unconventional toppings as much as you like. Hasselback potatoes are perfectly accompanied by steak, roasted chicken, really anything else that would go well with a portion of chips. Plus, they'll make your Instagram profile look really good, so you're sure to impress!
Yield: 6
How To Make Hasselback Potatoes - Quick and Easy Method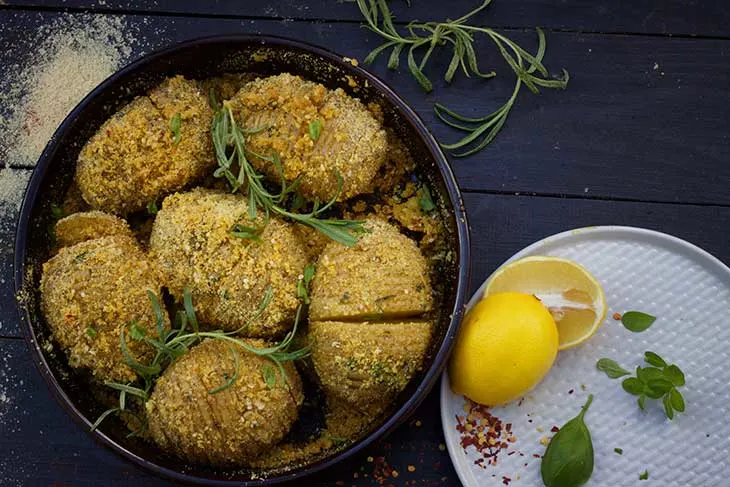 Hasselback potatoes are a traditional Swedish recipe that will surely impress all your guests. Plus, they're extremely healthy and easy to make!
Ingredients
For the potatoes:
6 medium baking potatoes, washed
4 Tbsp olive oil
1 garlic clove, sliced
1 spring fresh rosemary
1 Tbsp basil leaves
1 Tbsp celery greens
1 tsp sea salt
1 tsp lemon zest
For the topping:
1 tbsp panko breadcrumbs, use gluten-free if needed
1 Tbsp nutritional yeast
1 tsp chili flakes
½ Tbsp sunflower seeds
½ Tbsp sesame seeds
¼ tsp sea salt
¼ tsp black pepper
1 Tbsp vegan cheese, chopped
Instructions
Set the oven to 180°C
Place each potato on the cutting board. Place 2 wooden spoons (or something of similar height) alongside the potato while cutting (this will stop you from cutting in too deep). Cut vertical slits in the potatoes.
In a small bowl mix olive oil, garlic, rosemary, basil, celery greens, salt, and lemon zest. Crush all ingredients with a fork to combine the flavors.
Brush the potatoes with herby oil on every side.
Place the potatoes with the cut side down on a baking tray.
Bake potatoes for about 45 minutes.
While the potatoes are baking, prepare the topping:
In a blender bowl, add all topping ingredients. Pulse a few times to combine all the ingredients.
Remove potatoes from the oven and add the topping.
Put them back in the oven for about 7 minutes more, until the crust is golden.
Nutrition Information
Yield
6
Amount Per Serving
Calories

209
Total Fat

9.6g
Carbohydrates

24.3g
Protein

6.3g