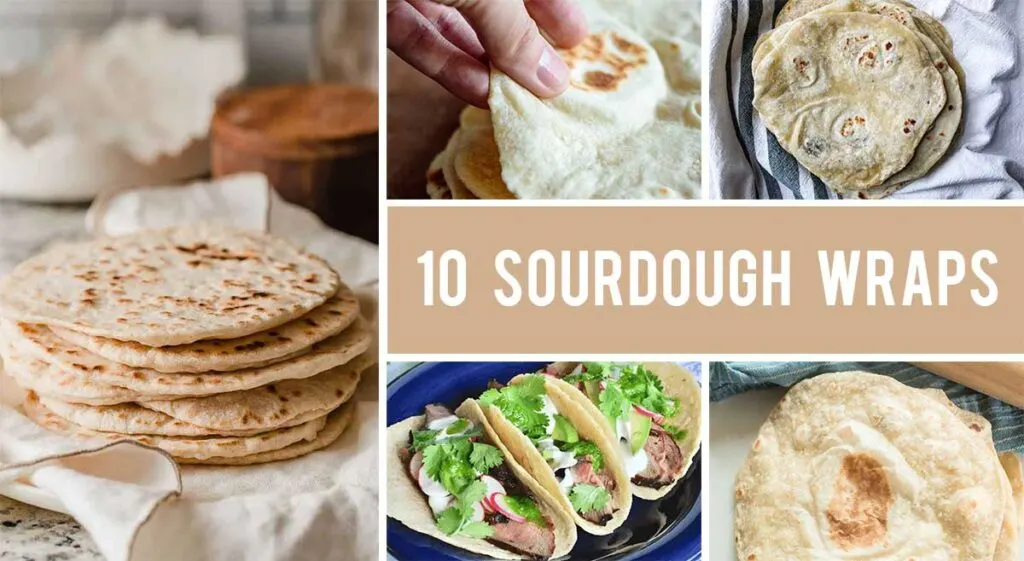 If you want to experiment with homemade sourdough, here's where you start! Here are 10 fantastic sourdough wraps you can make with sourdough discard!
Sourdough is delicious, and it's a versatile ingredient that you can use in everything from bread (duh, the obvious choice!), pancakes to pizzas. But did you know that leftover sourdough can be used to make some naturally gluten-free wraps that are also low-carb? These wraps are easy to make and will allow you to break out of the lunch routine with your friends or family!
Sourdough is a type of bread that's made with a fermented starter. It's more time-consuming to make than other types of bread, but the result is worth it: sourdough comes out with a tangy flavor and great texture. To make the starter, you'll need flour and water — you can use any kind of flour you like (white or whole wheat), though rye flour is recommended if you're feeling adventurous!

Mix equal parts water and flour together in a bowl, cover it loosely with plastic wrap or cheesecloth (so air can get in), and let sit at room temperature for several days until bubbles form on top. The longer you let it sit, the better your sourdough will taste because fermentation continues after the first day or two; just be sure not to leave it out for too long — as soon as there are visible bubbles forming on top of your mixture after two days have passed, start baking!
And when you're feeding your sourdough each week, that's when you get sourdough discard. Don't throw that away! Instead, use it for baking some delicious right away, such as sourdough wraps. They're a real game changer!
Making sourdough wraps is one of the easiest things in the world and only requires a few ingredients. The wraps are then cooked on a hot skillet or inside the oven and used in various ways.
Sourdough wraps make an amazing base for all kinds of fillings — from hummus and avocado slices to marinated mushrooms and roasted veggies. Alternatively, you can brush them with olive oil or butter, and then top them with fresh herbs or cheese and eat them as a snack or side for your main dish. So many possibilities!
In case you need some inspiration for fillings and recipes you can make once you have your sourdough wraps ready, here are my personal recommendations:
All the 10 sourdough wraps I have selected for you below are versatile, flavorful, and easy to make. I hope you'll try them, now that you have a whole bunch of recipes to experiment with whenever you have some sourdough discard!
In case you do try some of these recipes, let me know in the comments below, I can't wait to hear about your creations. Remember that you don't need much equipment for these recipes — just some parchment paper, a rolling pin, and a hot oven will do. If you want to go all out with fancy tools or cutters, though, by all means do so! Just remember that the important thing is ensuring that the wrap tastes delicious and stays together while eating.
Happy cooking! 🙂
10 Sourdough Wraps You Can Make With Leftover Sourdough
If you want to start experimenting with homemade sourdough, here's where you start! Here are 10 amazing sourdough wraps you can make with sourdough discard!