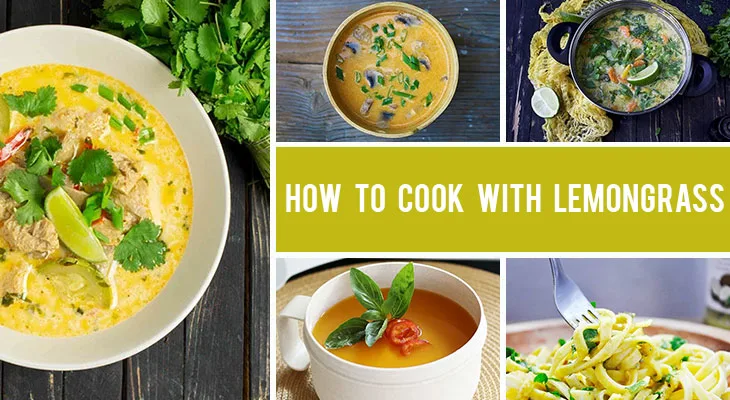 Do you want to find out more about how to cook with lemongrass? This article is your answer! You'll also get my 10 best recipes that include lemongrass to try as a bonus!
In case you didn't experiment with lemongrass yet, get ready to discover an entire universe of flavors! This traditional Asian ingredient is most commonly found in Thai and Indian cuisine, but it can also be used in several other dishes such as cream soups, pasta sauces – and more.
Are you ready to find out everything you need to know about how to cook with lemongrass? Let's get started! But first, let me tell you a few basics:
What is lemongrass?
Lemongrass is a flavorful stalk that has a citrusy flavor (hence the name!). It's similar to a green onion, only it's longer and more fibrous. You can usually find lemongrass stalks at farmer's markets (depending on your luck), at supermarkets (fresh or frozen), or in Asian stores. The stalks are usually around 30 centimeters long.
TIP: If you have the chance, try to pick lemongrass stalks that are light green and plump, with green leaves on the top as well. Avoid the thin, woody ones with yellow-brown-ish color and dry leaves on top, as that's a clear sign that they're not as fresh.
ALTERNATIVE: If you can't find fresh lemongrass anywhere where you live, you can use lemongrass paste in a tube. It's usually found online, at Asian shops. Just note that most of them contain whey so they're NOT vegan.
How to prepare lemongrass
In case it's your first time using and cooking with lemongrass, you'll need to know some important steps about preparing the stalks:
Cut around 1cm from the bottom
Peel off the leaves (if you want, you can dry them and use for tea)
Peel off 1-2 outer layers to get to the inner core. Some other articles on the web mention that you have to peel a lot more, but if your lemongrass is relatively fresh and plump, I find that to be unneccessary (and a bit of a waste, too!)
Wash the stalk under cold water to get rid of any dirt
TIP: Make sure you're using a sharp knife, as the lemongrass stalks can be a bit tough!
Next, we need to cut the lemongrass. Depending on the recipe, you may use lemongrass sticks, slices, or grated pieces:
STICKS (best for soups and stews) – if you need sticks, just cut the lemongrass stalk into 5-6 centimeter-long sticks. The essential step here is to "beat" the sticks with a meat tenderizer in order to release all those yummy oils.
RINGS (best for a stir-fry) – cut the lemongrass into SUPER thin rings. You can also use them as a topping for various stews or soups.
GRATED LEMONGRASS (best for a marinade) – use a micro zester to grate the lemongrass. Use it for marinades or sauces, so it nicely blends with the rest of the ingredients/liquids.
How to cook with lemongrass
Now that you know ALL about cutting and prepping lemongrass, let's find out about the most common ways of using it when cooking:
lemongrass tea – probably the easiest thing you can do. If you don't want to waste your precious stalks for this, just use the green leaves that you would have thrown away anyway. You can also add a fresh lemon slice, a rosemary sprig or any other tea ingredients that you like. By the way, did you know that lemongrass tea is very good as an immunity booster?
curries – lemongrass is famously used in curries all over the world, from Pumpkin Curry to Green Curry.
stir-fries – literally any stir-fry you can think of will be ten times more flavorful and authentic if you add some lemongrass rings into the mix! This Vegan Stir-Fry with "Chicken" and Noodles is a perfect example.
sauces and marinades – best made with grated lemongrass and your favorite mix of ingredients. A very good marinade combo is lemongrass + fish sauce + soy sauce + turmeric + agave + chili flakes + salt. This works perfectly for marinated tofu.
soups – especially Asian soups.
salads – because why not?
And I could just go on and on and on! But why bore you with endless lists when we can actually put all this knowledge to the test and try some actual recipes instead?!
Below you'll find my 10 favorite vegan recipes with lemongrass to try. I tried to combine recipes for all kinds of tastes, preferences, and difficulty levels. From various types of curries to soups, pasta, and even some lemongrass ice cream (what?!), I'm absolutely convinced you'll find something to love down below.
All you need to do in order to access these recipes is to click on the buttons or titles. Then pick your favorite, gather the ingredients, and head over to the kitchen. Happy cooking! 🙂
How to Cook with Lemongrass | Tips, Methods, Recipes
Do you want to find out more about how to cook with lemongrass? This article is your answer! You'll also get my 10 best recipes that include lemongrass to try as a bonus!