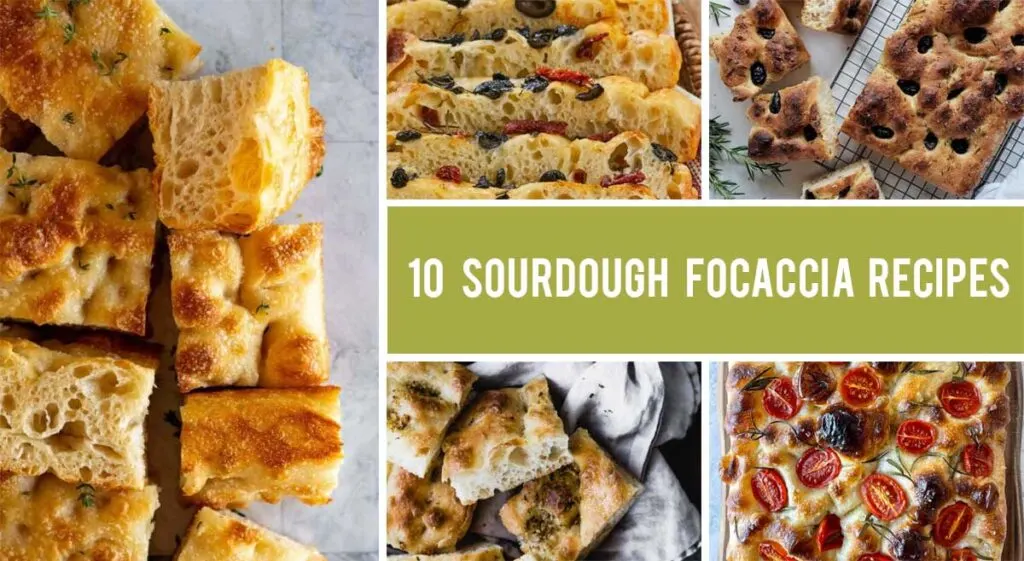 If you want to experiment with homemade sourdough, here's where to start! Here are 10 sourdough focaccia recipes that are shockingly easy to make!
I'll be honest, I'm not a bread person. When it comes to making something homemade, I'd rather make falafel than sandwich bread. But focaccia? Focaccia is where it's at. It's hearty enough to be a meal and easy enough for a weeknight dinner – plus, the baked topping offers endless possibilities for customizing your favorite flavors or whatever you have on hand in your fridge.
Focaccia is a flatbread with a crisp, golden crust and a soft, chewy interior. It's made from flour, water, and salt; yeast added to the dough gives it its characteristic airy quality. The bread is baked in an oven until it becomes browned on top and blisters slightly around the edges.

But why is focaccia so good? The answer is simple: it's delicious. Focaccia is a flatbread that originated in Italy hundreds of years ago. It has a thick crust and can be topped with any number of ingredients like herbs, cheese, tomatoes, and more. Some focaccia recipes combine pizza toppings; others are made with just olive oil, herbs, and salt.
Focaccia is great because it's versatile enough to be served as an appetizer or a side dish at dinner parties but also tastes good on its own as a snack or lunch option. It can also be easily made at home!
Focaccia is best eaten fresh and hot, so that's another argument for making your own focaccia at home. My recommendation is to spread a little bit of olive oil or butter on the top of your focaccia before eating – this time it will be ten times more flavorful!
Why is sourdough focaccia better?
There's a reason why we're drawn to sourdough bread and other foods that use this ancient fermentation process. Whether it's an artisanal bakery or a loaf of bread you make yourself, sourdough bread is delicious and nutritious. It has more flavor than regular bread because the natural yeast in sourdough lives longer than regular, commercial yeast and gives off more enzymes that help break down starches into simpler sugars, which means that your digestive system can better absorb them.
Regarding texture, sourdough focaccia is also better than other types of focaccia because the extra fermentation makes for a lighter crumb structure that holds up well when cut into squares or wedges for serving. And its delicious taste goes great with any toppings you choose!
The best part about making sourdough focaccia is that it's a relatively simple recipe to follow. After mixing up the dough and letting it rise overnight, all you have left to do is shape your bread into whatever form you want and bake it! The only drawback is that there are no shortcuts when making sourdough bread — time is an essential factor in developing the best flavor possible.
Focaccia is a great canvas for all kinds of toppings. You can make your focaccia with whatever you have in the fridge or pantry, and it will turn out delicious regardless. There are no rules when it comes to toppings – use any kind of topping that you like! You could use tomatoes, mushrooms, onions, and rosemary. Or olives. Even olive oil and salt if that's what you're feeling like!
The key is using the best quality ingredients you can afford — this means you'll get the more delicious focaccia in the world!
Focaccia is best eaten fresh. If you want to save some for later, you can also freeze raw, risen, or baked focaccia dough. The method for all three is the same: simply wrap the dough tightly in plastic wrap, then store it in an airtight container or freezer bag. To use frozen dough, remove it from the freezer and allow it to thaw in the refrigerator overnight before you plan on baking it.
So now that you know everything about focaccia, why not try it out? Scroll down to find my hand-picked sourdough focaccia recipes that are shockingly easy to make by everyone at home – and I promise these recipes will change the way your think about bread!
Happy cooking! 🙂
10 Sourdough Focaccia Recipes That Are Shockingly Easy To Make
If you want to experiment with homemade sourdough, here's where to start! Here are 10 sourdough focaccia recipes that are shockingly easy to make!