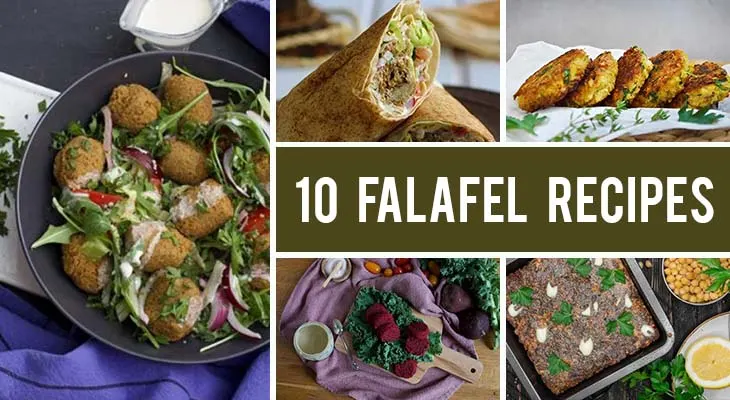 Are you looking for some recipe inspiration? In this list, you will find 10 innovative falafel recipes that go beyond the authentic dish. All of them are yummy, super easy, and quick to make! Give them a try!
Ah… falafel? Who on this Earth doesn't love it?
In case you don't know what falafel is, let me explain it to you briefly. Imagine little heavenly patties made of mashed chickpeas combined with fresh herbs (read: lots of parsley!) and spices. The patties are then deep-fried or if you want the healthier version, baked in the oven until they're nice and crispy.
Falafel is a well-known Middle Eastern dish and the best part about it is that it's… naturally vegan! It's also widely consumed in Egypt, Israel, and Syria as well and, luckily for us all, nowadays you can find falafel shops all around the world.
The most important tip I can offer you for making the best falafel in the world is this one: make sure you're using fresh, high-quality ingredients. If you have good ingredients, your falafel will be crunchy and perfect.
If you haven't tasted a piece of falafel before, you have been missing a world of flavors! Falafel is simply amazing and super versatile. It is most commonly eaten in a wrap, with some veggies and tahini sauce, in a pita or as it is, on a plate with your favorite side dish – usually some tabbouleh salad, mashed potatoes, or fresh veggies.
Now if you ask me, the best part about falafel is that it's extremely easy to make and you only need regular ingredients you may already have at home. If you have a can of boiled chickpeas, you're pretty much good to go! And because this is such an easy and stress-free recipe, it would be such a shame not to make it more often! Especially if you're following a vegan diet, my friends.
There was a time when I was literally obsessed with falafel. I was eating it daily, combining it with everything I had on hand, and trying new versions of it every day. Did you know you can make falafel with fava beans as well? It's equally good! And there are some other unique combos as well, but let's keep those a secret until you scroll down to the recipe list below, shall we?
If you're a falafel lover bored of the classic version, then you have opened the right article. Below you will find my 10 favorite falafel recipes that go beyond the authentic dish. You'll find some pretty special combos below such as a pink falafel made with beetroot, a sweet potato falafel, and even one made with quinoa. Sounds awesome, right? My mouth is watering as I'm writing these words!
I'm sure you're eager to try some new and exciting falafel recipes right now! Most of the recipes below are my own creations, but not only – I also added 4 falafel recipes made by some amazing food bloggers that I really enjoyed. And I wholeheartedly recommend you try ALL OF THEM as soon as possible.
Click on the buttons in order to access these amazingly delicious falafel recipes. Here we go:
10 Innovative Falafel Recipes That Go Beyond The Authentic Dish