Looking for a healthier alternative to the classic falafel? Here's how to make falafel in a pan – simple, healthy and super delicious!
Many people are pretty much in love with falafel – and for good reason. It's one of those foods that are vegan by default – no tweaks needed.
Its main ingredient is ground chickpeas, fava beans, or sometimes both. Other common ingredients are lots of herbs, spices, and onion.
As with almost all great foods, the origin of falafel is controversial. Some say that it has been invented in Egypt 1000 years ago by the Egyptians. Others say that it may actually be waaay older, going waaay back to Pharaonic Egypt. If we follow this theory, it seems most likely that, at first, falafel was made using exclusively fava beans, as that's what could be found in that area.
Later on, the dish migrated towards the Levant, where chickpeas replaced the fava beans. However, other theories state that falafel did not originate in Egypt at all, but in the Arabian Peninsula, more precisely, in Yemen.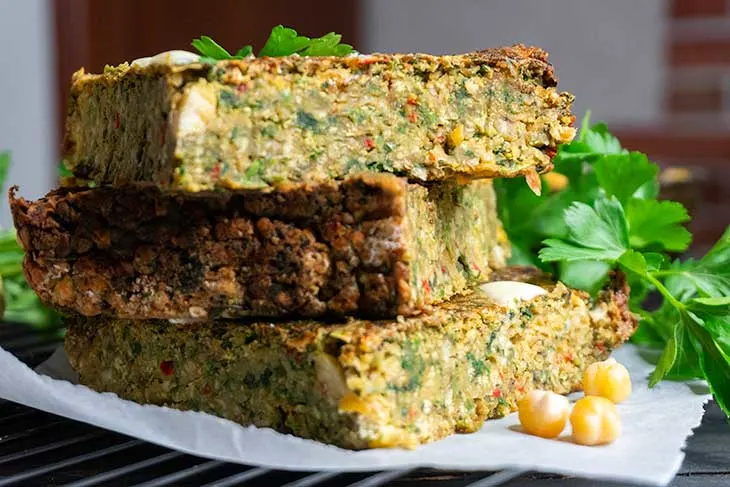 What we can say for sure is that falafel has a lot of culture and history around it, most of these things being closely tied together with the Middle East. It is considered a national dish by Egypt, Israel, and Palestine, to name a few, and nowadays you can find it in pretty much any country as popular street food.
The secret to a perfect falafel is not cooking the chickpeas prior to assembling. This will cause the falafel to crumble and fall apart. The solution, instead, is soaking the chickpeas in water overnight, often using baking soda as well, then grounding them together with your other spices, herbs, and flavorings. What you then need to do is shaping this mixture into balls or patties. It's a pretty fun process that can be done either by hand or using a tool called an aleb falafel (falafel mold).
Chickpea falafel is really high in fiber, complex carbohydrates, and protein – which explains why so many vegans love it so much. Other important nutrients are calcium, iron, magnesium, phosphorus, potassium, zinc, copper, manganese, vitamin C, thiamine, pantothenic acid, vitamin B, and folate.
Have I convinced you yet? Chickpeas are also really low in fat and have proven to contain no cholesterol and lower blood sugar.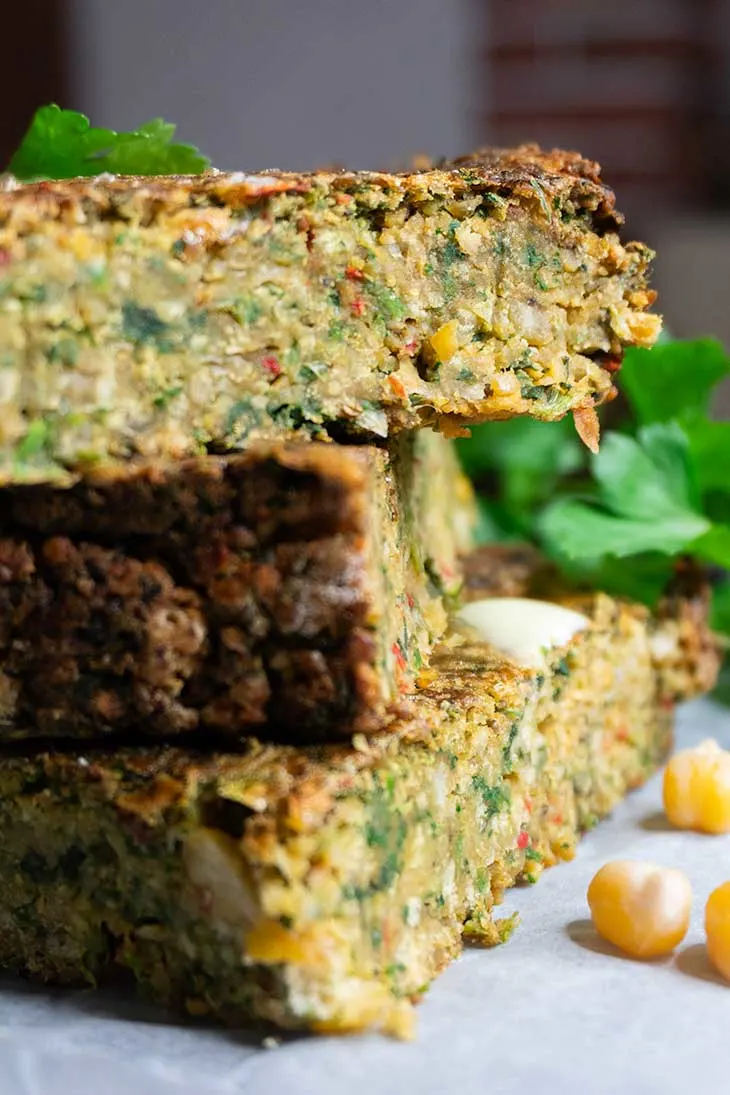 However, a high amount of fat is absorbed during the frying process, if you choose to deep fry it. However, falafel can be cooked by baking it as well and both versions are delicious. The oven-baked one is a lot healthier though, as it doesn't contain so much oil. The deep-fried version is wonderful culinary-wise – a really crispy exterior with a soft interior. However, this comes with the downside of having considerably more fat and a lot more calories.
Falafel may be served in many different ways. Probably the most famous one is stuffing it into a pita or lafa bread with vegetables, pickles, and sauce. You can also make delicious falafel salads with crunchy leaves and vegetables for awesome texture, or use it in tacos.
If you make your falafel patties bigger, you can also use them in burgers – they are amazing. And actually, falafel has been used in combination with other ingredients to make a bunch of awesome mock-meats. In the United States, people have been using falafel to reformulate vegan or vegetarian versions of meatloaf, sloppy joes, and spaghetti with meatballs. And I think it's pretty amazing when people succeed to provide great, comforting taste without the use of meat!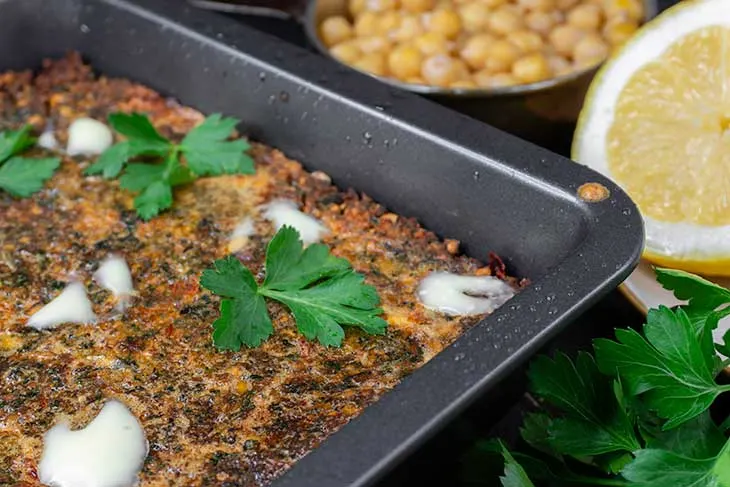 I chose to do this falafel recipe in a pan in order to reduce the amount of oil I am using, and I think it turned out amazing. In order to pan fry, you really don't need that much oil. What you can also do is place your falafel patties inside a cast iron skillet and bake them in the oven. The results are amazing either way.
As I mentioned before, falafel can be served in many ways, including as a snack, on its own. However, what I really want to emphasize here, is that either way you prefer to serve it, being it inside a pita, on its own, or on top of a salad, go hard on the tahini. You won't regret it.
Tahini is actually considered a condiment, and it's made by toasting sesame seeds and blending them with other herbs and spices. It's tangy and a little bit bitter, with a toasty aroma, and it goes really, really well with falafel patties. A cool snack idea would be plain falafel patties with tahini on the side, as a dip. Trust me, you'll love it!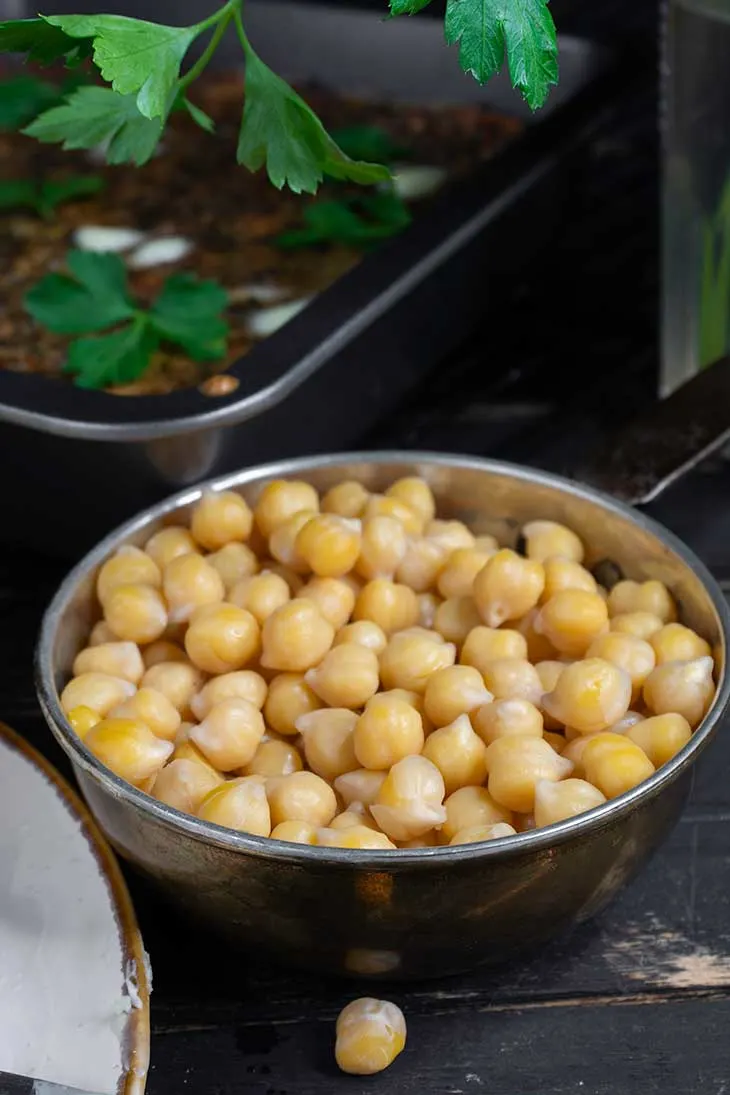 Because falafel is really one of my favorite things in the world, I hope you're going to give this recipe a go and tell me how it turned out! Have fun!
---
Personalized meal plans and workout videos | Get your customized meal plan today! [x_button shape="square" size="mini" float="none" target="blank" href="https://shop.gourmandelle.com/?utm_source=mainsite&utm_medium=site&utm_campaign=inpost" info="none" info_place="top" info_trigger="hover"]I WANT A MEAL PLAN![/x_button]
---
Yield: 4
Falafel in a Pan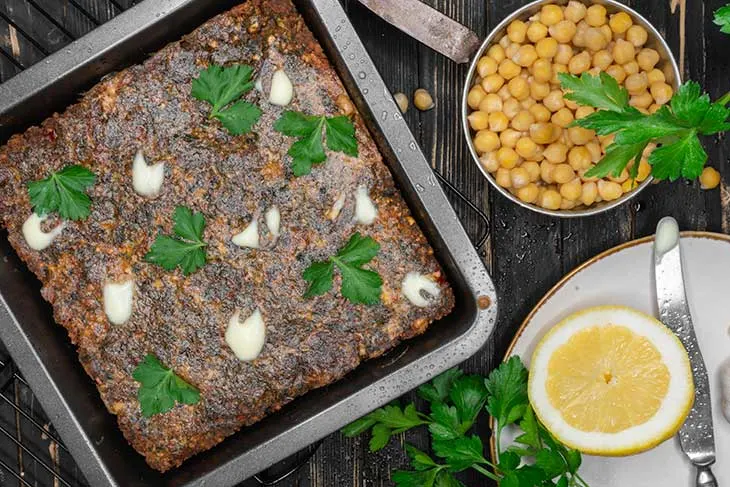 Looking for a healthier alternative to the classic falafel? Here's how to make falafel in a pan - simple, healthy and super delicious!
Ingredients
300g (1 ½ cup) dry chickpeas
1 large onion
4 garlic cloves
30g (½ cup) fresh parsley, chopped
30g (½ cup) fresh cilantro, chopped (or replace with parsley)
30g (½ cup) fresh mint, chopped
1 tsp baking soda
2 Tbsp chickpea flour
1 Tbsp ground cumin
½ tsp oregano
¼ tsp chili powder
Salt, Pepper
oil
Instructions
Soak the chickpeas overnight.
Drain and add them to a food processor together with the rest of your ingredients except for the chickpea flour.
Pulse together until ground.
Transfer to a bowl, season with salt and pepper, add the chickpea flour and combine.
Transfer to a 20 x 20cm baking tray lined with parchment paper.
Press it well and brush the top with oil.
Bake at 180 degrees C for 30-35 min.
Nutrition Information
Yield
4
Amount Per Serving
Calories

332
Total Fat

13g
Carbohydrates

40g
Protein

13.8g
I strive to keep the information as accurate as possible but make no warranties regarding its accuracy. I encourage you to make your own calculations using your preferred nutrition calculator.