Meatloaf is an iconic dish in the American cuisine and the perfect comfort food for the entire family. This vegan meatloaf recipe is delicious, filling and healthy too, so give it a try!
Meatloaf is one of those dishes that, at first glance, may not seem typically American because, as you may already know, there are many variations of this dish around the entire world. But meatloaf became an icon of the authentic American cuisine by being a dish that reflects the tumultuous history of this nation.
Meatloaf seems to have its origins in a dish called "scrapple", introduced by German-Americans in Pennsylvania since the colonial period. Scrapple was a mixture of pork meat and cornmeal, sliced and then pan-fried, but the well-loved all-American meatloaf only appeared officially in American cuisine around the 19th century, and it is truly a tribute to hearty leftover dishes such as casseroles or shepherd's pies.
Meatloaf is a delicious, comforting, filling dish with a unique taste that any true American knows by heart. The dish consists of a baked "log" of minced meat, sometimes filled with hard-boiled eggs, onions, vegetables (such as bell peppers) and spices, but most often drizzled with thick gravy and served with mashed potatoes. Meatloaf is served typically with relishes or sauces such as brown gravy or onion gravy, barbecue sauce or tomato ketchup.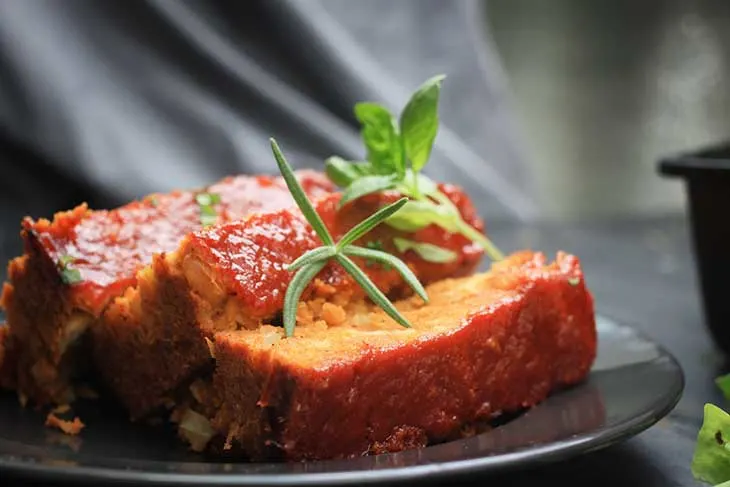 Meatloaf was an easy way to provide a filling meal for struggling families during the Great Depression, as it could be cooked using inexpensive meats and sometimes even cheap bread, cereal or cracker biscuits were added to the mixture, not only to improve the consistency but also to keep everybody satisfied for longer, as well as to provide leftovers. A quote from "Martha Stewart Living" from 1998 declared: "The only thing better than a hearty meatloaf dinner is the sandwich you can make with the leftovers.", which basically resumes the American style of eating hearty, no fuss, easy to prepare meals.
According to the food historian Andrew Smith, the first recorded recipe for American meatloaf dates from late 1870 where, oddly enough, the recipe was considered to be a breakfast meal. Except for minor tweaks, the recipe had stayed the same ever since, which makes it a truly authentic American dish. "Whatever cold meat you have", said the recipe, would be finely chopped, garnished with salt and pepper, onion, egg and slices of bread soaked in milk. Since New Englanders couldn't afford to feed their cows over winter, the meat used in their meatloaf would most likely be beef.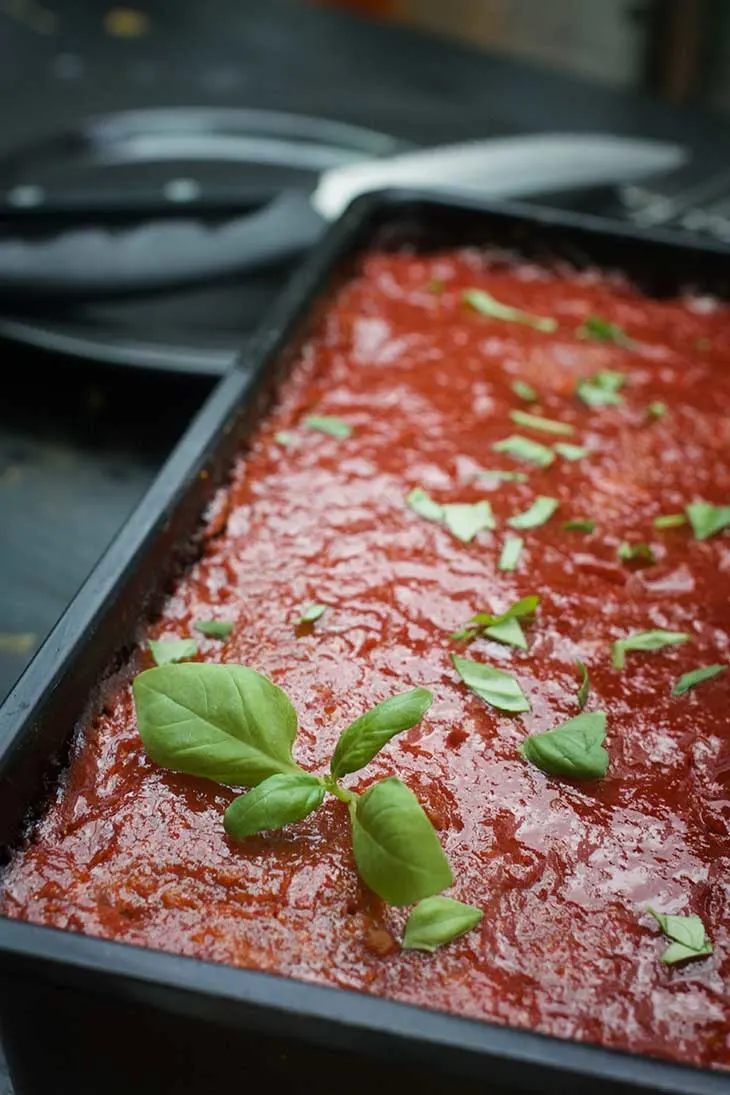 The popularity of the meatloaf grew even bigger towards the end of the century, thanks to the development of industrialized meatpacking, which left plenty of scraps that were still too valuable to simply discard. These scraps were then grounded and seasoned for hamburgers, meatballs and, of course, delicious meatloaves!
While never really adopted by high-profile chefs, perhaps because of its origins and simplicity, by the 1950s the meatloaf was a real staple dish in all the diners and restaurants and a super popular dinner option, loved by everyone in the family. Many iconic cooks such as Betty Crocker had their version of the recipe, and there is even a 1958 cookbook with more than 70 suggestions for cooking meatloaf!
A "Good Housekeeping" magazine poll in 2007 recorded meatloaf as being the seventh all-time American favorite dish, so you can imagine how important this dish is to American cuisine and culture. Because of that, I wanted to create my own vegan version of this very "meaty" dish, and I'm actually impressed with the results! For my recipe, I used a mixture of chickpeas, bell peppers, flax egg, nutritional yeast and many other vegan goodies in order to achieve a dish that's extremely similar in taste and texture! Enjoy!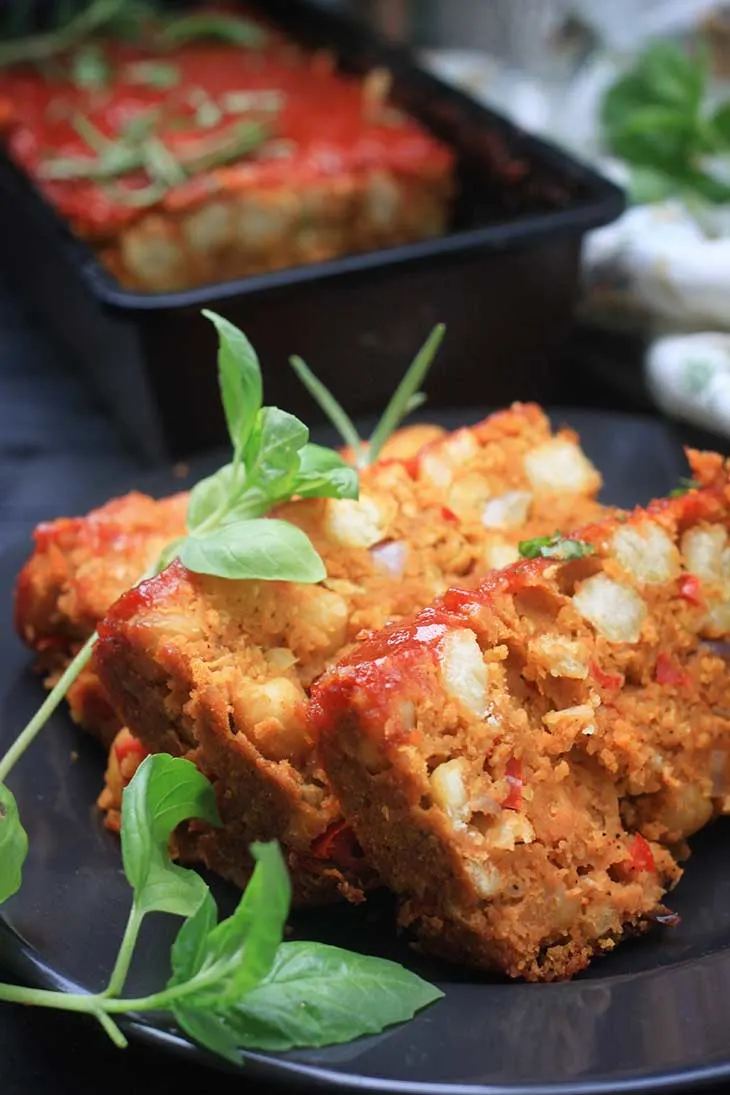 Yield: 6 +
Vegan Meatloaf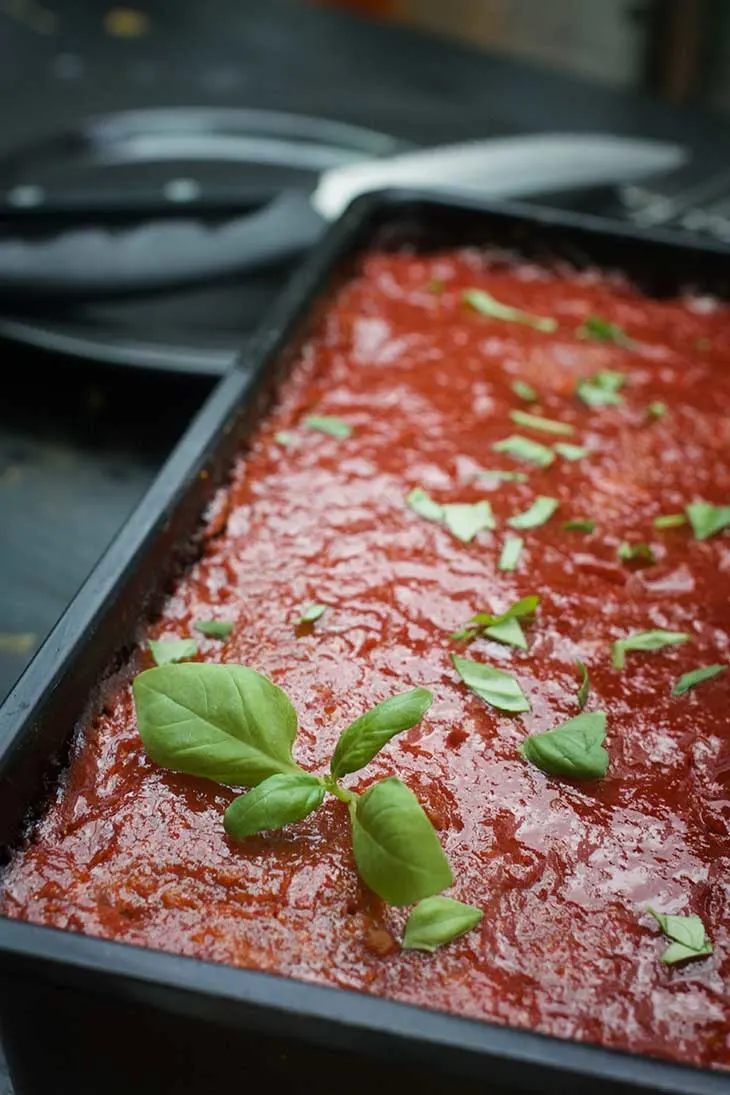 Meatloaf is an iconic dish in the American cuisine and the perfect comfort food for the entire family. This vegan meatloaf recipe is delicious, filling and healthy, too!
Ingredients
500g (3 cups) cooked chickpeas
1 small red bell pepper, finely chopped
1 small yellow bell pepper, finely chopped
½ red onion, finely chopped
½ white onion, finely chopped
2 Tbsp soy sauce
3 Tbsp olive oil
2 cloves garlic, crushed
250g (2 cups) breadcrumbs
2 Tbsp barbecue tomato sauce
1 Tbsp tahini
2 Tbsp flax egg
2 Tbsp nutritional yeast
1 Tsp salt
1 Tsp pepper
½ Tsp liquid smoke
½ Tsp smoked paprika
¼ Tsp Cayenne pepper
1 Tsp dry basil
fresh basil and rosemary for serving
For the glaze:
75g (⅓ cup) homemade ketchup
½ Tsp smoked paprika
1 Tbsp white wine
1 Tbsp lemon juice
1 Tsp brown sugar
1 Tsp maple syrup
1 Tsp mustard
Instructions
Preheat the oven to 180C.
Brush a loaf pan with some oil and set aside.
For the glaze:
In a small bowl, stir all the ingredients with a mixer until smooth. Set aside.
For the loaf:
Add all the ingredients to a food processor and pulse several times until the ingredients are combined but the chickpeas are not completely crushed.
Transfer to the loaf pan and put it in the oven.
Bake for about 20 minutes.
Take the meatloaf out of the oven and spread the tomato glaze on top.
Return to the oven and cook for 20 more minutes.
Let it cool, top with some fresh greens and serve.
Nutrition Information
Yield
6
Amount Per Serving
Calories

567
Total Fat

14.7g
Carbohydrates

84.2g
Protein

24.3g