No British Christmas is complete without this key dessert: Christmas pudding! Let's learn together how to create the most flavorful vegan Christmas pudding with the perfect texture!
If you're British, you know this for sure: no Christmas is complete without a big, delicious piece of Christmas pudding!
Christmas pudding originates from medieval England and, as its name suggests, it's traditionally served as part of the Christmas dinner in the UK, Ireland and other countries. Written information about this delicious dish dates back only to the 17th century or later, though, and the first time it was referred to as Christmas pudding was even later, in Eliza Acton's 1845 cooking book, Modern Cookery for Private Families.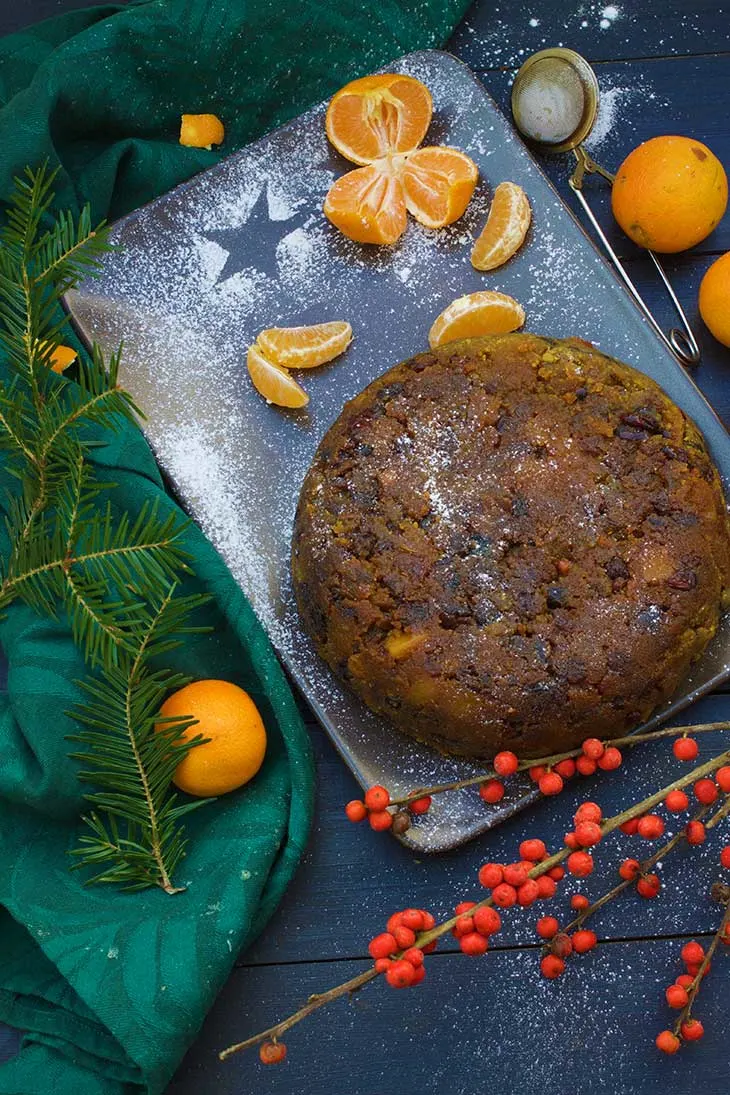 It's sometimes known as plum pudding, a rather deceiving name, as it contains no trace of plums. This has to do with the use of the word plum in the pre-Victorian times as a substitute for the term raisins. So what is it made of? Basically, heaps of dried fruits held together by a mixture of egg, suet and sometimes molasses, and flavored with everyone's favorite Christmas spices: cinnamon, nutmeg, cloves, ginger and more!
The Church of England's Book of Common Prayer contains a little passage that might have led to one of the best English foods. It can be found in the collect for the Sunday before Advent, and it says: "Stir up, we beseech thee, O Lord, the wills of thy faithful people; that they, plenteously bringing forth the fruit of good works…" These words, it's believed, have led to the tradition of preparing the pudding on this specific day of the year, a day which later came to be known as Stir-up Sunday.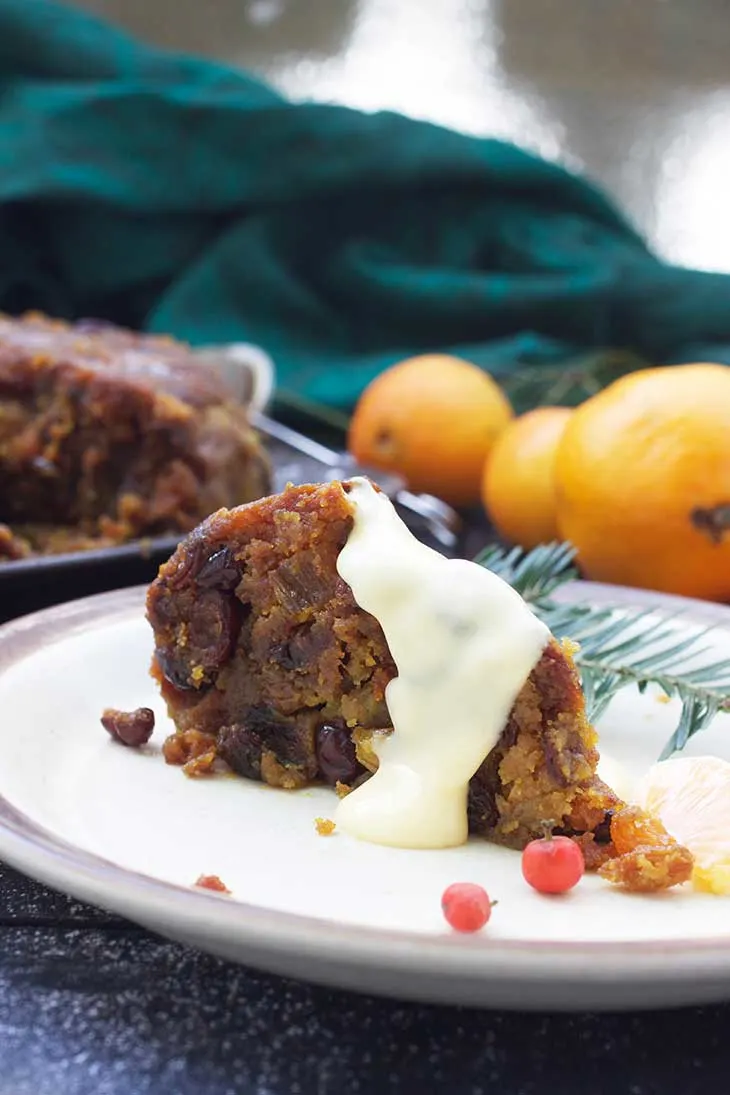 Christmas pudding is the type of dish that's best made in advance, traditionally being aged from a month to a whole year. The reason it doesn't spoil and preserves so well is its high alcohol content. If this dish seems too weird and complex to you, the traditions and stories going around it will surely make you love it!
One of the most interesting stories about it has to do with a certain English medieval tradition that said "the pudding should be made on the 25th Sunday after Trinity, that it be prepared with 13 ingredients to represent Christ and the 12 apostles, and that every family member stir it in turn from east to west to honor the Magi and their journey in that direction." That's pretty accurate, right? You'll probably be glad to hear that you can keep it more casual than that, without involving Christ, the apostles, and the four directions.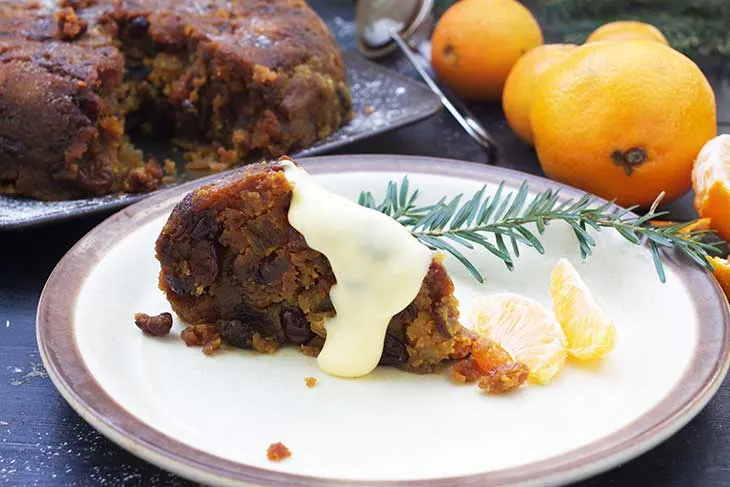 Another one tells us of King George I (sometimes known as the Pudding King), his first Christmas in England and the huge royal feast that celebrated it. According to this myth, King George might have demanded that plum pudding should be integrated with this special occasion – he loved it that much – and with good reason as well! 🙂
Other festive traditions involved silver coins, which would be added to the pudding mixture and kept by the lucky person who received them. This was considered a symbol of wealth in the upcoming year.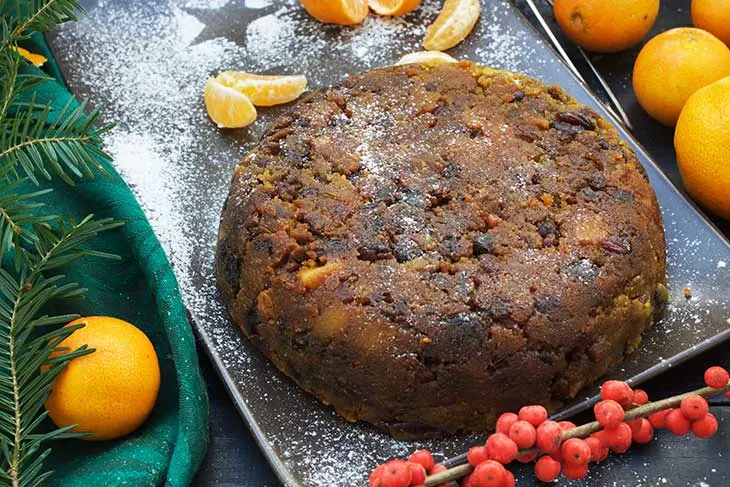 With so much history and tradition embracing it, making this dish surely must feel festive. So what should you consider if you make this at home? You should first bear in mind that you should not rush, as the pudding is not supposed to be ready in a day.
One tip I can give you from the start is to use only the best and freshest fruits, nuts and spices and to steam those for as long as possible, as it makes a huge difference to the overall taste and color of your dessert.
The optimum steaming time would be around eight hours, and you can do this in steps. Try using a high-quality brandy for the mixture as well as for the soaking if you want to feel the pudding's oozy, festive element.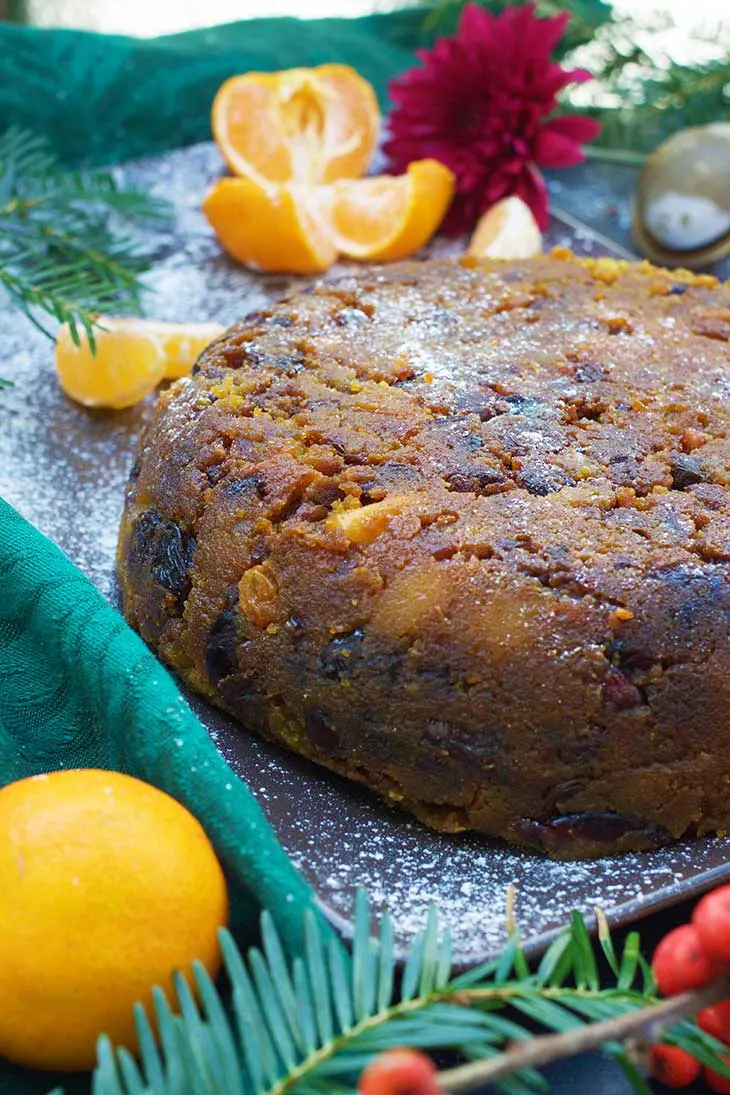 You can play a bit with its ingredients as well. Modern versions of Christmas pudding even include chocolate (which I totally agree with!). You can serve it with orange custard cream, whiskey sauce or freshly whipped cream, and garnished with mistletoe. How Christmassy is that? 🙂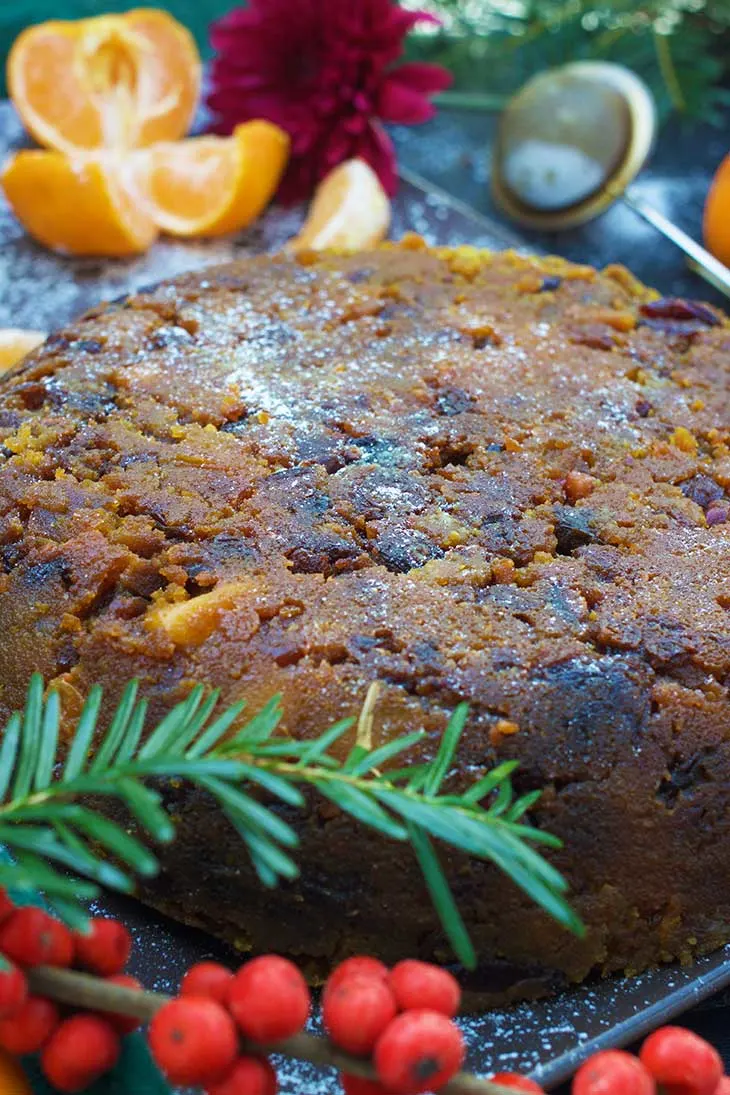 And if you are following a vegan diet, worry not! This amazing recipe can be made with vegan ingredients as well and the result is just as flavorful and festive as the "real deal". Do you want to know how? The recipe below will show you everything you need to know! 🙂
Make sure to try it this Christmas. Oh, and don't forget to make a wish before even thinking about taking a bite! Merry Christmas!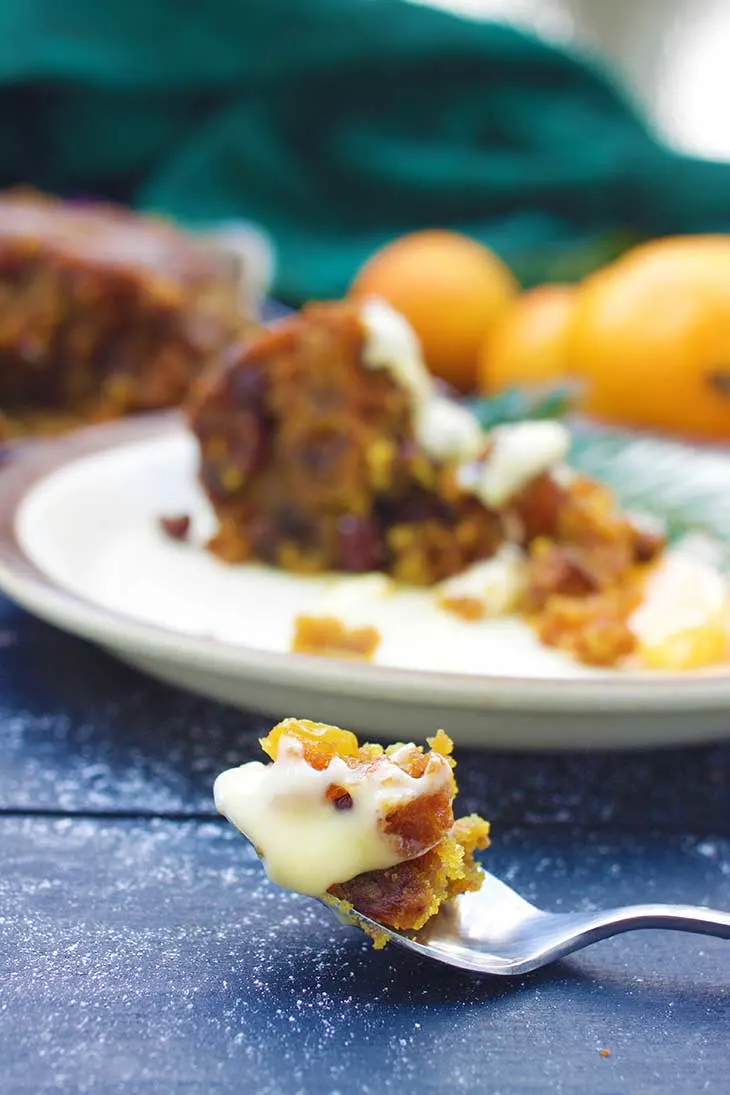 Yield: 10
Vegan Christmas Pudding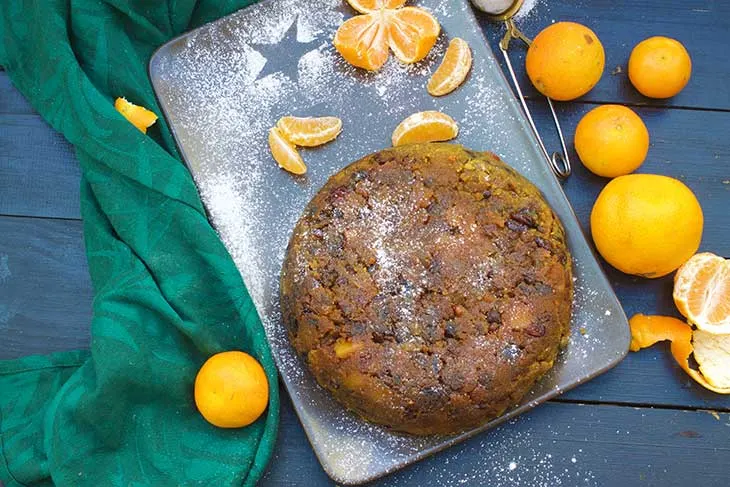 No British Christmas is complete without this key dessert: Christmas pudding! Let's learn together how to create the most flavorful vegan Christmas pudding with the perfect texture!
Total Time
5 hours
20 minutes
Ingredients
65g (½ cup) cranberries
80g (½ cup) sultanas
80g (½ cup) raisins
40g (¼ cup) dry mango, chopped
40g (¼ cup) dry pineapple, chopped
40g (¼ cup) dry apricot, chopped
40g (¼ cup) chopped pecans
2 Tbsp Medjool dates, pitted and chopped
120ml (½ cup) orange juice + 2 Tbsp orange liquor
3 tsp orange zest
120g (½ cup) dairy-free butter
50g (¼ cup) brown sugar
120g (½ cup) apple puree
2 Tbsp aquafaba
120g (1 cup) almond meal
60g (½ cup) coconut flour
½ tsp cinnamon
1 tsp vanilla extract
½ tsp ground ginger
¼ tsp ground nutmeg
¼ tsp allspice
1 Tbsp coconut oil
Instructions
Combine the cranberries, raisins, sultanas, mango, apricot, pineapple, pecans, dates, orange zest, orange juice and liquor in a bowl and leave the mixture for 2 hours for the fruit to soften.
Beat together the dairy-free butter and sugar.
Stir in all the other ingredients.
Grease the pudding bowl with coconut oil.
Pour in the mixture.
Place a circle of baking paper on top. Cover the top of the pudding bowl in tin foil and tie it on with string.
Fold the tin foil up so that it doesn't touch the water.
Place the pudding bowl in a large pan.
Add enough water so that its level will come up to two-thirds of the bowl.
The pudding needs to steam for three to four hours. Make sure to check the water level every 30 minutes.
When it has steamed, a cake skewer will come out cleanly.
Wrap and keep in the fridge for 2 to 6 weeks.
Warm up before serving.
Nutrition Information
Yield
10
Amount Per Serving
Calories

307
Total Fat

18.5g
Carbohydrates

28.7g
Protein

6.3g