Here's how you can make some delicious vegan spinach pinwheels with Mediterranean flavors! Check out the step by step recipe below.
The Greek cuisine is full of amazing dishes and exotic flavors and some of the most popular Greek recipes, besides salads, gyros, and tzatziki – the recipes we all know, are for savory pastries. From mushrooms to feta, tomatoes, peppers, and herbs, you can make Greek puff pastries with almost any ingredient you have on hand. The best thing about this kind of recipes is that they're easy, fast and can be made with budget-friendly ingredients, but the results are simply finger-licking good!
Today we are going to talk about spinach pinwheels, a special type of Greek pastry that's usually made with spinach, feta cheese and spring onion, and its shape resembles a pinwheel. This is an appetizer very similar to spanakopita, except this one doesn't use the complicated phyllo dough, but puff pastry instead, making it even easier to create! Basically, you will get the flavor and comfort of the spanakopita but with less effort. What more can you wish for?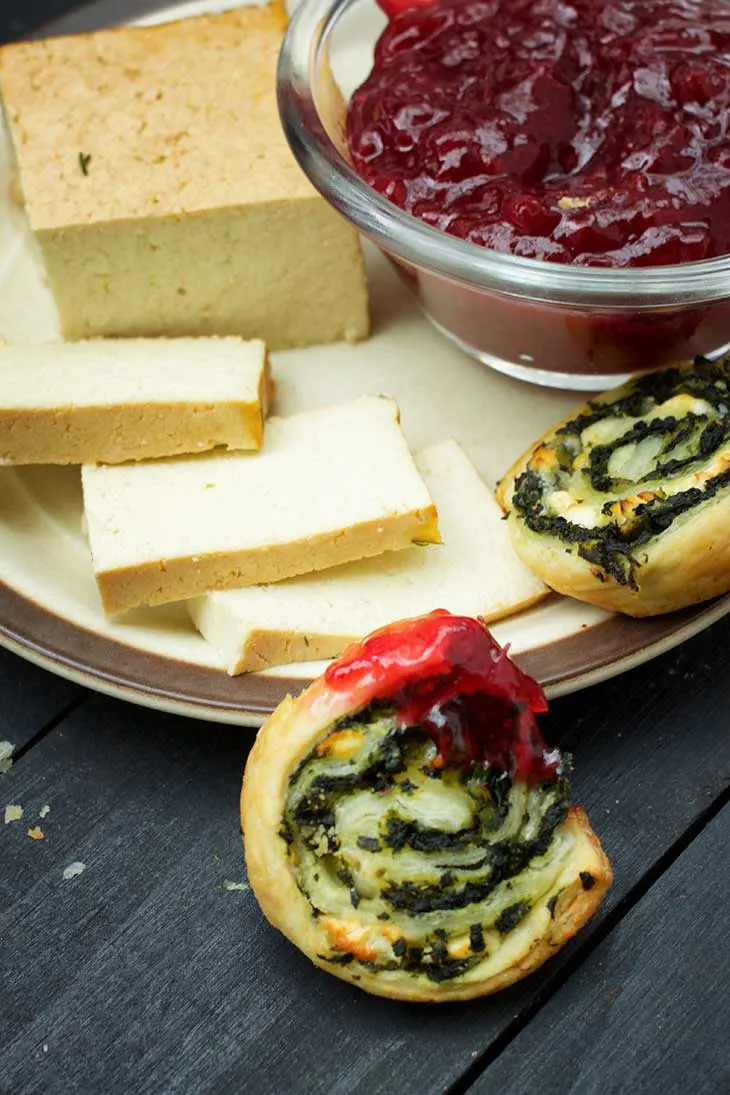 Spinach is a leafy green that has many nutritional benefits to the human body – it is rich in vitamins (A, K, C, E, B), iron, calcium, potassium, magnesium and many more! Besides this, it's very accessible, versatile and delicious. You can make many recipes using this amazing green, from soups, quiches, salads to pasta sauces and smoothies. I've made many spinach recipes in the past, but if you're looking for some new inspiration that will help you include spinach into your diet, then these vegan spinach pinwheels can be the perfect answer.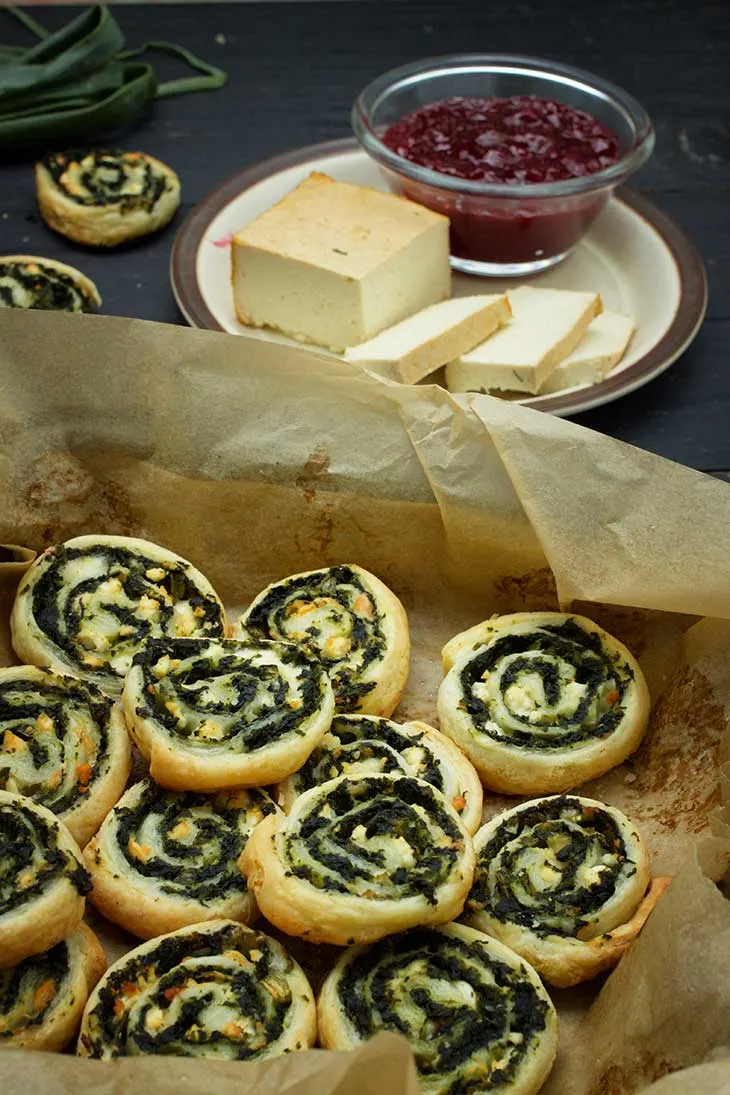 Spinach pinwheels are perfect as an appetizer or even as a fast snack that you can pack for work or school and they can be easily enjoyed by the entire family.
I decided to make these spinach pinwheels vegan, so I used vegan puff pastry, instead of the buttery version, and tofu to replace feta cheese. Tofu is a great cheese replacement for those recipes that don't necessarily need the cheese to melt, like in this case. If you want to make vegan feta cheese, check out my vegan Greek salad recipe! 🙂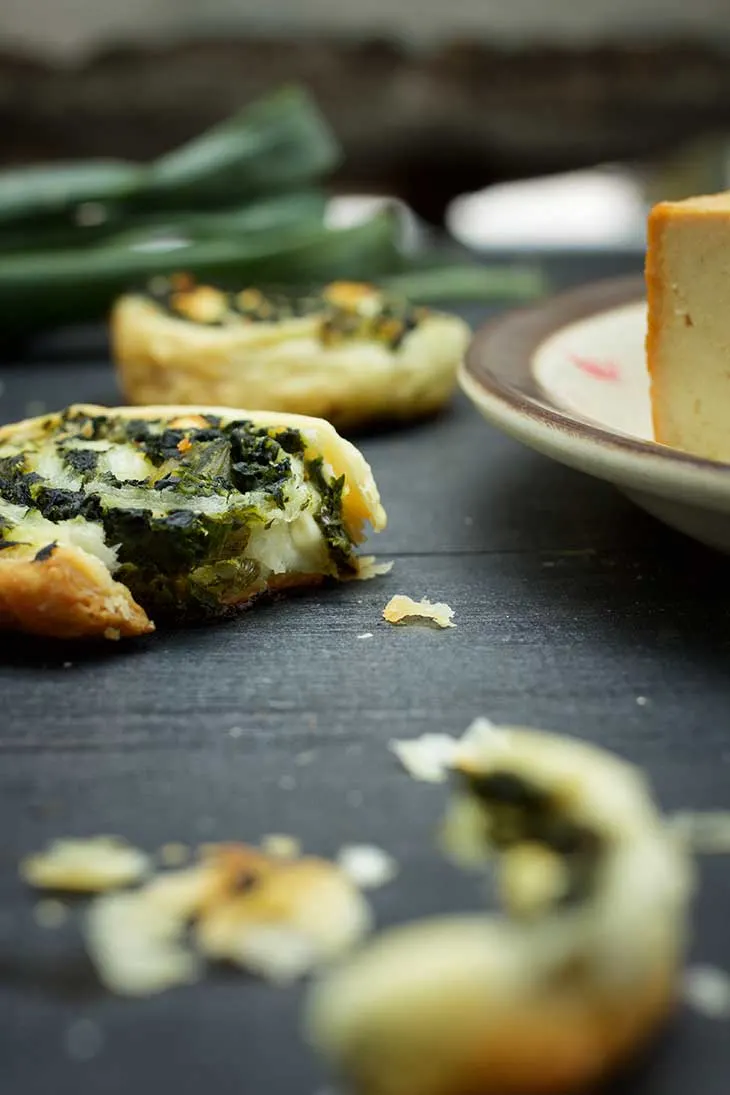 You can even make a big batch of spinach pinwheels and put them in the freezer for later. This way, you'll have this delicious appetizer ready whenever you're craving it! Of course, you can always change this recipe and replace the main ingredients with whatever else you have on hand at that moment. They work great with mushrooms, olives, peppers etc. Just use your imagination and you'll realize how many possibilities there are!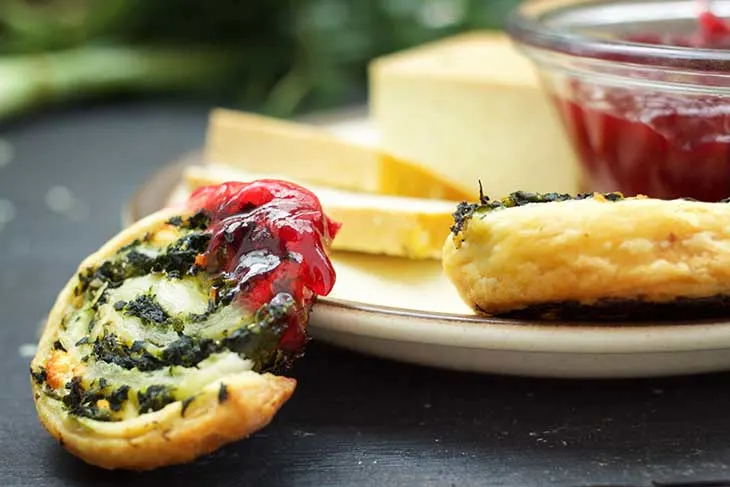 You can serve these vegan spinach pinwheels with your choice of vegan sauces. I used an interesting hot peppers jam for these, but another idea would be to serve them with a vegan tzatziki sauce.
Serve these vegan spinach pinwheels at your next dinner party or family gathering and invite everyone to have a taste of the Mediterranean cuisine!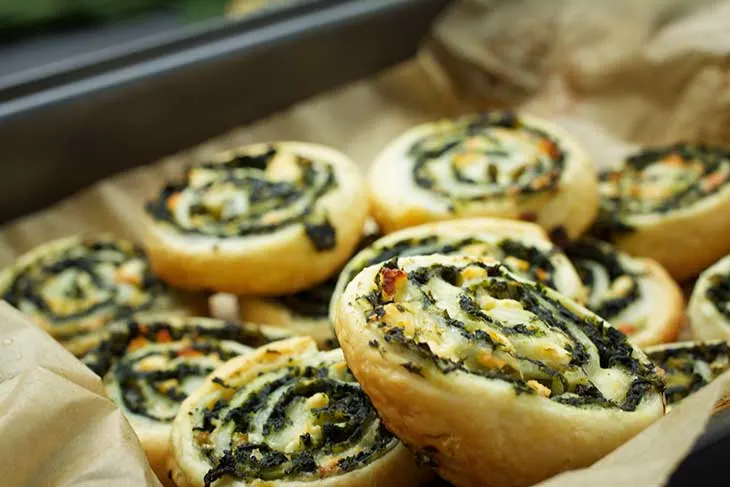 Yield: 16 spinach pinwheels
Vegan Spinach Pinwheels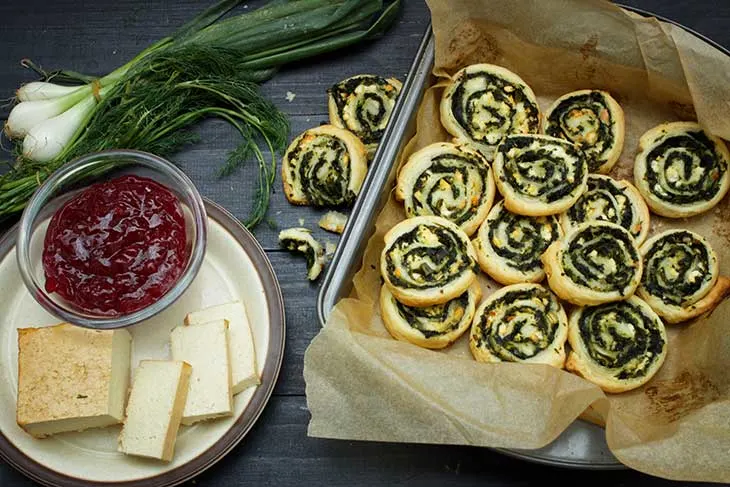 Here's how you can make some delicious vegan spinach pinwheels with Mediterranean flavors! Check out the step by step recipe below.
Ingredients
1 vegan puff pastry sheet
300g (2 cups) spinach, frozen
150g (¾ cup) tofu, crumbled
1 spring onion, chopped
2 Tbsps fresh dill, chopped
1 Tbsp fresh mint, chopped
1 leek, chopped
1 garlic clove, minced
1 Tbsp olive oil
salt and pepper, to taste
Instructions
Heat a skillet on medium heat. Add olive oil. When hot, add chopped leek and minced garlic. Cook for about 2 minutes, stirring occasionally.
Add spinach and cook until soft, for about 7 minutes. Remove from heat and let it cool.
Add dill, mint, spring onion, salt, and pepper to taste. Mix the spinach herb mixture to incorporate.
Drain any excess liquid, if necessary.
On a dry clean surface, lay out your puff pastry sheet.
Spread the spinach mixture on the rolled puff pastry, evenly.
Top with crumbled tofu.
Roll the puff pastry to make a roll.
Slice the puff pastry roll with a sharp knife starting with the middle and moving to the ends of the roll. You will get about 16 disks, 1-2cm in width each.
Place each sliced disk on a parchment paper-lined baking sheet and bake them at 200C for about 30 minutes or until golden. You may need to make these in two different batches. Make sure they don't stick to each other on the baking sheet.
Serve with your favorite sauce.
Nutrition Information
Yield
16
Amount Per Serving
Calories

119
Total Fat

7.3g
Carbohydrates

10.4g
Protein

2.8g