Discover an innovative recipe for vegan Cheeseburger Quesadillas. Enjoy the melted vegan cheddar, together with a juicy vegan minced meat, placed between two crispy sheets of tortilla.
Try this easy-to-prepare recipe and be surprised how delicious the vegan option can be. Of course, you can also make this recipe with meat and cheese, so let it serve as inspiration. Dare to explore new flavors and enjoy a unique culinary experience!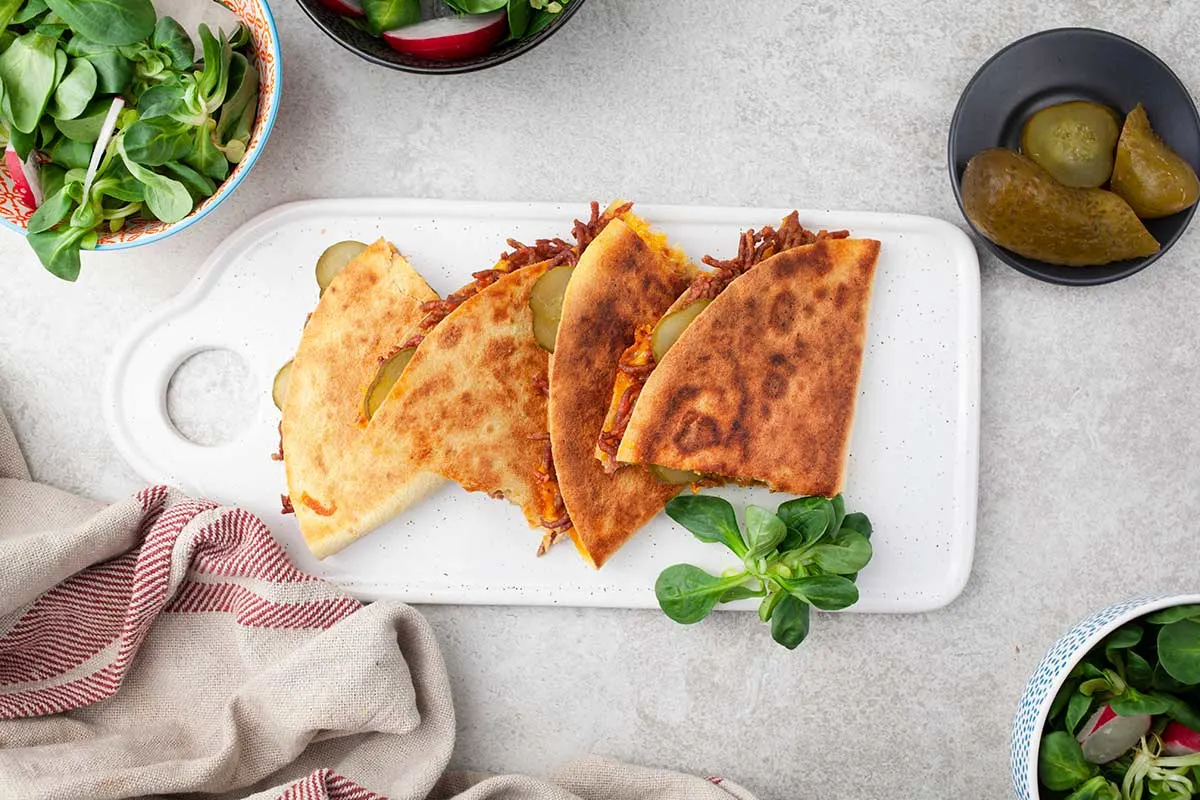 My dear adventurous gourmands, today I have for you a special recipe for Quesadillas with vegan Cheeseburger filling, which emerged from a brilliant fusion between two classic cuisines: the Mexican and the American! Imagine an explosion of authentic flavors, combined with your favorite ingredients from a classic cheeseburger, but in a completely vegan version.
The idea of this delicious recipe came from my passion for both cuisines, which bring their unique contribution to the culinary world. I thought it would be wonderful to combine the intense flavor of Mexican spices with the comforting texture and taste of an American cheeseburger. And that's how this combination was born!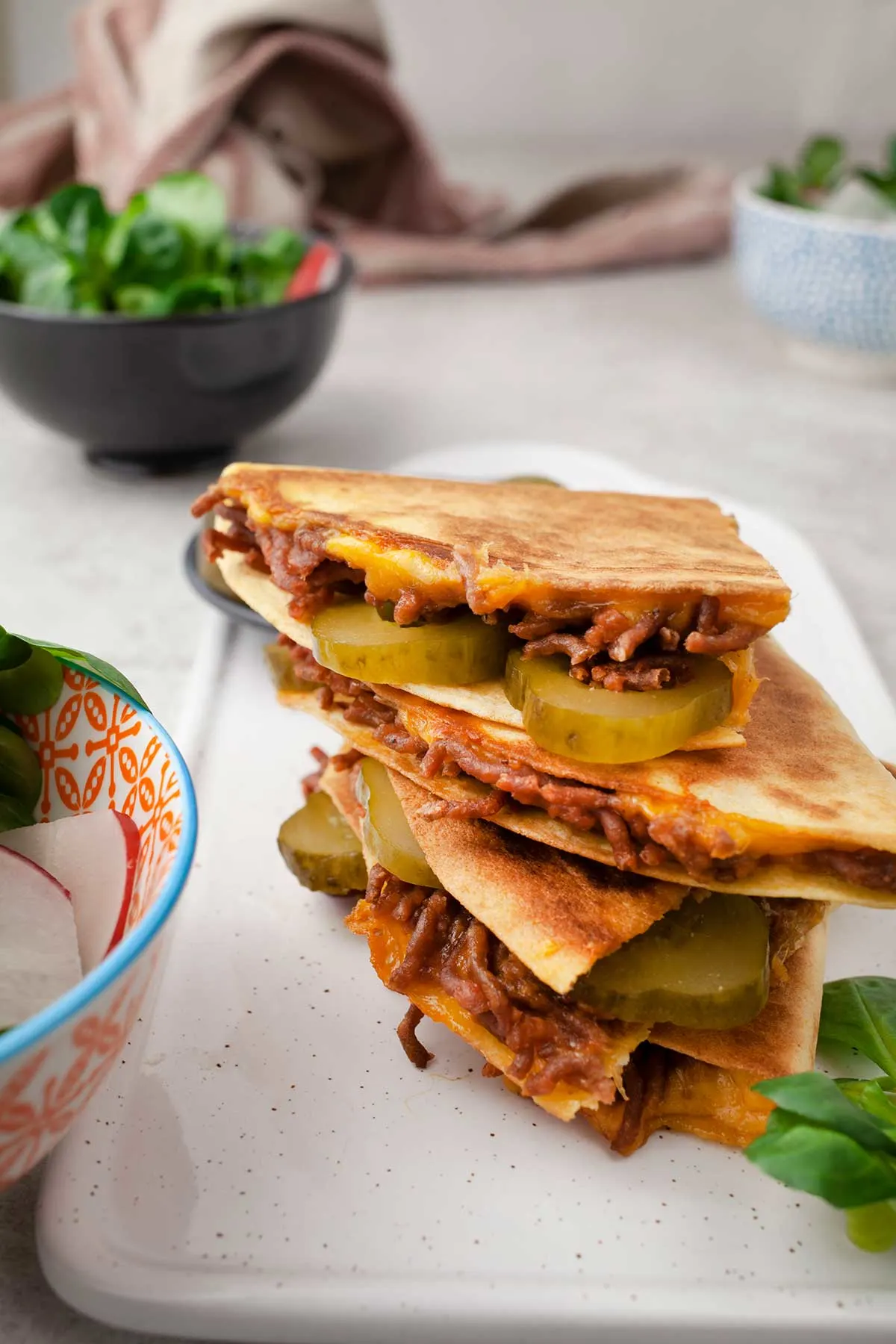 Let's talk first about the delicious Quesadillas. Originally from Mexico, this beloved recipe has become a true symbol of Mexican gastronomy. Quesadilla is a magical combination between tortilla and cheese. It is said that it appeared for the first time in the northern region of Mexico. Over time, Quesadillas have evolved and acquired various variants and fillings, from melted cheese to fillings with meat, vegetables or beans. Regardless of the option chosen, the crunchy texture of the tortilla in combination with the savory filling creates an explosion of flavors in every bite.
Also check out these recipes: Ground Soy Quesadillas, Vegan Avocado Quesadillas.
Now we move on to the delicious Cheeseburger, the emblematic recipe of American cuisine. This classic combination of bun, meat and cheese has conquered the tastes and imagination of burger lovers all over the world. The origin of this typically American sandwich can be attributed primarily to the hamburger culture that has developed in the United States since the end of the 19th century.
Also check out these recipes: Vegan Big Mac Burger, Vegan Pulled Pork Burger with Caramelized Onion.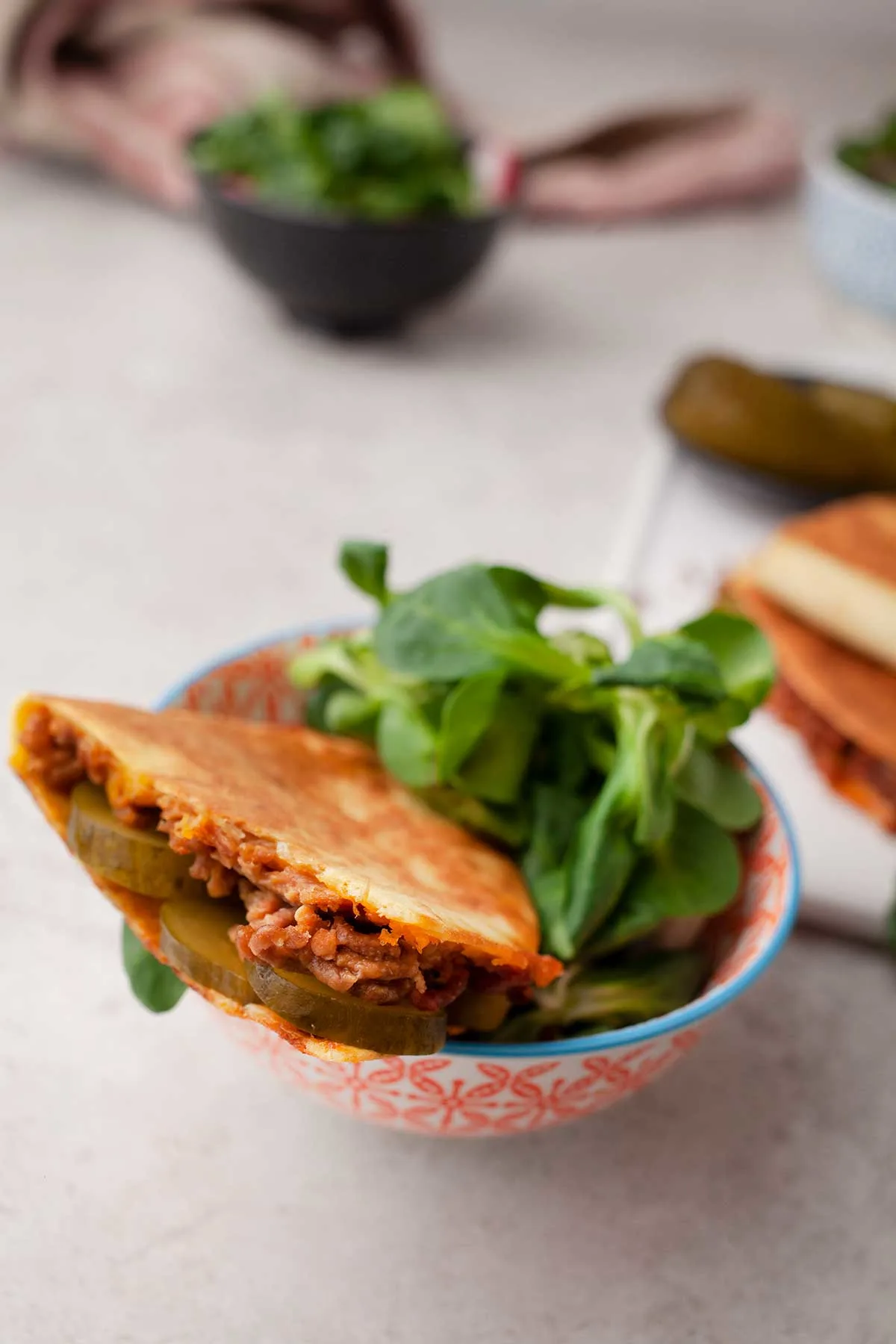 Today, the Cheeseburger is adored for its perfect combination of tastes and textures: fluffy bun, juicy meat and melted cheese that melts during preparation. Whether it is served classic with ketchup, mustard and slices of pickled cucumber, or customized with various sauces and toppings, the Cheeseburger is a real feast for the taste buds and a symbol of American cuisine.
So, when you mix the two recipes, Quesadillas and Cheeseburger, you get an explosion of flavors and tasty combinations that take you on a culinary journey from Mexico to America. This fusion of two iconic cuisines brings together the delicious textures and flavors of a Cheeseburger Stuffed Quesadilla. The result is a dish that you will enjoy with gusto and that will delight you with every bite.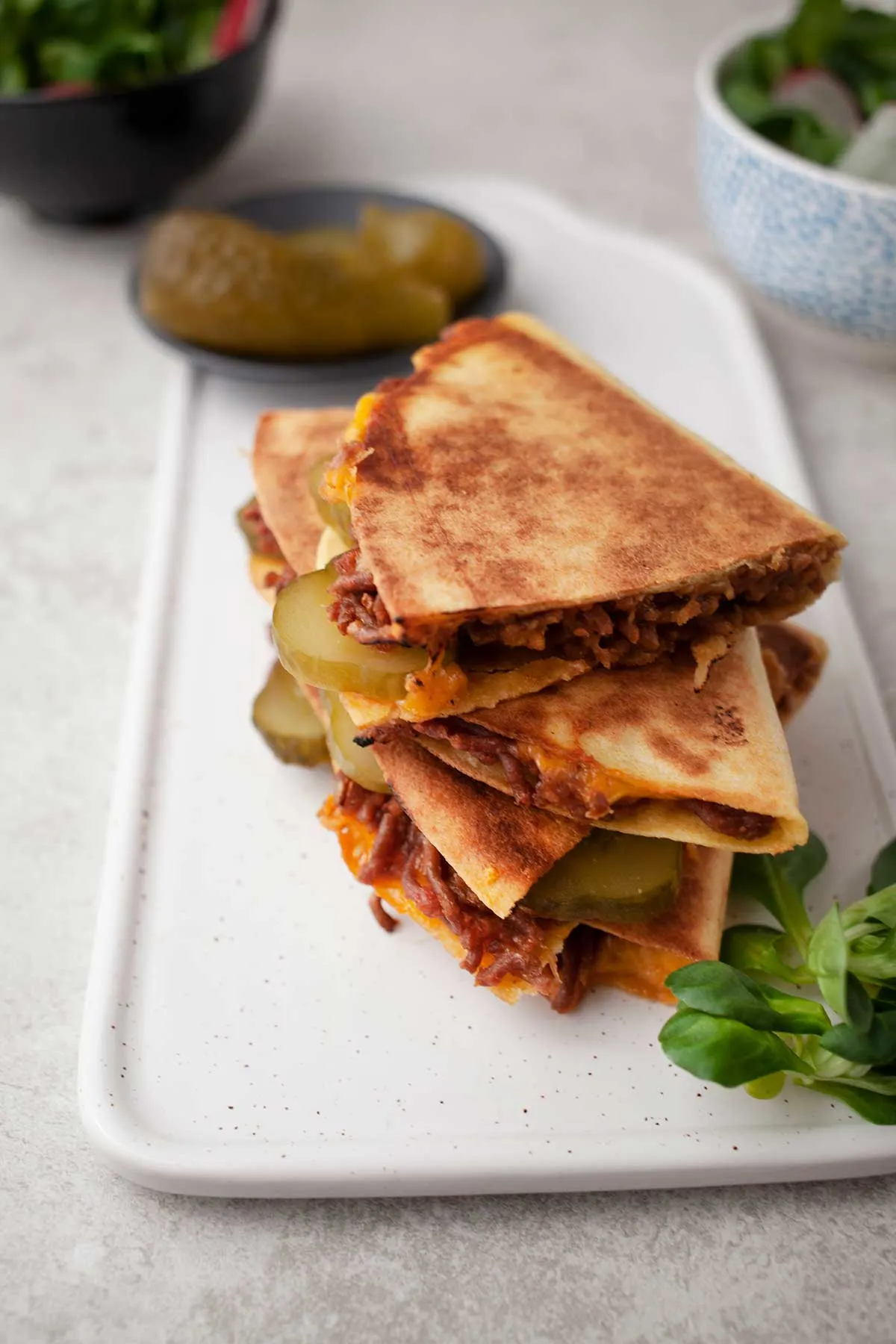 I started by choosing a quality veg cheddar, which melts perfectly and adds a rich and creamy taste to the filling. To recreate the sensation of minced meat, we used a vegan alternative (Verdino) that preserves the juiciness and consistency specific to a classic cheeseburger. Then, I wrapped this delicious filling between two crispy sheets of tortilla.
If you are looking for a gluten-free option for this delicious Quesadilla with vegan Cheeseburger filling, you don't have to worry. You can use corn-based gluten-free pastes as well gluten-free vegan minced meat (note that many contain seitan, so carefully read the label of the product used) to adapt the recipe to your dietary needs. Thus, you can freely enjoy this tempting combination of flavors and textures, without worrying about gluten. And the result will be just as tasty and satisfying, so you can fully enjoy this gluten-free delicacy without any compromise on taste.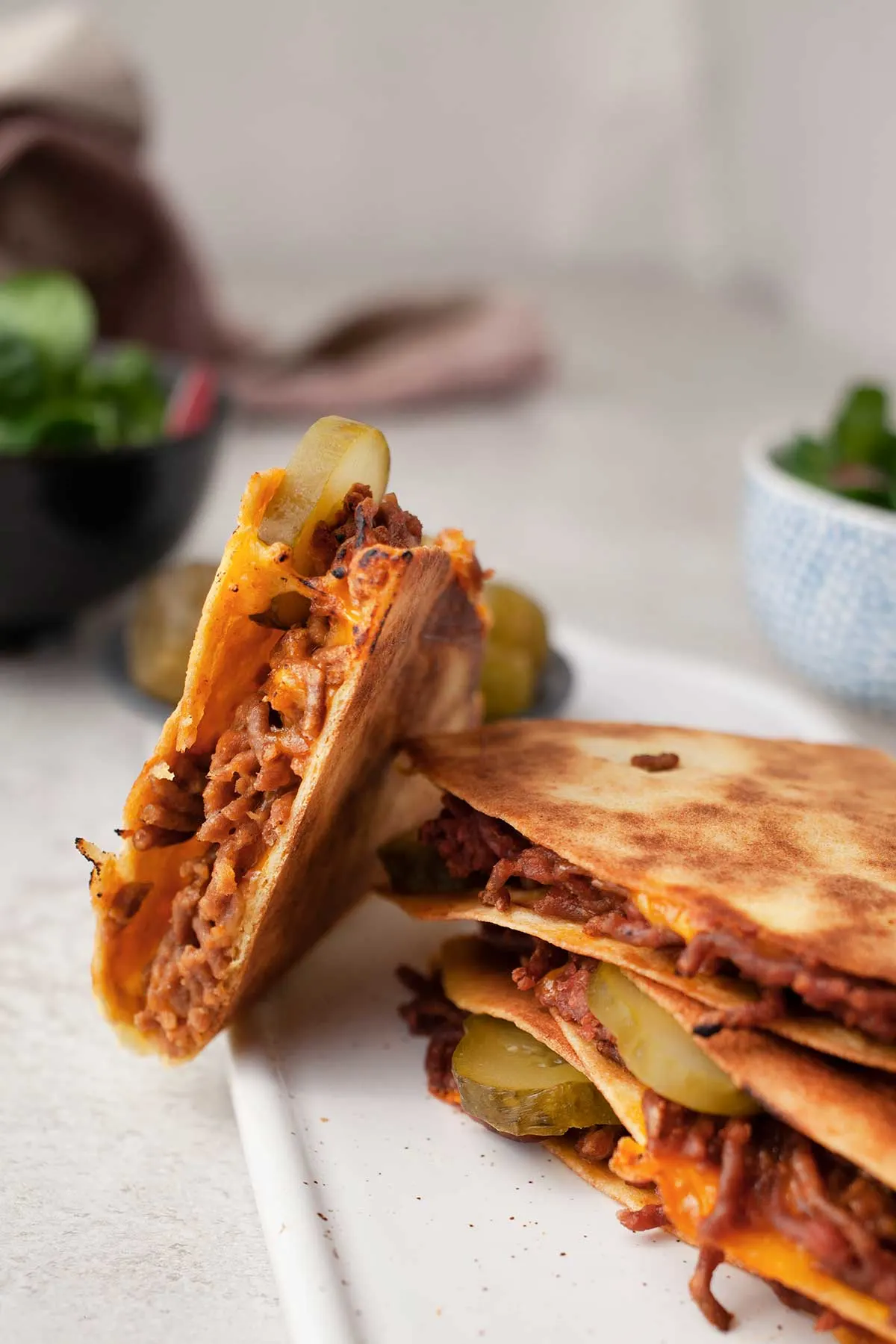 The end result of this combination? These vegan Cheeseburger Quesadillas will offer you a special taste experience, fusing the best elements from the two cuisines! You will feel how the spicy Mexican flavors intertwine with the familiar and comforting taste of a cheeseburger. It is a surprising and delicious combination that will conquer you from the first bite. Let's delight your taste buds and enjoy this unique culinary adventure!
Yield: 2
Vegan Cheeseburger Quesadillas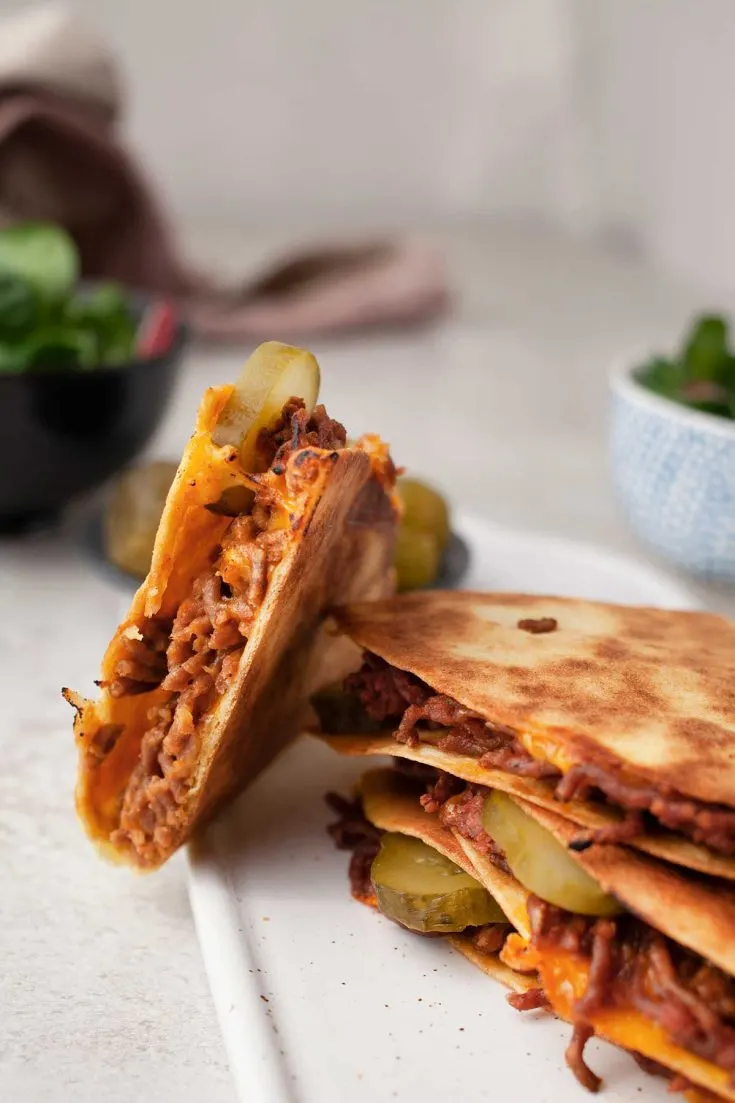 Discover an innovative recipe for vegan Cheeseburger Quesadillas. Enjoy the melted vegan cheddar, together with a juicy vegan minced meat, placed between two crispy sheets of tortilla.
Ingredients
200 g vegan minced 'meat'
1 tablespoon olive oil
2 pickled cucumbers in spicy brine, sliced
2 corn tortillas
100 g cheddar cheese (use vegan cheese for vegan version)
2 tablespoons Dijon mustard
½ teaspoon of salt
½ teaspoon pepper
Instructions
Heat the olive oil in a frying pan, over medium heat. Add the crumbled vegan mince.
Crush it with the help of a spatula or a wooden spoon into small pieces. Add salt and pepper and cook for a few minutes until it darkens in color. Transfer to a bowl.
Heat a clean frying pan on low-medium heat.
In one of the tortilla wraps, add half of the cooked minced meat, a sliced cucumber, half of the grated cheese and a spoonful of mustard. Fold it in half. Repeat the process for the next wrap.
Put the stuffed tortillas on the hot pan and fry, dry, until they brown on both sides, and the edges become crunchy.
Cut each tortilla wrap in half and serve them warm..
Nutrition Information
Yield
4
Serving Size
1
Amount Per Serving
Calories

306
Total Fat

21g
Saturated Fat

9g
Trans Fat

1g
Unsaturated Fat

10g
Cholesterol

69mg
Sodium

682mg
Carbohydrates

9g
Fiber

1g
Sugar

1g
Protein

21g
I strive to keep the information as accurate as possible but make no warranties regarding its accuracy. I encourage you to make your own calculations using your preferred nutrition calculator.