Indulge in the exotic flavors of Middle Eastern Nachos! This unique twist on the classic snack combines crispy pita chips, tangy feta cheese, savory vegan mince, and vibrant pomegranate seeds.
Experience a mouthwatering fusion of Middle Eastern and Mexican cuisines that will transport your taste buds to a whole new world of deliciousness. Try this sensational recipe and elevate your snacking game to the next level!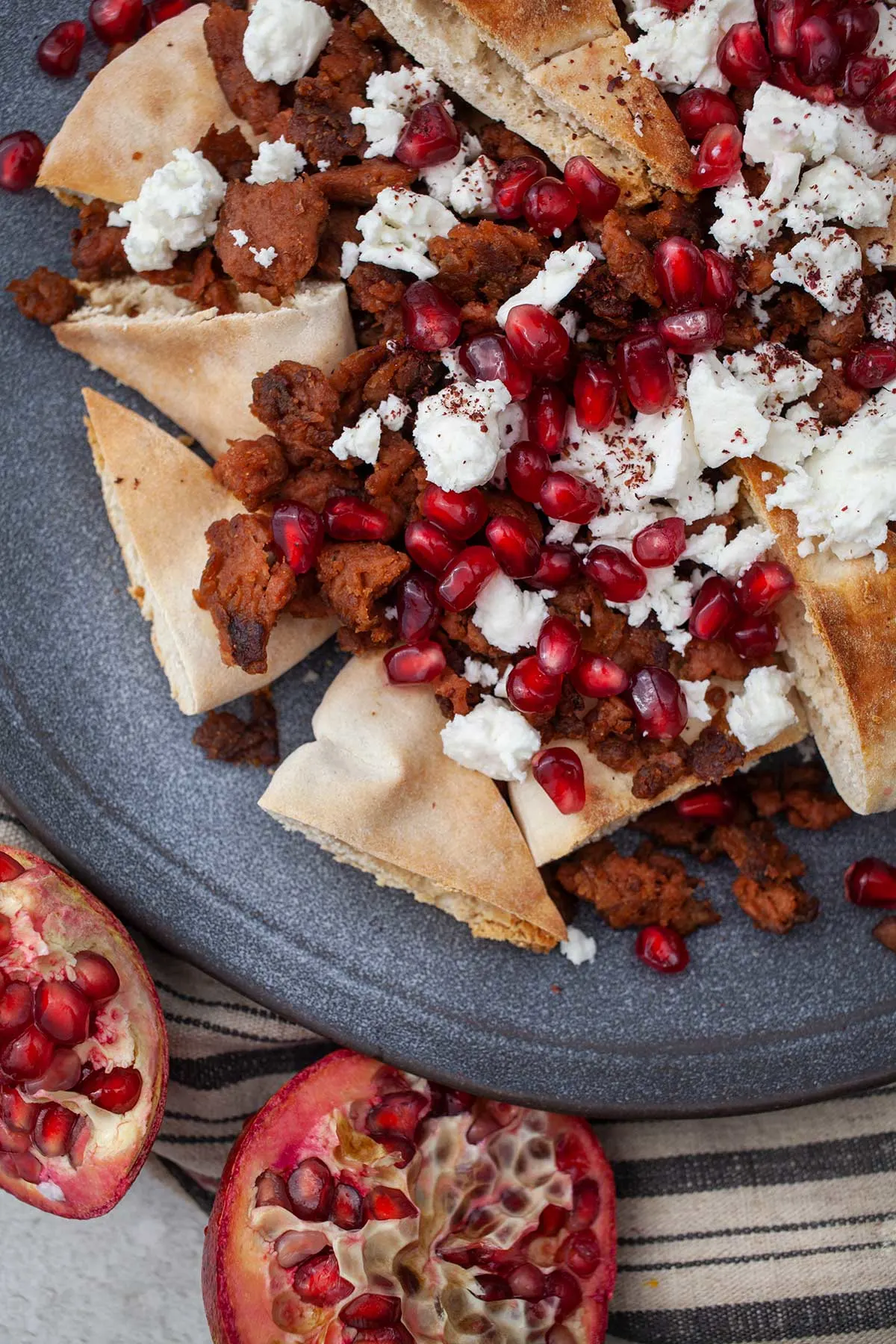 I have created a delicious and unique recipe for Middle Eastern nachos, inspired by both Arabian and Mexican flavors. Of course, you can let this recipe inspire you and try it with minced beef meat for a non-veg version.
These arab-style nachos are made from soft and fluffy pita bread, cut into triangles and oven-roasted to get an awesome crispy texture. But the magic doesn't stop there! The topping is made of feta cheese, perfectly balanced with a vegan mince full of flavor and pomegranate seeds, which add a slightly sour note and an attractive appearance.
This combination will stimulate your senses and take you on a unique taste journey. Delight yourself with this tasty and unique appetizer, which harmoniously combines traditional elements with a modern and surprising note. Discover the flavors of the Middle East in a new way with Arabic nachos!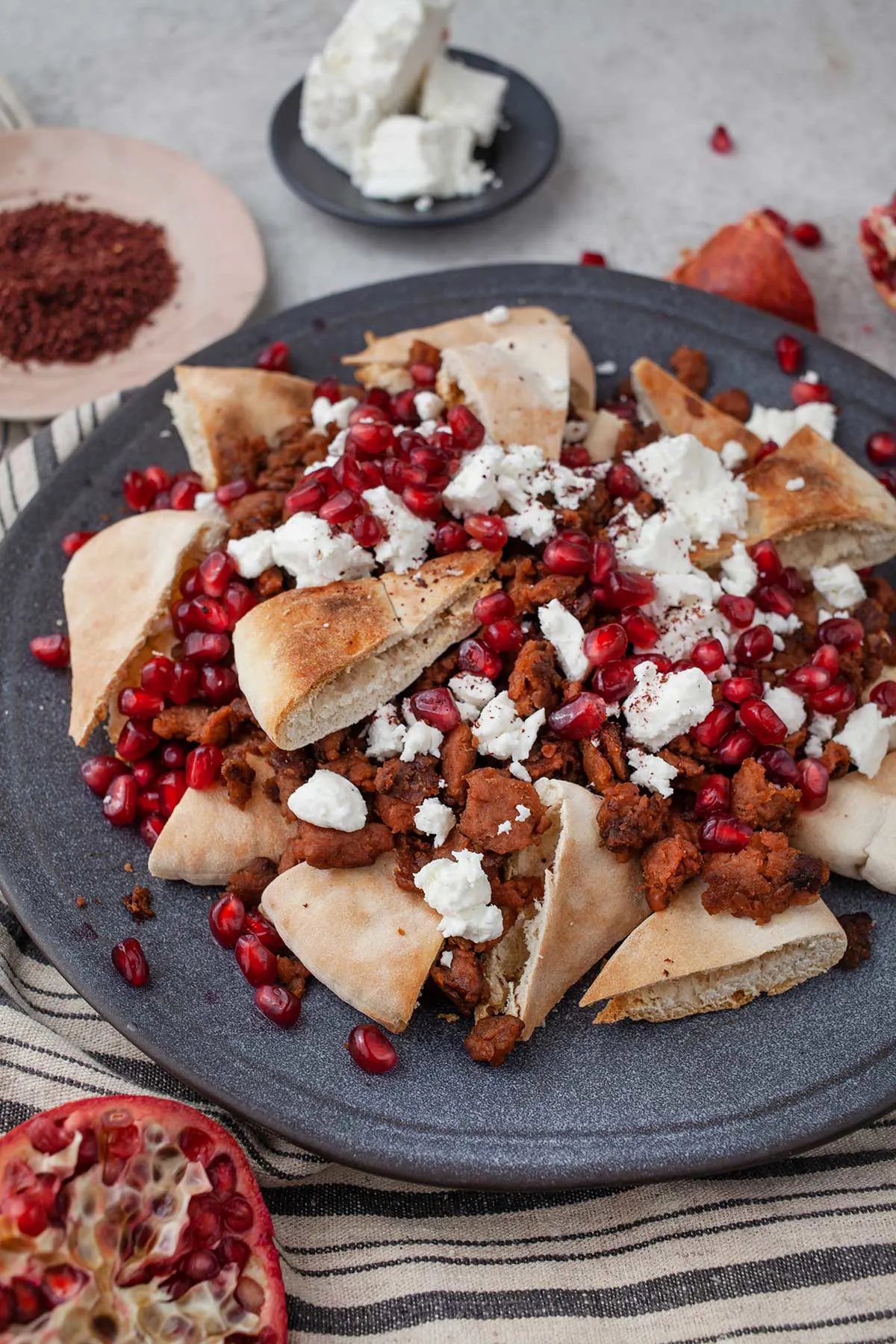 Let's travel back in time and discover the fascinating stories behind these two delicacies: Mexican nachos and Middle Eastern pita.
Nachos is a popular snack originating from Mexico, consisting of crispy tortilla chips covered with melted cheese and various toppings. Nachos are usually served as an appetizer in Tex-Mex restaurants or during sports and social events. They can be customized with different ingredients, such as hot sauces, guacamole, beans, meat, tomatoes, jalapeño peppers and other vegetables.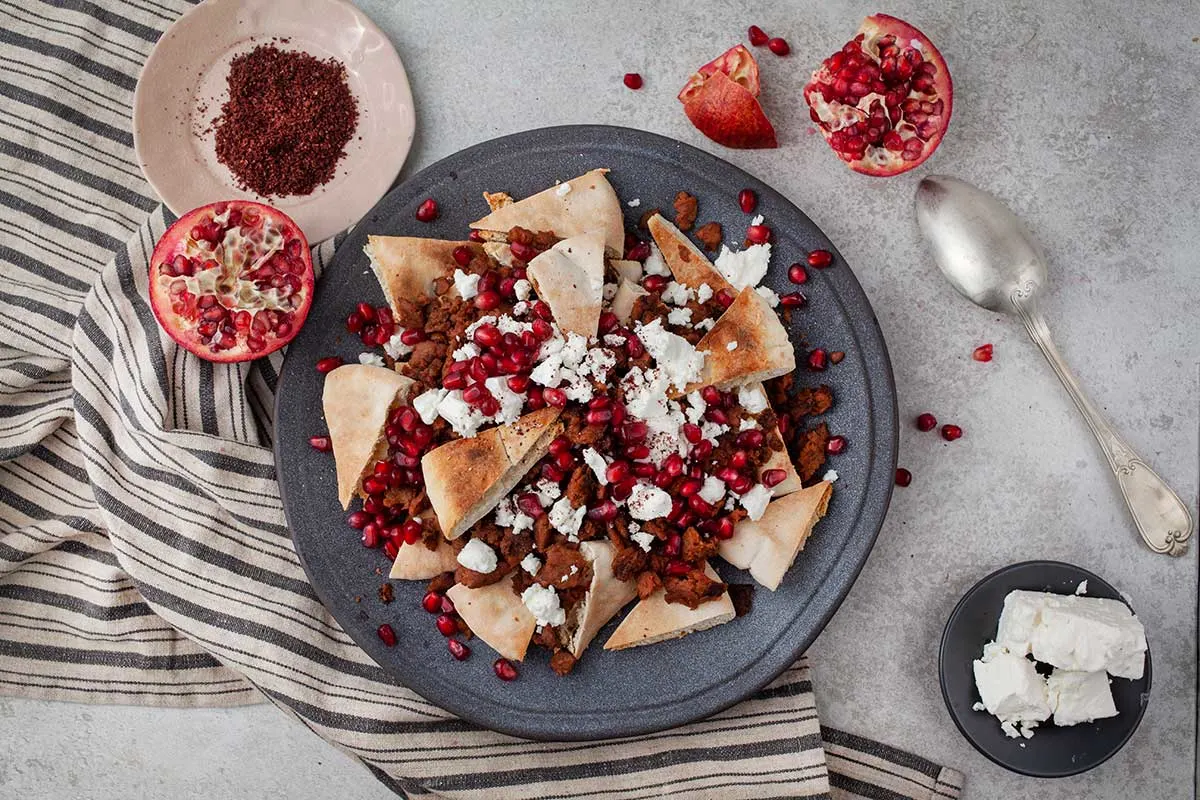 On the other hand, the Arab flatbread, also known as pita, has a long history and is considered a symbol of oriental cuisine. With roots in the Middle East and the Mediterranean area, the Arabian pita is celebrated for its fluffy texture and versatility in the preparation of various dishes. It is baked in ovens by skilled craftsmen and is used in a variety of dishes, from delicious sandwiches and filling wraps, to refined snacks and appetizers. With its attractive appearance and its characteristic taste, the Arabic pita bread quickly gained popularity all over the world, bringing an exotic and authentic touch to our dishes.
Check out my Loaded Vegan Nachos and Arayes recipes.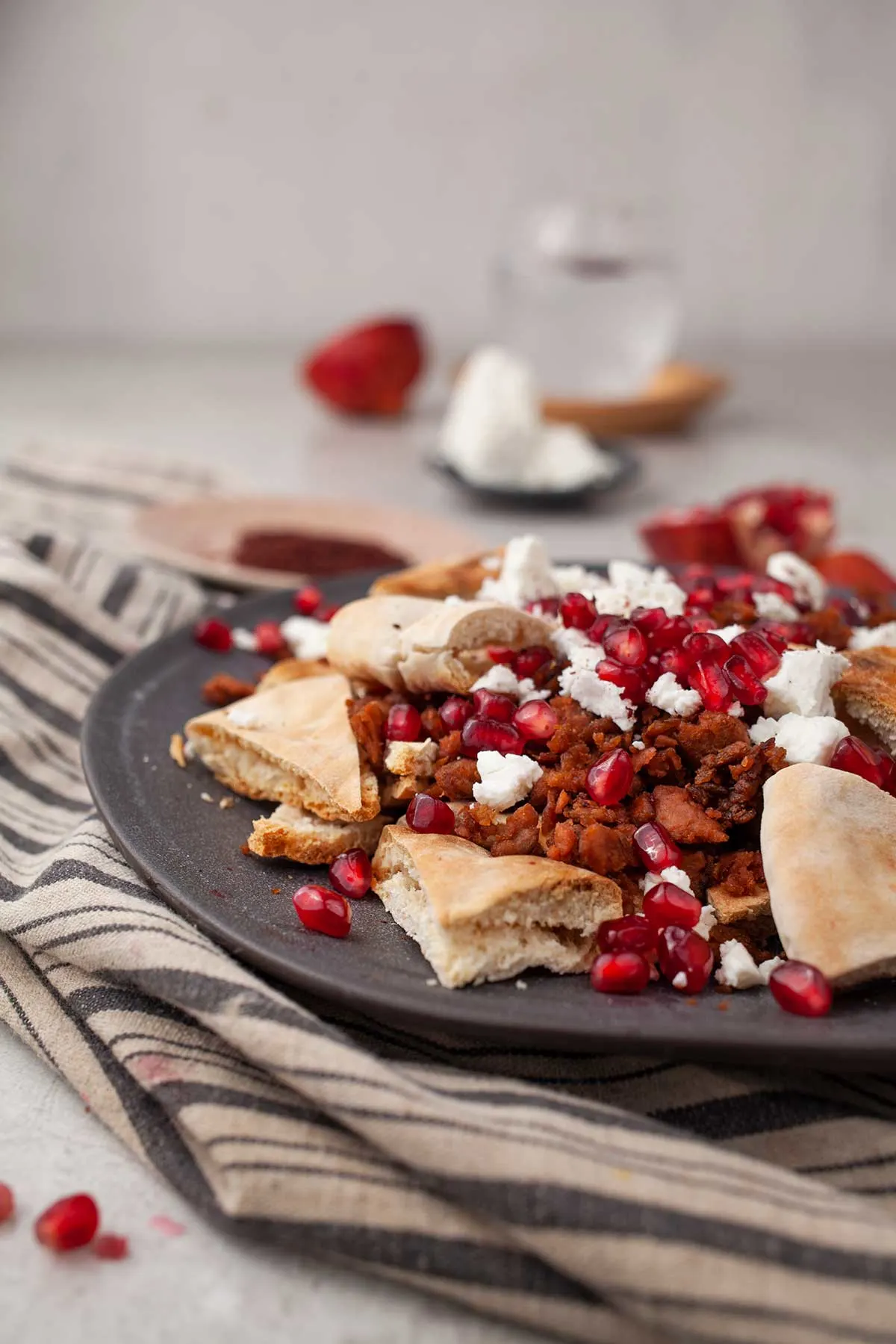 So, in this innovative recipe for Middle Eastern nachos, I decided to bring together two remarkable culinary traditions. The combination between the Mexican nachos obtained from fried tortillas and the fluffy oven-roasted Arabic pita, thus paying tribute to gastronomic diversity and cultural exploration.
Enjoy the authentic taste of nachos and let yourself be taken on an epic journey through the flavors of the Middle East. Discover a new dimension of Mexican and Arabic cuisine in every bite and let yourself be spoiled by the perfectly balanced taste and texture of these Arabic nachos.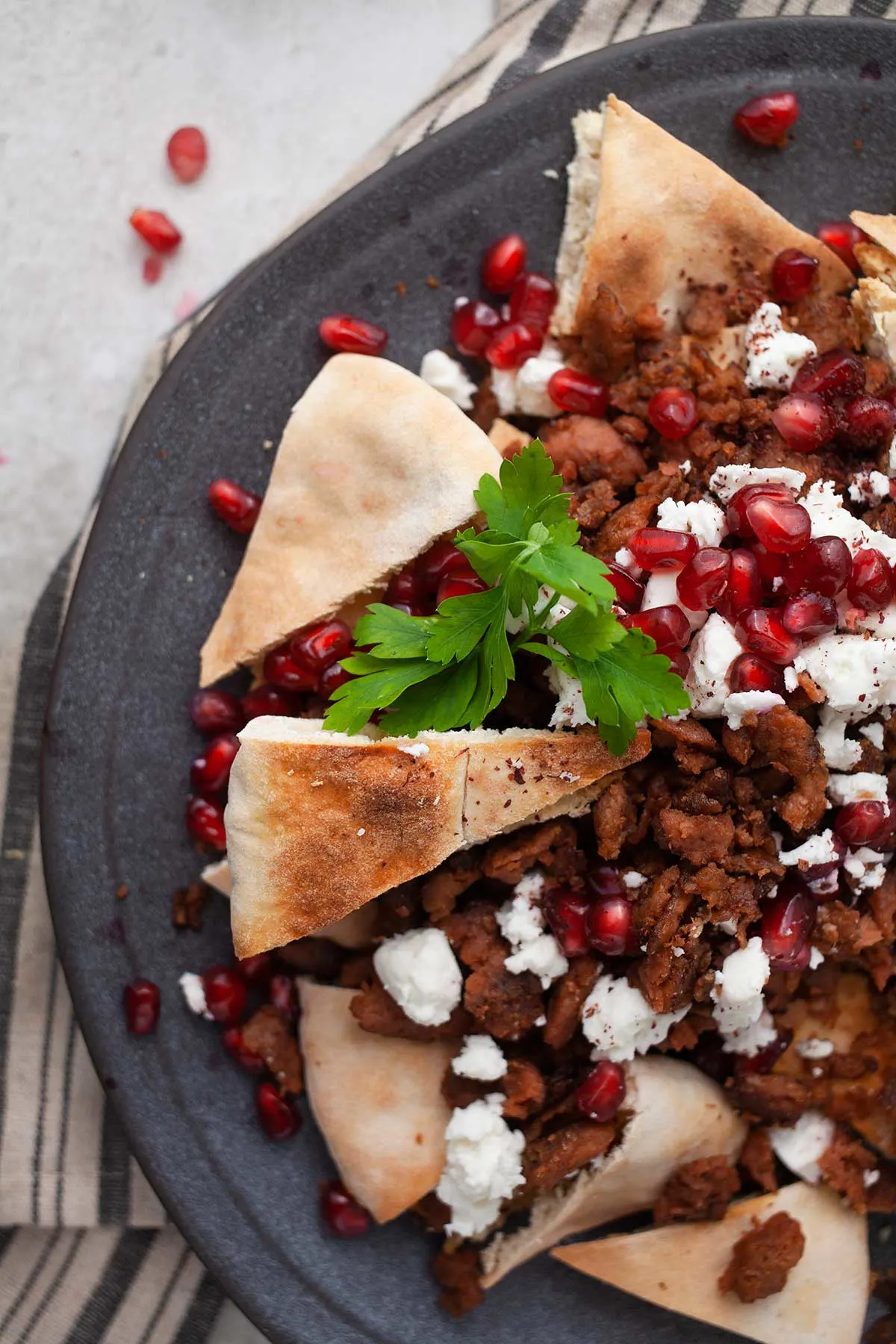 Yield: 4
Middle Eastern Nachos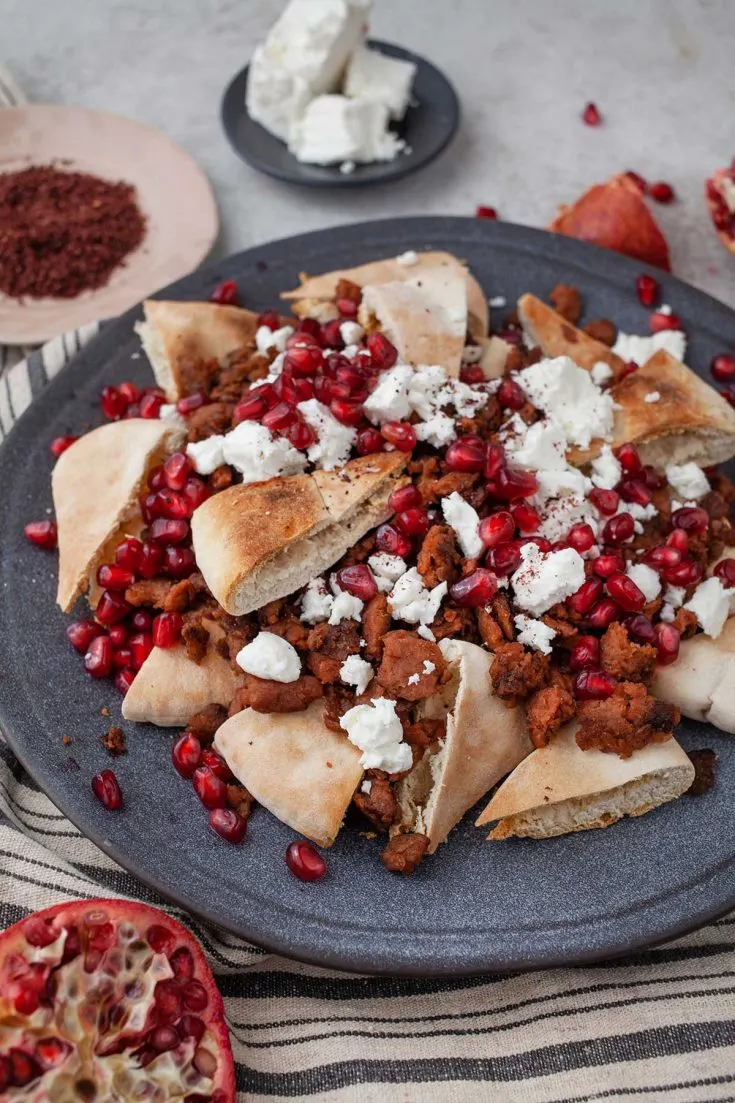 Indulge in the exotic flavors of Middle Eastern Nachos! This unique twist on the classic snack combines crispy pita chips, tangy feta cheese, savory vegan minced meat, and vibrant pomegranate seeds.
Ingredients
4 pita bread
½ tablespoon olive oil
½ medium onion, chopped
400 g vegan "minced meat"
¼ teaspoon salt
¼ teaspoon pepper
1 medium pomegranate
70 g feta, crumbled (you can use vegan cheese for vegan version)
1 teaspoon sumac
Instructions
Heat the oven to 200 C (392F).
Cut the pita bread into triangles, like nachos.
Spread the triangles on a baking tray, in one layer and bake in the oven for 15 minutes, or until they are lightly browned on the edges and crispy. Remove the tray from the oven and leave the triangles to cool.
Heat a frying pan on medium heat, add olive oil and chopped onion. Sauté the onion for 3-4 minutes until it becomes soft, then add the vegan meat mince and spices.
Mix and cook, stirring from time to time and breaking it into small pieces, for around 5-7 minutes .
Arrange the pita nachos on a plate, add the cooked topping, then decorate with pomegranate seeds and crumbled feta cheese. Sprinkle with sumac and serve.
Nutrition Information
Yield
4
Serving Size
1
Amount Per Serving
Calories

564
Total Fat

24g
Saturated Fat

10g
Trans Fat

1g
Unsaturated Fat

11g
Cholesterol

105mg
Sodium

727mg
Carbohydrates

49g
Fiber

5g
Sugar

12g
Protein

36g
I strive to keep the information as accurate as possible but make no warranties regarding its accuracy. I encourage you to make your own calculations using your preferred nutrition calculator.