Do you need a sweet treat to go with your English tea? Search no more, as this recipe for vegan scones is your perfect answer! Easy, delicious and healthy – what more can you wish for?
It is no secret the British love their tea. And while tea can be enjoyable by itself, the archetypal British way of life dictates that it has to be accompanied by some form of snack. For example, the afternoon tea is usually served with finger sandwiches and biscuits. There is also another type of tea-based snack, named the "cream tea", which is usually served between breakfast and lunch, and goes better with a different type of quintessentially British pastry – the scone.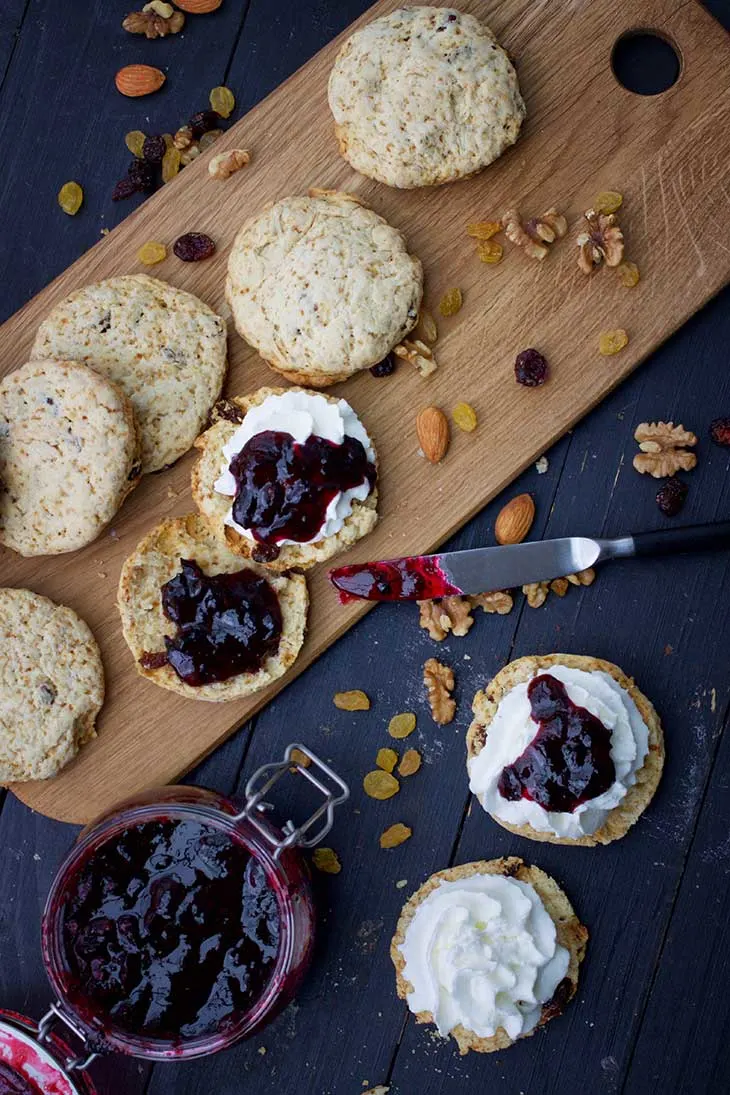 At its roots, the scone is a baked good made from either wheat or oatmeal – lightly sweetened, and decorated with jam, clotted cream, or butter. Although it can take a number of different shapes, a scone is usually round, no larger than a biscuit, and with a consistency that mimics that of a soft muffin, or crumpet. They can be baked and served in a variety of different ways – from slightly sweetened and served with jam and cream, to complex scone recipes that contain raisins, currants, cheese, dates, and even bacon!
The English Scone is one of the most iconic elements of British snack time cuisine. However, scones haven't always had their small, round and risen shape. The first ever scones were flatter, usually as large as a medium-sized plate, and they were served cut into triangular pieces, much like a more traditional cake. Back then, the word "scone" referred to one piece of the whole "cake". They were more of a niche snack until baking powder became available to the masses, the scone took off and became the oven-baked, well-leavened item everyone loves.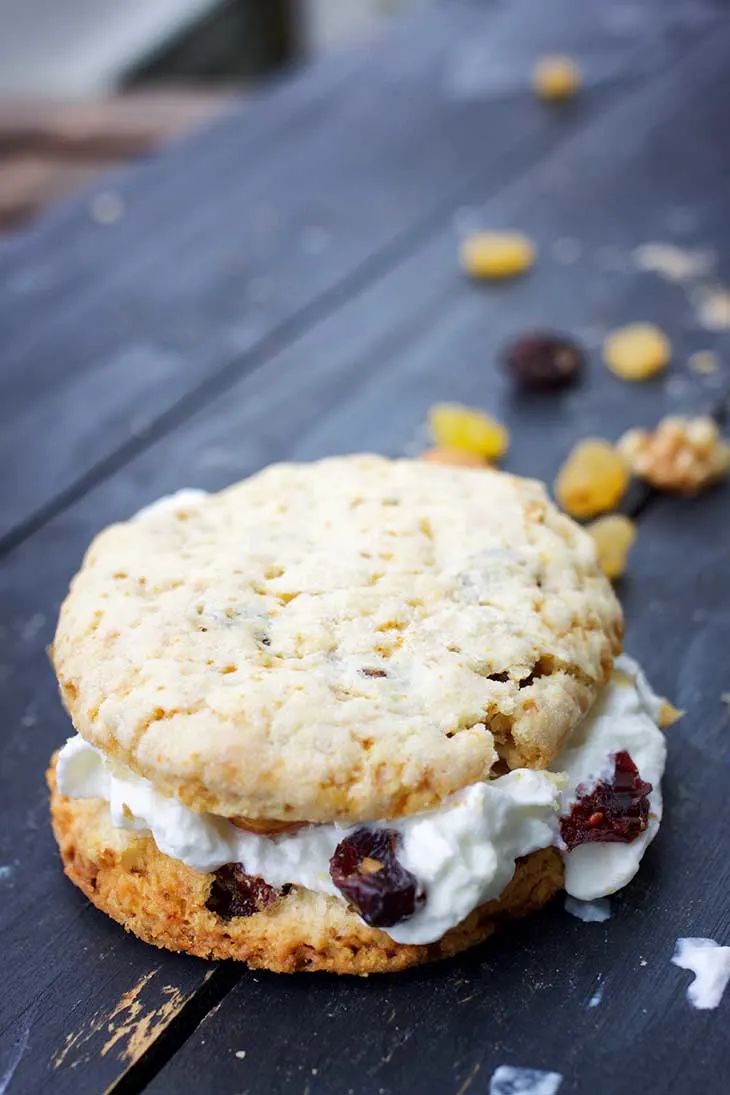 According to the Oxford Dictionary, the word "scone" was first used in 1513. The origin of the word is quite ambiguous – some say it comes from the Dutch schoonbrood (spoonbread) and other similarly named products that merged once they hit the British market.
Due to the surging popularity of this teatime pastry, along with the trend of culinary globalization, it was only a matter of time before the scone would eventually become popular around the tea tables of the world. This means that all the other countries were given the opportunity to put their own unique spin on this delicious product! In Ireland, the griddle scone (or "girdle scone" in Scots) is a type of scone cooked on a stovetop rather than being traditionally baked in an oven.
This is also practiced in New Zealand, where the scones are part of the traditional colonial cuisine. The Hungarians, for instance, have come up with a similar thing called "pogácsa". Pogácsa is usually savory and sports an array of toppings that would raise some looks of disapproval from the British, like dill and cheese. Then you have the dropped scone, which takes the shape of a pancake due to its nonconformist method of cooking – the batter is literally dropped on a frying pan before being cooked.
There's lemonade scone – made with, you guessed it, lemonade and cream instead of butter and milk. There are fruit scones that can contain a variety of currants, sultanas, peel, and cherries in their dough.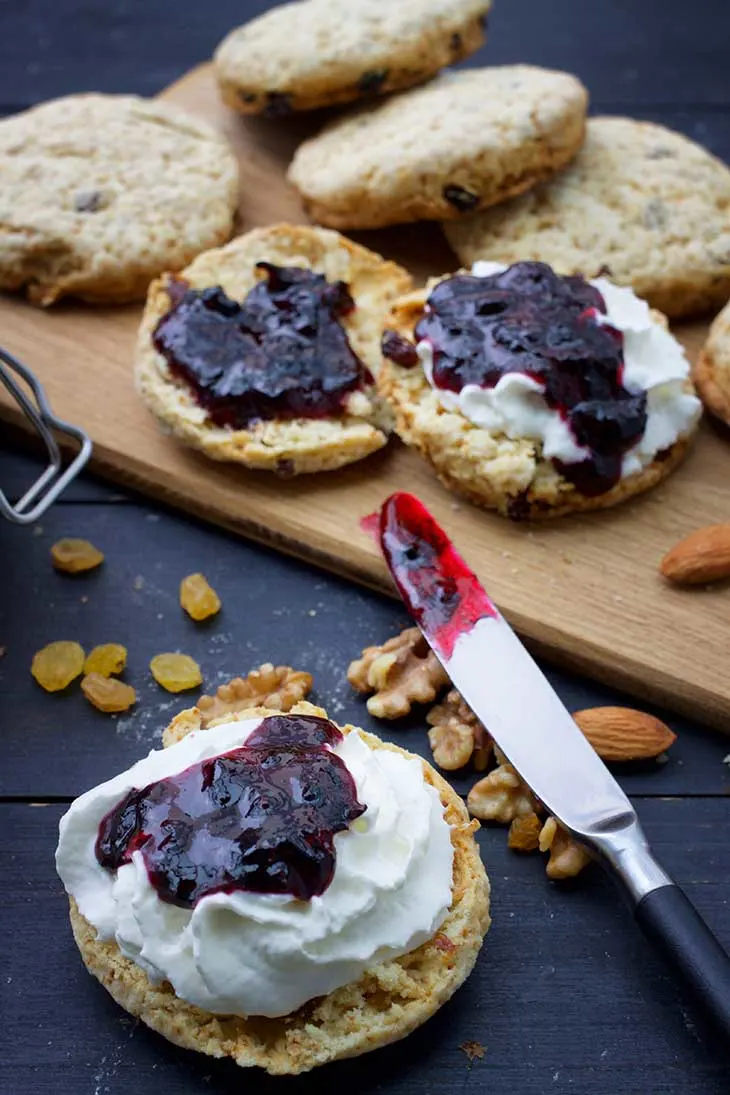 Due to their specific shape and size, scones have oftentimes been likened to the North American biscuit. Having a relatively similar recipe helped the analogy along, too. Even the basic ingredients for biscuits and scones are roughly the same: flour, leavening, a little salt, some fat, milk, and maybe a little sugar. The process is also similar: cut the fat into the dry ingredients, add the liquid, roll, and bake.
The difference comes down to a subtlety in texture and how they are served. British scones are more dense, slightly drier, and more crumbly than biscuits. Another big difference comes from the Americans' usual tendency to make things sweeter than their British counterparts – as is the case with their biscuits, which are usually seen covered in chocolate chips and nuts, and filled with different sweat creams, like chocolate or fruit-flavored. Also, while scones are made with cold butter, American biscuits are usually made with either animal fat or vegetable shortening.
Regardless of the type of scones you might like, there are a great number of ways to serve and enjoy them. The British don't usually have scones for breakfast, even though there's nothing wrong with getting one from Starbucks to go with your coffee. Scones are easy and fun to make and nobody should force themselves to adhere to certain traditions if they don't feel like following them one hundred percent. As mentioned before, traditional British scones are served with jam and clotted cream. Other recipes include cheese and bacon. It is always best to go nuts and experiment to your heart's content!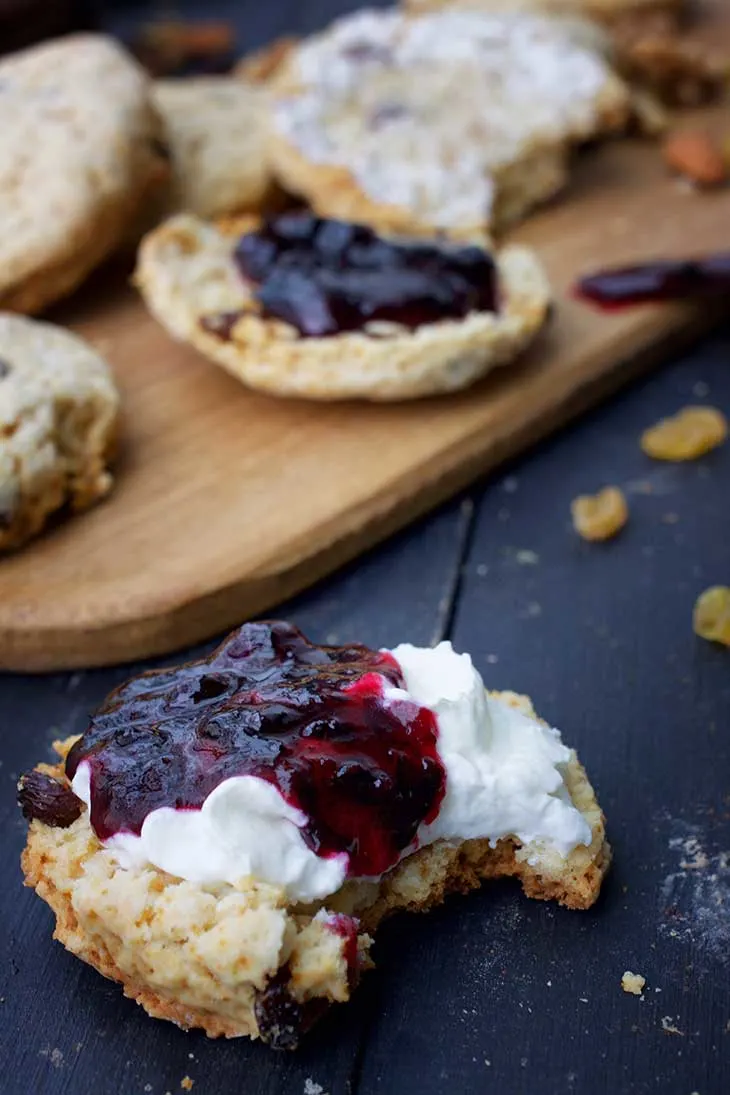 In order to help you with this, I present to you today this amazing recipe for vegan scones! The process is so simple and the results are truly incredible! Just try them and see!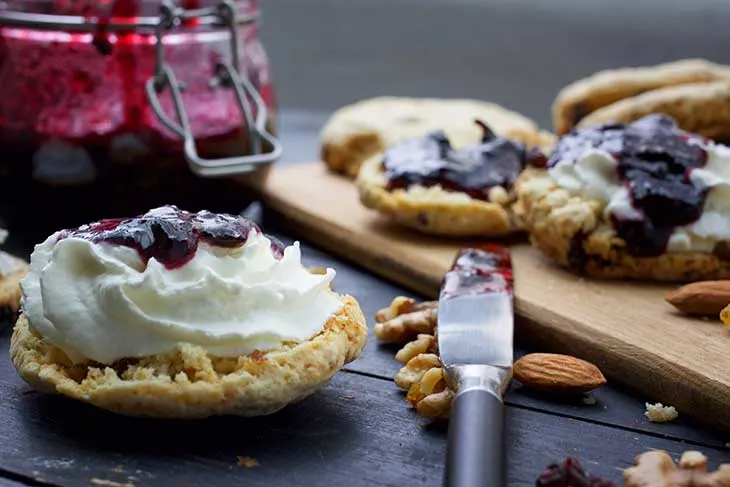 Do you need a sweet treat to go with your English tea? Search no more, as this recipe for vegan scones is your perfect answer! Easy, delicious and healthy - what more can you wish for?
Ingredients
Dry ingredients:
250g (2 cups) all-purpose flour
½ tsp baking powder
2 Tbsp coconut sugar
½ tsp salt
Wet ingredients:
2 Tbsp vegan butter
120ml (½ cup) almond milk
½ tsp vanilla extract
2 Tbsp raisins
Instructions
Preheat oven to 200C
Grease a baking tray with a little vegan butter.
In a large mixing bowl, combine all the dry ingredients.
In another bowl, combine wet ingredients, except for the raisins.
Add the wet ingredients to the dry ones, add raisins and mix the dough with your hands just to incorporate. Do not over-mix.
On a flour dusted surface, lay the dough and flatten it out in a thick layer.
Use a deep cookie shape to cut out 4 scones.
Lay the cut scones on the tray and cut the remaining dough with the same shape in 4 more scones.
Brush the scones with some more vegan butter or milk.
Bake for about 20 minutes until the scones become lightly golden.
Serve with vegan whipped cream and black currant jam.
Nutrition Information
Yield
8
Amount Per Serving
Calories

135
Total Fat

4.1g
Carbohydrates

21.5g
Protein

2.8g