Not a cold-weather fan? Do you look for something to warm you up from the inside? Here's how to make the best vegetarian Irish stew, the ideal comfort meal for cold weather.
The days are gradually getting colder and colder as my longing for hot meals is getting stronger and stronger. All I can think of is ways of getting my food as nice and warm as possible, as I feel that I need some extra strength to fight the cold outside.
And though it's not winter-cold yet, it's still enough so that the idea of spending an evening in the kitchen with the stove on is extremely attractive. Do you feel the same?
If you are craving a hearty meal that's perfect for a chilly afternoon as well, then you are in the right place! 🙂 Get yourself comfortable, as today I'm going to tell you all about one of my favorite cold-weather recipes. Yes, I'm talking about a vegan Irish stew – a recipe that I really love and come back to periodically.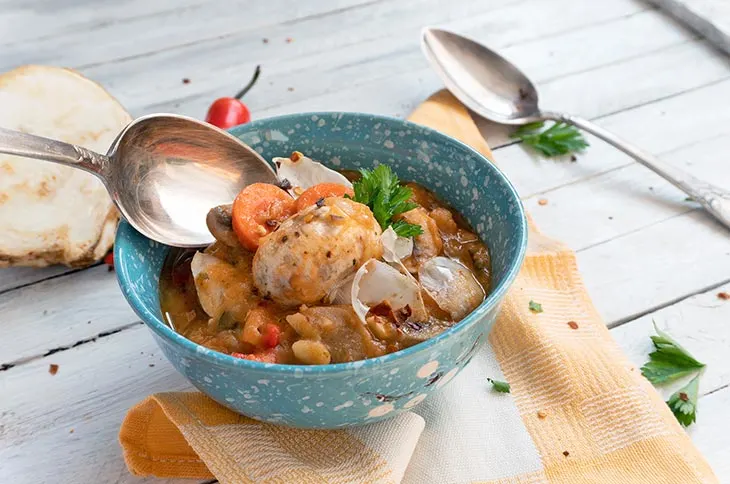 I love this dish because its taste is exactly what comes into my mind when I think of stew. Red, thick sauce, big chunks of delicious veggies, hot steam rising from the bowl and an amazing flavor that is so comforting. I can (and I do) eat bowls of this stew in a row without ever getting tired of it.
Ok, fine, I'll admit it – this is my favorite stew! Because it's so simple, yet I wouldn't change a thing. No funny business going on – only lovely chunks of veggies in a heartwarming sauce.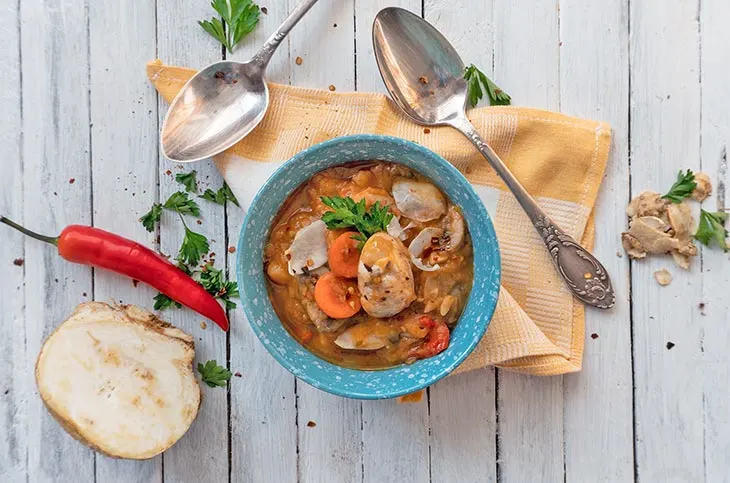 This dish is so popular in Ireland exactly because it is so simple. Back in the day, it was poor people and peasant's meal because all the ingredients are cheap and easily available in Ireland.
The potato has been introduced in Western Ireland somewhere in the 16th century, and it quickly became extremely popular. That's because it is extremely easy and cheap to cultivate and really filling!
So throughout Irish history, with some notable exceptions during famines, the potato has been one of the main ingredients in COUNTLESS recipes. Potatoes are the main ingredient of the Irish stew too.
The original recipe also contained meat, but little to no other ingredients. Maybe some onions and carrots. But we can forget all about that!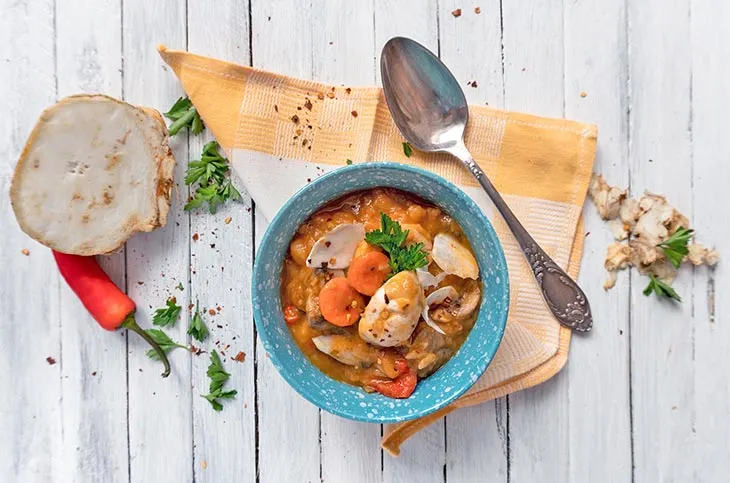 And although in those old times the Irish stew (and stews in general) was a poor people's food, now things have definitely changed and more and more people are starting to appreciate the deliciousness of a well-balanced stew – it's basically comfort food in a pot!
It's also a very healthy choice, as you can include a wide range of nutritious veggies and you can check the quality of all the ingredients you choose to use – it's all in your hands! Nowadays recipes are also a little bit more sophisticated, just like the recipe I adapted based on the original Irish stew.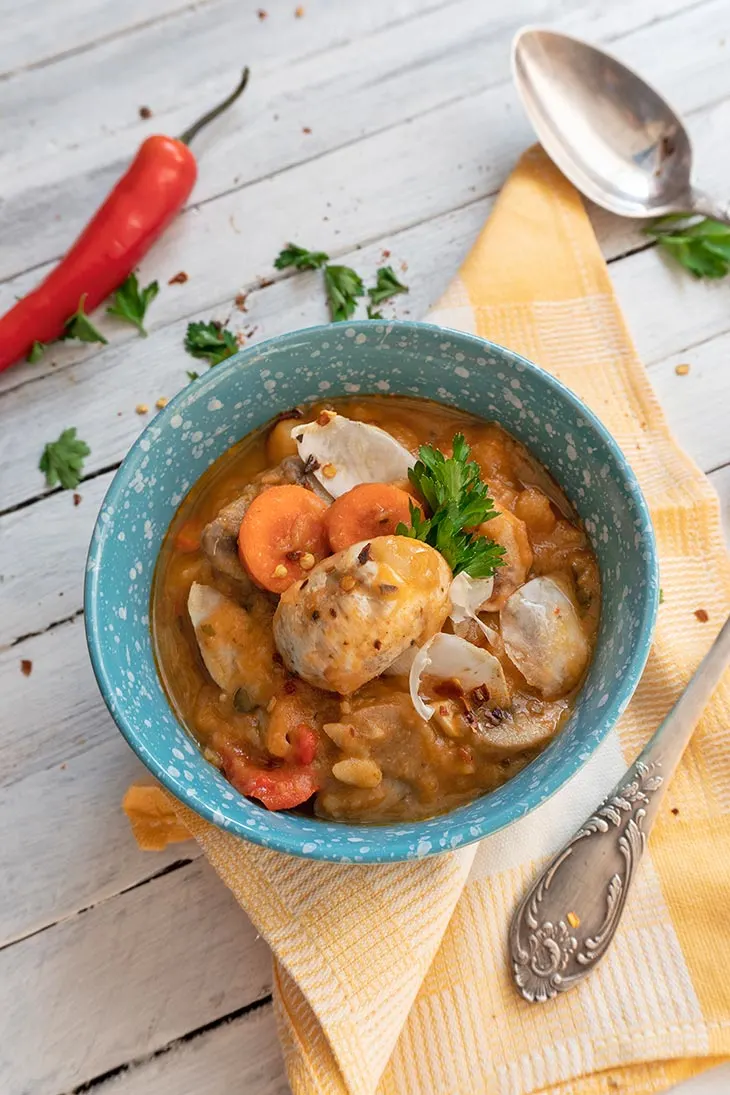 I left out the meat, obviously, and I have included a wide range of veggies in order to obtain a pleasant and nutritious meal. Are you ready to be delighted and warmed up from the inside? I know I am!
Now if you ask me, I think the secret to a perfect vegan Irish stew is the size of the vegetables. Too small and they will all mash and become mushy together. Too big and you will taste too much of the same thing.
My opinion? You need bite-sized chunks. No more and no less. Every bite of this meal will have the perfect flavor, and you will be able to enjoy each ingredient at its best.
The preparation of this dish is also really simple and no matter how much or little experience you have in the kitchen, it will turn out great! 🙂 All you need to do is to add the vegetables and broth to the pot and simmer until everything is cooked through! So it's not even a lengthy or complicated project, you could easily have this as a weekday dinner!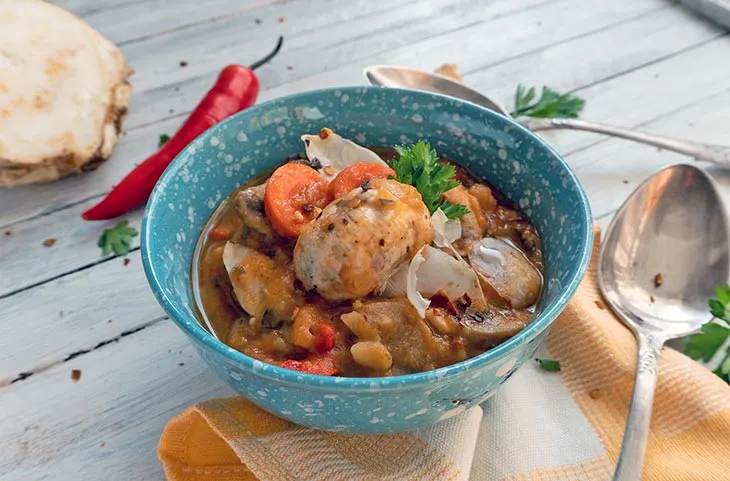 That being said, I think it's time to start cooking. Gather all your ingredients (which you probably already have in the kitchen – everything is really basic) and follow my steps below.
Don't forget to enjoy – both the process and the result! This meal will really warm you up and make you appreciate everything the cold season has to offer. Let's do this! 🙂
Yield: 3
Vegetarian Irish Stew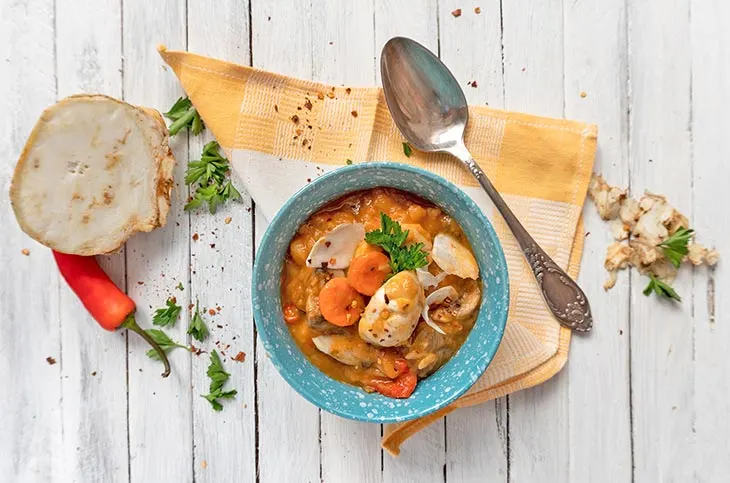 Are you cold? Do you look for something to warm you up from the inside? Here's how to make the best vegetarian Irish stew, it's extremely easy!
Ingredients
3 medium potatoes, chopped
2 carrots, chopped
2 bell peppers, chopped
150g (¾ cup) mushrooms, chopped
1 big golden onion, chopped
¼ celery root, sliced
3 garlic cloves, chopped
½ medium fresh chili pepper, finely chopped
2 Tbsp tomato paste
400ml (13.5 oz) veggie broth
2 Tbsp olive oil
2 Tbsp flour
oregano
fresh parsley
salt and pepper to taste
Instructions
Heat the olive oil in a pot on medium heat. Add the chopped garlic and onion.
Once golden and translucent, add 2 Tbsp of flour and fry for about 30 sec.
Add the rest of the veggies. Season with oregano, salt and black pepper.
Fry, stirring occasionally until the vegetables develop a bit of color (5-7 min).
Add 2 Tbsp of tomato paste and fry for another minute before adding the veggie broth (until it barely covers your vegetables).
Once boiling, reduce the heat to low and simmer for about 15-20 min or until potatoes and carrots are fully cooked through.
Garnish with freshly chopped parsley.
Nutrition Information
Yield
3
Amount Per Serving
Calories

239
Total Fat

10g
Unsaturated Fat

0g
Carbohydrates

33g
Fiber

9g
Sugar

9g