This Quattro Formaggi mac and cheese recipe will be a hit for the whole family! Combining the Italian cheese sauce with the famous American mac and cheese, this is a meal you will definitely want to cook again!
Today I had a craving for something decadent with lots of cheese, so what better combination than the quattro formaggi sauce poured over some large macaroni, then baked in the oven. A recipe has come out that I will keep in mind for when I get hungry again and I know for sure that it will delight your taste buds too.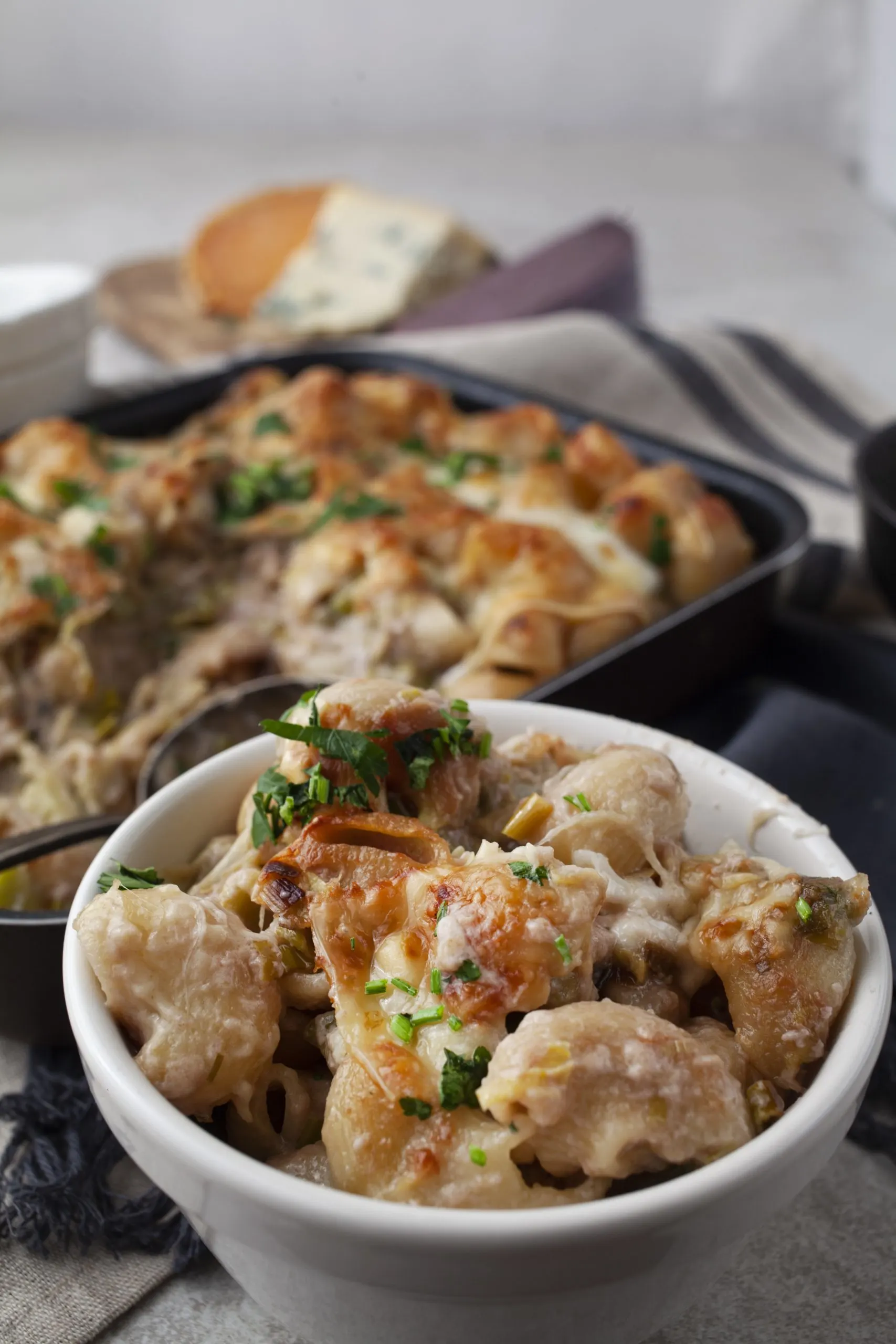 What does quattro formaggi mean?
Quattro Formaggi is an Italian dish, which literally translates as "four cheeses". This combo is often used on pizza or pasta and it goes perfectly even served over vegetables, especially if they are baked in the oven.
What type of pasta is best for quattro formaggi?
The best pasta for Quattro Formaggi sauce is fettuccine or tagliatelle. These types of pasta are wider, allowing them to combine well with the cheese sauce. Personally, I also prefer penne, especially when I choose to bake them au gratin in the oven for a few minutes.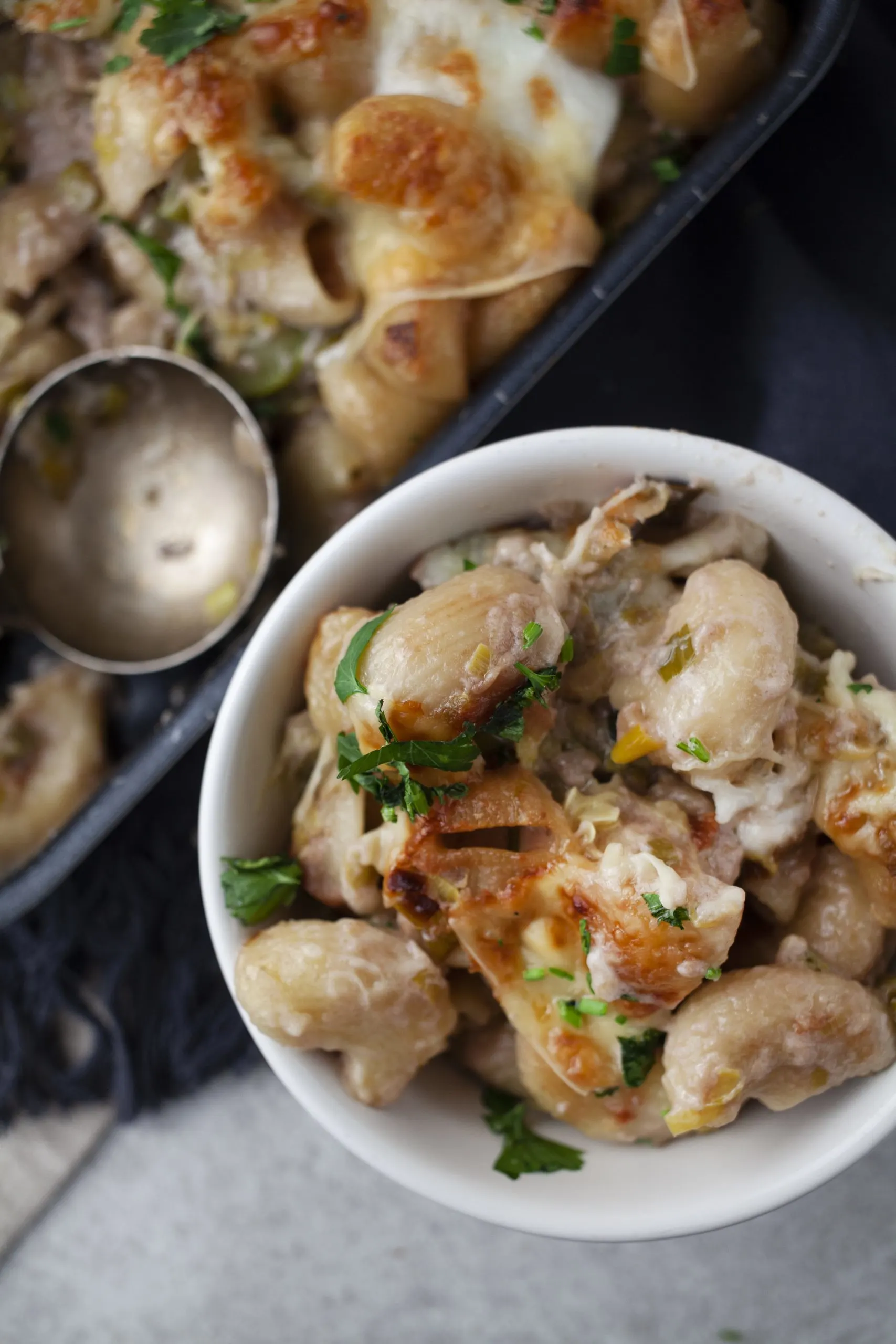 What kind of cheeses can you use in quattro formaggi?
You can choose four cheeses of your choice, but the four traditional cheeses from Quattro Formaggi are gorgonzola, parmesan, mozzarella and the fourth type of cheese usually depends on the area – pecorino, fontina, ricotta are some possible options. These cheeses offer a complex mixture of flavors and textures.
Gorgonzola is a typical Italian cheese from the Lombardy region, made from pasteurized cow's milk. Indispensable from the Quattro Formaggi sauce, this matured, creamy cheese has a strong aroma and a slightly spicy and pungent taste thanks to the noble blue mold that it contains.
You have surely heard of parmesan, it is a hard and dry Italian cheese, with a crumbly texture, which is usually grated on top of food. Made from cow's milk and matured for at least a year, it is very versatile, especially because it melts very well at high temperatures.
Mozzarella, another classic Italian cheese, is made from either buffalo or cow's milk. Creamy and soft, it melts perfectly but does not add creaminess to the pasta sauces, especially since it hardens when it cools. That's why it should be added in a smaller amount to the pasta sauce, but it works excellently on pizza.
Pecorino is similar to Parmesan, firm and with an intense taste, slightly spicy, but made of sheep's milk. Fontina is a semi-hard cheese, originally from northwestern Italy regions. It has a velvety texture and a sweet, nutty taste. It is delicious in sandwiches or on bruschetta and melts easily, so you can use it with confidence in au gratin dishes.
Sometimes, especially with pasta, ricotta is added – a fresh whey cheese with a fine, creamy texture and a sweet-sour taste. It has a low-fat content and can balance a pasta sauce very well.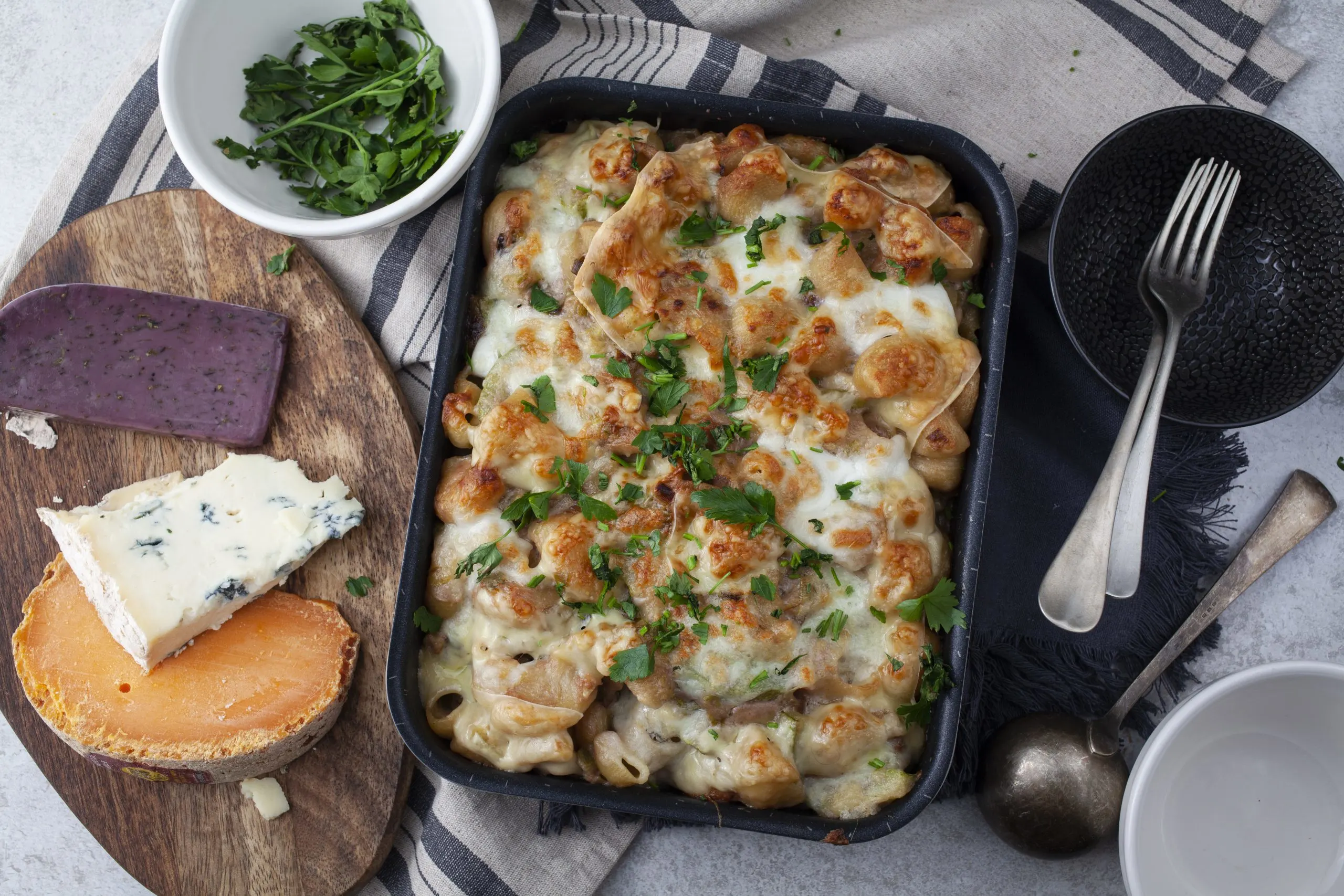 For this recipe of the best Quattro Formaggi mac and cheese, I did not use the classic combination of Quattro Formaggi cheeses because although the inspiration for the pasta sauce is Italian, I chose to give it an American twist inspired by the popular mac n' cheese recipe. So, in addition to the classic Gorgonzola, indispensable in this sauce, I chose to add Taleggio (another 'stinky' cheese but one of my favourites), aged Cheddar which has a strong aroma and Gouda which goes excellently au gratin.
Gouda is a semi-hard Dutch cheese. I use it either in salads, for gratin or on pizza.
Taleggio is a soft Italian cheese with a creamy texture. It is by far my favorite cheese, but be careful, store it in an airtight casserole because you risk contaminating the whole house with its aroma! As bad as it smells, the taste is intense and so pleasant. It has notes of mushrooms and hay and fits perfectly in a panini, in sauces or on a cheese platter.
Cheddar is quite well known; it has a pale yellow color with a strong and salty taste. It is indispensable in sandwiches, au gratin dishes or in macaroni and cheese.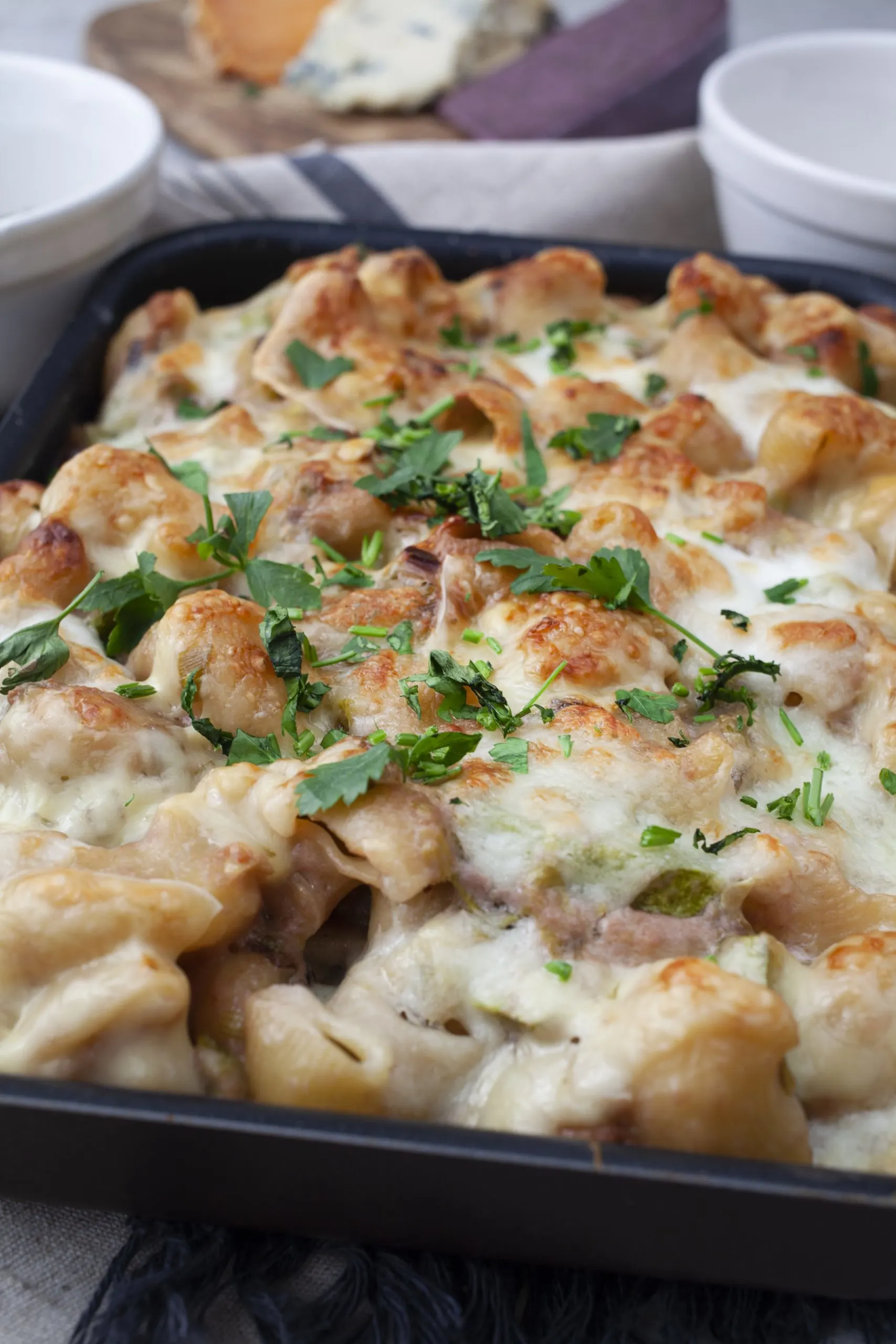 Tips and tricks for the best Quattro Formaggi sauce
To prepare the best Quattro Formaggi sauce, there are some tricks you can use.
First, you must use quality cheeses. It is not mandatory to use Italian cheeses, you can combine according to your preferences, but consider their flavors and texture.
It is important to have a balanced proportion between the cheeses used, so that it is a pleasant mixture, without a single cheese dominating the taste. Some are stronger, others can be used as a base in proportion to the sauce, being milkier/fine in flavor.
Before adding the cheeses to the sauce, grate them to melt easily. You can also add a little cream and butter to create a creamier texture and to reduce the too intense taste of the cheeses.
If the sauce is too thick, you can add milk to thin it out.
Don't forget to continuously stir the sauce over low heat to avoid it sticking to the bottom of the pan and to ensure that the cheeses are melted and incorporated evenly.
I hope you like this recipe that combines the popularity of American macaroni and cheese with the flavor of Italian sauce with four cheeses. 🙂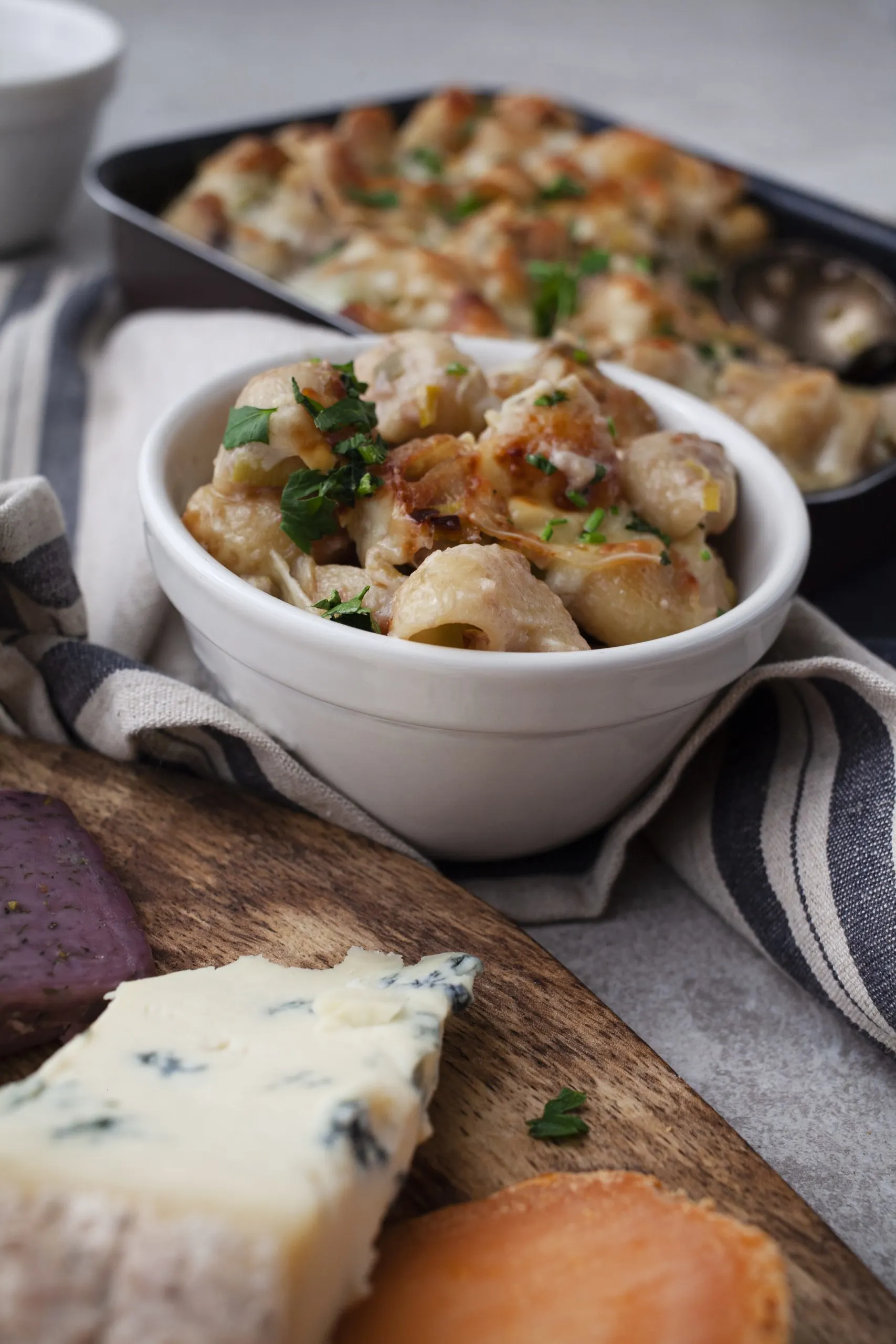 Yield: 6
Quattro Formaggi Mac'n'Cheese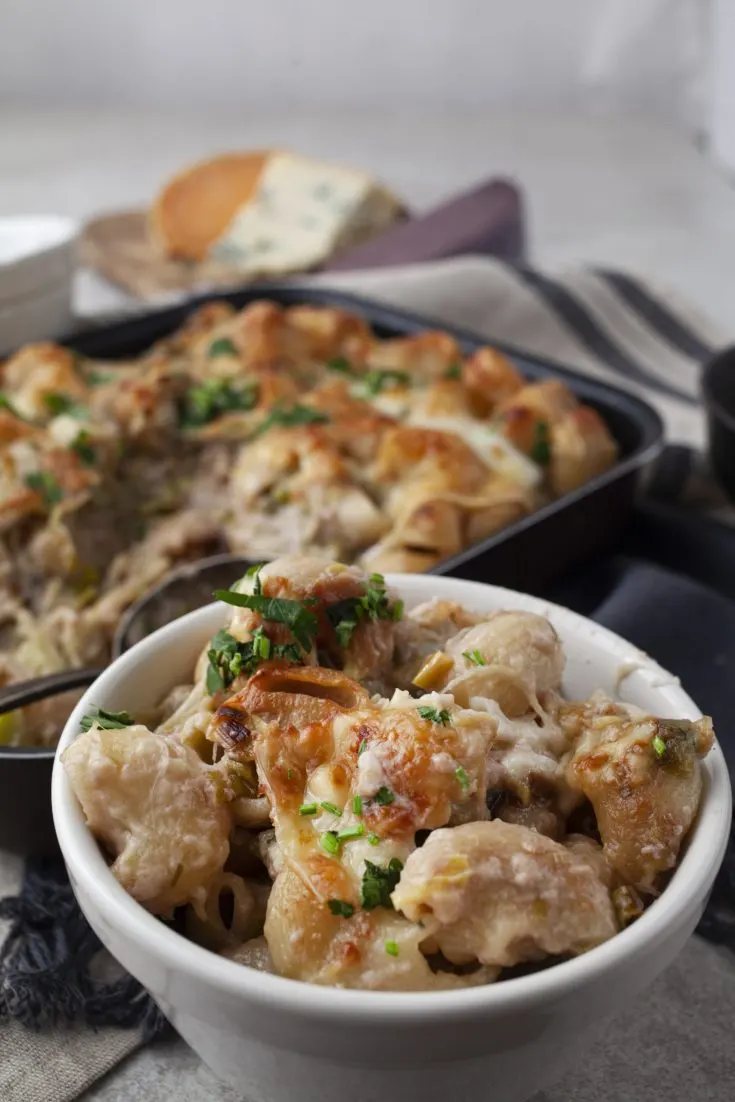 This Quattro Formaggi mac and cheese recipe will be a hit for the whole family! Combining the Italian cheese sauce with the famous American mac and cheese, this is a meal you will definitely want to cook again!
Ingredients
350g (12.3 oz) elbow pasta
1 tablespoon of olive oil
1 shallot, chopped
400ml (14 fl oz) milk
200g (7.1 oz) Taleggio cheese
100g (3.5 oz) aged Cheddar cheese, grated
100g (3.5 oz) Gorgonzola cheese, crumbled
100g (3.5 oz) aged Gouda, slices
½ teaspoon pepper
½ teaspoon of salt
parsley for garnish
Instructions
Heat the oven to 180 C (356F).
Cook the pasta according to the instructions, al dente.
Put a deep frying pan on medium heat, add olive oil and chopped onion. Sauté the onion until well browned, stirring from time to time.
Pour the milk over the onion and let it heat until it is almost boiling.
Add the crumbled Taleggio and the grated cheddar, salt and pepper and mix well until it is incorporated and you get a creamy sauce. Then add the pasta and mix well.
Transfer everything to a casserole, sprinkle with crumbles of gorgonzola and add slices of gouda.
Put in a hot oven for 35 minutes until the top is well browned.
Serve warm and garnish with freshly chopped parsley.
Nutrition Information
Yield
6
Serving Size
1
Amount Per Serving
Calories

722
Total Fat

34g
Saturated Fat

20g
Trans Fat

0g
Unsaturated Fat

12g
Cholesterol

107mg
Sodium

991mg
Carbohydrates

74g
Fiber

2g
Sugar

49g
Protein

30g
I strive to keep the information as accurate as possible but make no warranties regarding its accuracy. I encourage you to make your own calculations using your preferred nutrition calculator.