Here's how to make Nutella pudding with caramelized pretzels – the most decadent and easy dessert with Nutella! Get your hands on this amazing recipe and forget everything you knew about desserts.
You will be overwhelmed by the combination of textures and flavors in this easy Nutella pudding recipe, and the caramelized pretzels are a nice, salty twist that enhance even more the sweetness of the chocolate. In a single spoon you will discover the Nutella paradise! If you want to see how you can quickly and easily prepare this chocolate pudding, discover the recipe below.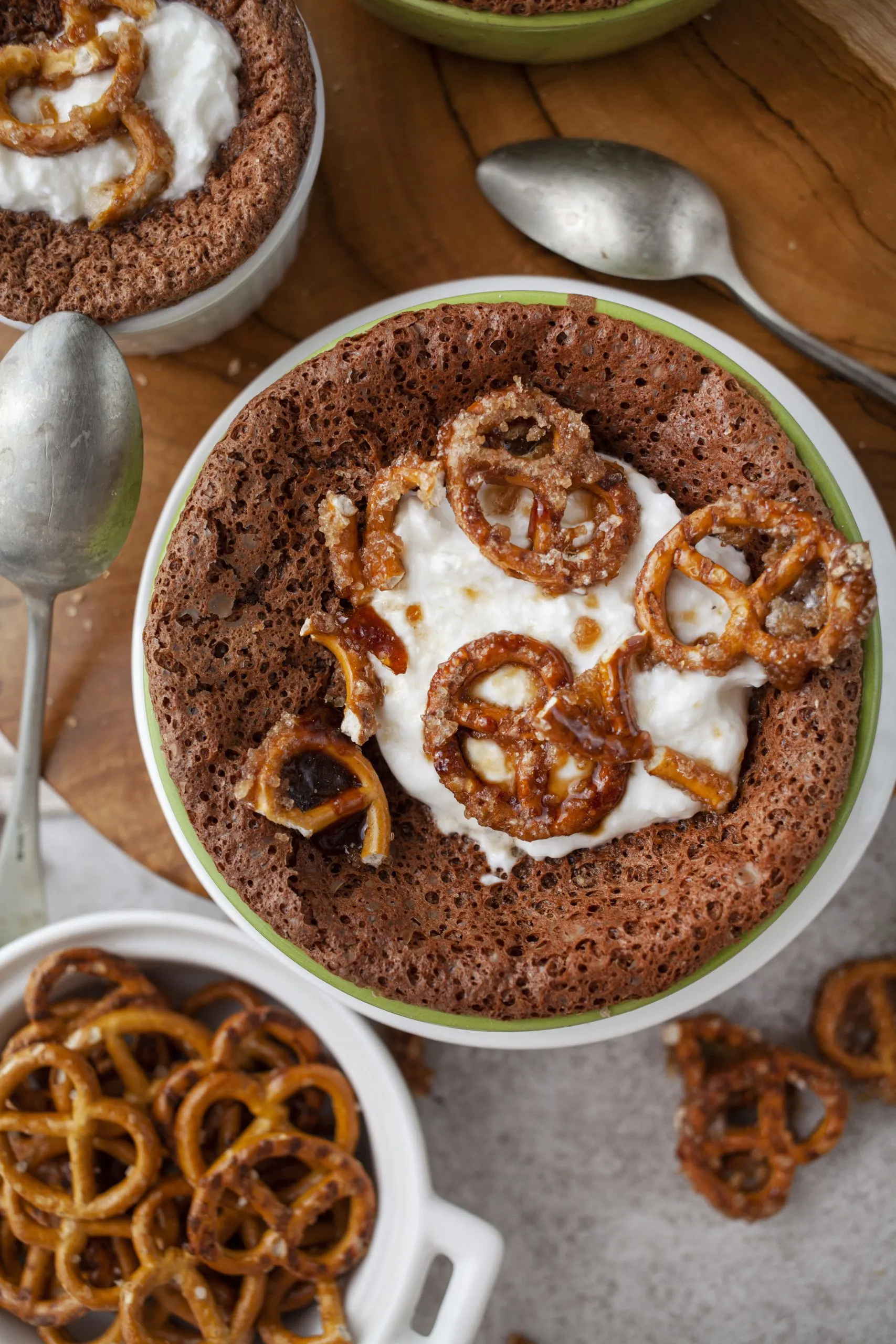 The interesting history of Nutella chocolate cream
Nutella is a well-known chocolate and hazelnut spread that is loved by millions of people around the world. But do you know how it appeared? Nutella was first created in Italy in the 40s under the name "gianduja paste" as a response to the cocoa shortage during the war. In 1964, Nutella arrived on the American market and since then it has turned into a global phenomenon.
It mainly contains ingredients such as chocolate, hazelnuts, vegetable oil and a lot of sugar. And, although it is not a standard of health, it will always remain a sweet and creamy delicacy that can be successfully used in cakes.
Also, check out my healthy, homemade Nutella and Nutella brownies. 😉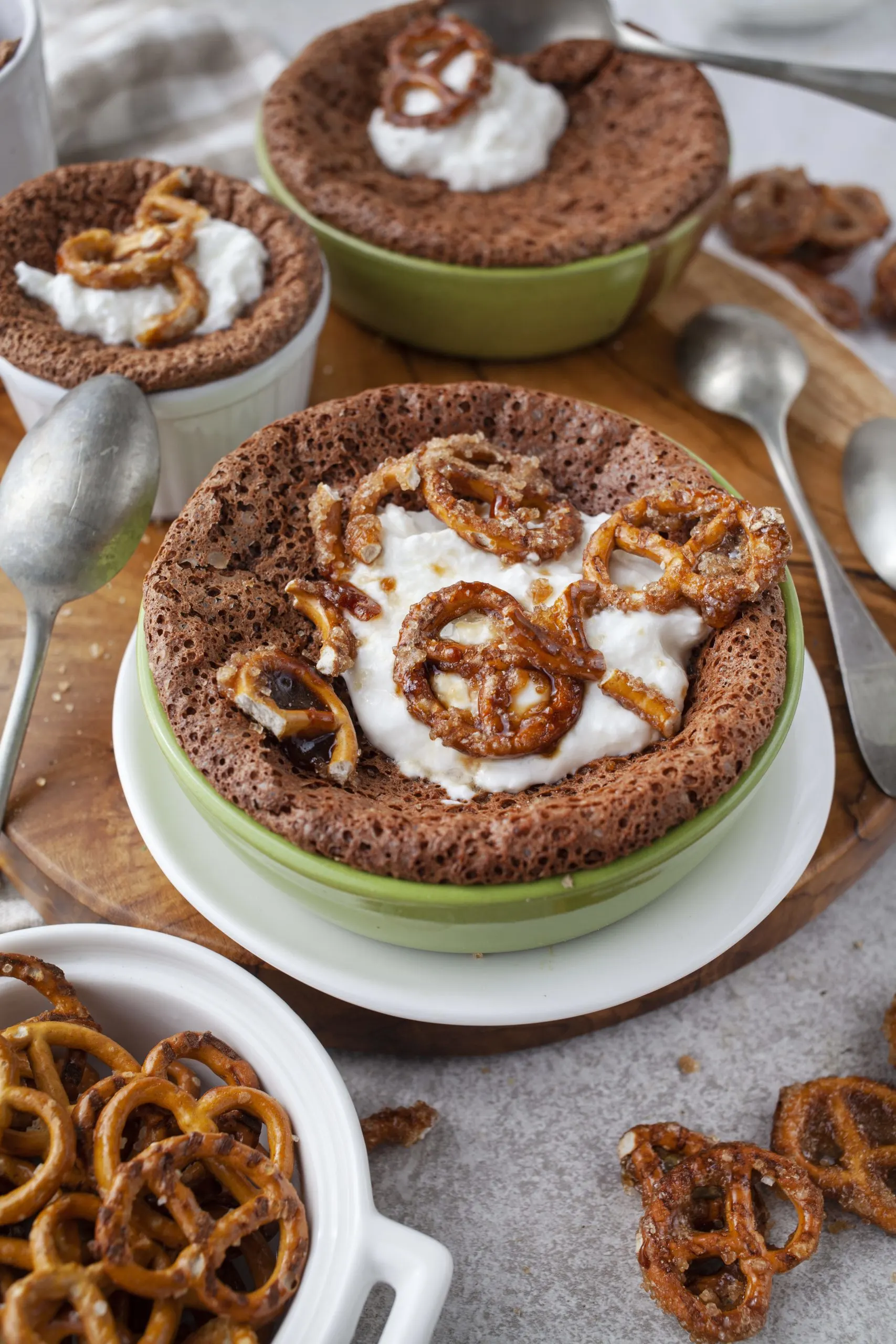 Fun facts about Nutella
Every year, enough Nutella is consumed to fill the Eiffel tower twice! Also, Nutella is so popular in Italy that there is a dedicated day called "Giornata Nazionale della Nutella" (National Nutella Day), which takes place on February 5.
In addition, there are creative people who use Nutella in unusual ways, such as in Nutella pizza, Nutella cakes, Nutella sandwiches and many others. Certainly, Nutella is a favorite food of many and can be used in a variety of delicious ways, as well as this Nutella pudding recipe that I will present today.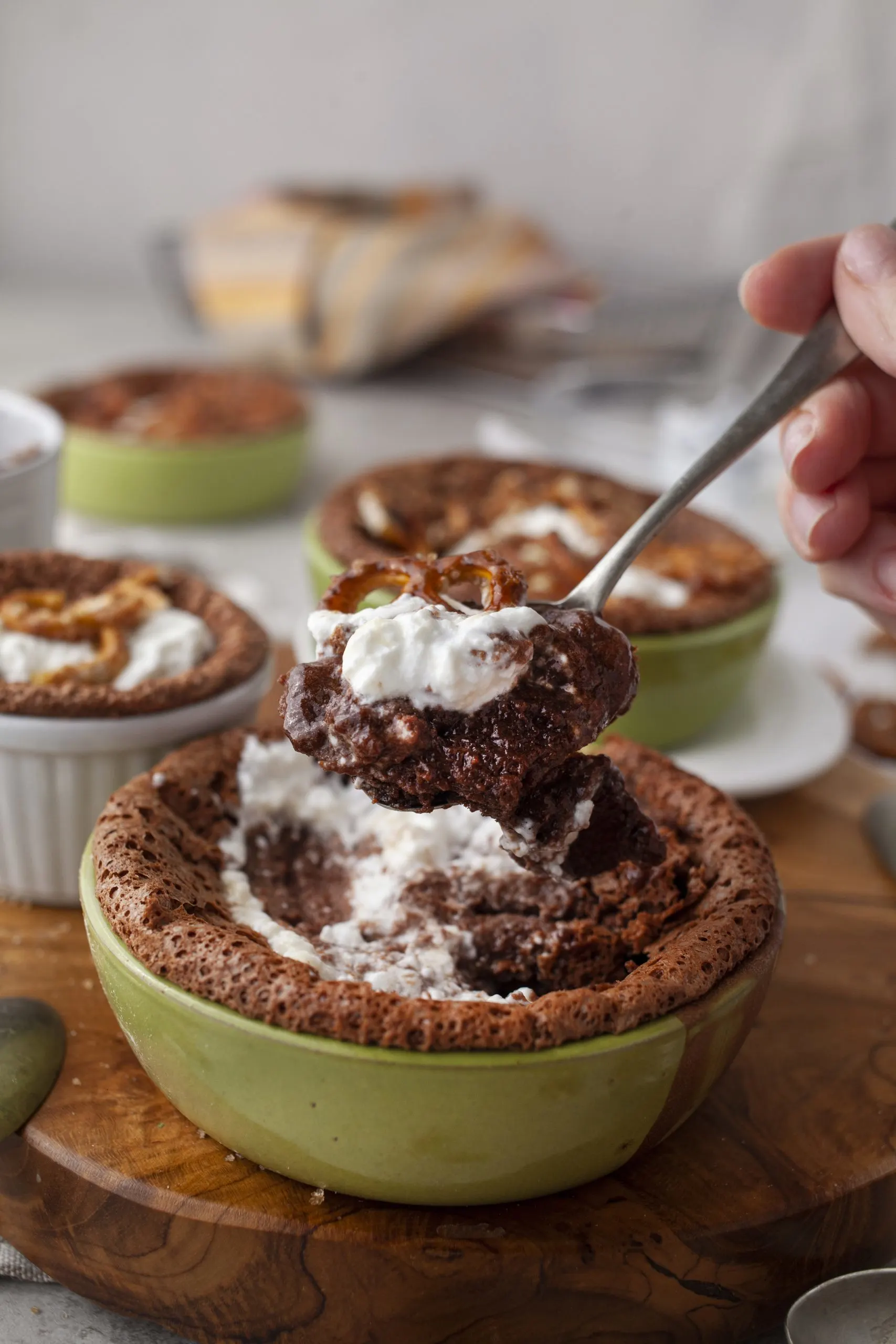 Pretzels in desserts – strange or delicious?
The use of pretzels in desserts is a popular culinary trend lately, especially among those who love the combination of salty and sweet. Cheesecake top made of crushed pretzels, decoration for cupcakes and cookies or simply served covered in chocolate – salty pretzels are extremely versatile and can create a delicious contrast between the two opposite tastes.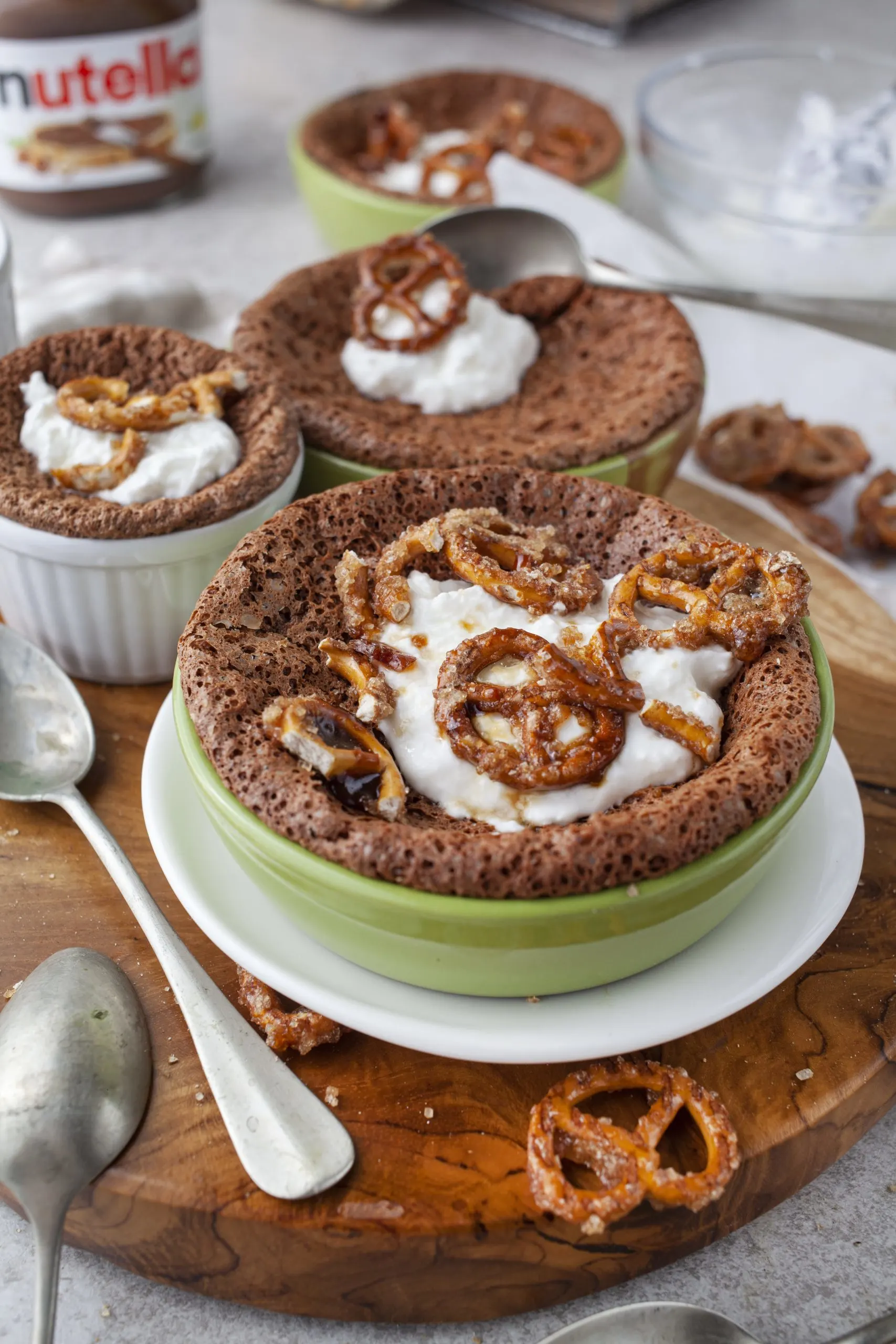 Sweet + salty = match made in Heaven?
The combination of sweet and salty is interesting and apparently unusual. In the case of chocolate cakes, adding salty ingredients such as sea salt or salted butter can help intensify the chocolate flavor.
There is a scientific explanation for our attraction to the combination of sweet and salty in food. Our brain is programmed to look for sweets that in nature indicate the presence of carbohydrates and, therefore, energy. At the same time, the salty taste suggests the presence of important minerals, such as sodium, which help the body regulate fluid and electrolyte levels. When these tastes are combined in food, the brain receives strong signals of pleasure and satisfaction because we associate them with our basic nutritional needs.
So, even if the combination of salty pretzels and Nutella seems strange to you, I assure you that it will pleasantly surprise you.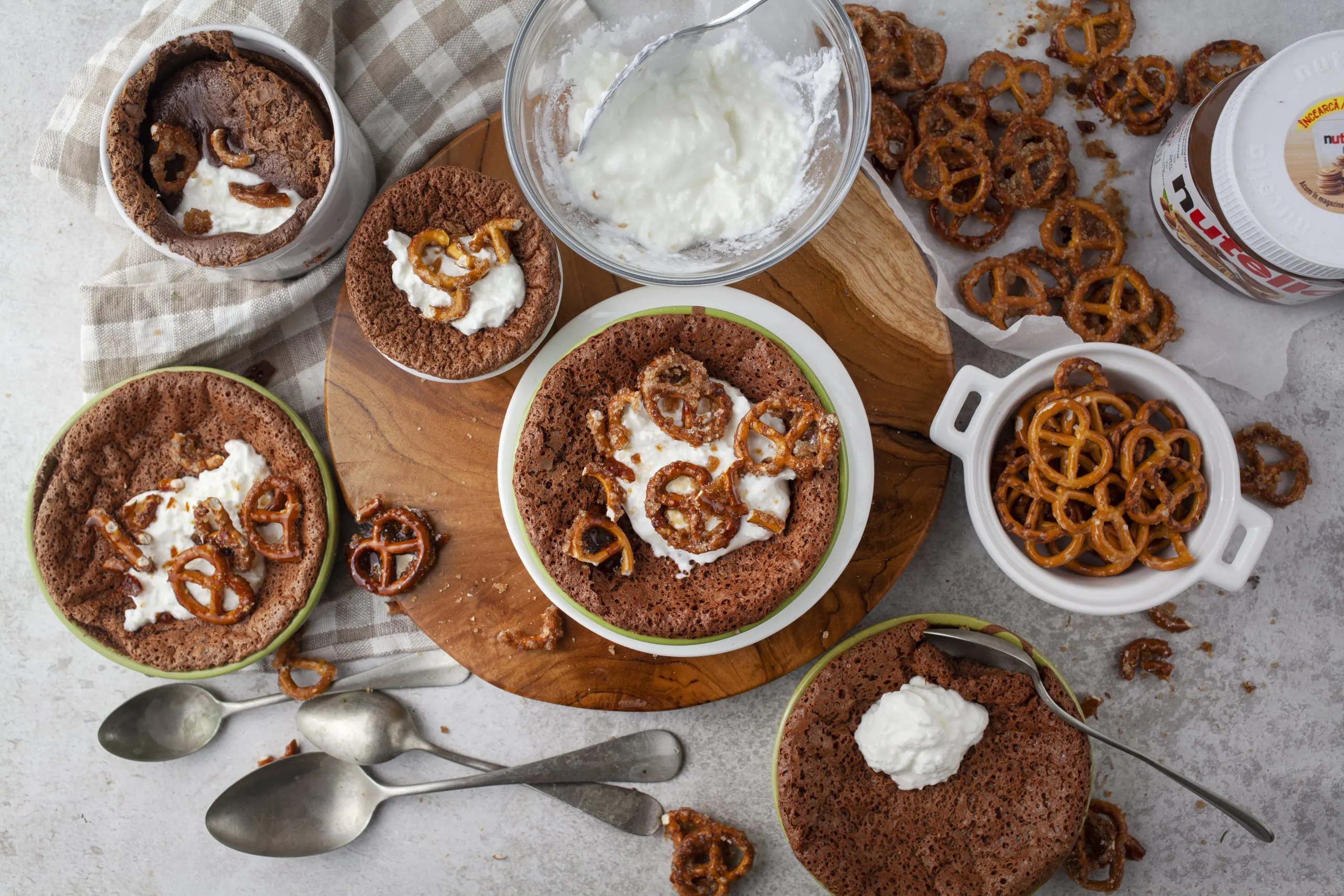 Yield: 4
Nutella pudding with salty pretzels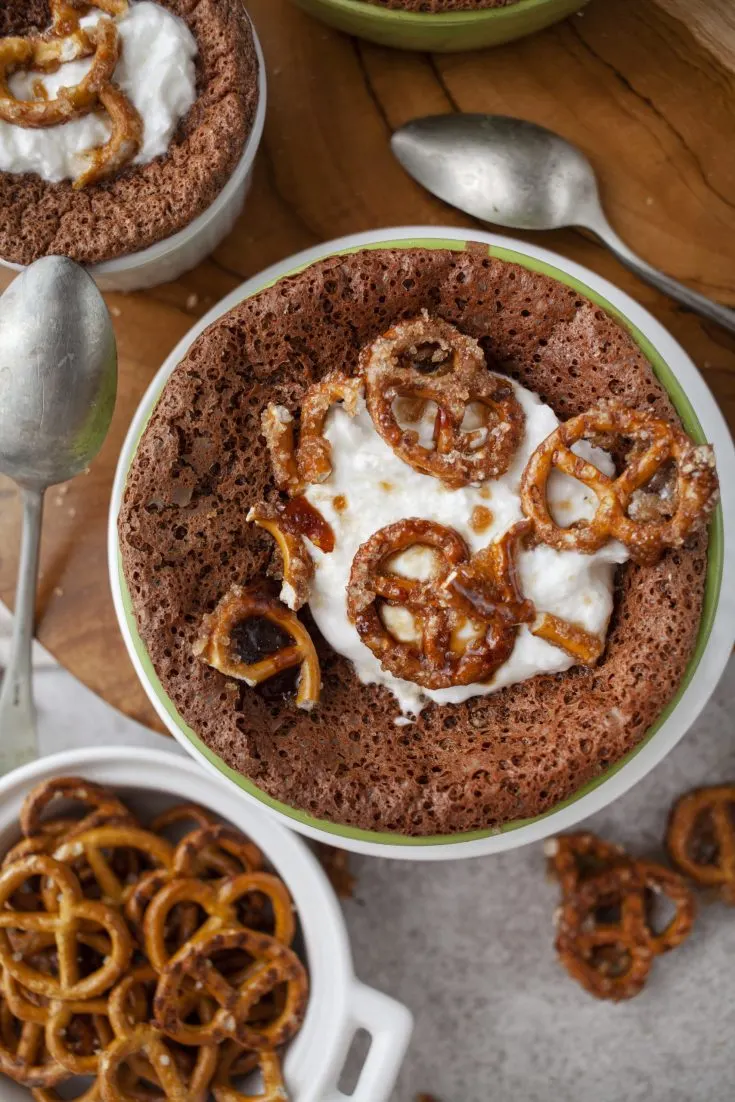 Indulge in the ultimate chocolatey dessert with this Nutella Pudding recipe, topped with crunchy and salty pretzels. Learn how to make this delicious and easy-to-follow recipe that will satisfy any sweet tooth craving.
Ingredients
50g (¼ cup) sugar
100g (3.5 oz) pretzels
4 large eggs
300g (10.6 oz) nutella
100g (3.5 oz) liquid cream
Instructions
Heat the oven to 180 C.
Heat a pot on medium heat and add the sugar. Leave the sugar to melt, stirring from time to time, until it melts and becomes liquid caramel. Add the pretzels to the caramel, mix and transfer to a flat tray to cool.
Separate the whites from the yolks in two separate bowls.
In the bowl with egg yolks - add Nutella and beat with the mixer until the composition becomes foamy.
Then beat the egg whites until they become foamy and retain their shape.
Gradually transfer the egg white foam into the Nutella mixture, one by one and incorporate.
Then transfer the entire composition into 4 ramekins.
Bake the pudding in the oven for 20-25 minutes.
While the pudding is baking, whisk the liquid cream until you get a foamy and soft whipped cream.
Break the caramel with the pretzel pieces.
Serve pudding with whipped cream and caramelized pretzel pieces.
Nutrition Information
Yield
4
Serving Size
1
Amount Per Serving
Calories

734
Total Fat

37g
Saturated Fat

29g
Trans Fat

0g
Unsaturated Fat

6g
Cholesterol

214mg
Sodium

507mg
Carbohydrates

86g
Fiber

5g
Sugar

55g
Protein

14g
I strive to keep the information as accurate as possible but make no warranties regarding its accuracy. I encourage you to make your own calculations using your preferred nutrition calculator.