Indulge in the creamy and cheesy goodness of our Sweet Potato Gratin with Gruyere Cheese. This comforting dish is sure to be a crowd-pleaser, perfect for any occasion.
You don't need a lot of time or complicated ingredients to enjoy this aromatic delicacy. In addition, sweet potatoes are an excellent source of nutrients and vitamins, so don't miss this recipe for sweet potato gratin with a perfect mix of flavors and textures. See how easy it is to prepare this tasty meal and impress your family and friends with your culinary skills!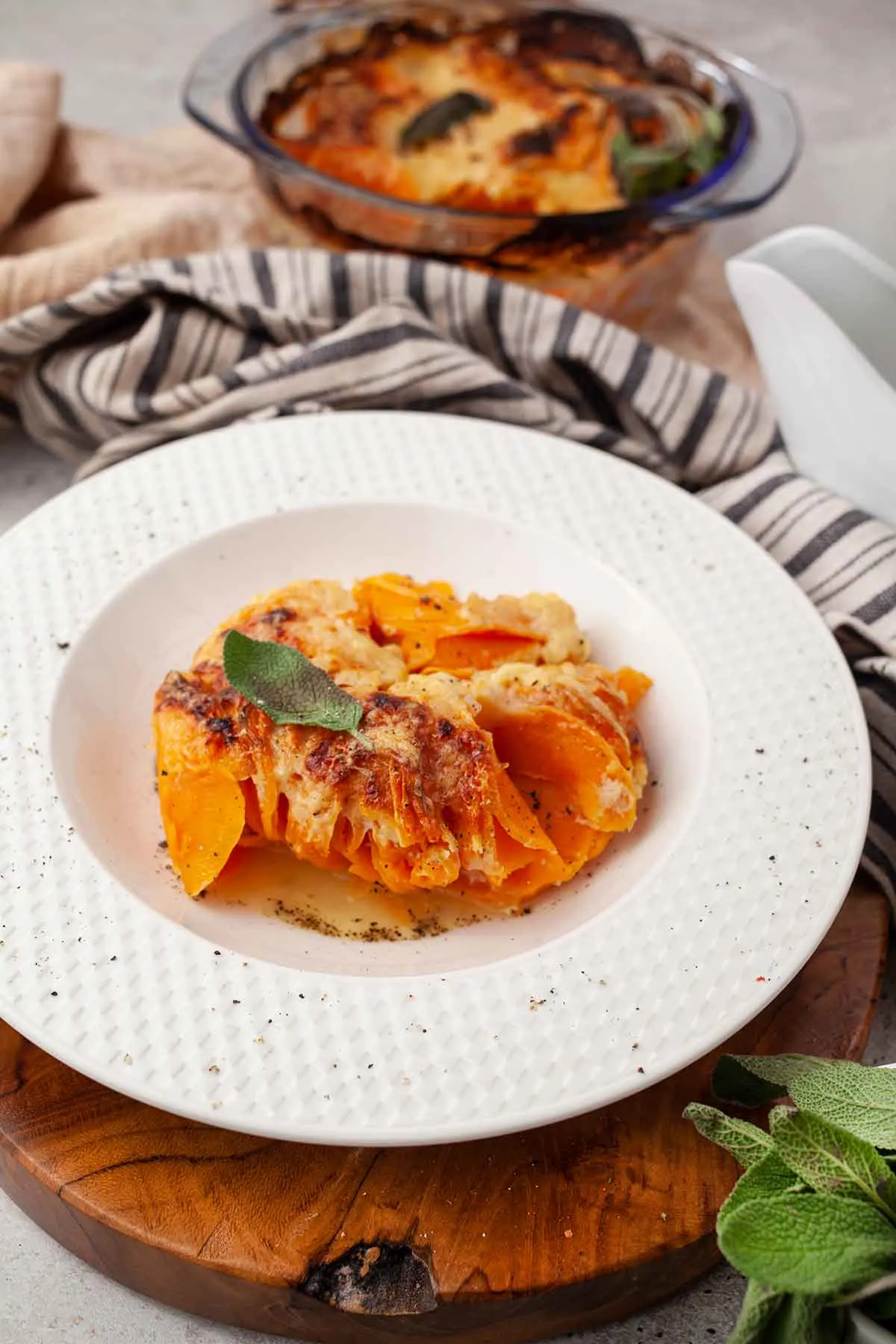 What is the difference between 'au gratin' and gratin?
The term "au gratin" in the kitchen refers to covering a food with cheese, breadcrumbs or another ingredient and then baking it in the oven until the top layer becomes golden and crispy.
"Au gratin" and "gratin" are essentially the same thing, with "au gratin" being the French term and "gratin" being the English equivalent.
What makes a gratin a gratin?
A gratin is characterized by its crispy, golden-brown top layer, which is created by broiling or baking the dish at a high temperature. This layer can be made with a variety of ingredients, including cheese, breadcrumbs, butter, or cream. The dish underneath the gratin layer can be anything from potatoes to vegetables to pasta.
Gratin can be used to add texture and taste to various dishes, such as potatoes, vegetables, pasta, seafood or meat. Usually, this culinary technique is used to make dishes more visually attractive and to create a contrast between the crunchy and softer layers.
This is one of the oven cooking methods I choose quite frequently, especially when cooking cauliflower, broccoli or green beans. Check out my other gratin recipes, such as Spinach and Cauliflower Gratin or Lentils and Veggies Gratin. Of course, I also like it with potatoes, and recently I discovered that it enhances the sweet aroma of sweet potatoes, especially in combination with a special cheese.
What is the difference between scalloped and gratin potatoes?
Scalloped potatoes and gratin potatoes are similar dishes, but the main difference is that scalloped potatoes are typically made with a creamy white sauce, while gratin potatoes are topped with cheese and breadcrumbs. Scalloped potatoes are usually baked at a lower temperature for a longer time, resulting in a soft and creamy texture, while gratin potatoes are baked at a higher temperature for a shorter time, resulting in a crispy and browned top layer.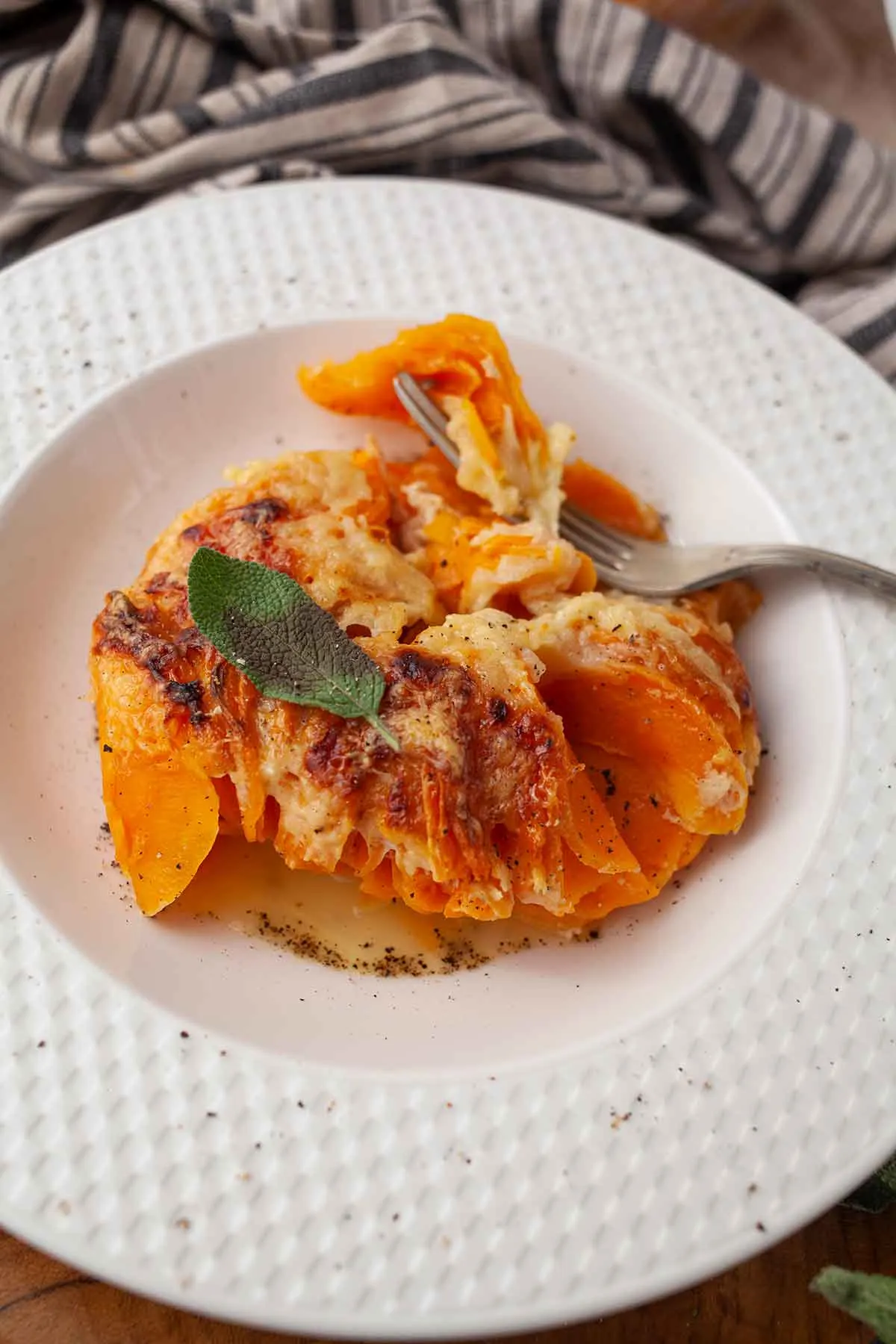 For this recipe I chose to use Gruyere cheese, a semi-hard cheese, originating in Switzerland, which has a complex and deep taste, with notes of nuts and dried fruits. It is made of cow's milk and has a smooth texture, but with some small and regular holes.
Gruyere can be used in many recipes, such as fondue, quiches or sandwiches, but it is especially known for its use in gratins and french fries. Fatty cheeses, such as gruyere, melt well and can be combined with sweet potatoes and other vegetables that do not have too strong an aroma.
Another reason why gruyere cheese goes well with sweet potatoes is that its rich taste balances the sweetness of the potatoes. In addition, the texture of the gruyere cheese melts nicely and forms a delicious and crunchy crust during the gratin.
Gruyere is also excellent when mixed with other cheeses, such as cheddar or emmental, to create a more complex taste. It is also wonderful combined with dry white or dry red wine, dried fruits or nuts.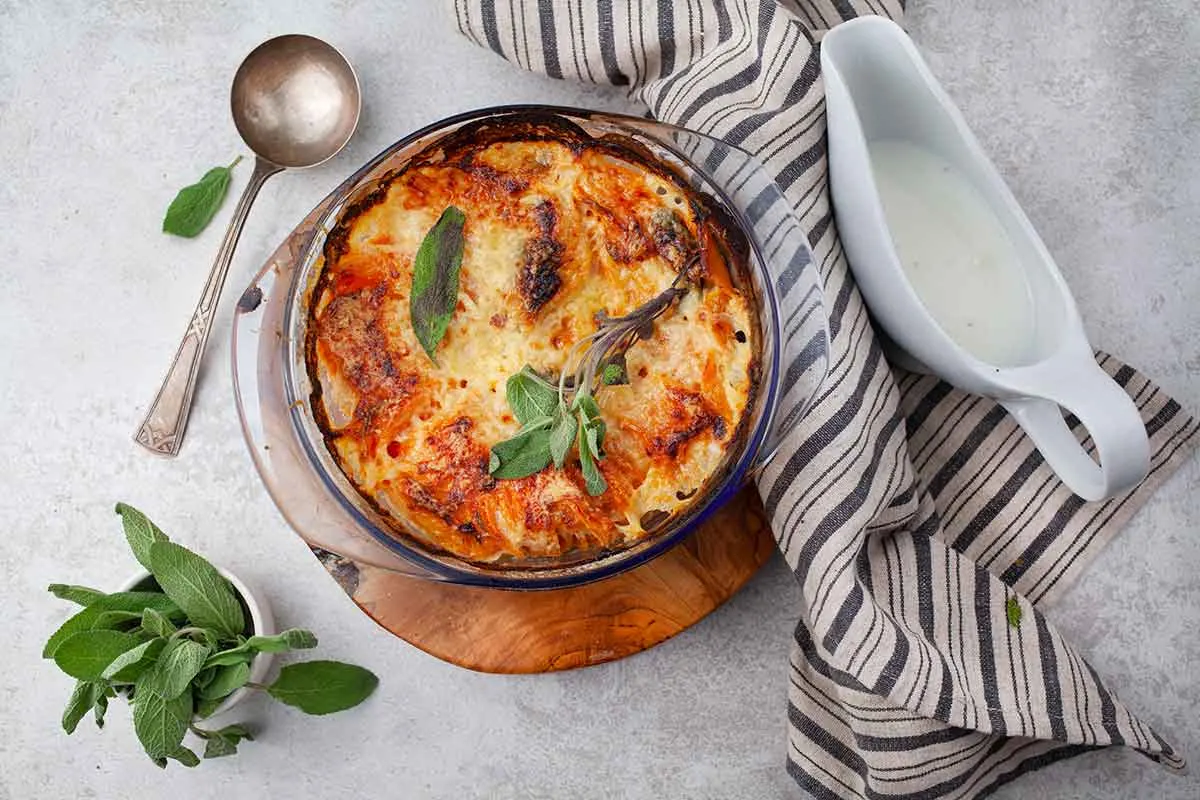 Tips and techniques to follow for a perfect gratin
Here are some tips and techniques to get a perfect gratin:
Choose a suitable dish: Choose a suitable dish for the amount of food you are preparing. Too much food in too small a dish can lead to overloading and overheating of the dish, while too much space in a dish that is too big can lead to burns.
Preheat the oven: Preheat the oven to the desired temperature before putting the dish in the oven. If the dish is placed in a cold oven, the cooking time can be extended and it can affect the texture of the food.
Use an even layer of curd/cheese: If you add curd or other type of cheese on top of the food to gratin it, make sure it is spread evenly to avoid uncovered or burnt areas.
Use an upper level of the oven: Place the dish on an upper level of the oven for an even gratin and to avoid overheating the dish.
Carefully monitor the gratin: Monitor the gratin to avoid burning or over-baking. You can cover the dish with aluminum foil to reduce the gratin speed and to avoid burns.
Let the food rest: After gratinating, let the food rest for a few minutes before serving. This will help distribute the sauce evenly and fix the flavors.
Try these sweet potato recipes from the blog: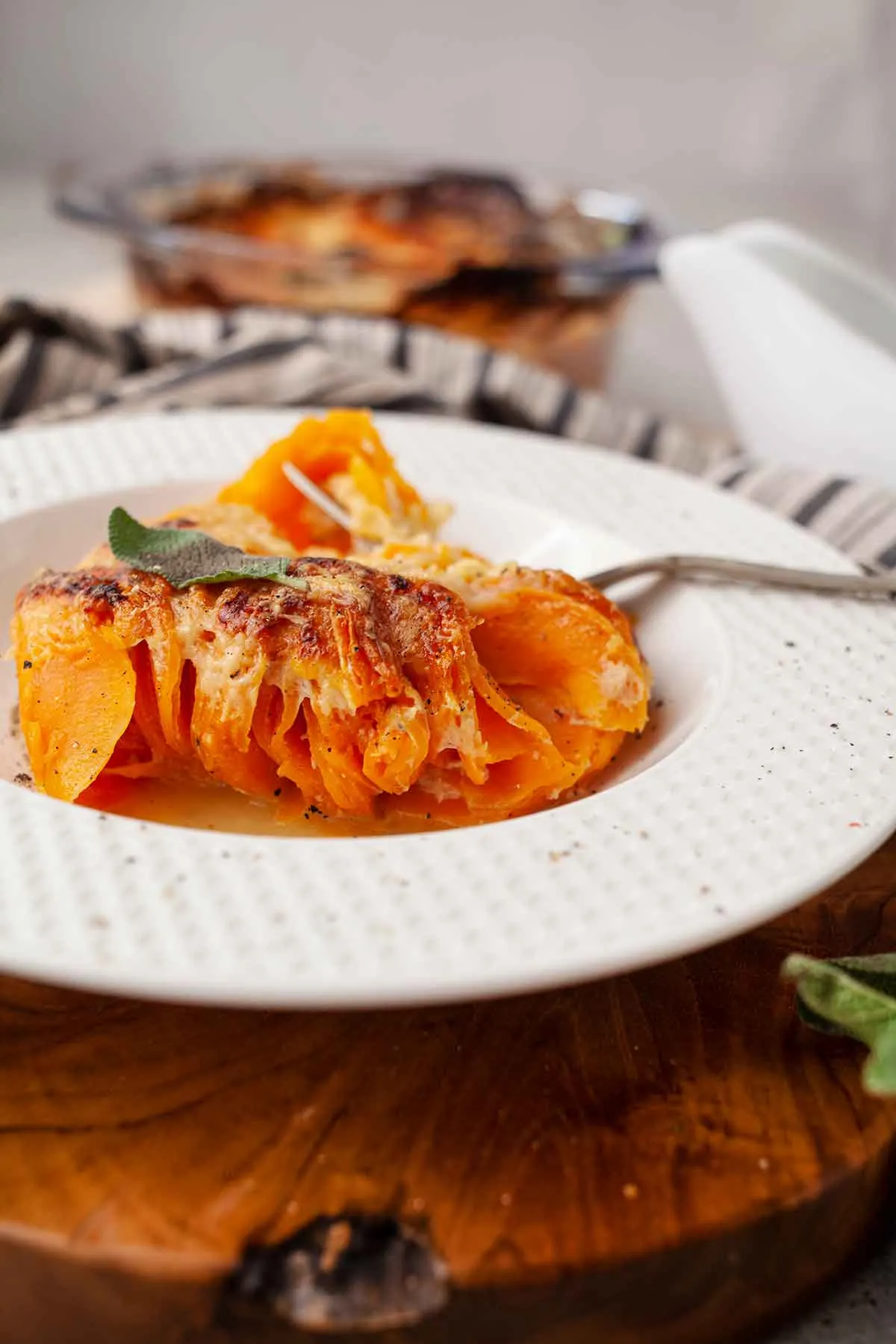 Tips for cooking sweet potatoes in the oven
Here are some tips and techniques you should keep in mind when cooking sweet potatoes in the oven to get the best texture and taste:
Clean the sweet potatoes well before cutting them. Remove any impurities and cut them into pieces of equal size to bake evenly.
Before putting them in the oven, brush them with oil to help them brown and bake evenly. You can also add spices to give them a delicious taste.
To bake them faster and make them more crispy, cut them thinner.
If you want to bake them whole, you can put them on a tray with baking paper and cover them. Let them bake for 30-45 minutes, depending on their size.
If you want to cut them into cubes, you can put them in a bowl, add oil and spices and mix well. Then put them on a tray with baking paper and bake for about 25-30 minutes.
If you want to give them a crispy crust, you can put them in the preheated oven at high temperatures for a few minutes before taking them out.
Therefore, by following these tips and techniques, you can get delicious and well-made oven-baked sweet potatoes. I hope you'll like this recipe!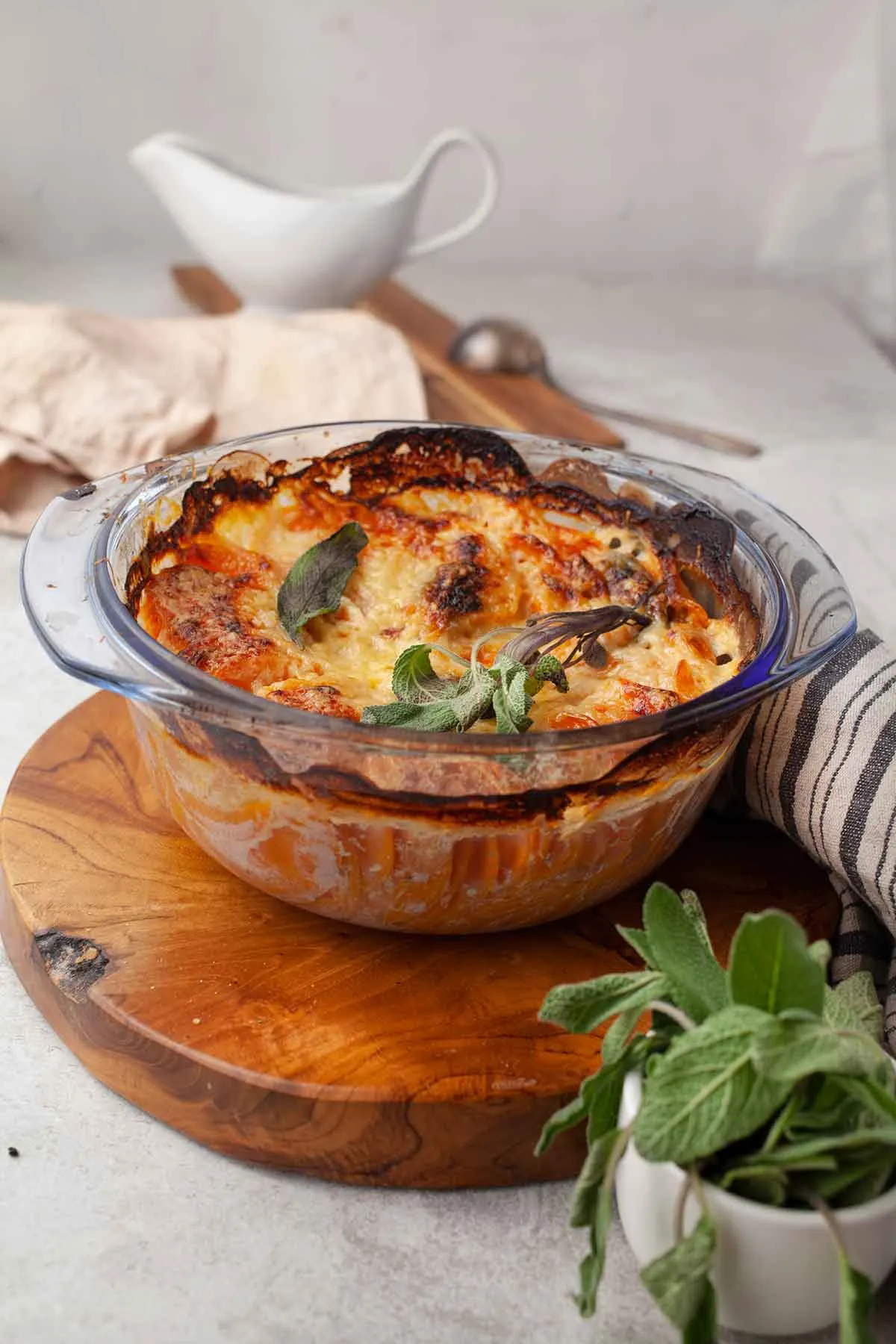 Yield: 6
Sweet Potato Gratin with Gruyere Cheese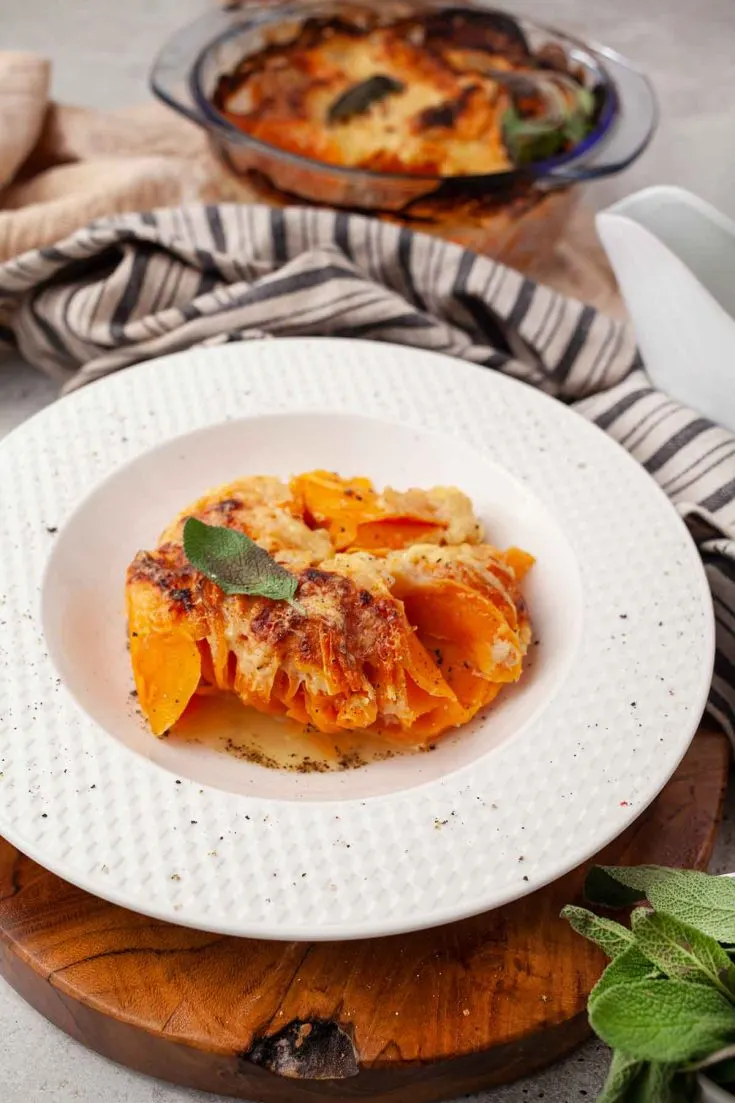 Indulge in the creamy and cheesy goodness of our Sweet Potato Gratin with Gruyere Cheese. This comforting dish is sure to be a crowd-pleaser, perfect for any occasion.
Total Time
1 hour
15 minutes
Ingredients
1 tablespoon of butter
4 sweet potatoes, peeled
2 cups of liquid cream
5-10 sage leaves
1 teaspoon salt
1 teaspoon pepper
1 cup grated Gruyere cheese
Instructions
Heat the oven to 180 C (365F).
Grease the gratin casserole with butter.
Cut the peeled potatoes into slices using a vegetable mandoline.
Put the potato slices in the casserole, arrange them like a ratatouille.
Pour the cream into a small saucepan and heat it over low heat, until bubbles appear on the surface, and the cream begins to boil. Remove the saucepan from the heat, add salt and pepper, add 5 sage leaves, cover and let the cream infuse for 5-10 minutes.
Pour the cream mixture over the potatoes in the casserole. Cover the casserole with a lid or foil.
Put the casserole in the oven for 40 minutes.
After 40 minutes, remove the casserole from the oven, sprinkle with Gruyere cheese and put it back in for another 10 minutes or until the cheese melts and turns brown.
Let it cool before serving.
Nutrition Information
Yield
6
Serving Size
1
Amount Per Serving
Calories

453
Total Fat

38g
Saturated Fat

24g
Trans Fat

1g
Unsaturated Fat

12g
Cholesterol

120mg
Sodium

582mg
Carbohydrates

18g
Fiber

3g
Sugar

7g
Protein

11g
I strive to keep the information as accurate as possible but make no warranties regarding its accuracy. I encourage you to make your own calculations using your preferred nutrition calculator.