This recipe is for all those of you looking for a little bit of comfort food. Here's how to make the ultimate spinach and cauliflower gratin! Give it a try!
For today's lunch I was craving something comforting, yet light. At the same time, I had some leftovers in my fridge that I didn't want to throw out (you know how much I hate food waste!), so I started thinking of dishes in which I could use them.
I had some cauliflower and spinach from our garden, plus some carrots, onions, goat cheese, and more.
An excellent idea quickly popped into my mind: what if I make a gratin? After all, it's one of the easiest dishes in the world and one of the most versatile as well – you can literally throw anything you want in your oven pan, then top it with cheese (as I did) and bake it until golden and delicious. So… a gratin it is!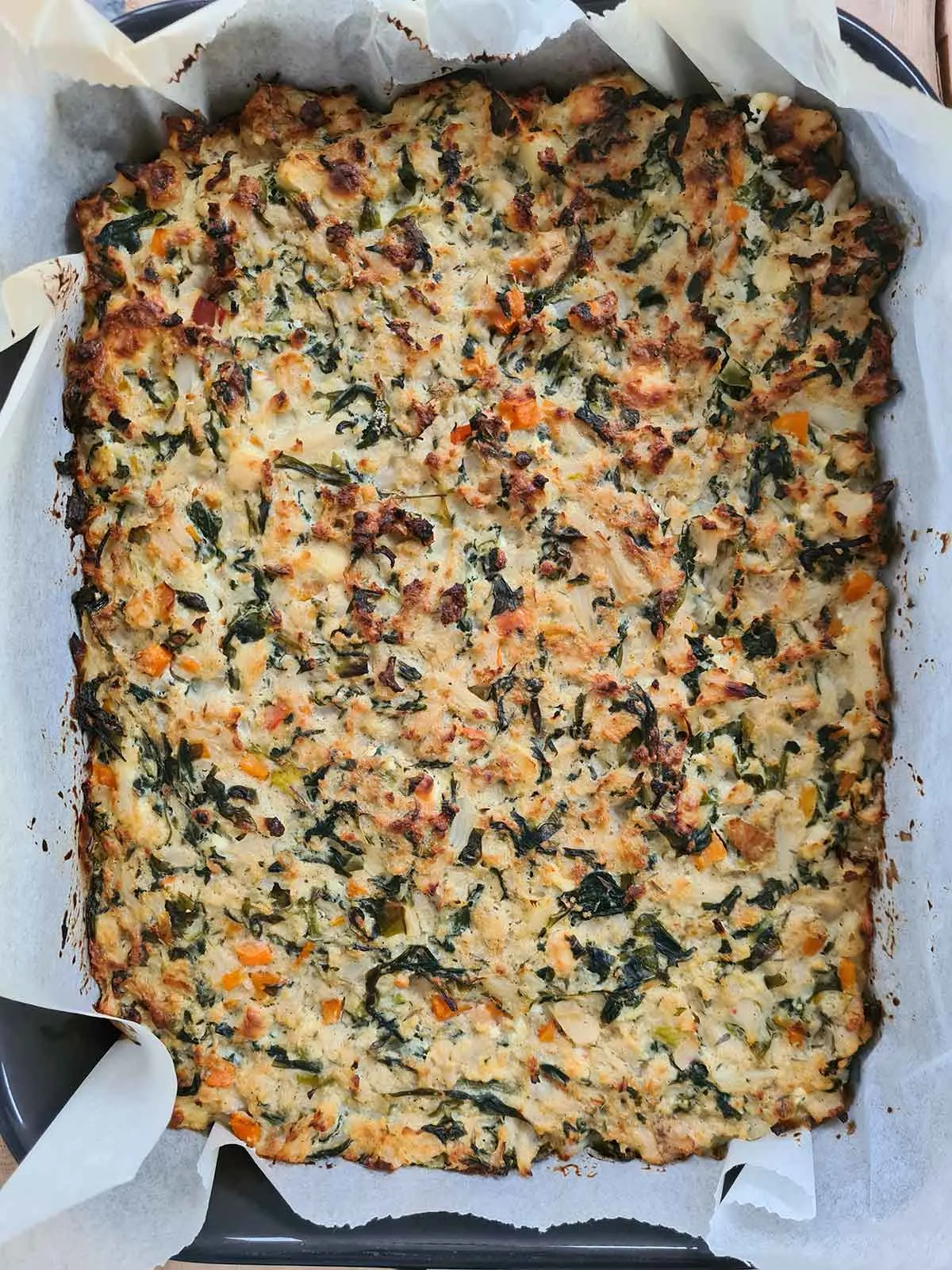 In case you don't know what a gratin is, I'll quickly explain it. A gratin is usually a casserole dish in which the ingredients are baked and lightly browned with a layer of cheese or breadcrumbs mixed with butter on top. You can transform a dish into a gratin by browning the top layer in an oven or under a grill, by baking or broiling.
And a fun fact, too: the term comes from the French "au gratin" or "gratinée"! The entire dish already sounds fancier, am I right? 🙂
What I love best about this recipe is that it's super versatile and extremely simple and easy to make. You can make it with literally any scraps you have in your fridge. If you top everything with lots of Parmesan cheese on top, I promise you will end up with a delicious dish to share with your entire family! 🙂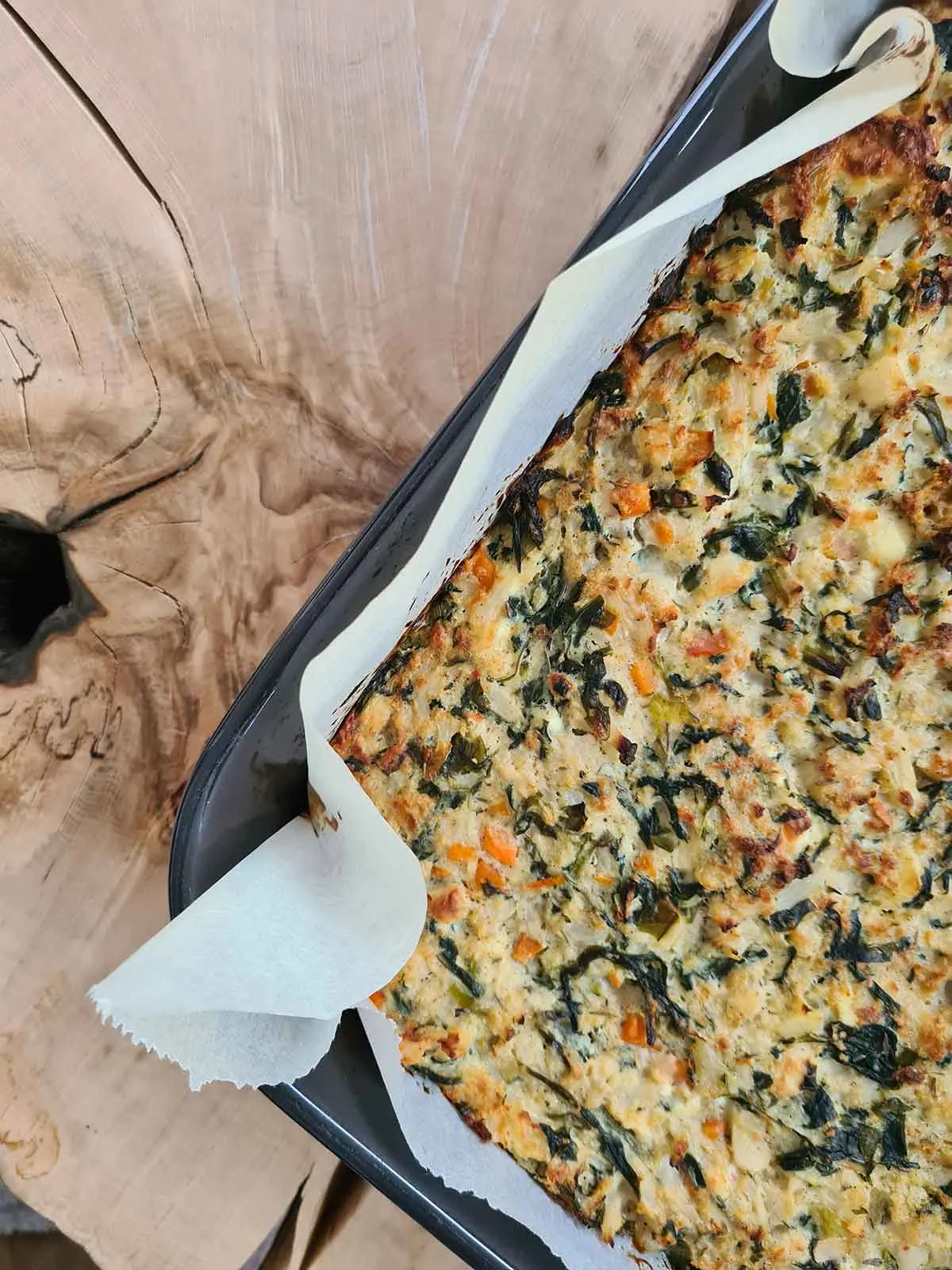 One of the best things about a gratin (except for all the advantages I listed above) is its texture. The veggies used inside such as the spinach or cauliflower will get creamy, while the top will brown and crisp. I think this is an excellent texture combo that will make the entire dish be less boring than you think. Each bite will be different!
TIP: You can use other herbs as well – for example, dill is an excellent addition to this dish, but unfortunately I didn't have it on hand at the time.
ALTERNATIVES: In case you're not a cauliflower fan or you don't have it available at the time, you can replace it with broccoli. It's equally good in this combo!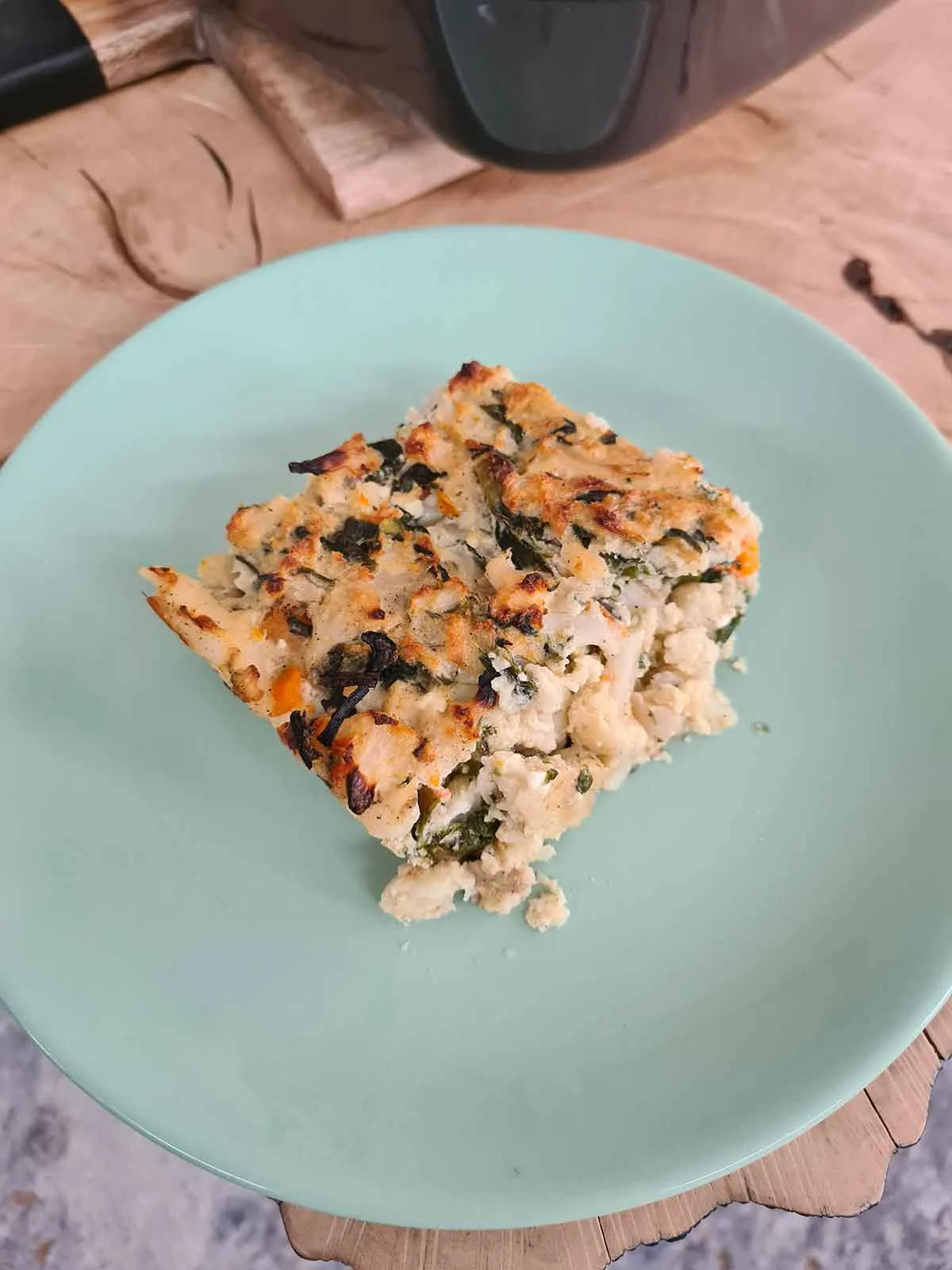 For this gratin, I used fresh spinach that I picked up from my garden. In case you'll make this recipe when fresh spinach is out of season, you can also use frozen spinach as well, but make sure to squeeze any excess water after unfreezing, otherwise, it'll completely change the texture of this dish.
I'd also add that the pictures don't really do justice to this dish – it's the type of food that tastes amazing, but isn't very photogenic. Still, I hope this won't stop you from trying this spinach and cauliflower gratin recipe – I promise you'll like it!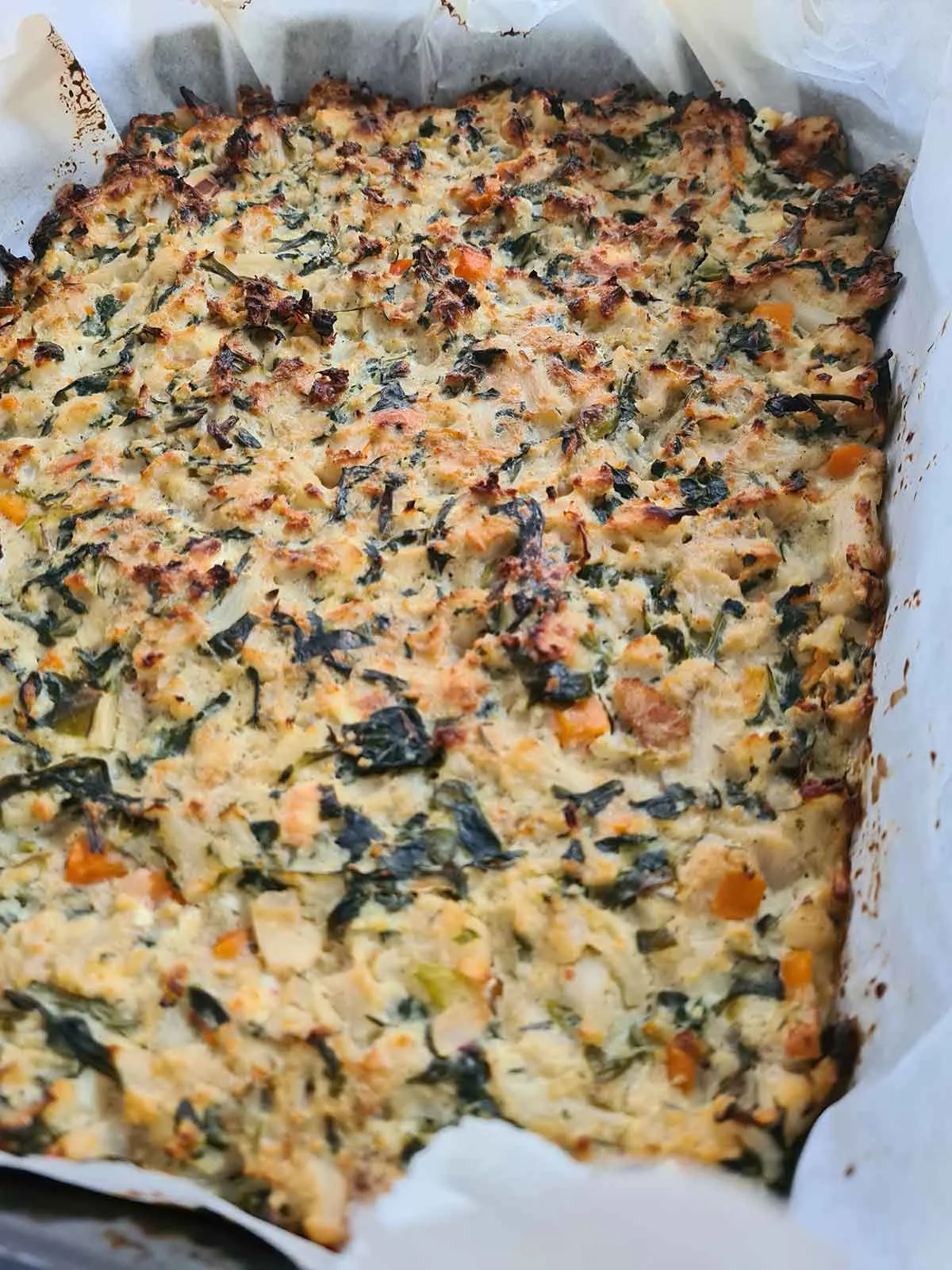 As for serving, you can either eat it as a main dish, maybe with a little bit of spicy sauce on top in case your mixture ends up being a bit dry. Or you can consume it as a side dish together with your choice of main – maybe some veggie patties or something similar, together with a side of green salad with a squeeze of lemon. I think this will make an excellent lunch option!
This being said, I'm already eager to share this recipe for spinach and cauliflower gratin with you all! You can find the step-by-step recipe down below (psst: once again, don't forget to add dill if you have it!) and I really hope you'll give it a try soon. In case you do, don't forget to tell me how it went, I'm always curious to read your comments, opinions, and questions.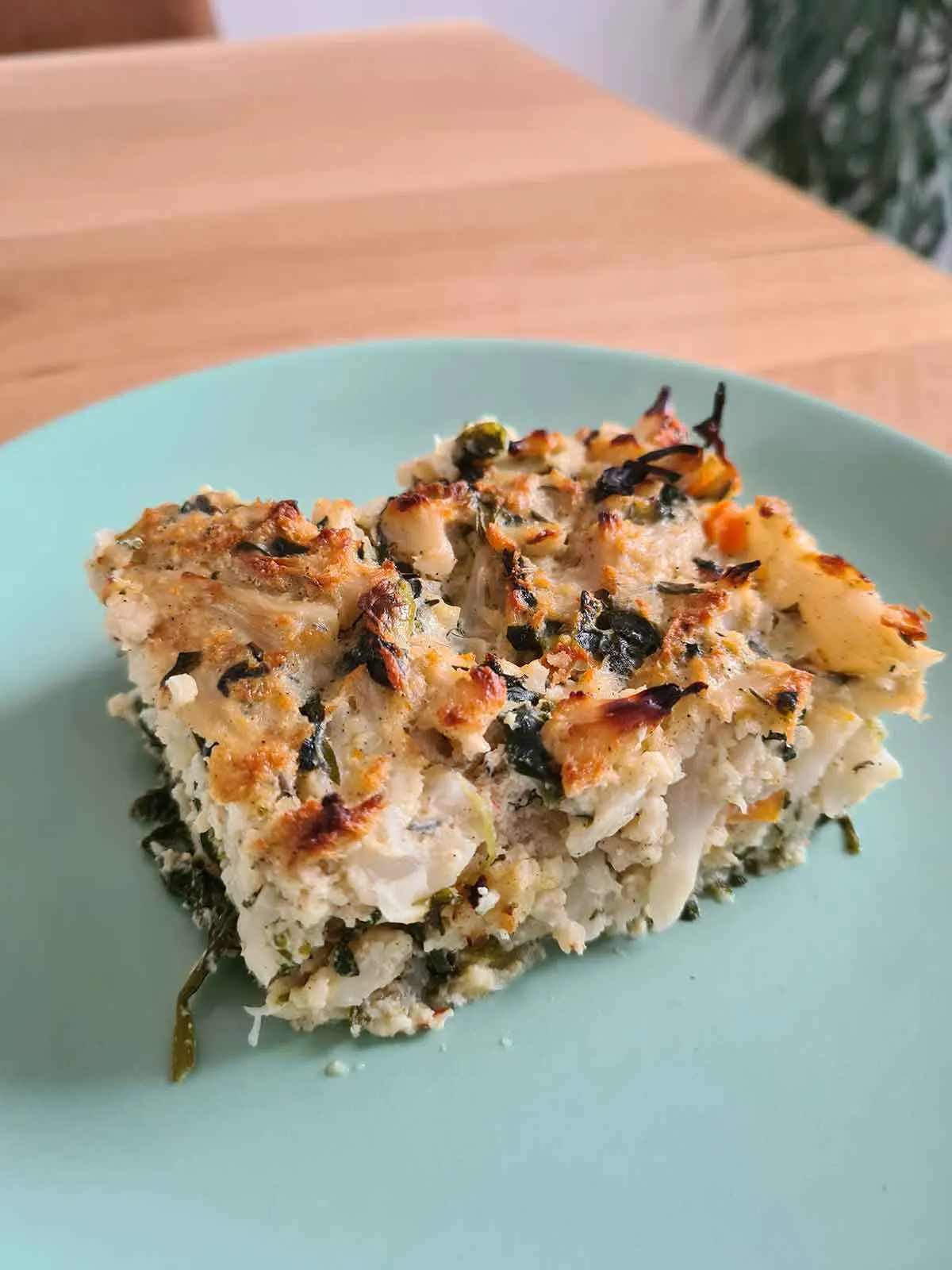 And in case you're looking for some other dishes similar to a gratin that use different ingredients than the ones in this recipe, here are some suggestions:
Happy cooking! 🙂
Yield: 6
Spinach and Cauliflower Gratin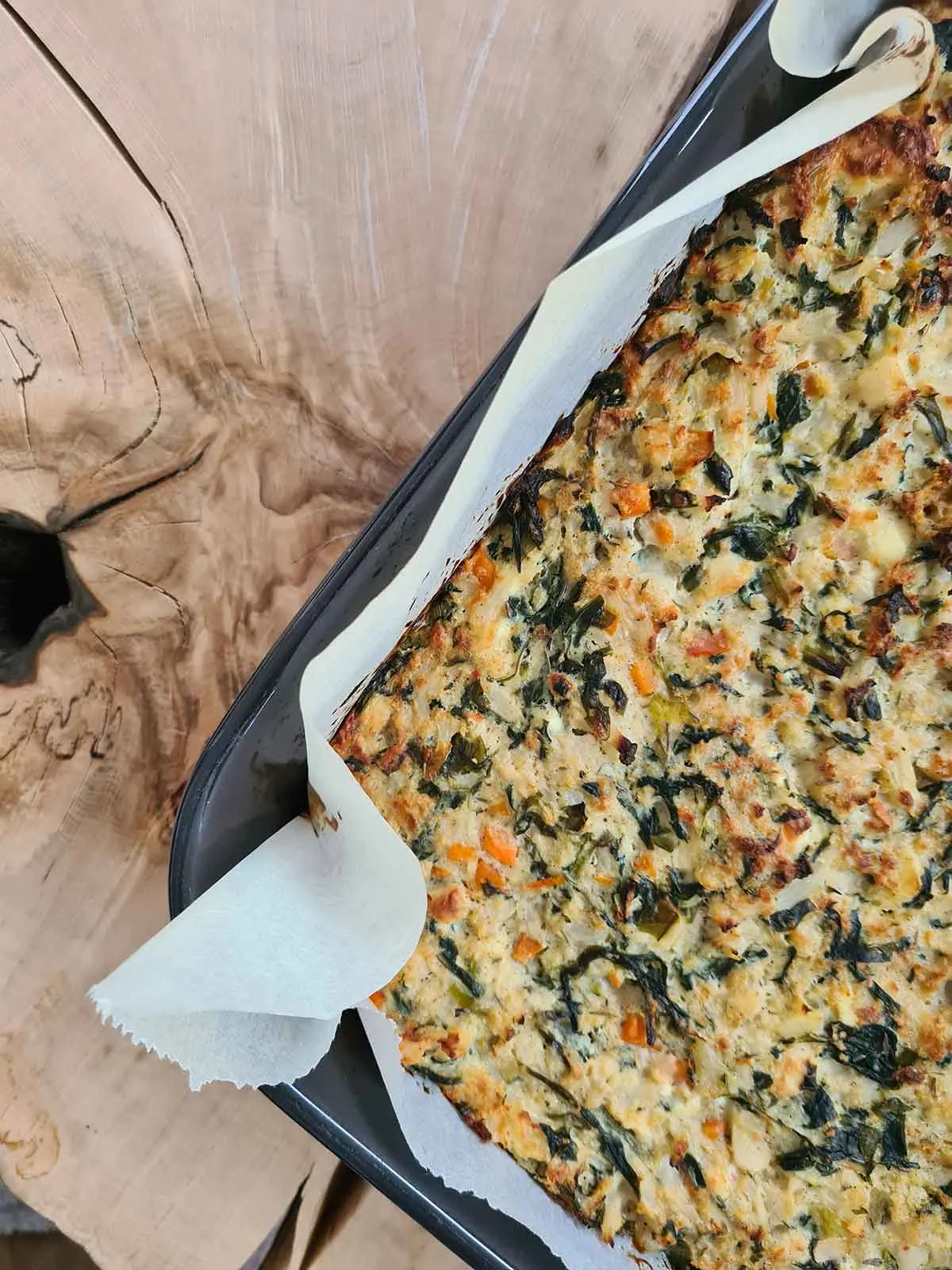 This recipe is for all those of you looking for a little bit of comfort food. Here's how to make the ultimate spinach and cauliflower gratin! Give it a try!
Ingredients
1 kg (9 cups) cauliflower florets, frozen
1 carrot, chopped
500 g (17.5 oz) fresh spinach, roughly chopped
1 large onion, chopped
6 garlic cloves, minced
2 Tbsps miso paste
3 eggs, beaten
100 g (~ 1 cup) Panko breadcrumbs
200 g (7 oz) hard goat cheese, grated
1 Tbsp ghee
4 Tbsps Parmesan cheese, freshly grated
salt and pepper, to taste
Instructions
Heat the ghee or butter in a large pan. Add the onion and garlic and saute for 2 minutes. Add the frozen cauliflower florets and chopped carrot and cover with a lid. Cook on medium heat for 15 minutes.

Add the spinach and cover again with a lid. Cook for 5 more minutes or until wilted.

Remove from heat. Add the miso paste, beaten eggs, grated goat cheese, seasonings, and breadcrumbs. Mix well.

Cover a casserole oven pan with some parchment paper. Pour the mixture into the pan and spread evenly.

Sprinkle grated Parmesan cheese on top and bake in the oven, at 200C, for 25 minutes.

Let it cool a bit before serving.
Nutrition Information
Yield
6
Amount Per Serving
Calories

308
Total Fat

15g
Saturated Fat

8g
Trans Fat

0g
Unsaturated Fat

5g
Cholesterol

117mg
Sodium

728mg
Carbohydrates

28g
Fiber

7g
Sugar

7g
Protein

19g
I strive to keep the information as accurate as possible but make no warranties regarding its accuracy. I encourage you to make your own calculations using your preferred nutrition calculator.