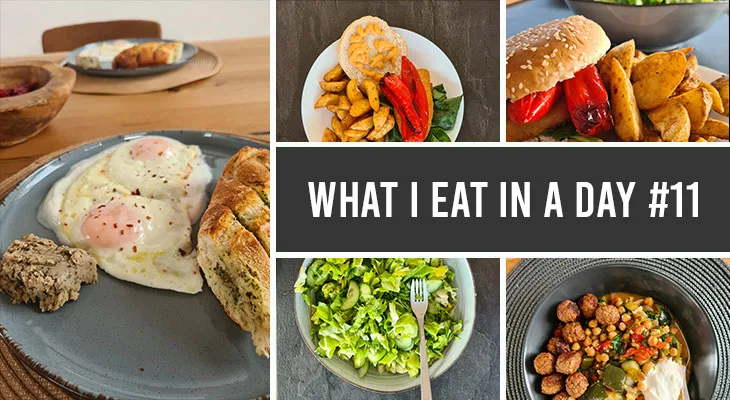 Discover the entire series of posts "What I eat in a day" here.
Recipes: Sunny-side up eggs with garlic butter baguette; vegan schnitzel burger with potato wedges and salad; veggie balls with chickpeas stew.
Breakfast
If you've been following this blog for a while, I'm sure you know that I'm such a big fan of savory breakfasts! Although I occasionally eat a bowl of yogurt and fruit first thing in the morning, sprinkled with homemade granola or grated dark chocolate, my usual go-to meal is a savory one. And if it includes creamy eggs and some kind of crispy bread, I'm in heaven!
That was the case today as well. I was craving my ultimate comfort breakfast, so I made two sunny-side-up eggs, sprinkled with smoked Maldon sea salt for a bit of extra unique flavor.
By the way, for those of you who don't know, Maldon salt is a special type of gourmet, pyramid-shaped salt made in an English town called Maldon. This type of salt is made using traditional methods dating from Roman times. The smoked version is one of my favorites – it's really good and it has an intense flavor, perfect for sprinkling on top of fried eggs and many other dishes.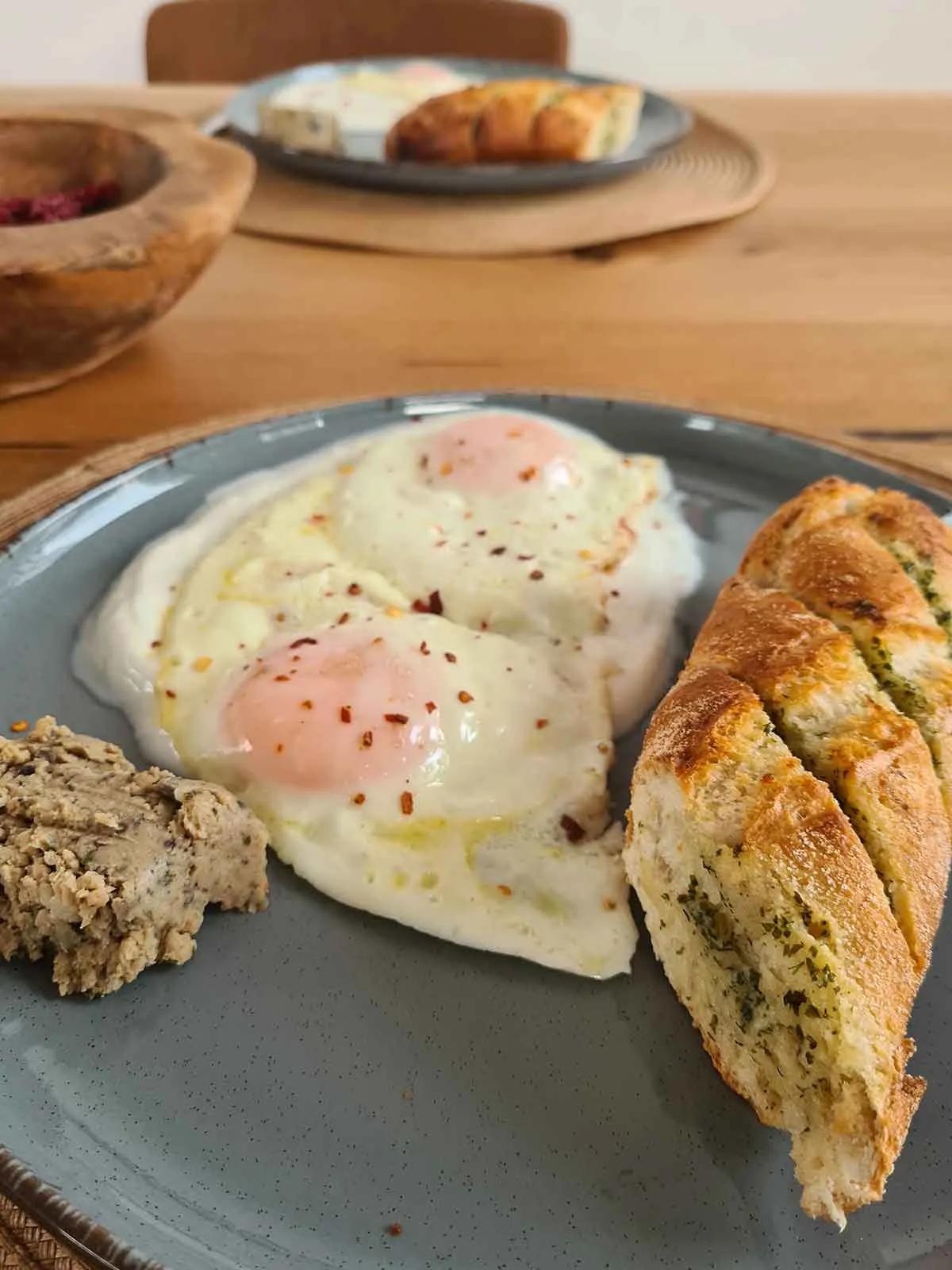 I served these with half of a baguette. And not just any baguette, I'm talking about butter and garlic infused crunchy baguette! I absolutely love these frozen ones that I buy from Lidl – I always have a stash on hand, in my freezer. It's crunchy, flavorful, and super delicious!
I also added a dollop of vegetarian mushroom pate on the side. Such a great combo!
If you're a creamy pate lover just like me, here are some additional recipes that I often make:
All in all, today's breakfast was filling and flavorful, with a super creamy yet crunchy combo of textures.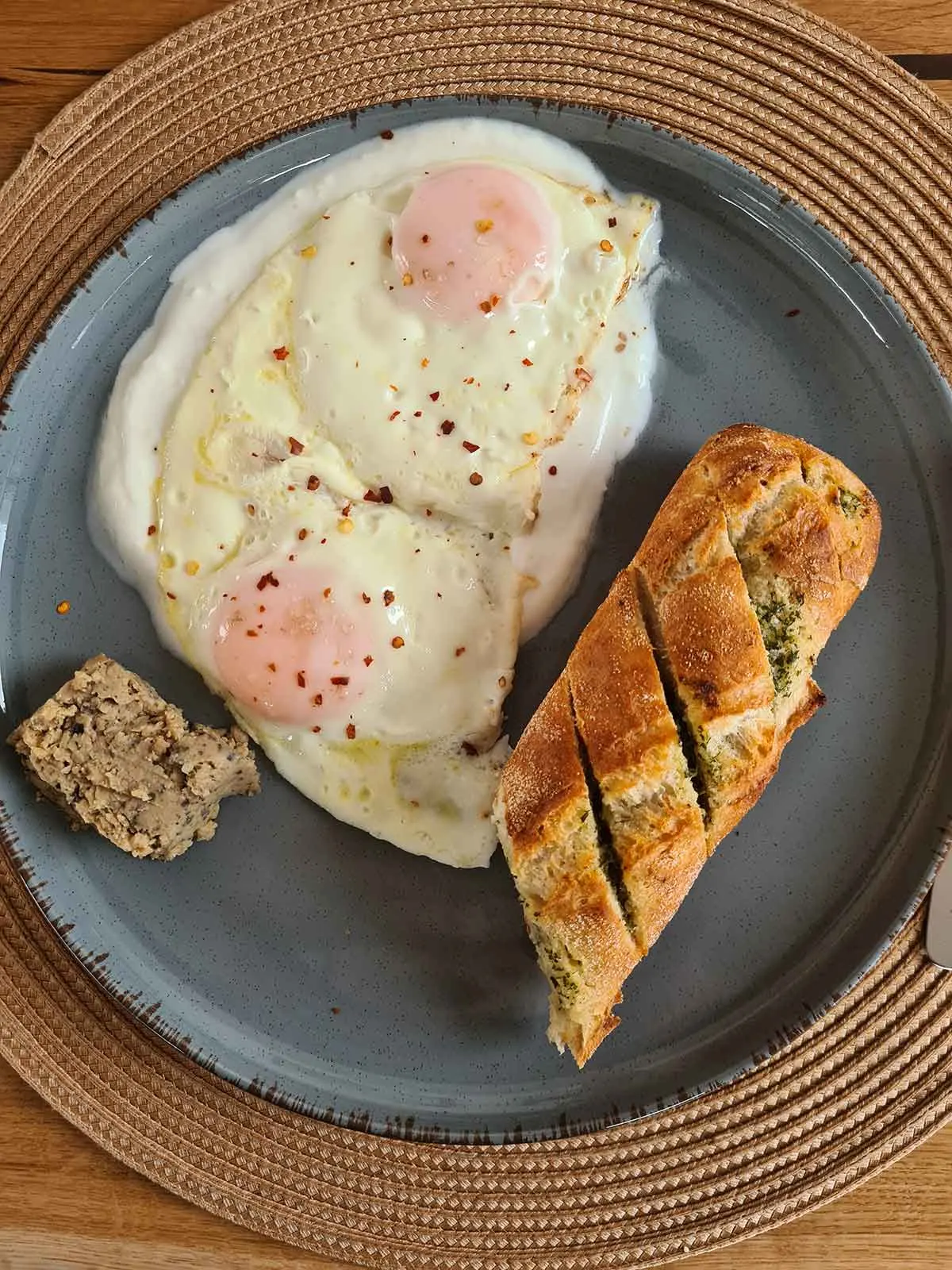 Lunch
Because I had a day full of work ahead that started early in the morning, I knew I needed a boost of energy at lunchtime.
I was craving some burgers with a side of potatoes and a huge salad with greens and veggies from the garden. So that was settled.
For the burger, I decided to not make a homemade patty today because I was lacking time… and I was a bit lazy as well. Hey, it happens, we're all human here! Instead, I used the vegan schnitzels from Naturli. And because I have a strict policy of "no frying" in the house, a policy that I follow strictly, I baked the schnitzels in the oven, just like I do every time.
I know, I know, it may sound boring to bake your schnitzels instead of frying or deep-frying them. But they're excellent this way, with no drop of oil added, trust me!
In order to make the burger juicier (we all hate a dry burger, right?), I also roasted some red seedless peppers. For the sauce, I used some store-bought Hellmans burger sauce because, in all honesty, I was lazy. I told you! I usually prepare a homemade sauce made of equal parts mayo, mustard, and ketchup, plus a little bit of sriracha. For me, that homemade version is the best burger sauce and it works well in so many combos!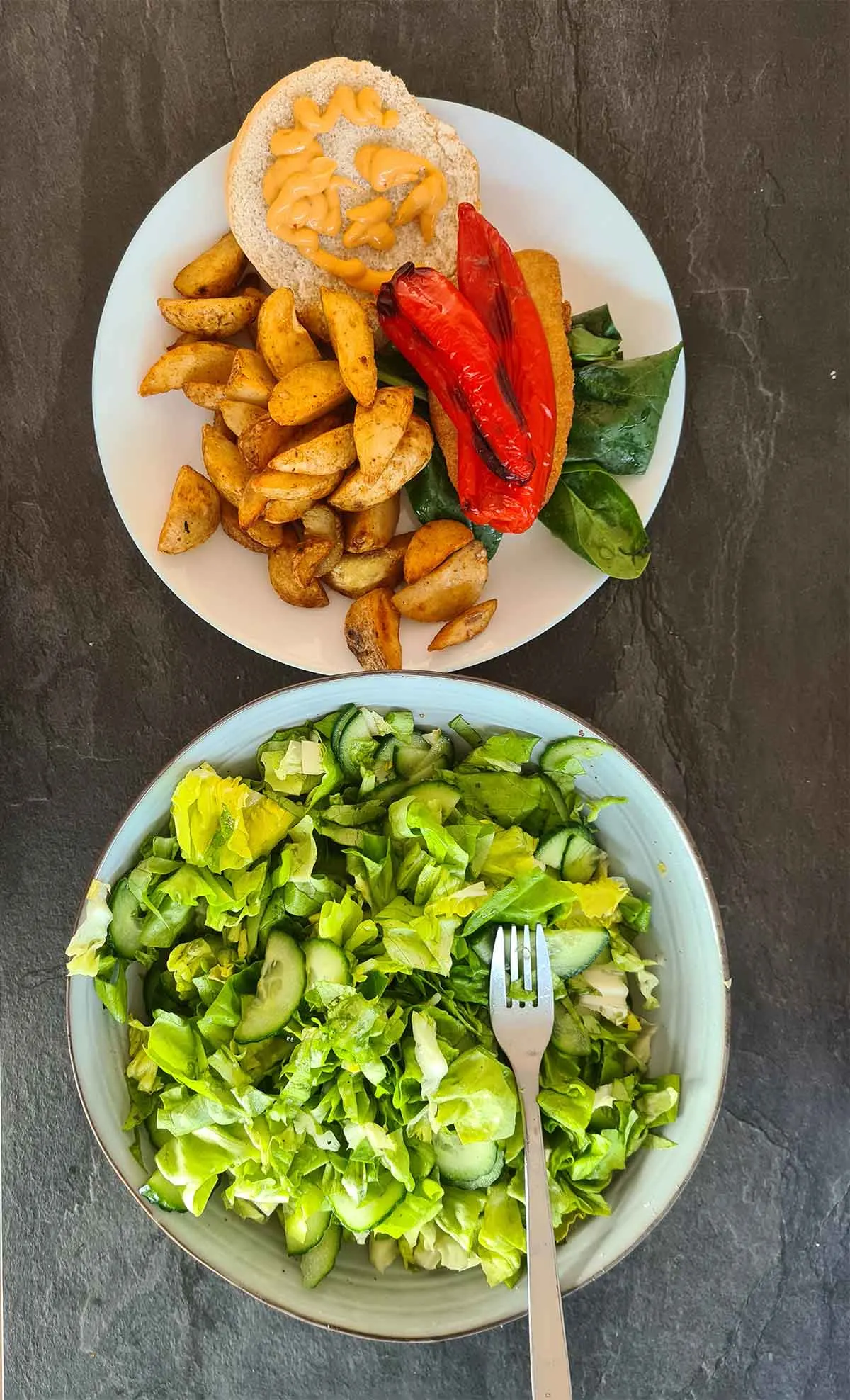 Since I was already baking my schnitzels and peppers, I also threw in the oven pan some wedges as well, to serve on the side. And because the entire meal was already a bit on the heavy side, I decided to serve everything with a huge salad with plenty of greens, freshly picked from our garden. It was absolutely delicious!
By the way, in case you want some more interesting vegan or vegetarian burger recipes for inspiration, take a look at the following list: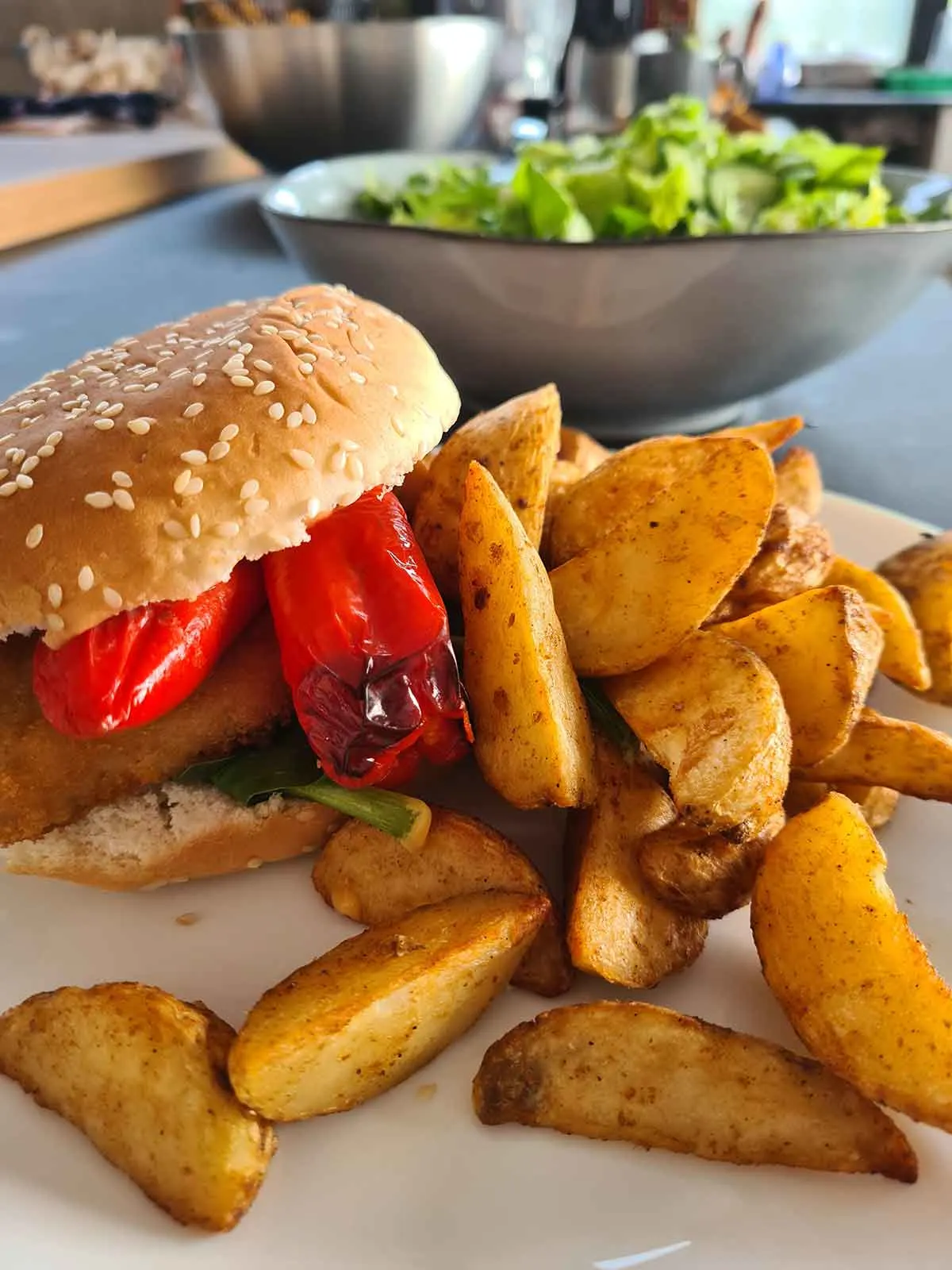 Dinner
After that filling and delicious lunch, we decided to take it easy for dinner. So I prepared some Naturli veggie balls, which I baked in the oven (of course!) and served with a light veggie stew on the side.
In order to speed things up, I used the frozen Ratatouille veggie mix from Carrefour. I've mentioned it before in the "What I eat in a Day" recipe series because I use it really often. It's ideal for me – it has baked eggplant, zucchini, red bell peppers, and more.
For a boost of protein, I also added a can of chickpeas, which I drained and washed really well beforehand. I spiced my veggie stew with some Arabic spices and I also added a spoonful of full-fat Greek yogurt on top at the end.
What a combo! Super flavorful, filling yet not that heavy on the stomach. I definitely recommend you try it, especially if you're short on time, as all the main ingredients (the veggie balls and the veggies) are frozen and ready to use in the oven or a pan.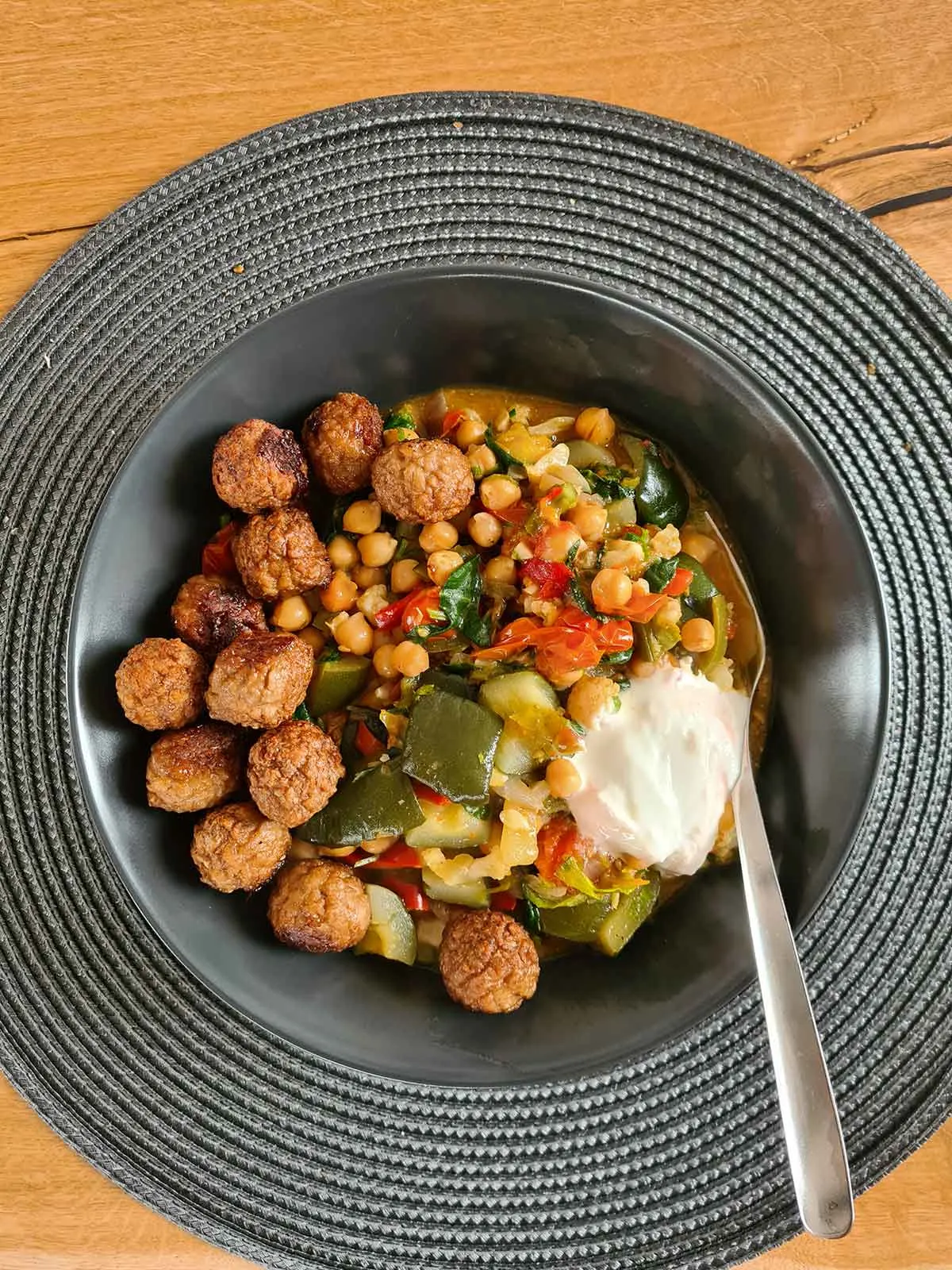 I hope you got some inspiration from today's menu! 🙂