Looking for a yummy lunch recipe? Here's how to make the best broccoli-quinoa burger. Healthy, easy, and packed with proteins!
You may already know how much I love vegan patties. Ah, they were my go-to meal for breakfast, lunch, and dinner for such a long time! After all, what's not to love here?
Veggie patties are the definition of versatility, as you can make them with whatever vegetables, grains, or beans you have on hand a little bit of flour. They're also extremely easy to make; the most complicated step is forming them with your hands (and let's face it, that's totally doable). And they're healthy too and you can adapt them to your nutritional needs and preferences! 😉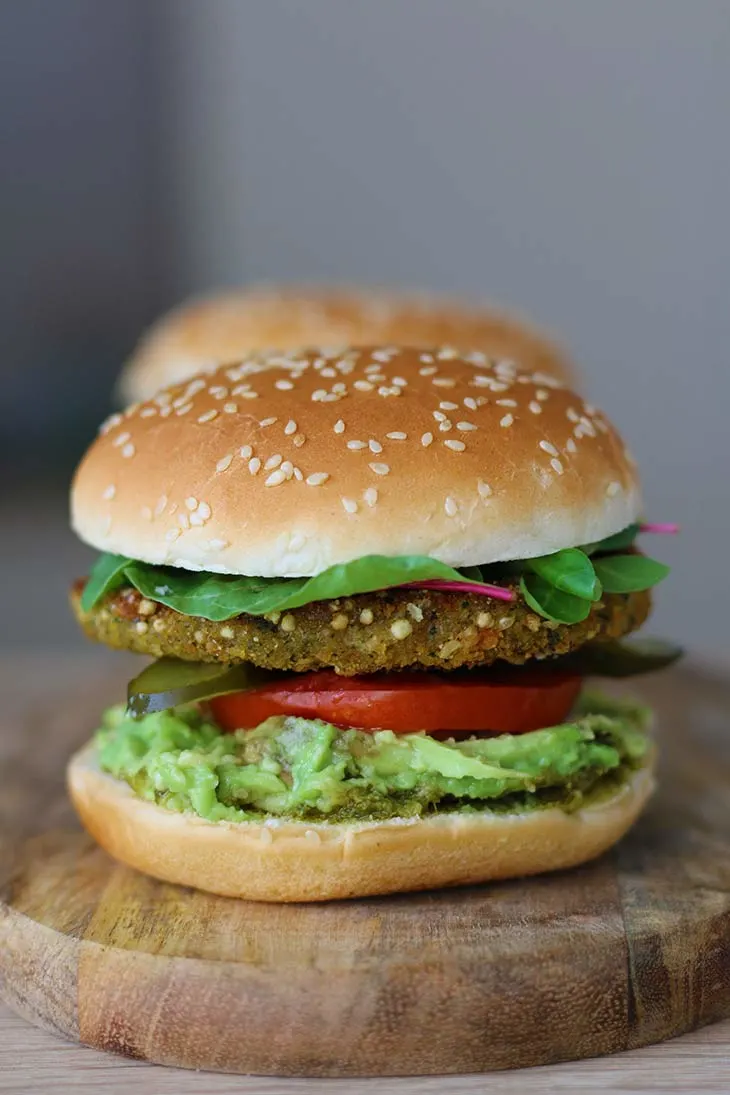 I've made plenty of vegan burger patties before, here are just some of them for inspiration:
And I'm not even done! But that should be enough for now. If you want to find more of my vegan patty recipes, you can click here. Andi f you want to learn how to put together THE ultimate veggie burger, I have created this guide especially for you.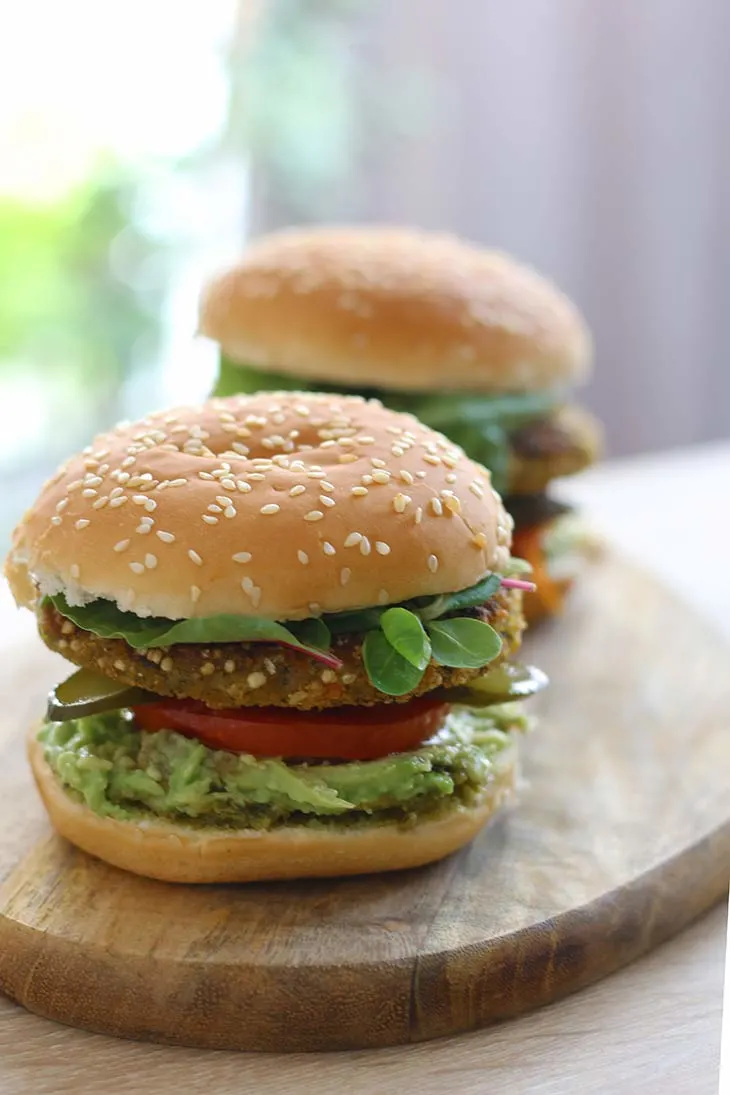 Today's recipe for a broccoli-quinoa burger is healthy, filling, and extremely easy to make. You can make the patties in less than half an hour, which makes them a perfect idea for a quick lunch. You know… when you have one of those days when your schedule is SO full, you can't even think about cooking something complicated. That's when this broccoli-quinoa burger comes in!
This broccoli-quinoa burger has two main ingredients: broccoli and… quinoa, of course. But I also added a tomato in the mix, as well as an onion and some garlic, fresh parsley, some breadcrumbs, psyllium husks, and lots of yummy spices. These patties ended up super high in proteins in extremely yummy!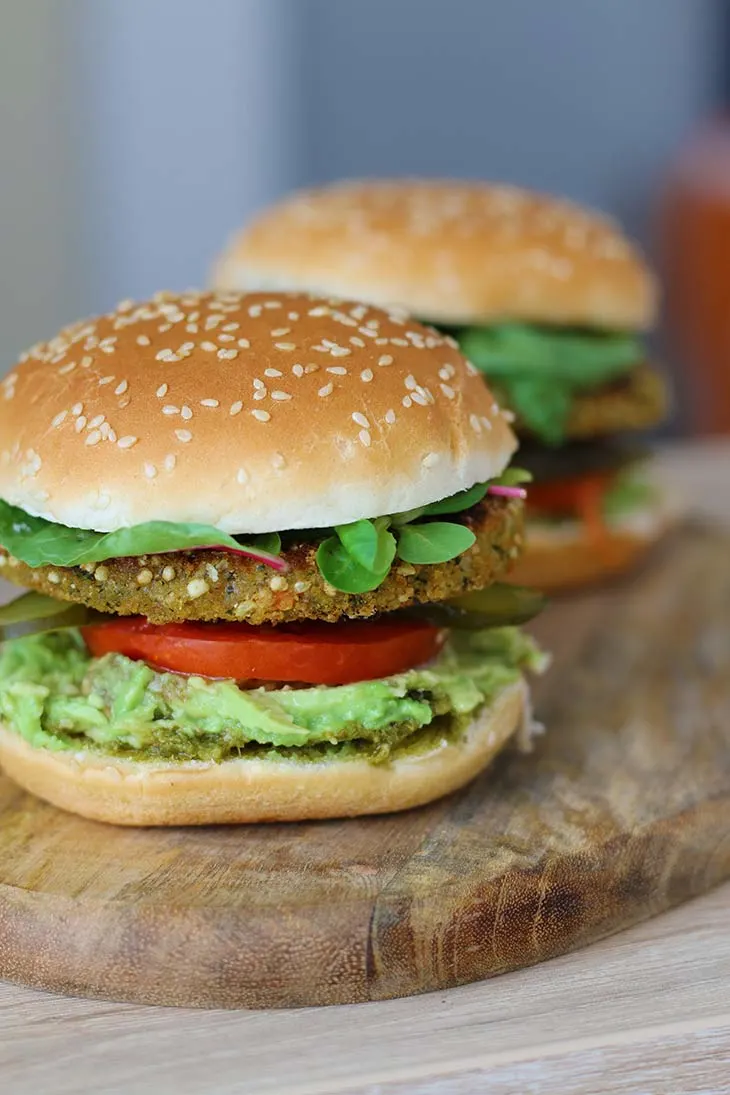 Quinoa is a protein-rich, fat-free seed (nope, not grain!) that digests in no time, which means it's both healthy and easy on the stomach. Broccoli, on the other hand, is rich in proteins and fibers, which makes it an ideal candidate for this yummy burger! And even if it doesn't sound like it… I'm pretty sure even your kids will love these healthy patties, especially if you "hide" them inside a burger.
The best thing about this recipe is that you probably already have most of the ingredients at home already. And after the patties are done, you can assemble your burger as you please. I used some burger buns, a big tomato, one avocado, pickles, salad mix, a bit of pesto, and a bit of mayonnaise.
Sounds amazing, right? That's because it is! But you feel free to change and adapt your burger ingredients as you please. You can add some cucumbers if you want or some charred red bell pepper. Make it your own!
And if you don't feel like eating a burger today, that's fine as well. You can serve these broccoli-quinoa patties as they are, with a little bit of sauce (you can find some saucy inspiration right here) and with a salad on the side. Or some grilled vegetables. Or some kale. Or you can serve them with some mashed potatoes, the possibilities are pretty much endless here.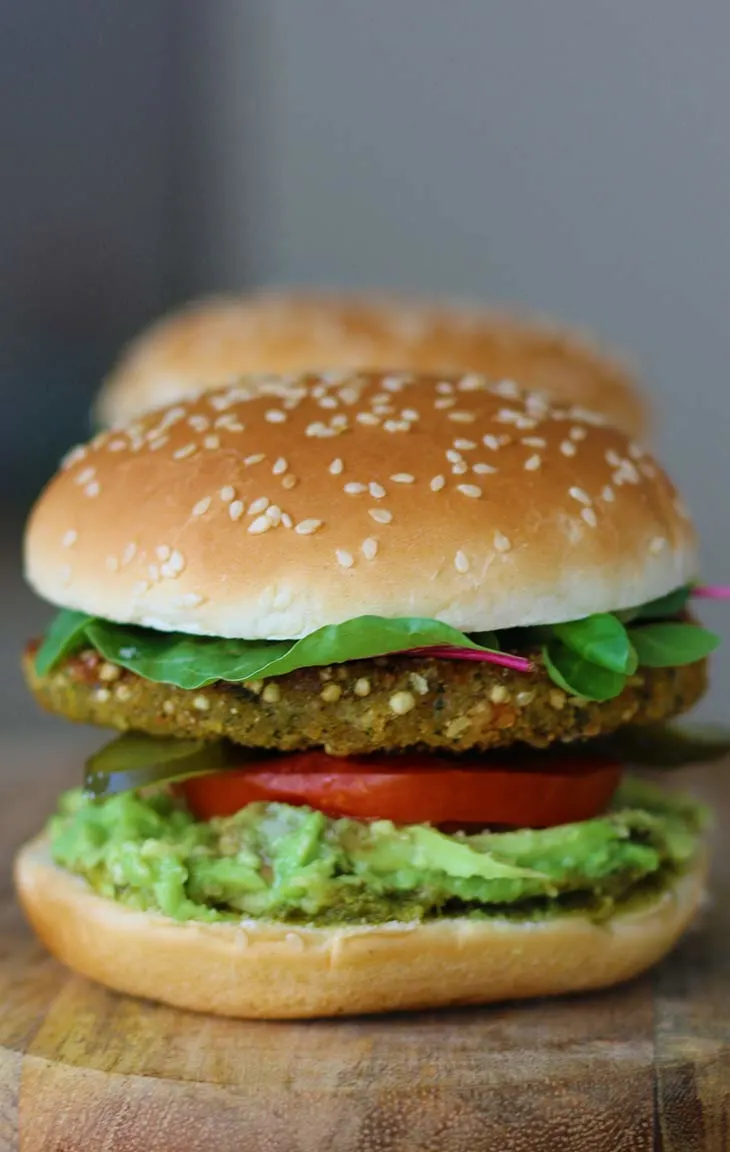 Heck, you can even serve these patties for breakfast, who's gonna stop you? They work perfectly in a simple sandwich or with some tomatoes and red bell pepper on the side and a dip – maybe this tzatziki? The more I think about it, the more ideas come to mind. I'm curious to see how YOU are going to choose to serve these patties!
And here's another choice for you: you can either fry the patties or bake them in the oven. Each one of these options has its own advantages. Frying means the patties will be ready in no time and they'll also gain an incredible crunch on the sides. Yum! But baking them in the oven means the result will be a bit healthier, as there will be no oil implied. The choice is yours again.
Ah, so many advantages, so little time! I urge you to try this broccoli-quinoa burger soon, otherwise, you'll surely regret it! This patty recipe is high-protein, meal-prep friendly, freezer-friendly, vegan, and super yummy. So let's gather our ingredients and head to the kitchen.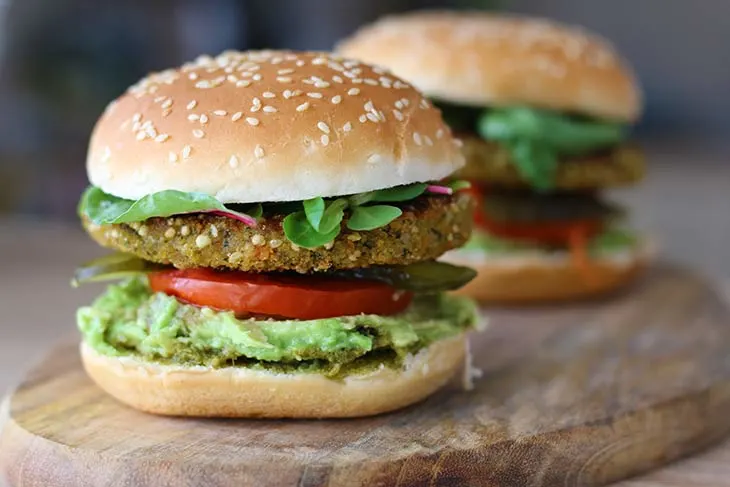 And if you decide to try this broccoli-quinoa burger soon, don't forget to come back here and let me know how it went. I'm so curious to find out what ingredients you used in your burger!
Until then, I wish you happy cooking and happy eating!
Yield: 4 people
Broccoli-Quinoa Burger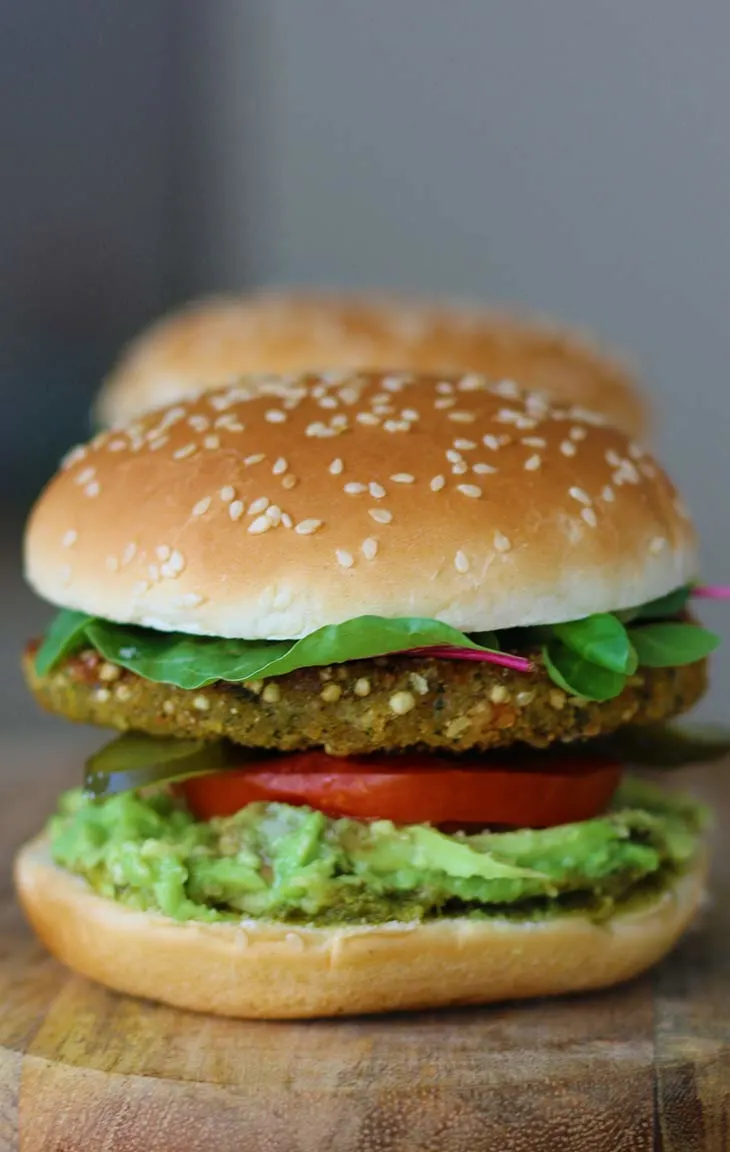 Looking for a yummy lunch recipe? Here's how to make the best broccoli-quinoa burger. Healthy, easy, and packed with proteins!
Ingredients
For the patties:
100g (1/2 cup) white quinoa, boiled
300g (4 1/4 cups) fresh broccoli, you can use frozen broccoli too if you unfreeze it before using
1 big tomato, thinly sliced
1 onion, sliced
a few Tbsp fresh parsley, chopped
2 garlic cloves, crushed
4 Tbsp breadcrumbs
1 Tbsp psyllium husks or ground flaxseed - alternatively you can use 1 big egg, beaten
1 tsp thyme
1 tsp ground coriander
oil, for frying
salt and pepper, to taste
For the burger:
4 burger buns
1 big tomato, sliced
1 avocado, ripe
2-3 pickles
salad mix
mayonnaise, 1 Tbsp per burger
green pesto, 1 Tbsp per burger
Instructions
Make the patties:
Add the boiled quinoa and broccoli into a robot and mix until you end up with a paste. The paste doesn't have to be creamy, you just need to combine the 2 ingredients. Move the composition to a bowl and mix with the rest of the patty ingredients.
TIP: Leave the bowl in the fridge for 30 minutes if you want to form the patties easily.
Heat some oil in a large, non-stick pan on the stove. Add the patties, one by one.
Lightly fry them on both sides. Leave them to drain on a plate with a kitchen napkin on it.
Assemble the burgers:
Smear the mayonnaise and pesto on each burger bun.
Add 1 patty, 2-3 tomato slices, pickles, salad leaves, 1/4 avocado (mashed) for each burger.
Enjoy!
Nutrition Information
Yield
4
Amount Per Serving
Calories

507
Total Fat

28g
Saturated Fat

5g
Trans Fat

0g
Unsaturated Fat

21g
Cholesterol

56mg
Sodium

731mg
Carbohydrates

53g
Fiber

11g
Sugar

9g
Protein

16g
I strive to keep the information as accurate as possible but make no warranties regarding its accuracy. I encourage you to make your own calculations using your preferred nutrition calculator.