In case you're on the search for a quick, healthy snack, look no further! Here is an amazing recipe for vegan pesto pinwheels – yummy and child-friendly too!
Remember my last pinwheels recipe? If you didn't check it out, I'd suggest you take a look: amazingly delicious pizza pinwheels. They were such a huge success at our last friends gathering that I decided to step it up a little bit and think about what else could make a good pinwheel filling! 🙂
And I don't want to brag but I think I've hit the jackpot! Hear me out, just one word: pesto! Actually, I must admit it wasn't even my idea. I was brainstorming with my best friend and she suggested that I try making vegan pesto pinwheels. I instantly felt that she was on to something so I gave it a try. I even had some homemade pesto in my fridge at the moment so it felt like it was meant to be.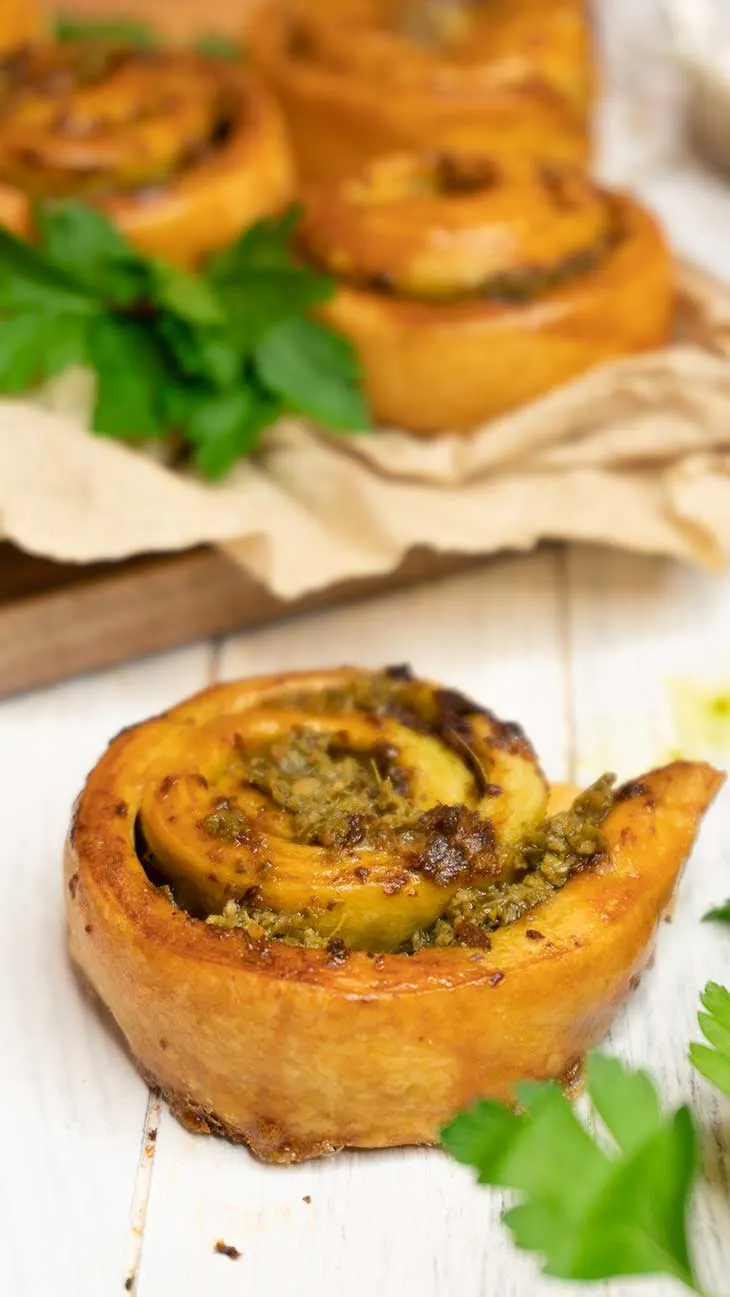 And actually I think it really was! I didn't even need to make any trial rounds: it came out perfect from my first try. Whenever I try out a new recipe, especially if it's a recipe that I come up with from scratch, I make a few trial rounds before I'm 100% satisfied with the result.
I always want to make sure that my recipes are at their best when it's time to share them with you! 🙂 But this recipe took me by surprise – the vegan pesto pinwheels were so good, I didn't need to change a thing. That's rare!
The idea behind this recipe is super simple. Pinwheels foods are designed to be fast to make, super delicious and completely shareable. They're the perfect dish for a party or any type of social gathering, as they come in bite-sized bits, perfect to serve as many guests as needed. And these pesto pinwheels are no exception.
There are just two things that you need in order to make these vegan pesto pinwheels: pizza dough and, of course, pesto.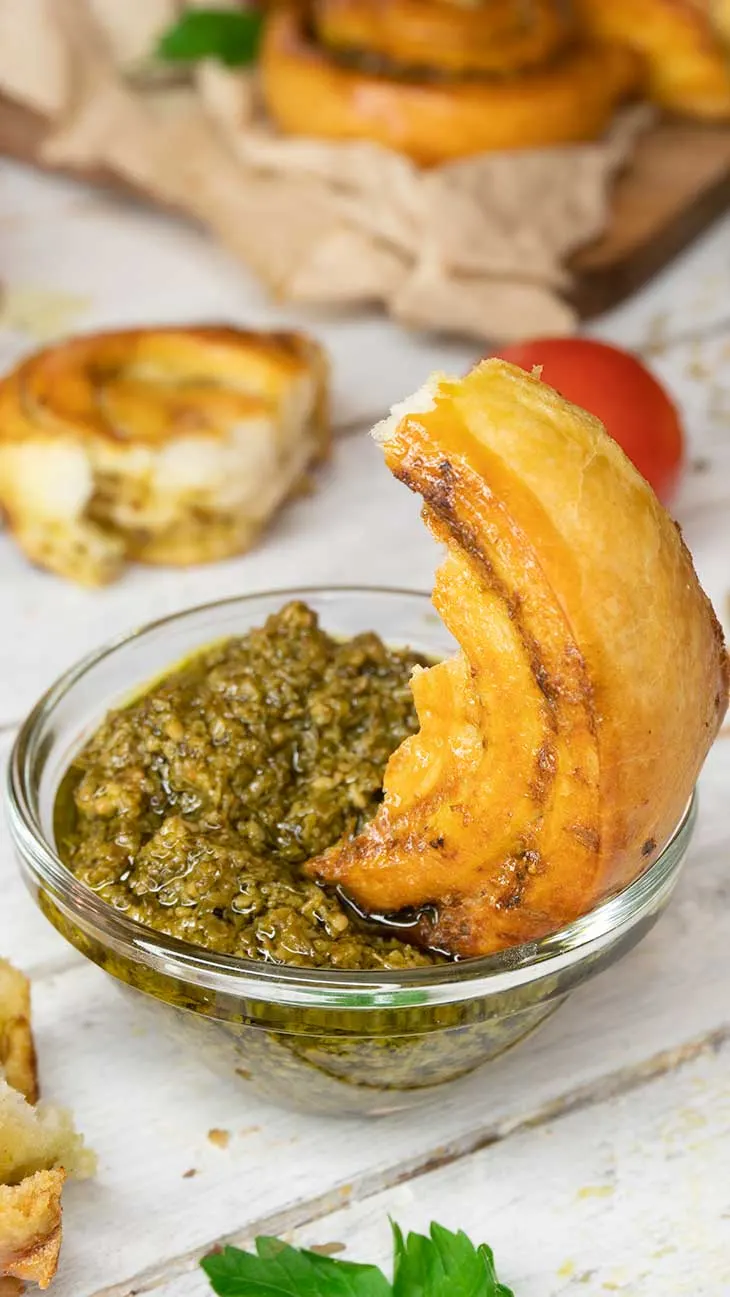 If you've got these two ingredients, you're good to go. But of course, this would be just a really really basic version. For more flavorful pesto pinwheels, there are other toppings that you could add. My instinct tells me that some sundried tomatoes and garlic would fit in here perfectly. Maybe some fresh basil and hmm… pepper as well! That's just my imagination running wild around this recipe and I encourage you to do the same!
The fun thing about these pinwheels is that they can be fully adapted to your taste. There is no right or wrong way to do it. If it tastes good to you and your guests, then it's 100% perfect!
When you're having people over, food can turn into a source of anxiety. When you're the host, you're supposed to be responsible for the general atmosphere of the gathering. And food plays a large part in that! Cooking for a large number of people is challenging a great number of ways.
Even cooking for two or three people could be hard, but what about if you're maybe having ten people over. It can be expensive, really time-consuming and hard to fit everyone's taste. These vegan pesto pinwheels could really be a lifesaver in a situation like that!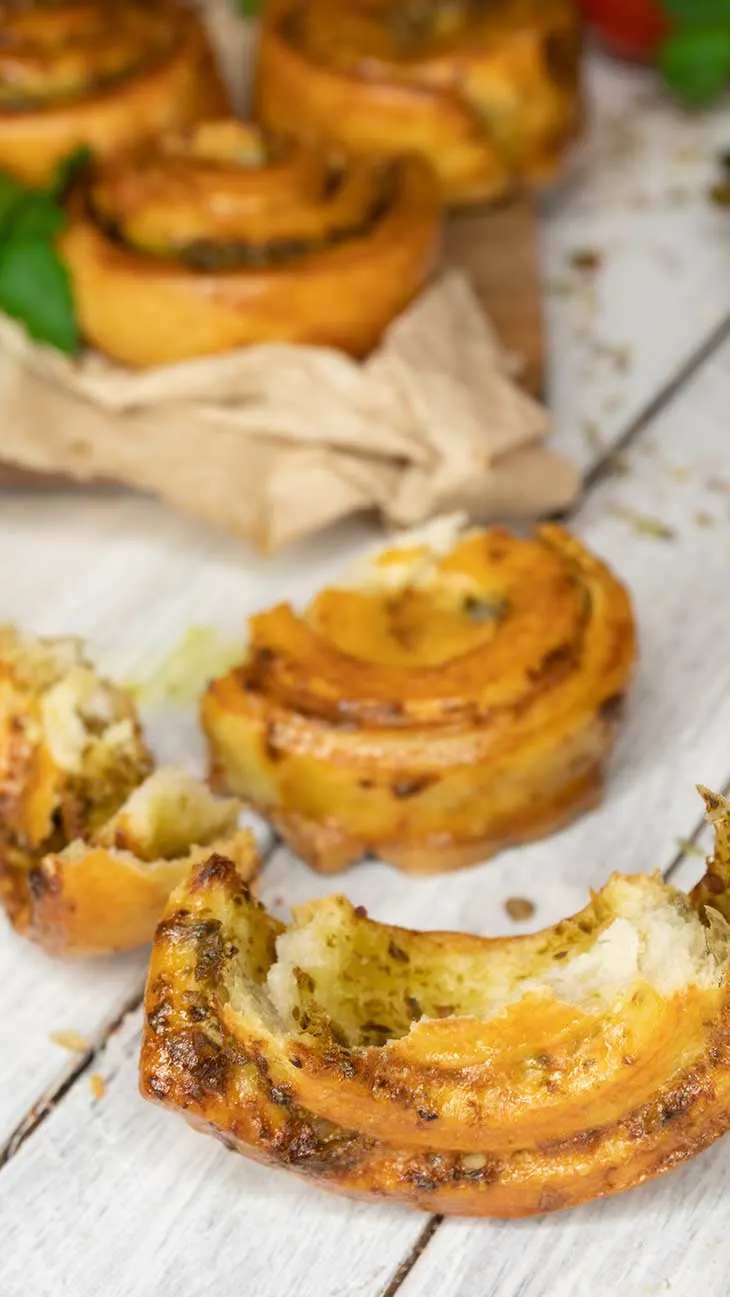 The vegan pesto pinwheels are super easy and fast to make: just roll out the dough, spread the pesto, add your favorite toppings, roll it back in and cut it into smaller "pinwheel" rolls.
Throw them in the oven for 10-15 minutes (or until they're golden on the outside) and that's really it! So no worries that you will spend half of your day providing food. It's a really good recipe for busy weekdays too! Needless to say – perfect for your home packed office lunch or snack.
Ok, everything is good so far…but is pesto vegan? As mostly all the dishes and foods nowadays: it totally can be! And preparing your homemade delicious pesto couldn't be easier!
All you need to do is gather some simple ingredients: pine nuts (or some other nuts, even sunflower seeds could work), fresh basil, garlic, lemon… you know – classic pesto ingredients.
The only difference between non-vegan pesto and vegan pesto: we substitute nutritional yeast for parmesan cheese. But the resulting taste is equally delicious and surprisingly similar! If you don't have time for making your own pesto, store-bought pesto works too. Just make sure it's vegan and preferably as natural as possible. In any recipe, quality ingredients are the key to success!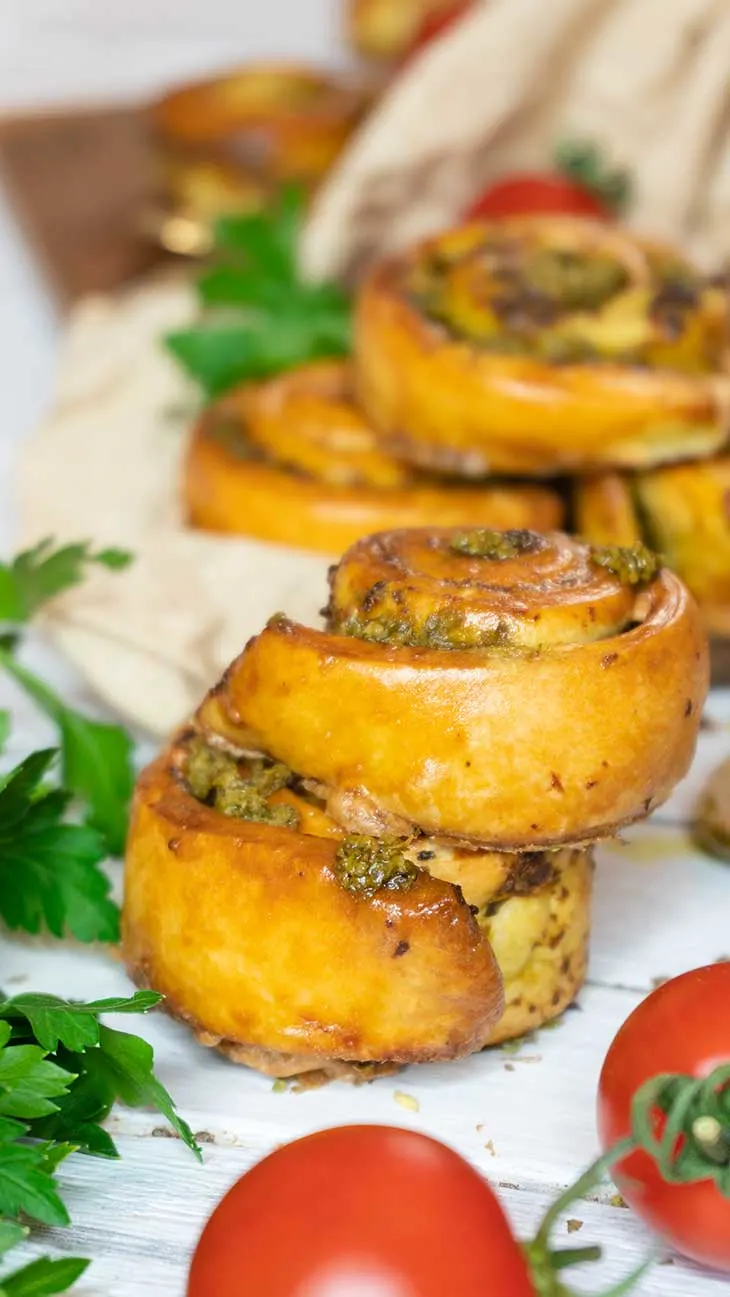 I think I've told you all you need to know in order to make the greatest vegan pesto pinwheels. Just follow my instructions below and the results will be perfect. Don't forget to let me know how the pesto pinwheels turned out for you – your comments are always appreciated and heard here!
Yield: 1
Vegan Pesto Pinwheels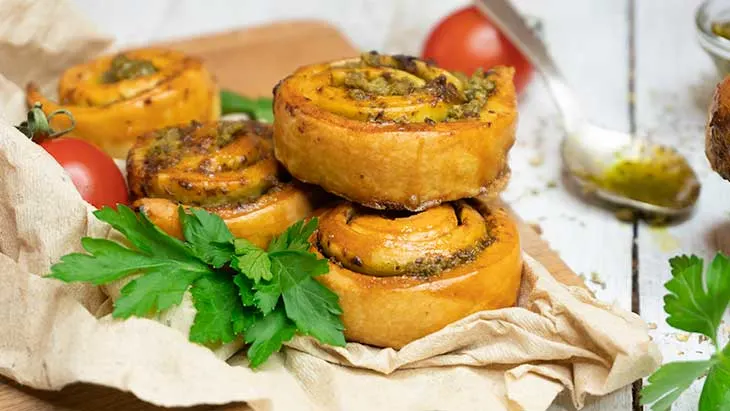 In case you're on the search for a quick, healthy snack, look no further! Here is an amazing recipe for vegan pesto pinwheels - yummy and child-friendly too!
Instructions
Roll out the pizza dough (the thinner the dough, the smaller the rolls).
Spread a generous amount of pesto on top.
Roll it and cut into 1 - 1,5-inch pieces.
Bake at 180 degrees Celsius for 15-20 minutes or until they develop the desired color.
Nutrition Information
Yield
1
Amount Per Serving
Calories

635
Total Fat

50.9g
Carbohydrates

31.7g
Protein

12.4g