Looking for a quick snack that's both filling and super delicious? Here's how to make vegan pizza pinwheels that will satisfy all your cravings!
Get ready for the ultimate comfort food recipe! Sometimes we're in a rush, or maybe having a very busy week or simply we're not in the mood for those lengthy pretentious recipes. Moderation is the key to success, so it's perfectly OK to sometimes just relax and have a more laid-back attitude!
This is what today's recipe celebrates. Today we are going to make vegan pizza pinwheels. A lovely and delicious recipe that will be ready in no time! 🙂 And I really mean it when I say they're super fast: I bet you could get things done in less than 30 minutes!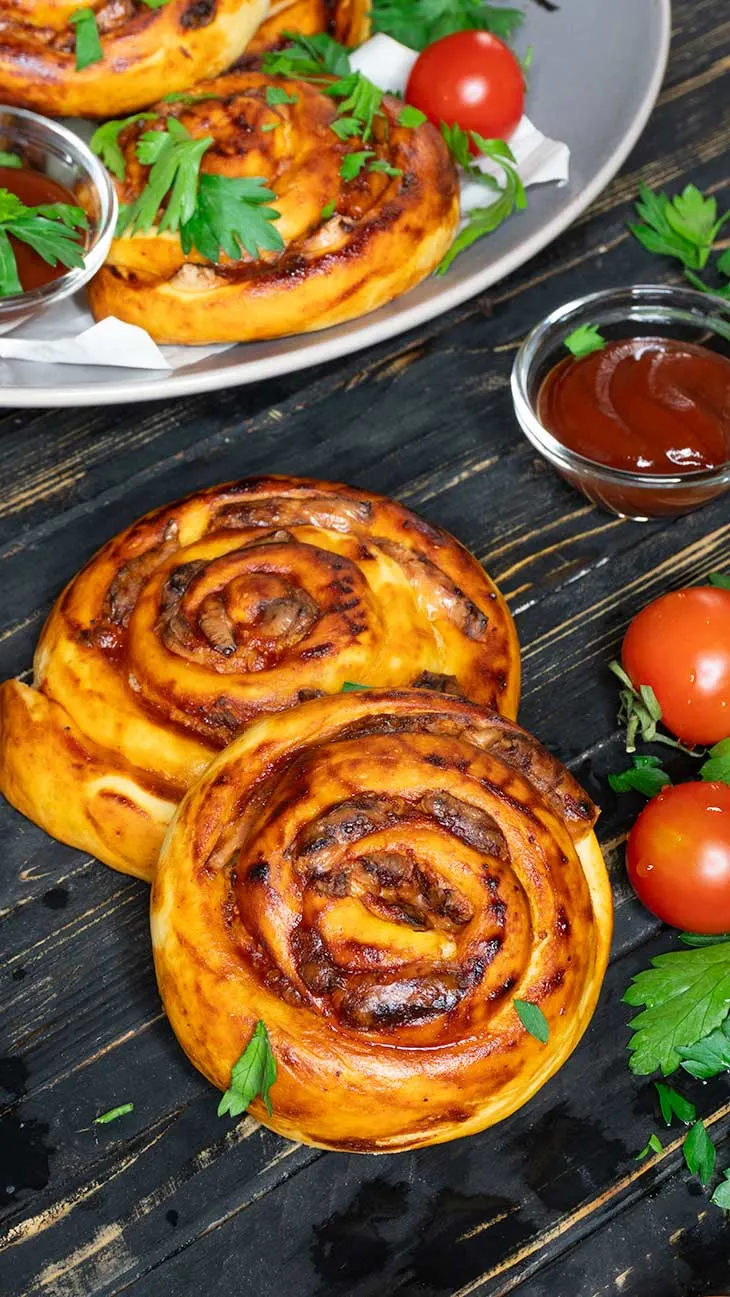 But while this recipe is super easy, that doesn't mean at all that the taste will be affected. These little pinwheels are absolutely delicious. Savory and crusty, heartwarming pastry, delicious tomato sauce… these pizza rolls have it all!
And the thing I really love about the vegan pizza pinwheels is that they are perfect for any occasion! Tonight I am hosting a movie evening with my friends and the batch that I will bake today will be what I'll be serving my guests. Already divided into portions, filling but also snacky – I am sure that everyone will be delighted! 🙂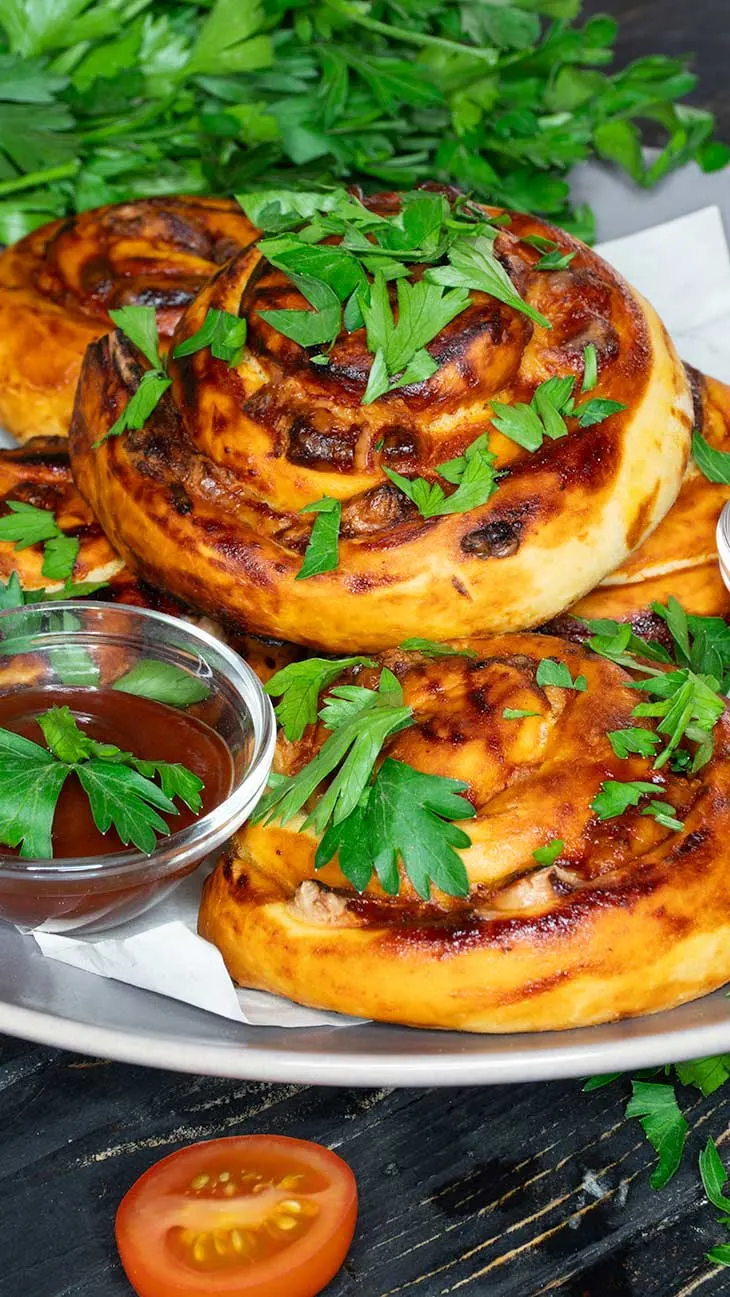 But as I said, these pinwheels really do fit so many circumstances. You can have them as a snack in between meals or they can even be served for lunch and dinner!
That's because the filling of this pizza pinwheels is customizable and you can add whatever feels tasty and nourishing to you! Their size and the fact that they can be also eaten cold makes them the perfect work lunch idea. They're also great for your kid's snack box – the little ones tend to really love these pizza rolls!
And in case you weren't already convinced by these pinwheels' versatility, let me add some more great facts about them! They do really well in the freezer, so you can totally bake a larger batch and enjoy them some other time. Whenever I prepare these pinwheels, I make a large batch to make sure I have some more for freezing. If I take them out in the morning, they are defrosted and ready to eat by lunchtime!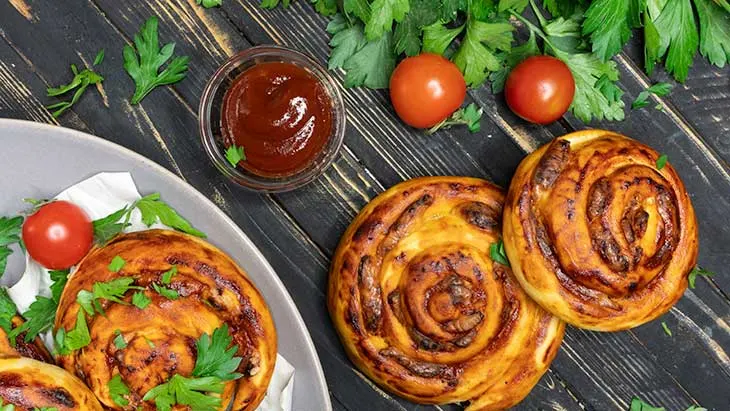 What's the advantage of these pinwheels over, let's say, mini pizzas baked in the oven? Well, first of all, they are much easier and faster to make.
You can use store-bought rolled pizza dough and all you need to do is assembling together your pinwheels. No worries about preparing the dough and buying all those ingredients. Second, there's really something interesting and delicious about the combination of pizza and puff pastry!
The texture is wonderful and everything fits together quite nicely! If you haven't tried this combination you really need to because otherwise, you're missing on something great.
Oh, and by the way, the process of making these vegan pizza pinwheels couldn't be simpler or more straightforward! 🙂
First, you roll out the pastry. Then, you spread the tomato sauce. For a better taste and quality, I would recommend using homemade tomato sauce. But if you don't have it in your fridge, store-bought tomato sauce will do the job just fine. Just make sure to choose a high-quality tomato sauce with as little additives as possible.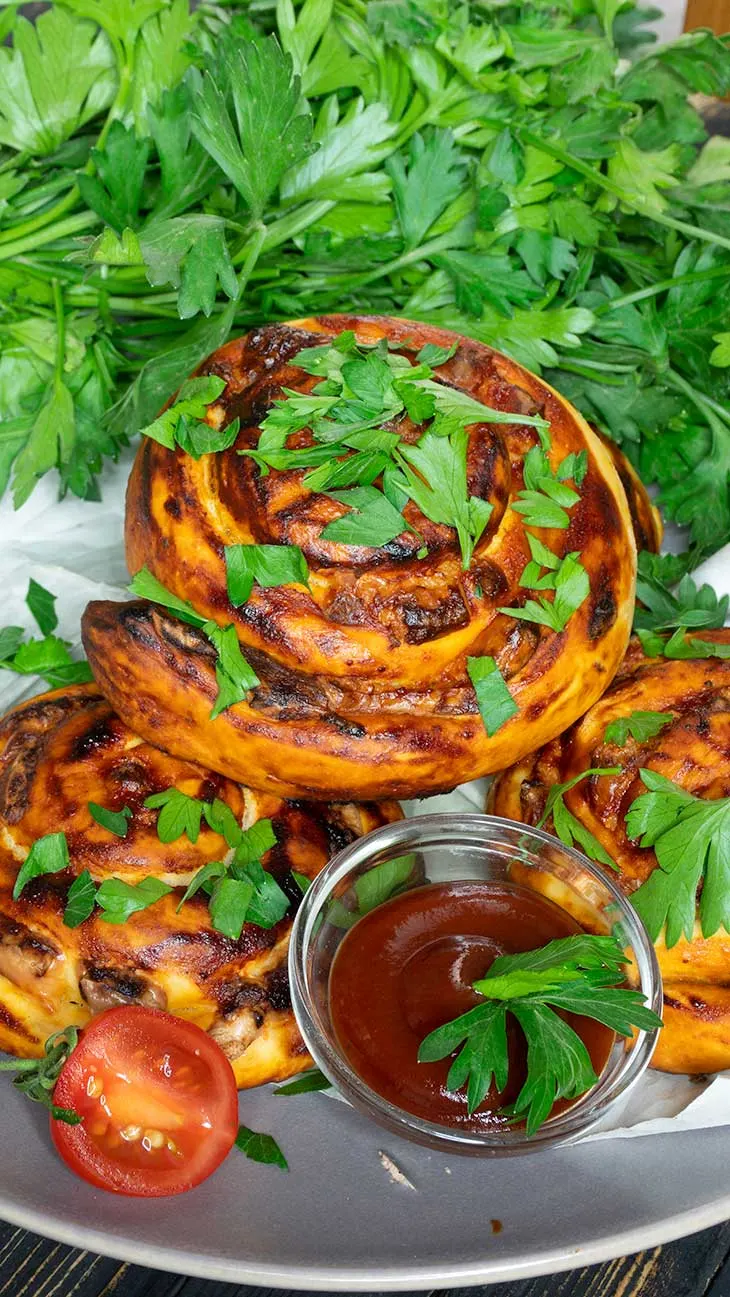 When the sauce is spread nicely, it's time to choose the pizza toppings! And here you can really get creative! The recipe that I presented here features my favorite topping combination, but you can really add whatever you feel that could work here. Onions, mushrooms, olives, vegan cheese… maybe even some nutritional yeast for extra cheesiness, why not?
It's a really fun activity to do together with someone, maybe some friends or your kids because everyone can create something unique using their favorite ingredients, then share everything among yourselves and you actually get more than one dish!
All this talk about the vegan pizza pinwheels really made me hungry so I will cut short the introduction and head to the kitchen. I encourage you to do the same as you won't be disappointed by the results! In less than 30 minutes, you will obtain the most amazing and tasty vegan pizza pinwheels!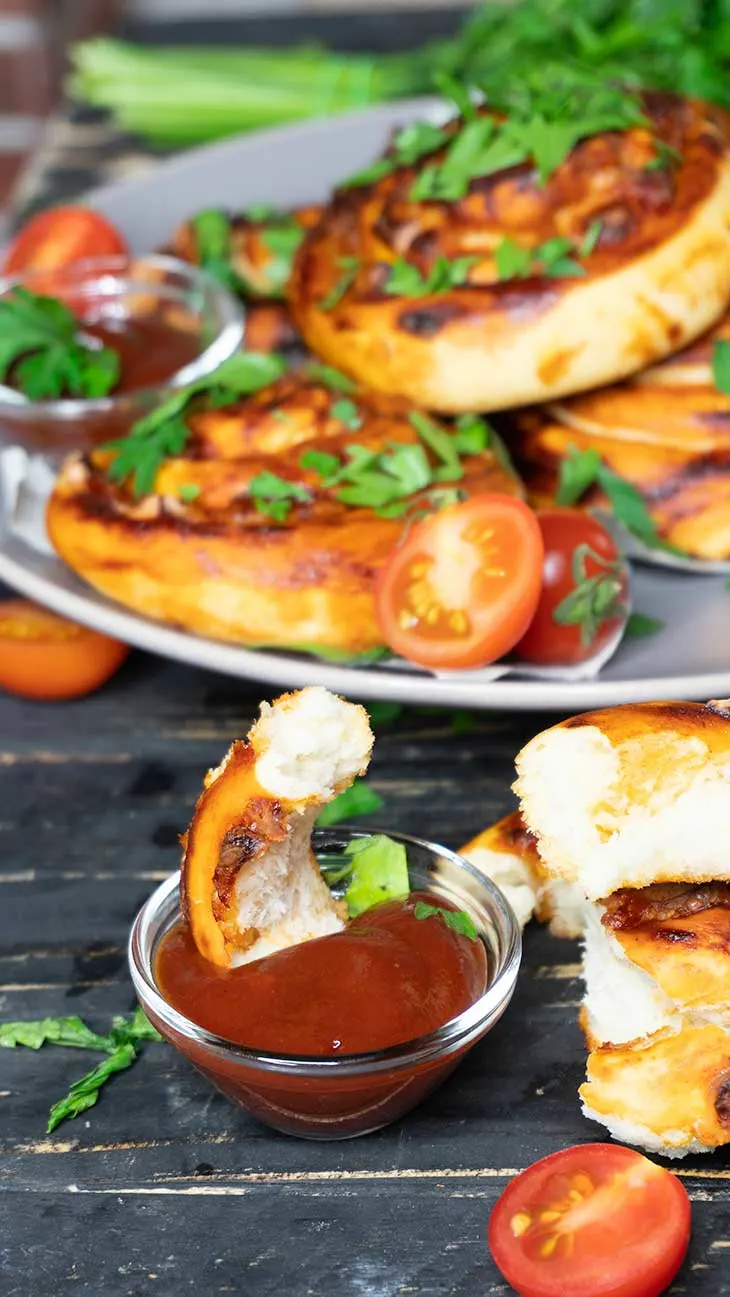 There are few recipes that achieve so much tastiness in so little time so you should really give this one a try! Luckily, you'll only need simple ingredients, which means you won't spend much time shopping either. When everything is ready, you can leave a comment to tell me how your pizza pinwheels turned out!
Yield: 1
Vegan Pizza Pinwheels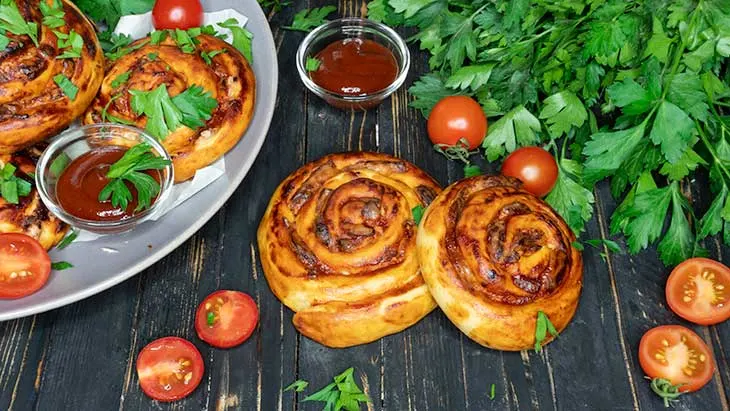 Looking for a quick snack that's both filling and super delicious? Here's how to make vegan pizza pinwheels that will satisfy all your cravings!
Ingredients
1 pizza dough
pizza sauce
110g (½ cup) soft vegan cheese, chopped into small cubes
Italian seasoning, basil, oregano, rosemary
hot sauce
Instructions
Roll the dough to 1 cm thick.
Spread the pizza sauce on top and season with dried basil, oregano and rosemary.
Add the chopped soft cheese and roll the dough.
Cut into wheels (about 2 cm thick).
Bake at 180 degrees Celsius for 20-25 minutes or until they develop the desired color.
Serve with hot sauce.
Nutrition Information
Yield
1
Amount Per Serving
Calories

296
Total Fat

10.9g
Carbohydrates

42.6g
Protein

6.7g