Bored with the classic pizza? Here's an awesome idea: why not try making vegan calzones? They're a special type of pizza, super delicious and filling!
We often develop very close relationships with the foods and dishes that we like best. We try them in various combinations, try to add and combine them with as many dishes as possible and we are eager to try as many recipes as possible for these foods.
Here's a dish that easily smashes all the competition in terms of popularity: pizza. Whether we're talking about children, teenagers at a party, full-grown adults or even elderly people, we all enjoy a big, juicy slice of delicious pizza!
We've all tried it in different variations, with different toppings, some even followed its heartwarming smell back to its roots in Italy. There are even real pizza fanatics out there, devoting their lives to creating, tasting and finding the perfect pizza!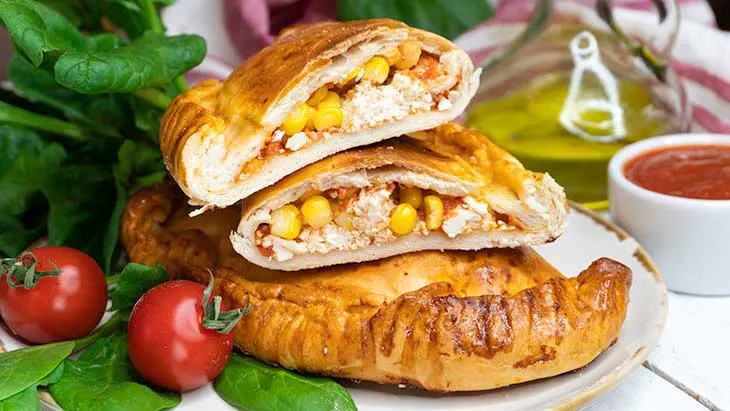 We could eat it anywhere and anytime if we had the chance! The only problem: it's not exactly the easiest meal to carry around. We've all ordered pizza and we all know those huge delivery boxes – even the disposal of those boxes can become a real struggle. Imagine carrying around with you all day something like that – seems more like a curse than a delight, am I right?
Luckily, the wise Italians that came with the wonderful idea of pizza also seemed to acknowledge the struggle of having it on the go! That's why, in the 18th century, the Italians invented the calzone! And today I am going to show you a super delicious vegan recipe for vegan calzones!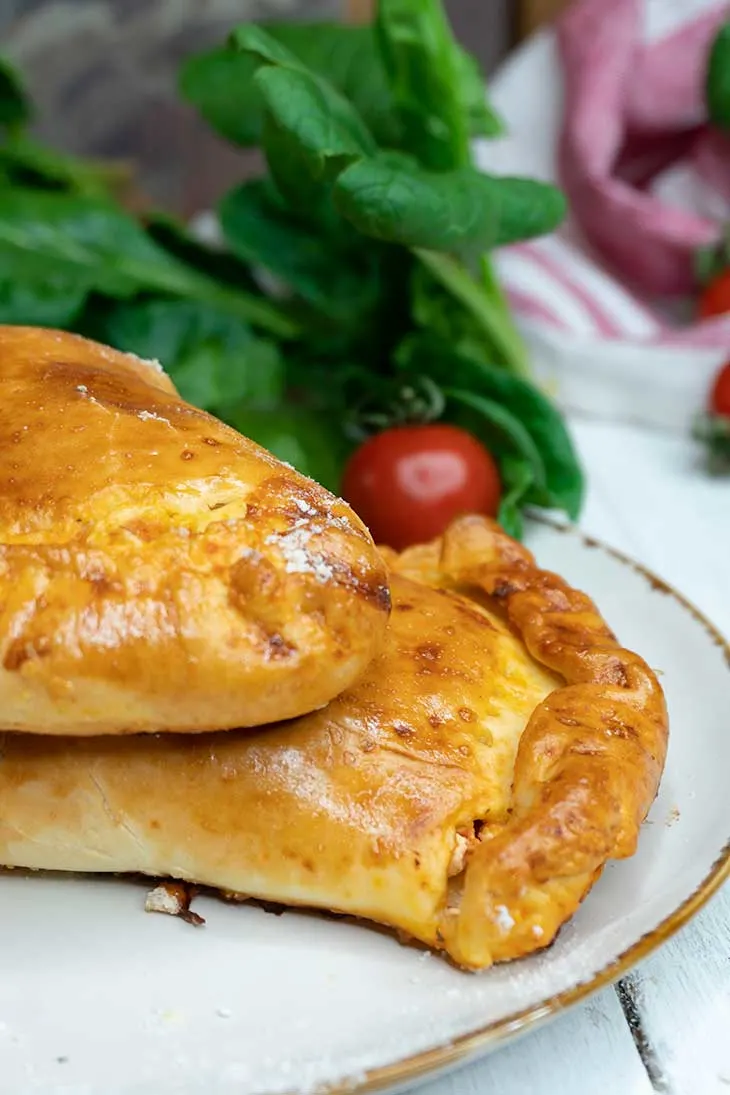 Calzone is basically a folded pizza. As pizza also did, the calzone originated in Naples. It seemed like people wanted an easier way to carry pizza around so they came with the idea of folding it.
Huge success! In terms of ingredients, there's not really a big difference between a vegan pizza and vegan calzones. A typical calzone is made out of a salted dough that is baked in the oven. Inside the baked dough you will find classical pizza toppings: tomatoes, cheese (vegan for us, of course), mushrooms, onions – you know the drill, the toppings options are basically endless! 🙂
In Italy, you will find calzones at basically any street bakery. They're widely popular there, as they are very easy to eat while standing up or even walking (although I wouldn't recommend that – taking the time to eat relaxed and slowly is super important). But vegan calzones are gradually growing in popularity worldwide. And there's no wonder why – they're basically more comfortable pizzas!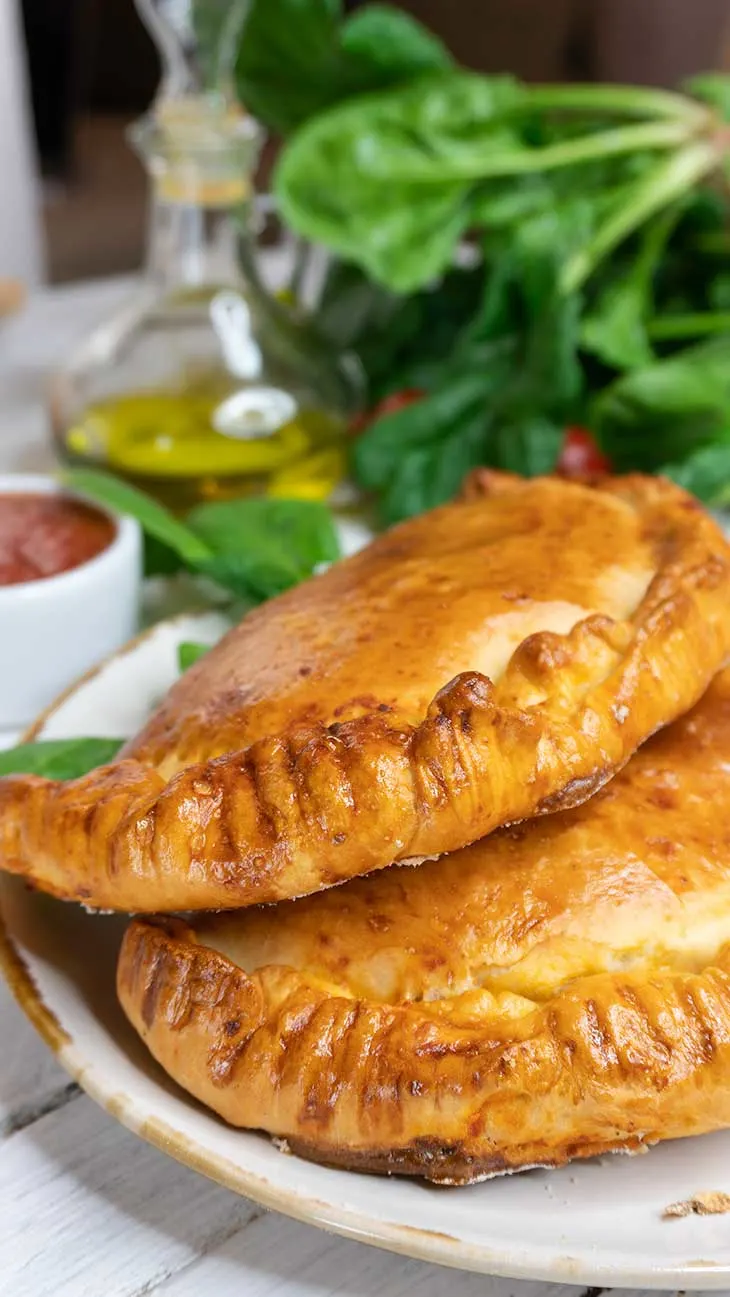 Fun fact: calzones became super popular in America during the 90s thanks to the Seinfeld sitcom. There's an episode where one of the characters, George, gets his boss hooked on calzone! And in a chain reaction, entire America became hooked on the calzone. I'd call that a win! 😉
The recipe that we are going to prepare today is super simple. You will only need basic pizza ingredients: dough, tomato sauce, and your favorite toppings. As it's the case with every pizza, you can fully customize it to your taste. Or you can just follow my lead if you're not in a creative mood today.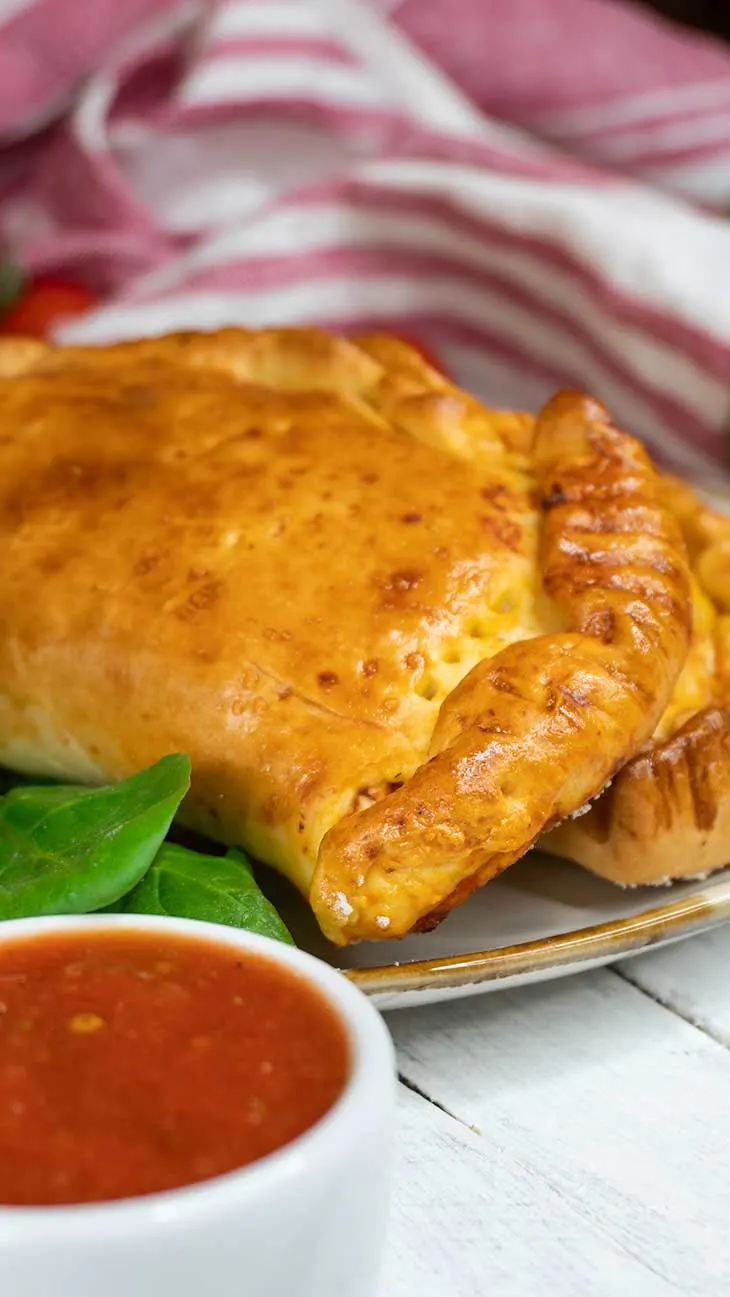 I've chosen a combination of herbs and ingredients that blend really smoothly together. The tomato sauce gives this recipe a really creamy texture, and each bite will bring together the flavors of all the ingredients combined! It's just perfect!
What I especially enjoy about these vegan calzones is their versatility. They are perfect for many occasions and can be adapted to so many tastes! Breakfast, dinner, party, lunch, home, car, school, workplace – you can have the calzone whenever you want!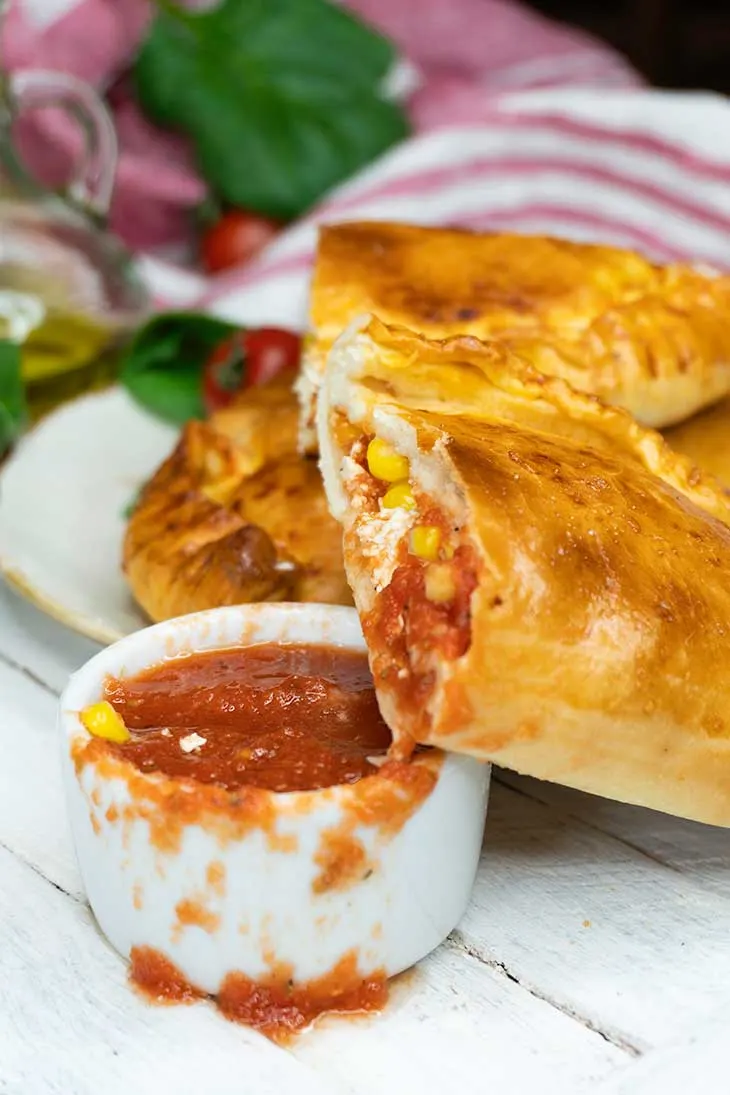 Its size is also super convenient. While pizzas are usually big enough to share with one or even two other people, the calzones are one-person sized. So they are easy to take wherever you need them to accompany you and you won't find yourself with any extra leftovers when you're done eating.
Vegan calzones are also super customizable too! Do you know those pretentious recipes where you can add too little of one ingredient and the whole dish is ruined? Well, that won't ever happen with the calzone! Gluten-free? Use gluten-free dough! You're not a big fan of some of the ingredients that I chose? Just skip them or replace them with something more to your taste! Whatever you choose to add, it will turn out great!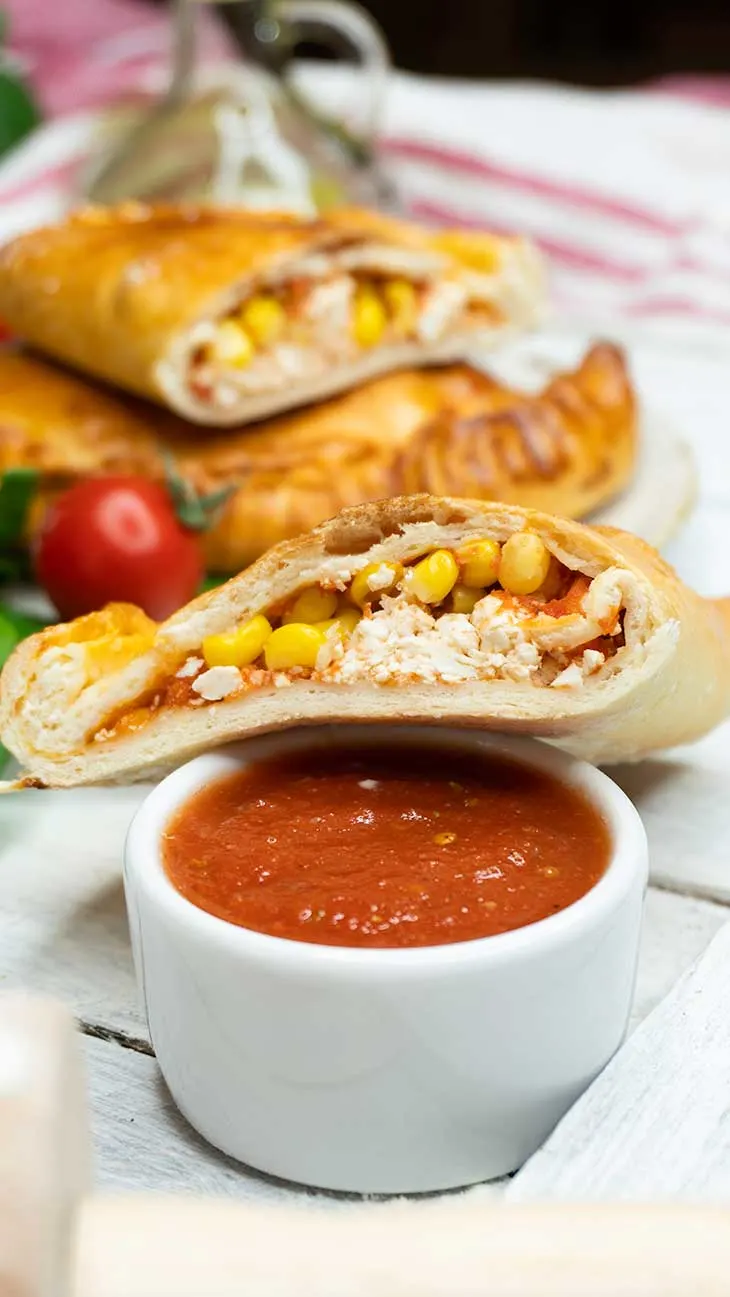 I think it's time to turn all this discussion into something delicious, so let's head to the kitchen, gather the ingredients and have fun. This is a recipe where you can let yourself loose and experiment – don't be afraid to show your creativity! I really hope you will like it and don't forget to leave a comment to let me know!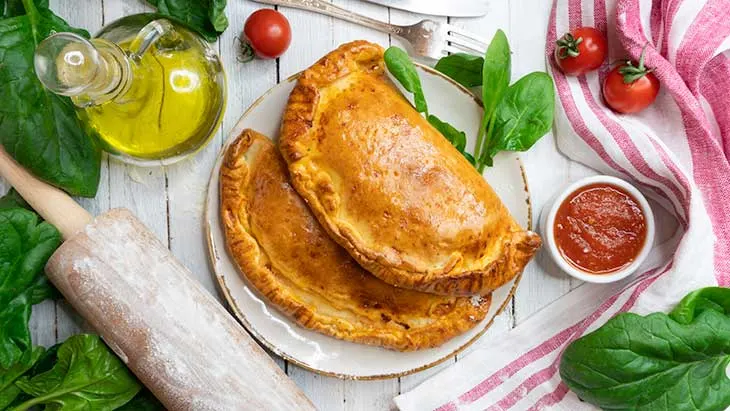 Bored with the classic pizza? Here's an awesome idea: why not try making vegan calzones? They're a special type of pizza, super delicious and filling!
Ingredients
1 pizza dough
pizza sauce
250g (1 cup) tofu, crumbled
80g (½ cup) sweet corn
1 tsp Italian seasoning, oregano, basil, and rosemary
2 Tbsp water
salt
pepper
Instructions
Roll the dough into circles.
Spread 3-4 Tbsp of pizza sauce on top.
On half of the dough, place a generous amount of tofu crumble. Season with salt, pepper, and Italian seasoning.
Top with sweet corn.
Close the calzone.
Pinch shut using a fork.
Brush with water and bake at 180 degrees for 20-25 minutes or until golden.
Serve with pizza sauce.
Nutrition Information
Yield
1
Amount Per Serving
Calories

492
Total Fat

15.7g
Carbohydrates

56g
Protein

31.5g