Sauerkraut soup is a staple soup recipe in the German cuisine, but it also loved worldwide. Here's how to make a delicious and healthy sauerkraut soup.
German gastronomy is a very special type of cuisine that reveals everything you need to know about the German lifestyle and culture. Among all the famous foods and drinks Germany is known and loved for – such as sausages (Bratwurst, Currywurst), schnitzel and, of course, beer, there is one very special and unforgettable dish I want to talk about today. The sauerkraut soup, of course!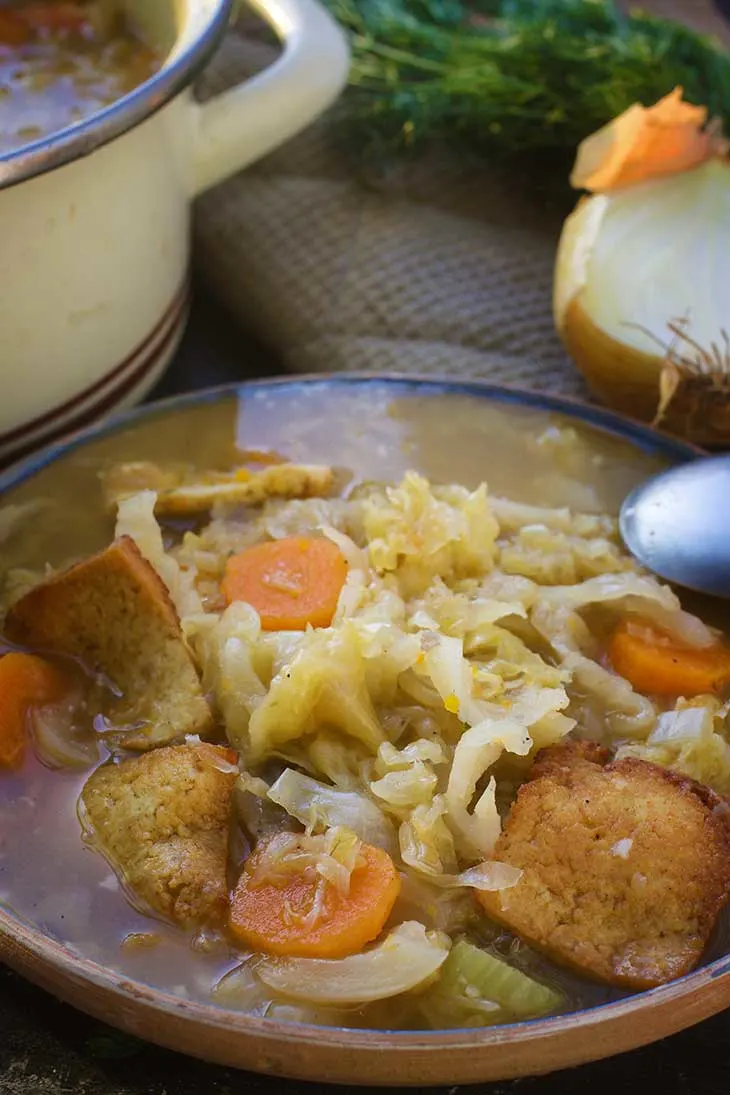 In order to begin talking about Sauerkraut soup, we must first understand what "sauerkraut" actually is. Sauerkraut, which literally means "sour cabbage" in German, is a fermented/pickled cabbage cut in small pieces. The fermentation process is similar to the one used for kimchi and it includes lactic acid bacteria and salt. Sometimes even caraway seeds or white wine are added in order to create some popular variations. The result? A very special and distinctive sour flavor that any German knows by heart.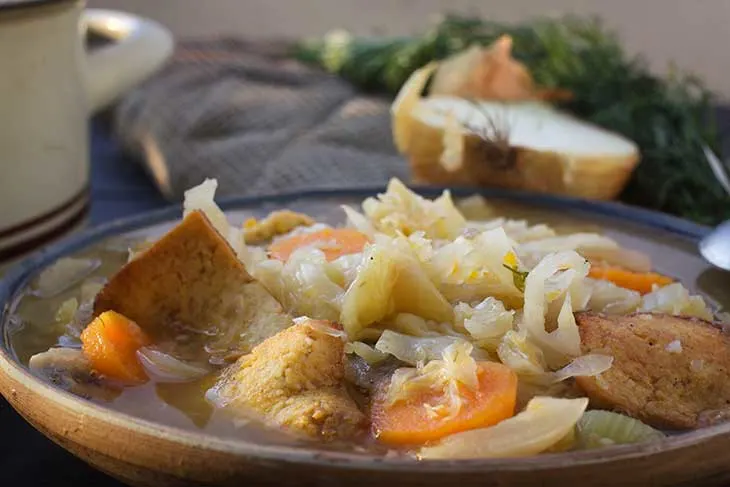 Sauerkraut can be used as an appetizer served on bread or as a warm side dish together with the famous German sausages or any other type of pork meat. Germans usually serve these dishes on New Year's Eve, as it is said that sauerkraut brings good luck. Another popular use for this ingredient is the sauerkraut soup, also known as "Sauerkrautsuppe" in Germany, which we will be talking about today.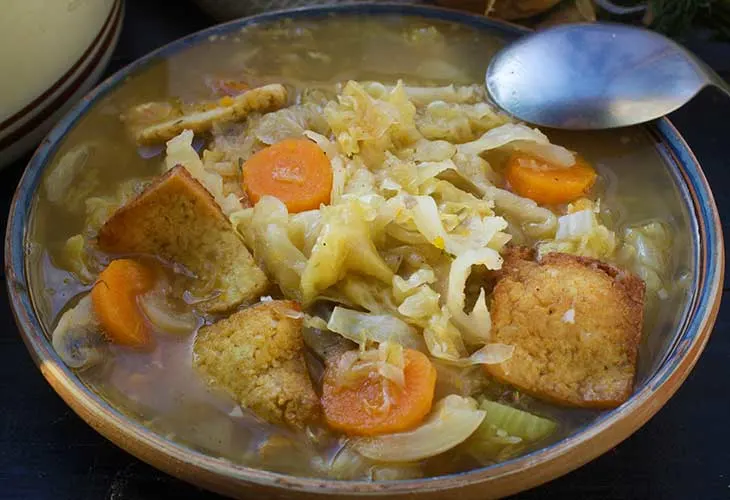 Traditionally, sauerkraut soup is made using sauerkraut pieces and bacon in order to create a filling and very flavorful dish, that can be enjoyed by the entire family. Any German would agree that no bowl of sauerkraut soup can be served without a piece of fresh bread!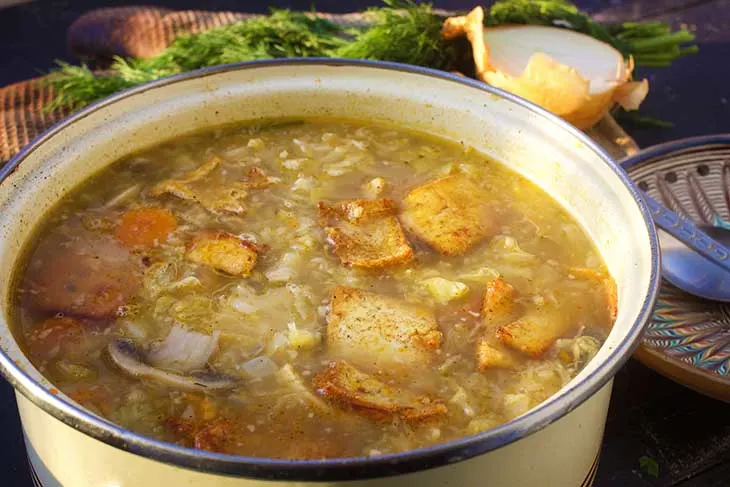 The idea of inserting some pickles into a soup might sound weird at first, but I assure you that the results are absolutely mesmerizing and once you try it, you will become addicted and you will understand why German people love it so much!
Sauerkraut soup was initially made and served by farmers, as it is a very simple recipe that only requires basic ingredients with a very filling result. Over time it has become so popular that any traditional German cooking book contains at least one variation of Sauerkraut soup!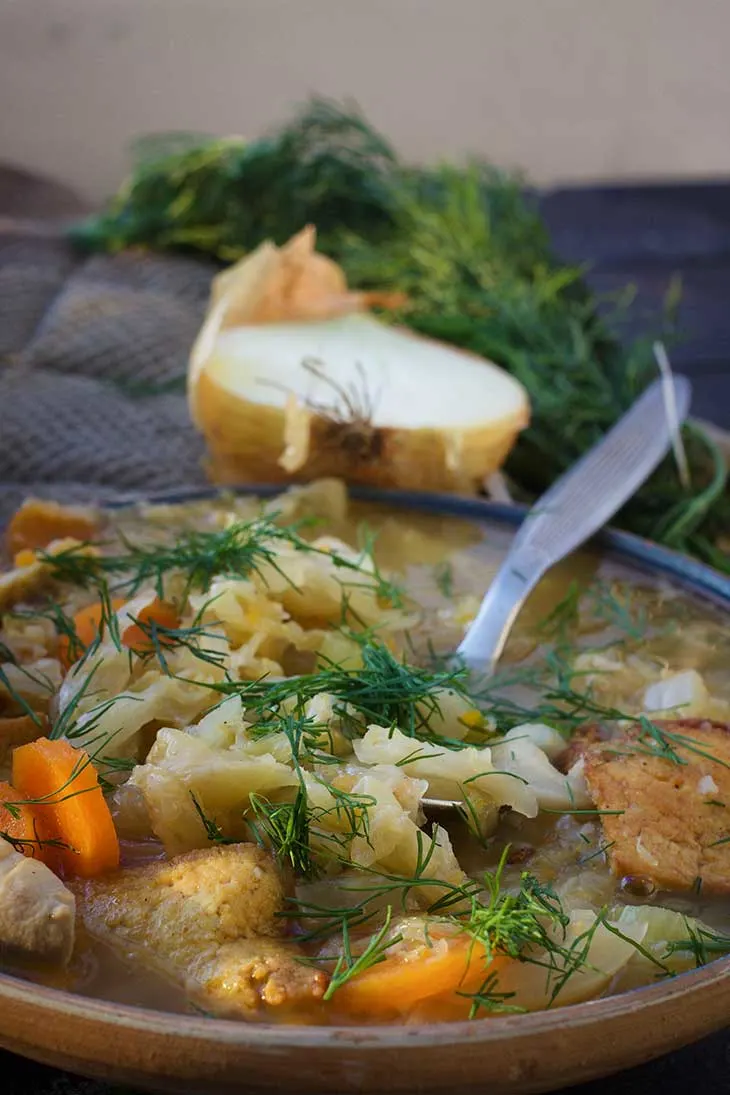 This amazing soup is loved by kids and adults alike and it is a staple in German cuisine. And it's no wonder why – this soup is simple, quick and it stays delicious for many days in a row. You don't even need a celebration such as New Year's Eve in order to serve it, it's perfect for any day and any time!
I totally recommend this soup for autumn or winter, when you just need a big bowl of soup to make you feel better and warm you from the inside. As sauerkraut is usually a winter-specific ingredient, rich in Vitamin C and very useful to prevent a cold or flu, German people naturally indulge in this soup during the cold days.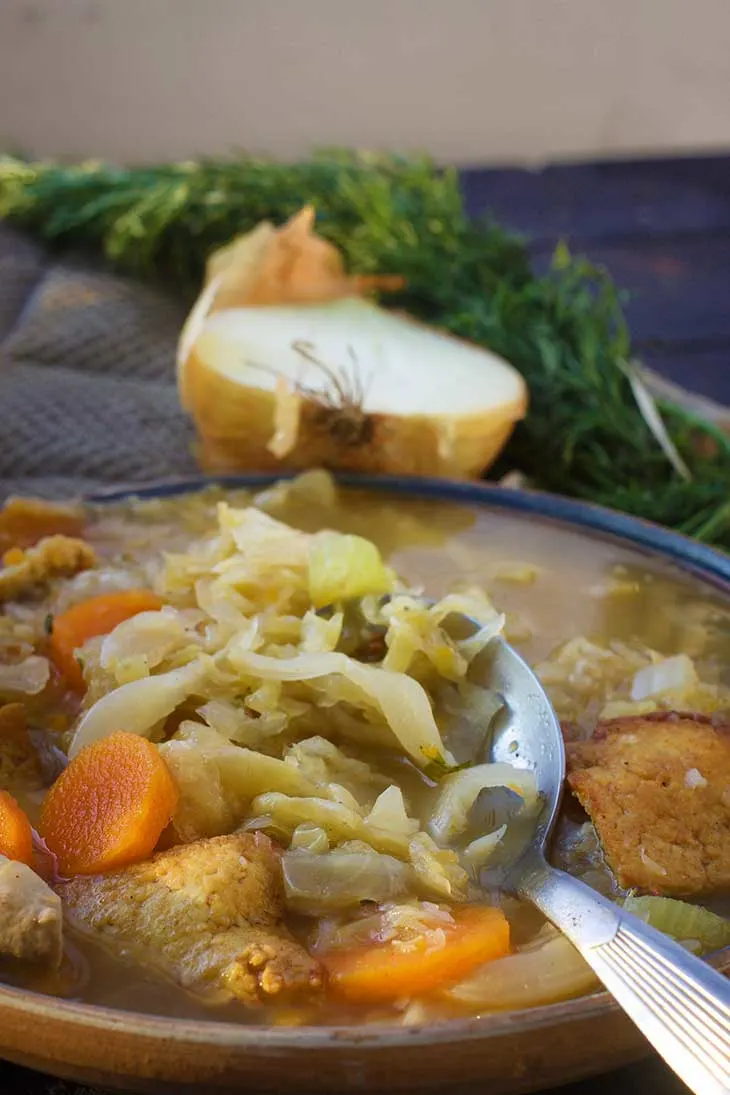 For this vegan Sauerkraut soup, I used pieces of smoked tofu in order to mimic the flavor and texture of bacon. The result is a very filling and finger-licking good soup that can be enjoyed for lunch or dinner. The taste is extremely similar to the authentic recipe and I'm sure you will love it too!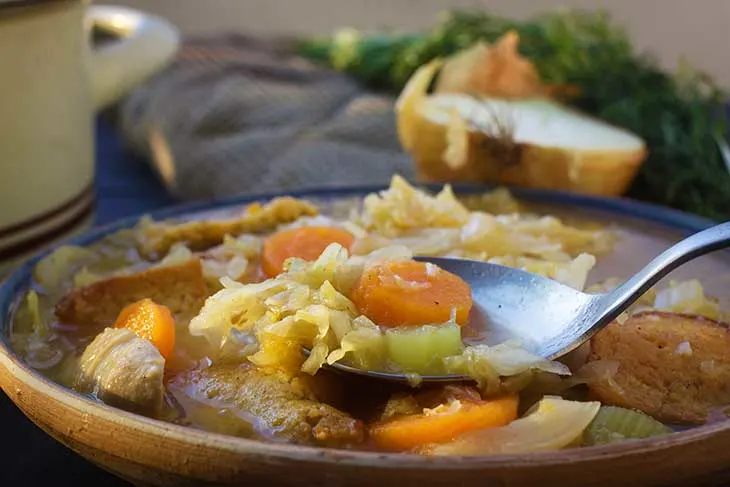 Yield: 6 +
Sauerkraut Soup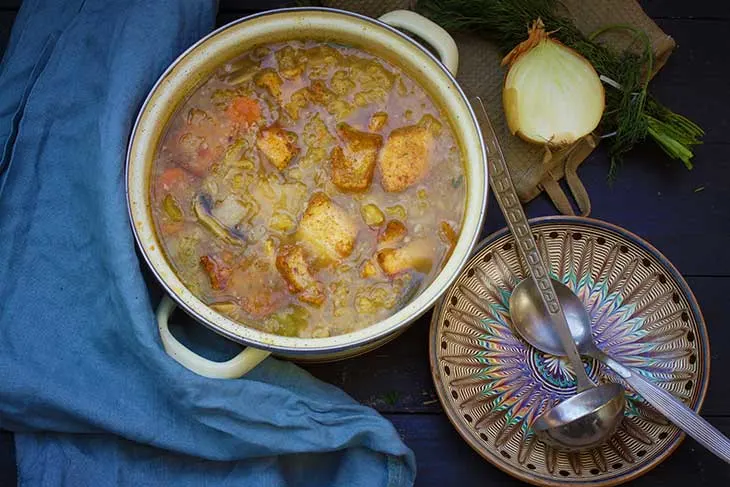 Sauerkraut soup is staple soup recipe in the German cuisine, but it also also loved worldwide. Here's how to make a delicious and healthy sauerkraut soup.
Ingredients
3 celery sticks, finely diced
1 medium onion, finely diced
4 small carrots, thinly sliced
3 medium potatoes, peeled and chopped in small cubes
180g (2 cups) mushrooms, sliced
280g (2 cups) sauerkraut, drained and rinsed
2L (8 cups) vegetable broth
500ml (2 cups) water
2 tbsp apple cider vinegar
250g (1 cup) tofu, smoked, sliced
2 Tbsp olive oil
1 bay leaf
salt and pepper to taste
Instructions
In a large pot over medium heat, add the olive oil. Once it's heated, add the sliced tofu.
Cook until golden and crispy on both sides. Put it in a bowl and set aside.
In the same pot, sautee the finely chopped celery and onion until the onion is translucent.
Add the mushrooms, sautee for 2 more minutes and add a few tablespoons of the veggie broth.
Continue cooking. Add carrots, potatoes, the bay leaf, broth and water. Bring to a boil.
Reduce heat and simmer for 15 minutes or until the vegetables are tender.
Add the sauerkraut and cook for 5 more minutes.
Remove the bay leaf and transfer about 1 cup of the soup to a blender and blend until smooth.
Pour back into the pot, add the apple cider vinegar and stir well.
Add tofu slices and serve with some fresh dill on top.
Nutrition Information
Yield
6
Amount Per Serving
Calories

251
Total Fat

9.2g
Carbohydrates

28.4g
Protein

13.6g