These black bean burgers served with crispy potato wedges and a delicious lemon-tahini sauce will surely become your favorite, homemade "fast-food"-style meal!
I made these black bean burgers a while ago and they have instantly entered my top 5 best vegan burgers favorites! If you crave fast-food, this is the way to do it! It's healthier than your regular fast-food meal, 100% vegan and also it's packed with awesome plant-based proteins!
Additionally, you can experiment with a variety of flavors by adding spices, herbs, and veggies of your choice to these delectable black bean burger patties.
You no longer have to feel guilty for having burgers and fries as a meal. If you take away the meat and cheese, you also eliminate all the bad cholesterol and fats and you're left with only healthy, protein-rich ingredients that taste great and also make you feel great!
I used the gluten-free burger buns by Schar, which are also vegan! They are super fluffy! A good black bean burger recipe is perfect for you and your family!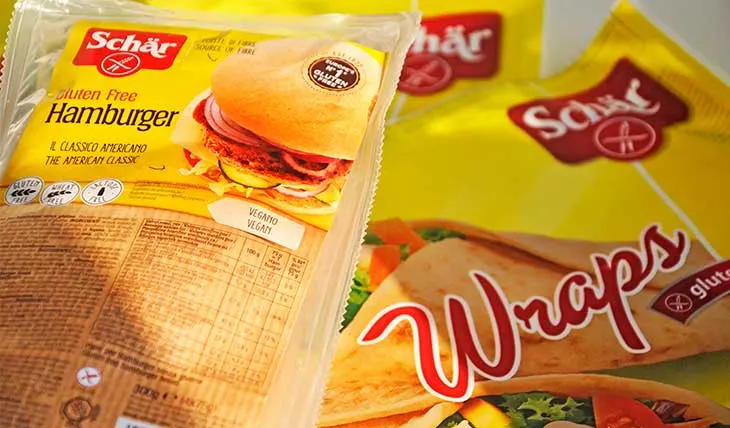 In case you don't already know, black beans are amazing! Too bad I don't cook with them that often. They look pretty bad in meals, as they make any meal turn…well… black! 🙂 That's not a very appetizing color for something to eat. Well, with burgers it's a different situation! Burger patties are supposed to have a reddish-dark color, so they're the best substitute for ground beef meat!
The Wonders of Black Beans
Black beans, also known as black turtle beans, are a very common variety of beans. You'll find them in most of your favorite Mexican dishes and they're very popular across Latin America where they're often eaten alongside rice, shredded meats, and plantain, also in soups, stews, dips and many other ways. They're also a common ingredient in Cajun, Creole and Punjabi cuisines.
Black beans are native to the Americas, but as you already know they've been introduced to all of the cuisines around the world and they've become quite popular for everyone.
Benefits of Black Beans
One of the many benefits of black beans is that they're rich sources of iron, phosphorous, calcium, magnesium, manganese, copper and zinc. All of these particular elements are great for bone strength and bone structure. It's extremely important to have a high presence of these minerals in our diets in order to have stronger and healthier bones.
Black beans are also low in sodium; this alongside calcium, magnesium and potassium makes a natural recipe to lower blood pressure. They're also a rich source of fiber, only one cup of cooked black beans provides 15 grams of fiber. This contributes not only to weight loss, as it makes you feel fuller for longer, it also helps diabetics to have lower glucose levels. It's proven that high-fiber diets help type 1 diabetes to maintain healthy glucose levels and type 2 diabetics improve their blood sugar, insulin, and lipids levels.
Heart health is also improved by black beans thanks to its fiber, potassium, vitamin B6, folate, and phytonutrient content. Fiber helps lower cholesterol, vitamin B6 and folate prevent blood vessels damage and saponins also help lower blood pressure and cholesterol levels.
How to Cook Black Beans
Canned beans are a wonder; they're convenient, practical, and they taste pretty good. All you have to do is open the can, and that's it! But when you feel like going the extra mile and you choose to buy dried beans instead, there's a process to follow if you want to cook them well. They take a bit more effort than opening a can, that's for sure, but dried beans are not only cheaper, they're a lot tastier.
Cooking black beans is a lot easier than you might think; once you get familiar with the process, it's effortless. Pre-soaking the beans it's the first thing you'll need to do. It makes their texture richer and it reduces cooking time as well. You have to rinse the beans so you get them clean and make sure to take out any twigs or stones you might find. As for soaking, you have the overnight method and the quick-soak method.
For the overnight method, you'll need to put the beans in a large container and cover them with water up to two inches over. Let them sit there until you're ready to cook them. Drain the beans and then put them in another large enough pot with fresh water. For the quick-soak method, you'll need to put the beans in a large pot and cover them with water. Bring it to a boil and let it cook for 2 minutes, then remove from the heat and let them sit there for 2 hours. When you're ready to cook, drain them and transfer them to a pot with fresh water. Full disclosure: this method will cause your beans to break when they're cooking. So if bean integrity is important for your dish, then use the overnight method.
When you're cooking your beans, bring them to a boil and then bring the heat down to a simmer and let it sit there for about 2 hours. Stir from time to time. Cooking time will depend on the freshness of the beans; old beans will take much longer to cook as they don't retain moisture. To know, sample a bean and see if they're done.
If you need to add water during the cooking process, it will have to be boiling water, and don't add salt or acidic ingredients while cooking; wait until they're almost done.
Once you have your cooked black beans you can do all sorts of things with them! Including soups, dips, salads, tacos, burritos, taco bowls, nachos, and many other things.
So, enough about black beans, try these awesome black bean burgers and you'll love them, I promise! 🙂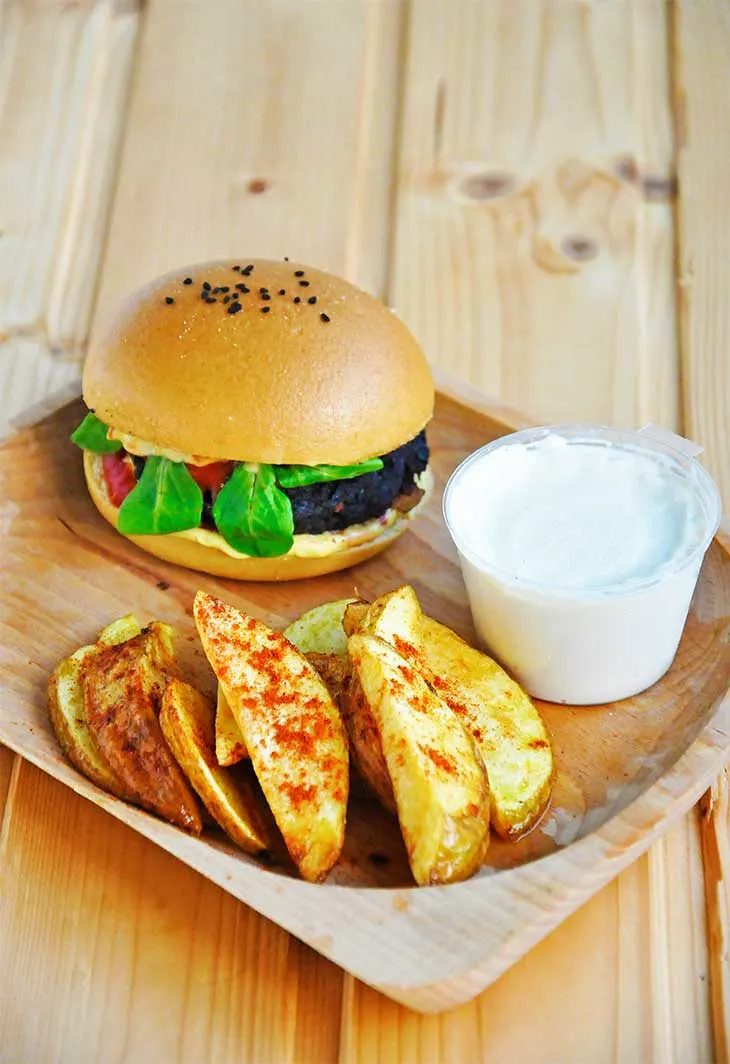 Yield: 6-8
Black Bean Burgers with Potato Wedges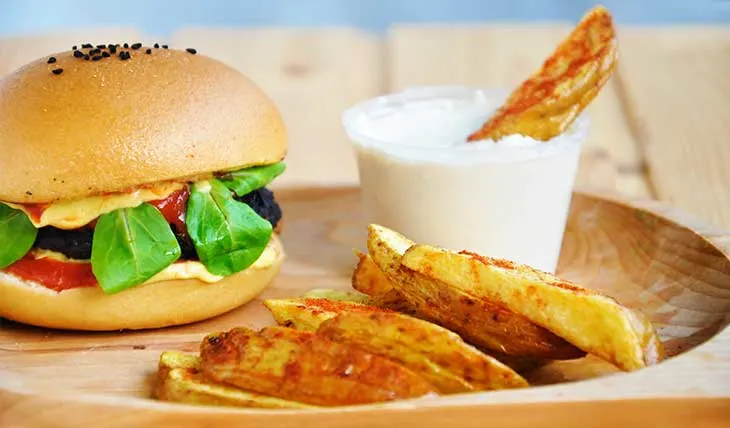 These black bean burgers served with crispy potato wedges and a delicious lemon-tahini sauce will surely become your favorite, homemade "fast-food"-style meal!
Ingredients
250g (1 cup) black beans, soaked in warm water overnight
45g (½ cup) chickpea or rice flour, or any other flour you want
1 tsp baking soda for boiling + ½ tsp baking soda (for patties)
25g (1 cup) chopped parsley
1 medium onion, chopped
3 Tbsps psyllium husks
2 tsps dry thyme
1 tsp oregano
½ tsp ground pepper
2 tsps smoked paprika
2 tsps garlic powder
½ tsp sea salt
Assembly, other ingredients:
gluten-free burger buns, or regular buns. I used GF buns by Schar
2-3 thin onion slices / burger
a couple of pickle slices / burger
2-3 thin tomato slices / burger
greens of choice, I used a couple of valerian leaves / burger
mustard + ketchup + mayo, 1:1:1 proportion, about 1 tsp each. Mix or spread in seaprate layers.
Instructions
Black Bean Burger Patties:
Boil black beans in a large pot. Add 1 tsp baking soda. Boil for 40-50 minutes, or until ready and soft.
Drain black beans and put them in a large bowl.
Add all the other ingredients for the burger patties.
Mash them using a potato masher.
Store in the fridge for 20 minutes before using.
Heat some oil in a large non-stick pan.
Shape the black bean burger patties and place them in the pan.
Fry each patty 1-2 minutes on each side.
Assembly:
Add sauces on the buns. Add onion and tomato slices.
Place the patty and top it with greens, pickles and some more sauce if you want.
Side:
Wash potato very well. Do not peel it.
Cut it in wedges.
Place the potato wedges on a greased oven tray. Sprinkle them with sea salt and paprika and bake for 30 minutes, or until ready.
Sauce for potato wedges:
Just mix the ingredients and blend them. Add more water if needed.
Nutrition Information
Yield
8
Amount Per Serving
Calories

325
Total Fat

7.2g
Carbohydrates

45.8g
Protein

19.2g