Quick, easy, and extremely nourishing – here's how to make the most delicious smoky beans stew. Give it a try!
You may already know how much I love a good, hearty stew! I've been in love with this vegan African peanut stew for a long time and I was always a big fan of this vegetarian Irish stew. But today… I have something a little simpler for you.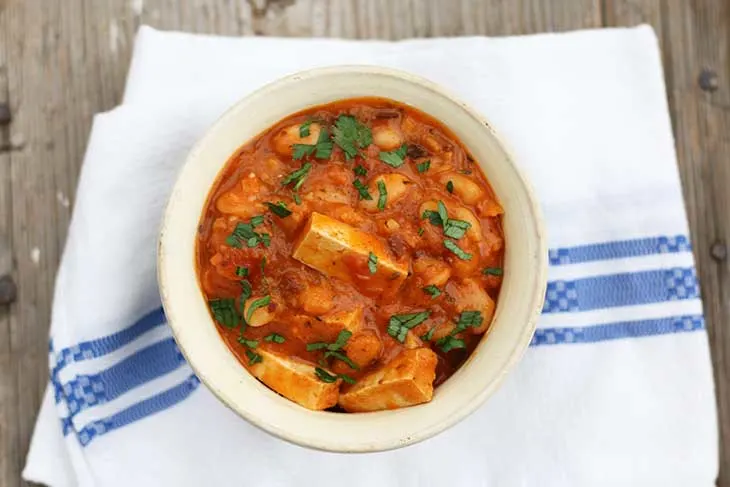 Simple doesn't mean boring, of course! This smoky beans stew is one of the best recipes I tried in the last month and I have three main reasons for it:
It's quick
It's hassle-free
It's packed with yummy proteins
If you were wondering how to add a boost of proteins into your vegan diet, here's a quick and filling answer: THIS smoky beans stew! The beans themselves are pretty amazing, but the tofu takes things to the next level, trust me. And the tomato paste completes everything to perfection. Ah, I can still smell it!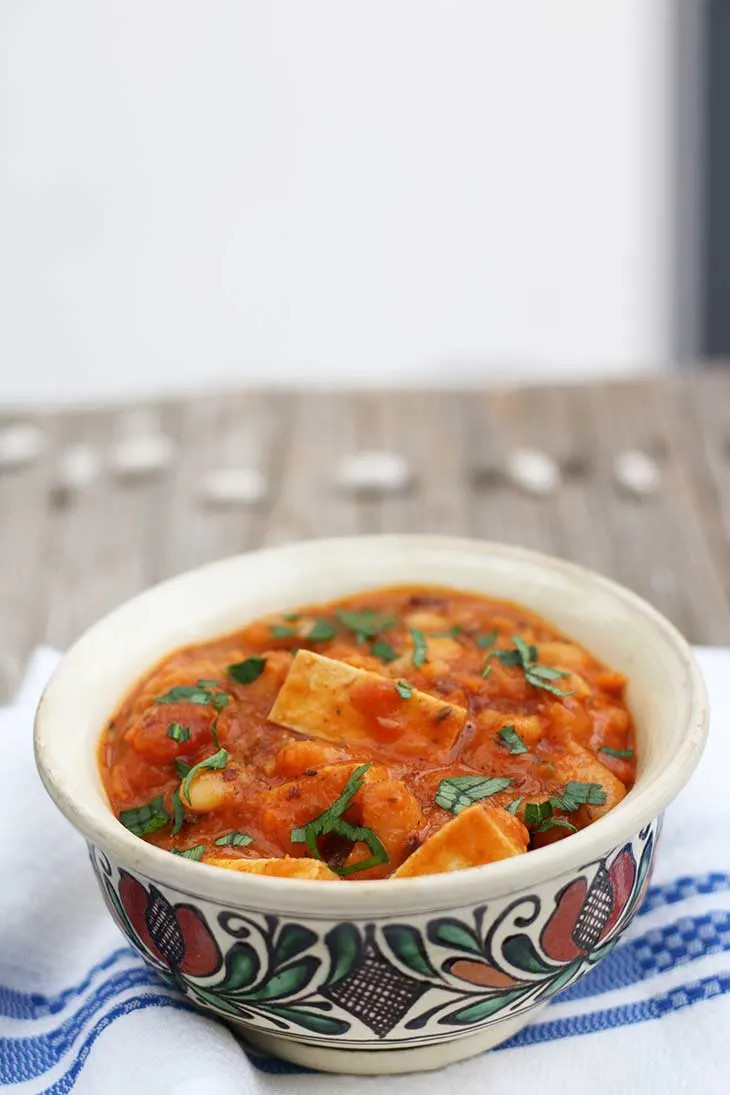 But let's start with the beginning. I was inspired to try this smoky beans stew recipe because I was craving something with beans. You know, it's cold outside, so the body needs something comforting and nourishing.
And what could tick these boxes better than some cannellini beans? One of my favorite types of beans ever!
I wasn't sure what to do with the two cans of cannellini beans I had. I was thinking about a thick soup or a bean paste, but I felt I deserved something more flavorful than that. That's how I came up with this ah-mazing smoky beans stew!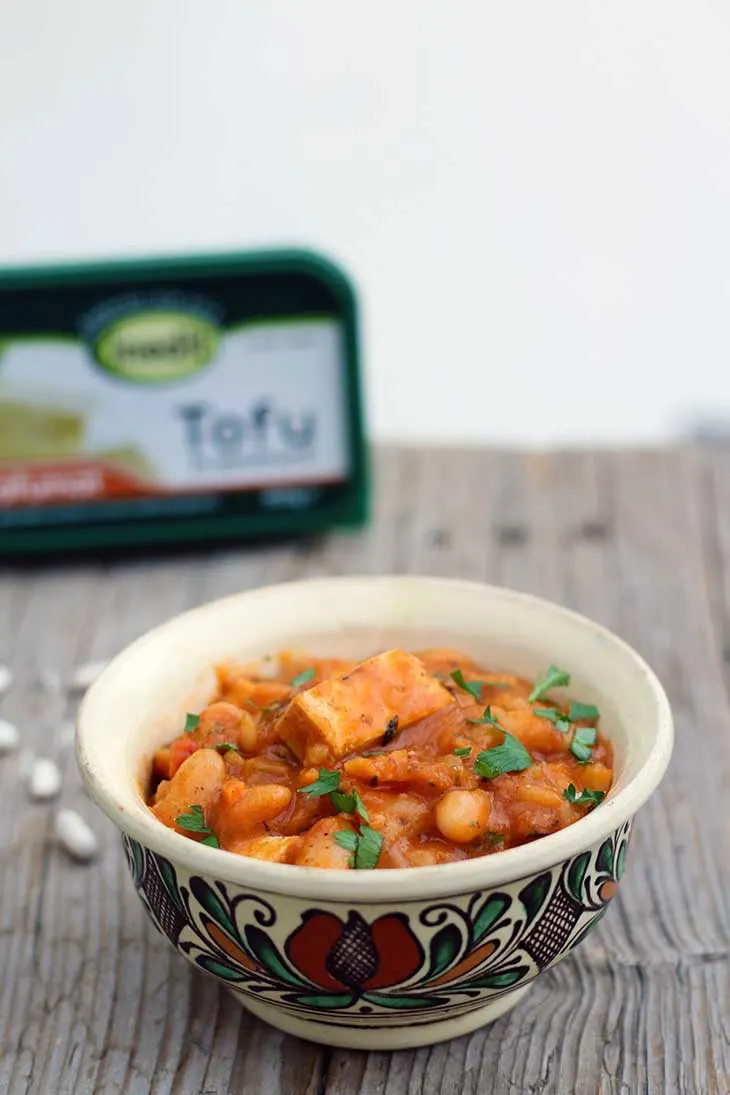 What's so special about this recipe is, of course, the smoked tofu. This is what takes this recipe to a whole new level, from an average stew to a real delicacy. It's creamy, it's delicious and it's ready in no time, I promise!
The main reason why I'm saying this recipe is ready in no time is that I cheated a bit and took the shortcut: I used canned beans. I confess.
You can, of course, use dry beans as well that you can boil yourself, but this will take way longer than just opening a can of beans and throwing it in a pot. Guilty as charged! You can use whichever type of beans you prefer, I solemnly swear I'm not going to judge.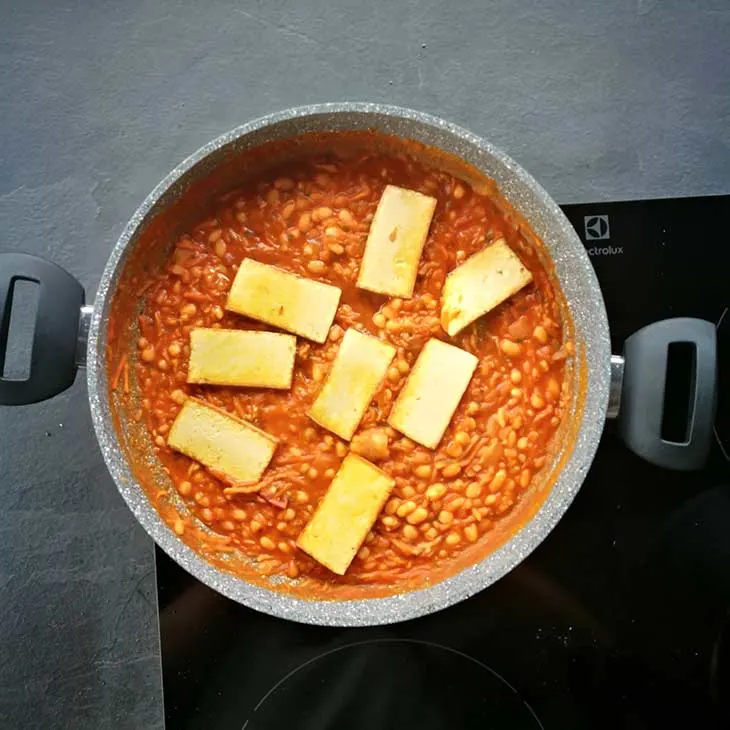 TIP: This smoky beans stew goes wonderfully with pickles. So I strongly advise you to try it!
As for the tofu, I chose to add it to the stew while it was cooking. If you want a crunchier texture, similar to fried bacon, you can fry the tofu strips in a separate pan with a little bit of oil and then add it to the beans stew right at the end. This will give a texture boost to the dish – if that's what you're looking for. I prefer a creamier stew so I chose to add my tofu strips early on in the recipe.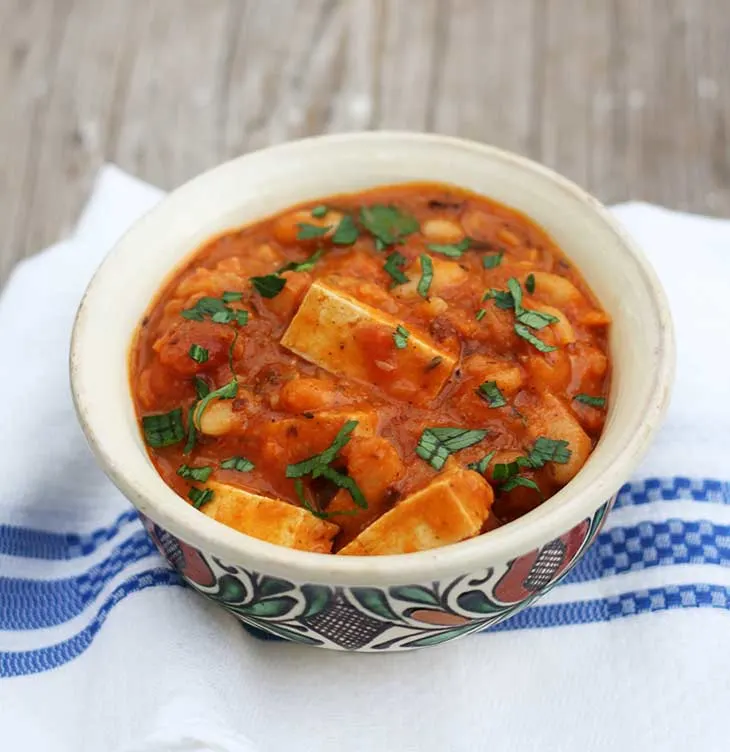 In American cuisine, smoky beans are usually served as a side dish together with a protein of choice. But because I'm a big stew fan, I decided to add my secret weapon (tofu, of course) and transform a side dish into a complete meal! You can serve this smoky beans stew as lunch or dinner.
You can make it in advance and freeze it for the following week. You can take it to work in a Tupperware as a packed lunch. You can mix and match the ingredients as you please. You can make it spicy or not so much. The possibilities are pretty much endless and that's what I love the most about a good stew!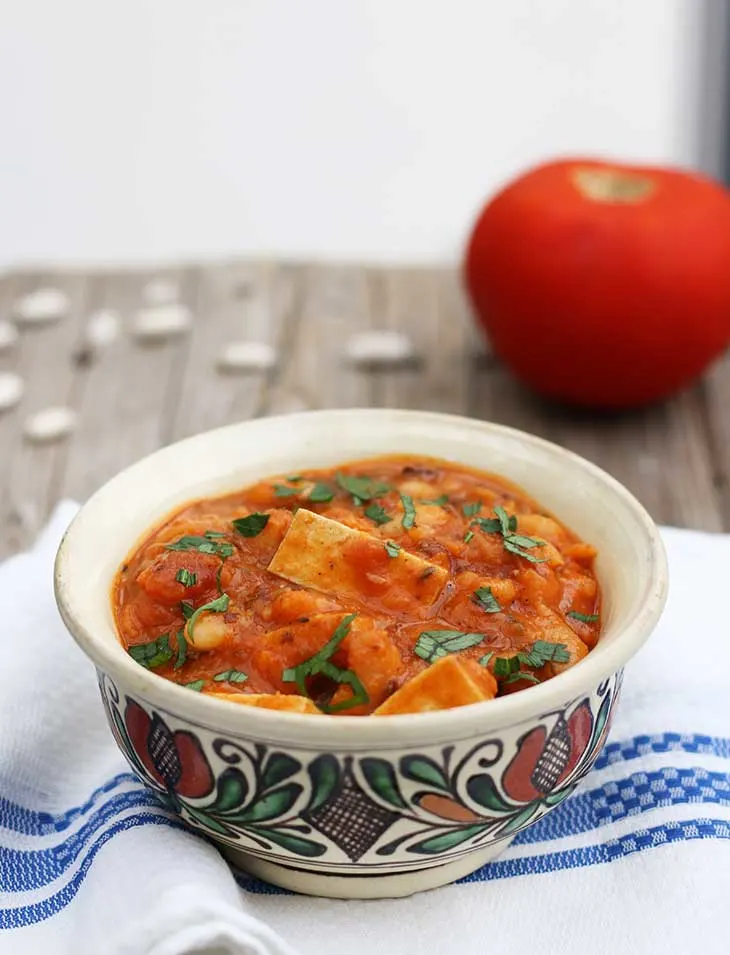 Truth be told, it wasn't hard at all to make this vegan stew. The base was vegan anyway – the beans, the onion, the carrot, the tomato paste, the bell pepper. The tofu? King of the Vegan Empire. See? Some recipes are vegan by default, so no need to adapt anything.
This smoky beans stew is one of the most popular Romanian recipes ever. It's just that the traditional recipe includes some kind of ham or bacon with lots of fat in it. I used tofu to achieve the same smokiness.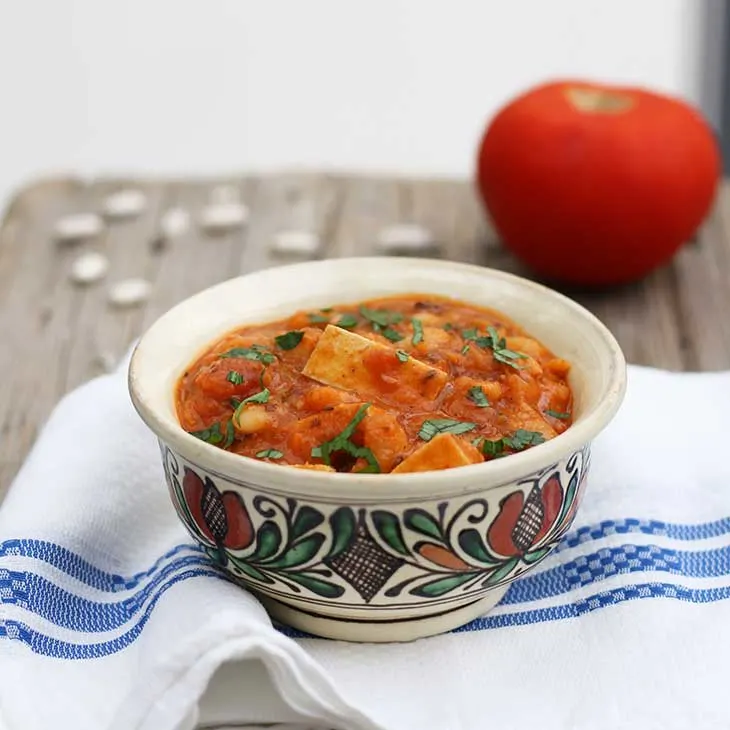 TIP #2: If you want to take things to the next level, you can marinate your tofu before adding it to the stew. A mixture of soy sauce, liquid smoke, and maple syrup will do wonders. Or you can make my tofu bacon recipe in the oven or in a pan and you'll be golden.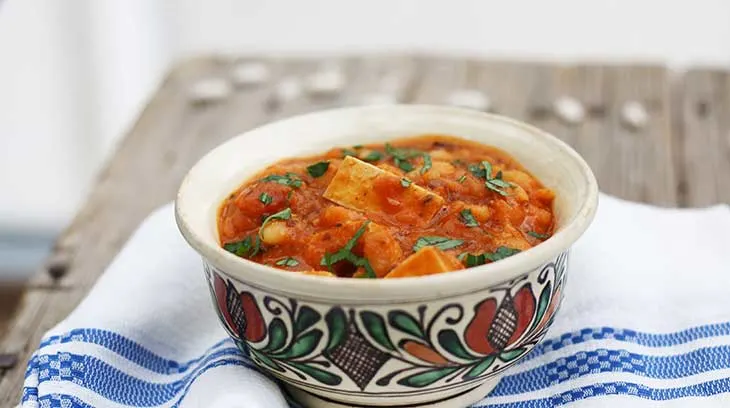 These being said, I hope I convinced you to try this amazing recipe for smoky beans stew soon. It's so flavorful, you won't regret it one bit. I promise! And if you decide to give it a go, don't forget to let me know how it went. I'm so curious to read your comments!
Happy cooking!
Yield: 4 portions
Smoky Beans Stew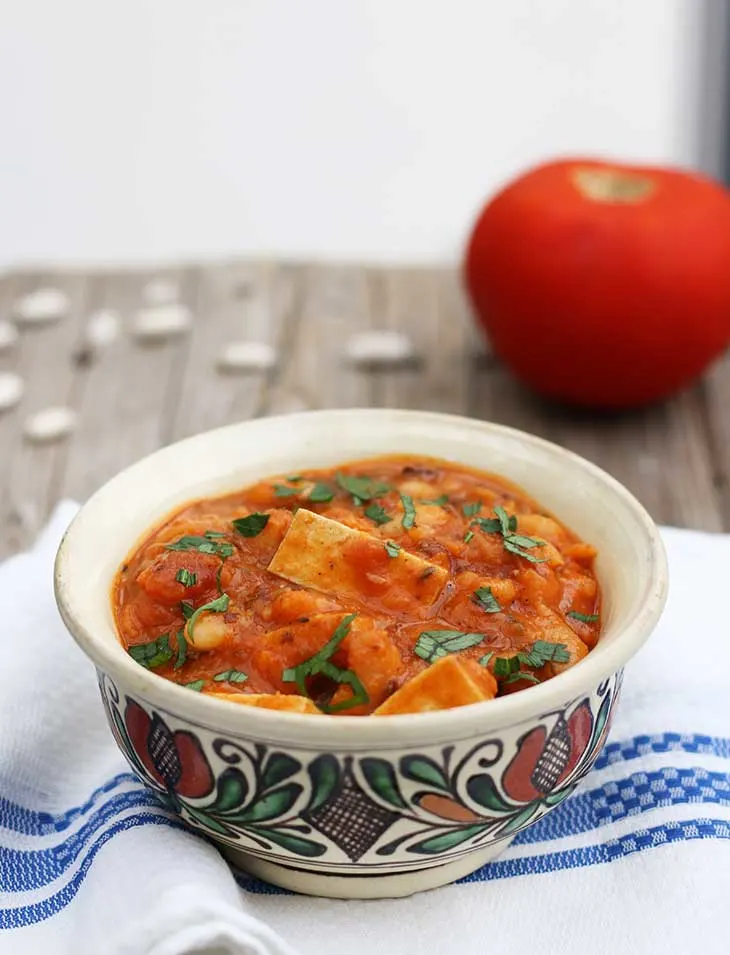 Quick, easy, and extremely nourishing – here's how to make the most delicious smoky beans stew. Give it a try!
Ingredients
2 cans white cannellini beans, 400g | 14oz each
1 block smoked tofu, ~300g | 10 oz
1 onion
1 carrot
1 bell pepper
250ml (1 cup) tomato paste
2 Tbsp oil
4 bay leaves
1 tsp thyme
1 Tbsp sweet paprika
1 tsp smoked paprika
salt and pepper, to taste
herbs, for serving
Instructions
Chop the carrot, onion, and bell pepper into small pieces. Drain the water from the bean cans.
Heat the oil in a pan and add the chopped veggies. Saute for a couple of minutes.
Add a bit of salt, pepper, and the rest of the spices. Add 1 glass of water and let the vegetables boil for 10 minutes on low heat.
Add the beans and mix.
Add the tomato paste and the smoked tofu cut into strips (half a centimeter).
Cover with a lid and, if needed, add a bit more water. Let everything cook for 10-15 minutes on medium heat.
Serve with chopped herbs on top.
Nutrition Information
Yield
4
Amount Per Serving
Calories

326
Total Fat

14g
Saturated Fat

2g
Trans Fat

0g
Unsaturated Fat

11g
Cholesterol

0mg
Sodium

95mg
Carbohydrates

33g
Fiber

9g
Sugar

4g
Protein

22g
I strive to keep the information as accurate as possible but make no warranties regarding its accuracy. I encourage you to make your own calculations using your preferred nutrition calculator.