Carrots and chocolate? It might sound weird but trust me, this combo is simply amazing. Here's how to make the ultimate vegan carrot muffins with chocolate chips!
Have you ever tried carrot cake before? If yes, I can bet you're going to love these vegan carrot muffins. They have all the benefits of a carrot cake, but they come in a smaller, easy to pack portion that's suitable for both snacks and breakfast.
I love these because they make it so easy for me to sneak in some more vegetables. And carrots are absolutely amazing! They're rich in vitamins, minerals, and fiber, which aids regularity and helps with digestion. They also fight cholesterol and boost heart health. And, last but not least, did you know that carrots are better consumed cooked than in their raw form?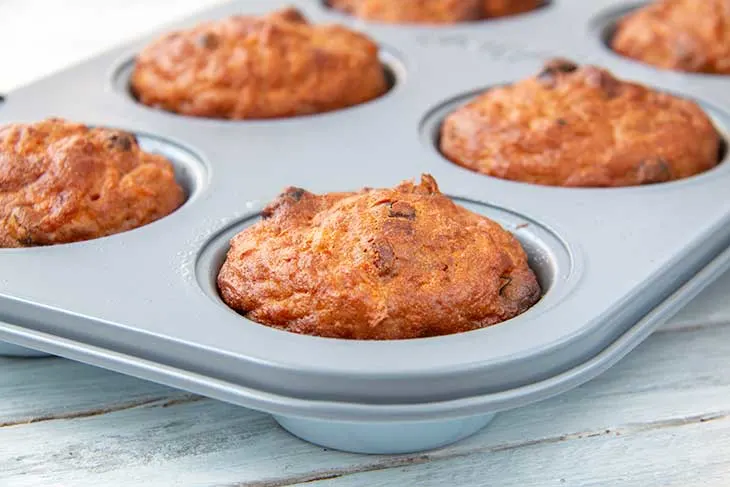 I know we've all grown up with the erroneous notion that all fruits and vegetables are better consumed raw because cooking diminishes their vitamin content. Well, this is overstated, and moreover, it's false when it comes to some vegetables, carrots included. The beta carotene in carrots is more readily available when they are cooked or processed (such as chopped or pureed).
So these vegan carrot muffins are an amazing option that feels like dessert, but it's actually a healthy food in disguise. They're super fun to make, and I always like it when I am able to divide a dessert into smaller pieces, such as it is with muffins. It's just so convenient, you know?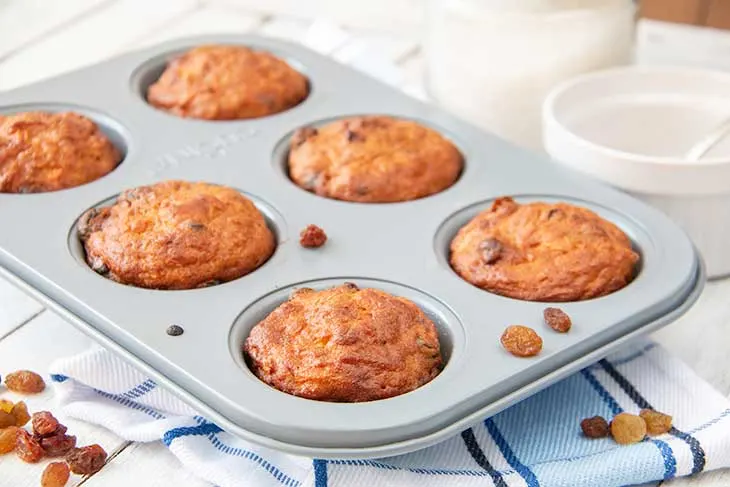 You can bake a bunch and save some for later, or store in the freezer and have them whenever you need them… not to mention the portion control! You can calculate more easily how much you need when that dessert comes in the form of a muffin instead of a whole cake. Because sometimes it's hard to decide for yourself how big that slice should be – and it usually ends up being huge, right?
Carrots are one of nature's best sweeteners, alongside apples and bananas. That's why you'll find them so often in desserts, even if this might seem weird to some people. And I always like it when I can turn sugar down a notch, you know? It's hidden in each and every product anyway, so I might as well control the portion while making something sweet at home.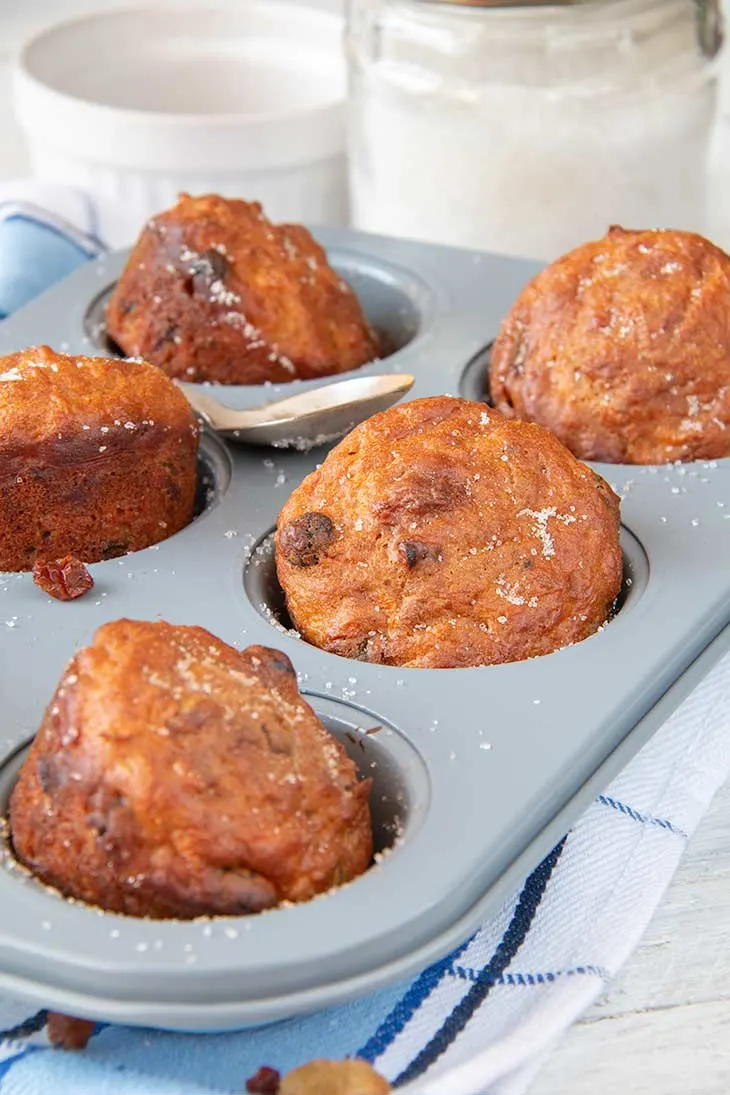 I added some chocolate chips to the mixture for good measure, because I absolutely love chocolate in muffin recipes. You can either add them or skip them entirely. If you feel like opting for something else that's crunchy, I highly recommend bits of walnut, pecan or hazelnut.
This recipe is also really easy to make, so it's actually suitable to try to bake these in the morning and feel like a super person! You only need one bowl to mix everything up, so extra time for you because you won't have to do the dishes afterward – something which, I'm sure, we all hate.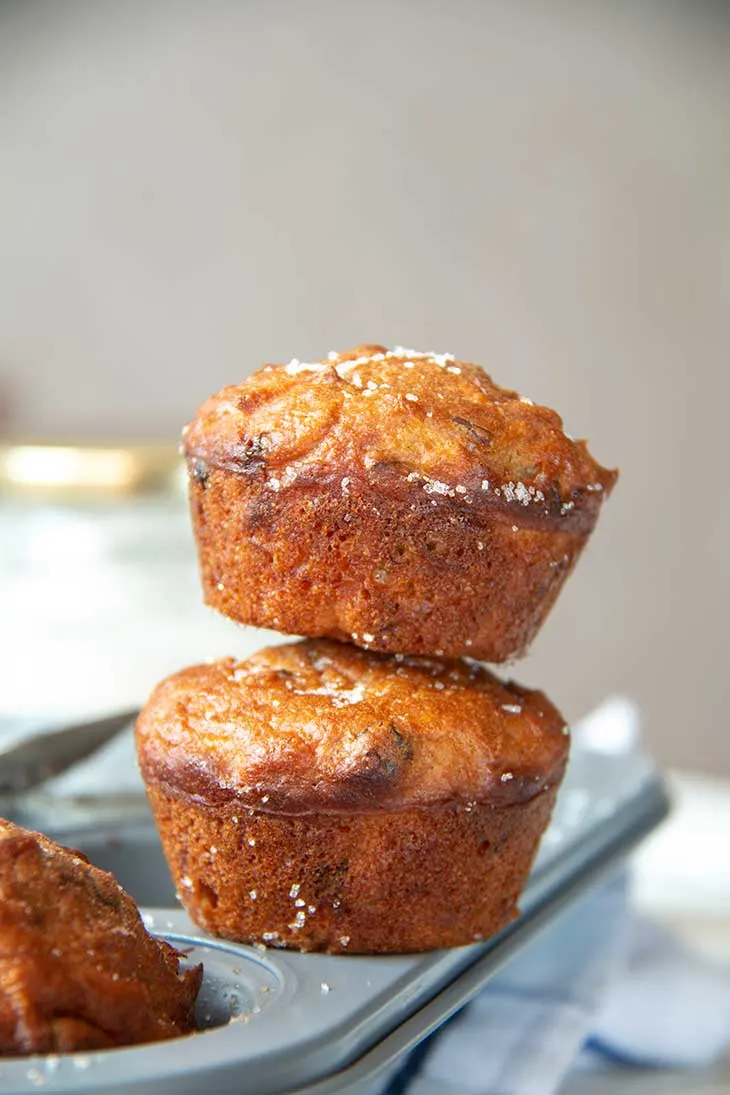 I love easy desserts that you can whip up in a few minutes. They're just so practical. And if you have kiddos, I'm sure these muffins will be of real help. They make for a really fun breakfast – I'm yet to hear of a kid who doesn't love muffins. They're the perfect size for toddlers to pick up and eat themselves. And they also provide great nutrition, they're not full of sketchy ingredients.
These muffins keep well at room temperature for about 4 days, if you want to keep them fresh. If not, you can pop them in the fridge, where they will last longer, or in the freezer, where they will last for months. As you probably know by now, I really love any recipe that I can make a big batch of, and then store in the freezer. I'm all about convenience. And I'm pretty sure you are, too!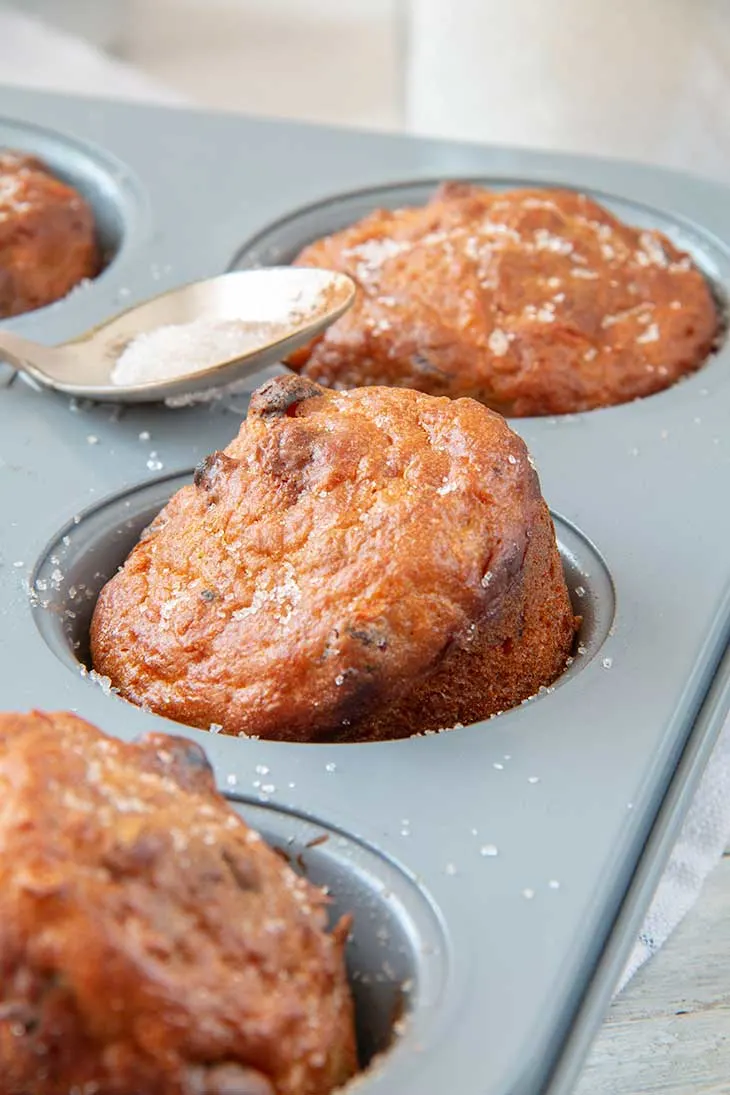 Because, hey, simple as this recipe may be, some days we wake up and we don't have anything appetizing in the fridge. Or we wake up and we're so lazy that we just don't feel like making any recipe, however easy it may be. This is when these carrot muffins come to the rescue. Just get them out of the freezer, pop them in the microwave, and they're gonna be fresh and fluffy as new.
I love having these vegan carrot muffins for breakfast, next to a big, steamy cup of coffee and my favorite book. Sometimes I love serving this with a bunch of fresh fruit on the side, such as berries, or even a granola parfait. As I mentioned before, they're amazing as a snack, too – so easy to grab one and go.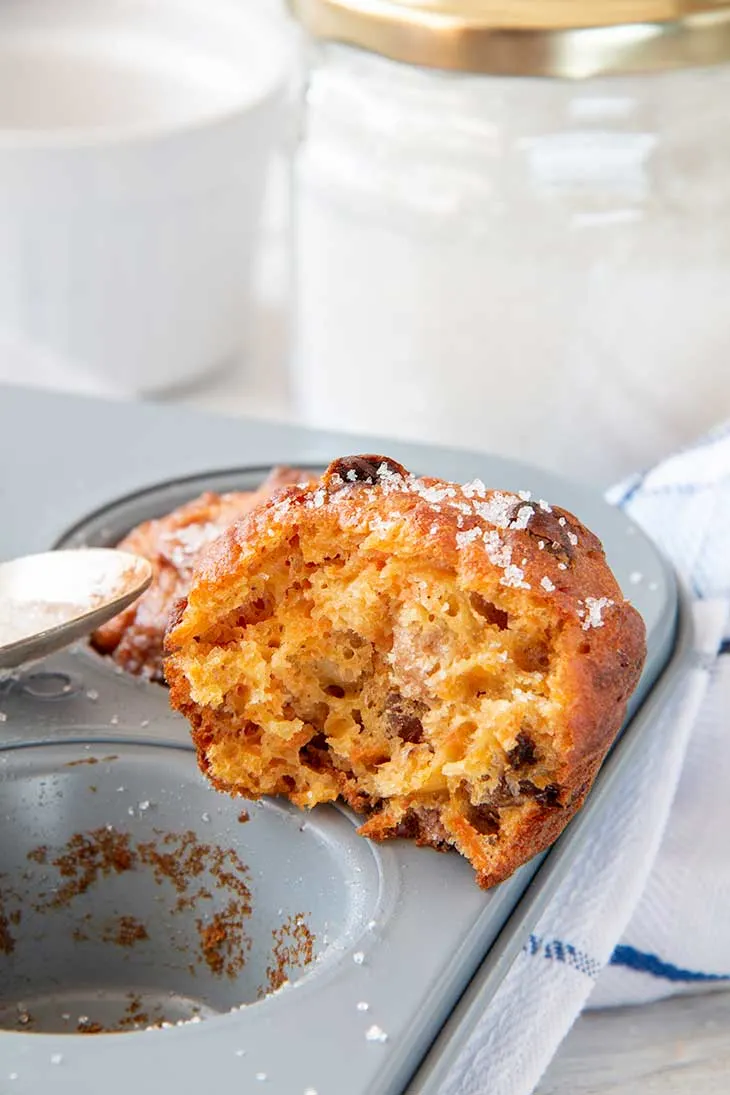 So? Are carrot desserts your thing? If they are, I hope I've convinced you to try out yet another recipe. I hope you'll enjoy it!
---
Personalized meal plans and workout videos | Get your customized meal plan today! [x_button shape="square" size="mini" float="none" target="blank" href="https://shop.gourmandelle.com/?utm_source=mainsite&utm_medium=site&utm_campaign=inpost" info="none" info_place="top" info_trigger="hover"]I WANT A MEAL PLAN![/x_button]
---
Yield: 6
Vegan Carrot Muffins with Chocolate Chips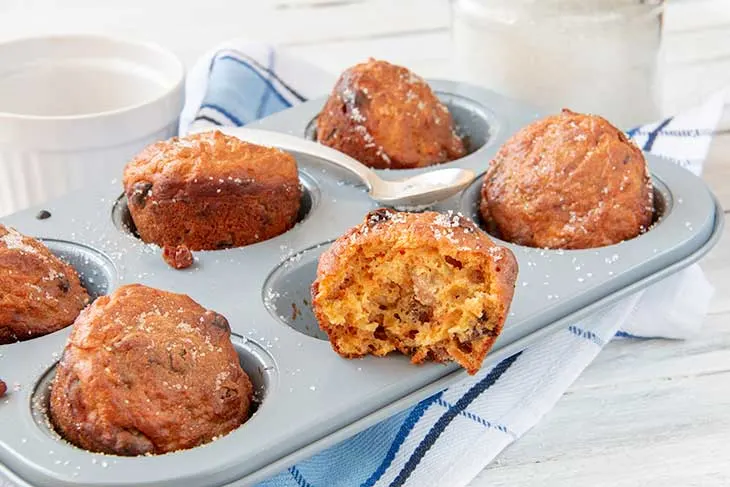 Carrots and chocolate? It might sound weird but trust me, this combo is simply amazing. Here's how to make the ultimate vegan carrot muffins with chocolate chips!
Ingredients
220g (1 ¾ cups) flour
180g (2 cups) grated carrots
250g (1 cup) coconut yogurt
2 Tbsp flaxseed meal
1 tsp baking powder
½ tsp baking soda
½ tsp salt
½ tsp powdered ginger
½ tsp nutmeg
75g (½ cup) walnuts, chopped
80g (½ cup) chocolate chips
70g (⅓ cup) coconut oil, melted
110g (½ cup) maple or agave syrup
1 tsp vanilla extract
Instructions
Add 4 Tbsp of water to your flaxseed meal and set aside.
In a bowl, combine the flour, baking powder, baking soda, salt, ginger, and nutmeg.
Add the chocolate chips and mix them in before adding the carrots and walnuts.
Add the rest of your ingredients and mix until combined.
Pour batter into muffin cups and bake at 170 degrees C for 12-15 minutes or until golden brown.
Nutrition Information
Yield
6
Amount Per Serving
Calories

539
Total Fat

26g
Carbohydrates

69g
Protein

7.1g
I strive to keep the information as accurate as possible but make no warranties regarding its accuracy. I encourage you to make your own calculations using your preferred nutrition calculator.