This vegetarian cassoulet is a French-inspired slow-cooked white bean casserole recipe you'll love! This hearty white bean stew is the perfect comfort food to enjoy on a lazy day.
March was the French cuisine month, but as usual, I wasn't able to write and post all the recipes I made, so we'll enter with some French recipes in April as well. By the way, April is dedicated to Italian food, so stay tuned, I have some really amazing recipes prepared for you! 🙂
Cassoulet is a popular French recipe made typically with sausages, pork skin, white beans, spices and some other veggies. It is basically a meat and beans casserole/stew.
Cassoulet is actually the name of the cooking dish in which this recipe is traditionally made. The recipe originates from the Languedoc region which is the home of Toulouse, Carcassone and other well-known French towns.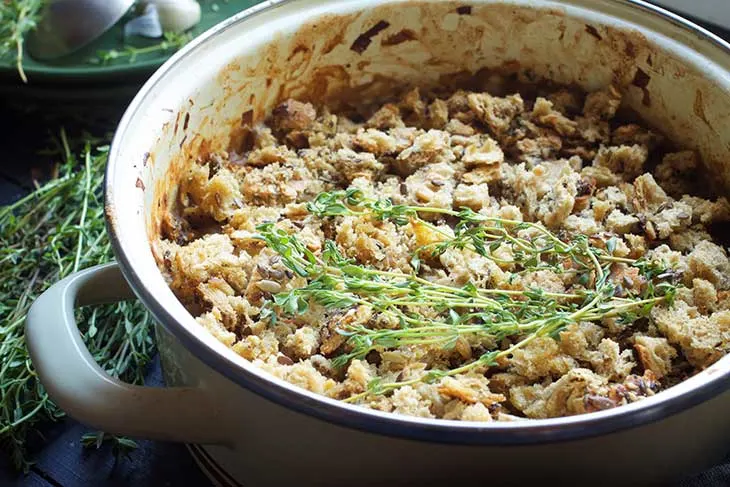 Cassoulets are also popular in the USA but you may simply know them as hearty bean-based casseroles. There are also variations, like salmon cassoulet.
There is actually a cassoulet version even in East European countries. For example, here in Romania, we have a very popular recipe called "fasole cu carnati" or "fasole cu afumatura" which is basically the same as cassoulet, beans and sausages or beans and smoked bacon.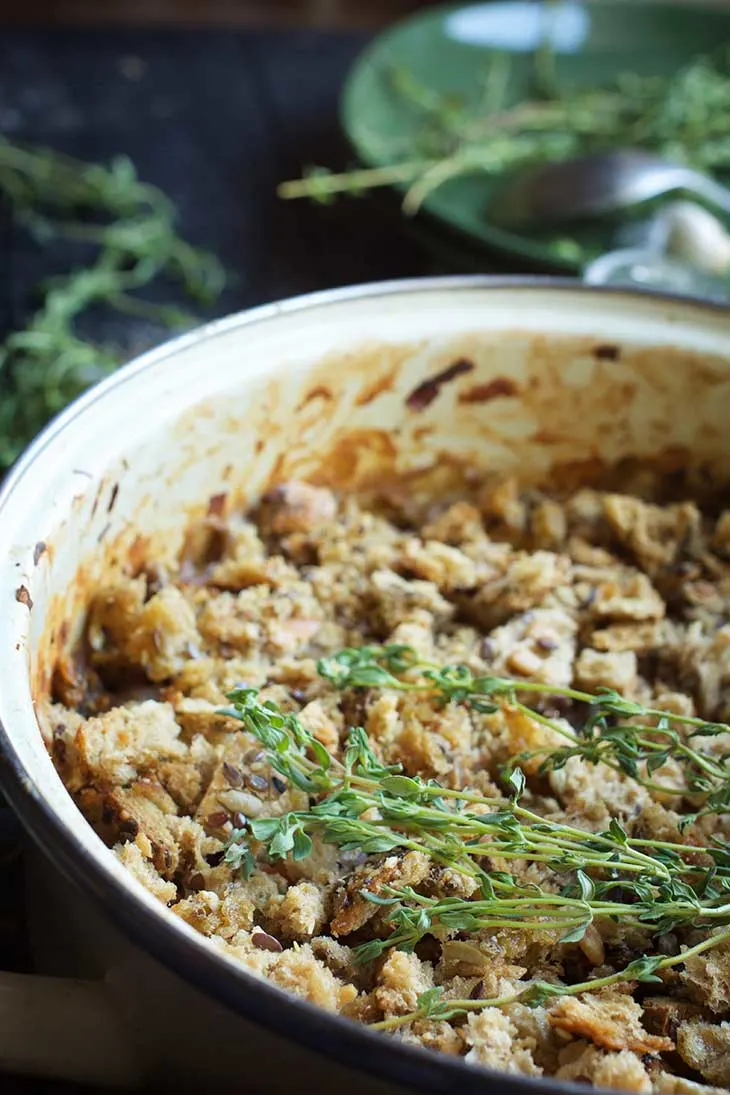 So here's my version of vegetarian cassoulet. I was too lazy to make the vegan sausages as well, but if you don't mind spending some extra time in the kitchen and want to get this dish absolutely perfect, make these vegan minced "meat" rolls and simply add them to the vegetarian cassoulet.
I love everything about this hearty, slow-cooked white bean casserole recipe – the texture, flavors, everything blends so perfectly together. It is also perfect for meal prep, so make this awesome white bean stew on Sunday, or on your designated meal prep day, and you'll have enough food for 5-7 days worth of lunches or dinners.
Enjoy! Don't forget to drop me a comment and tell me how it was. I really appreciate your feedback!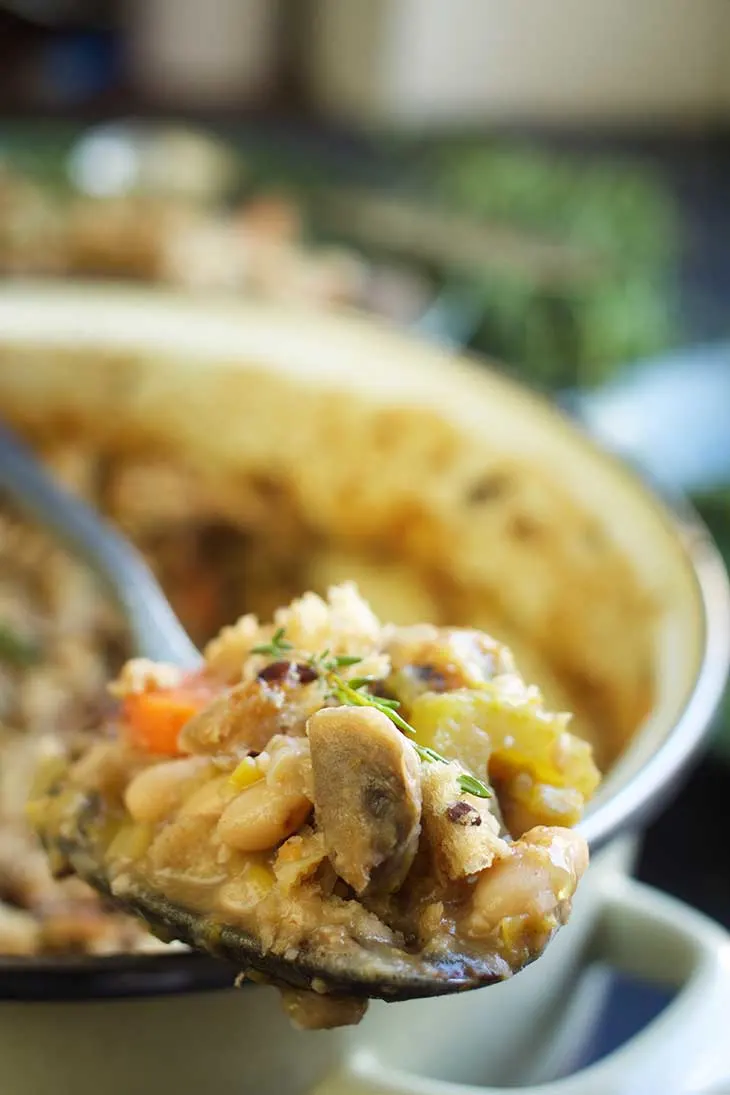 Yield: 6 +
Vegetarian Cassoulet | Slow-cooked White Bean Casserole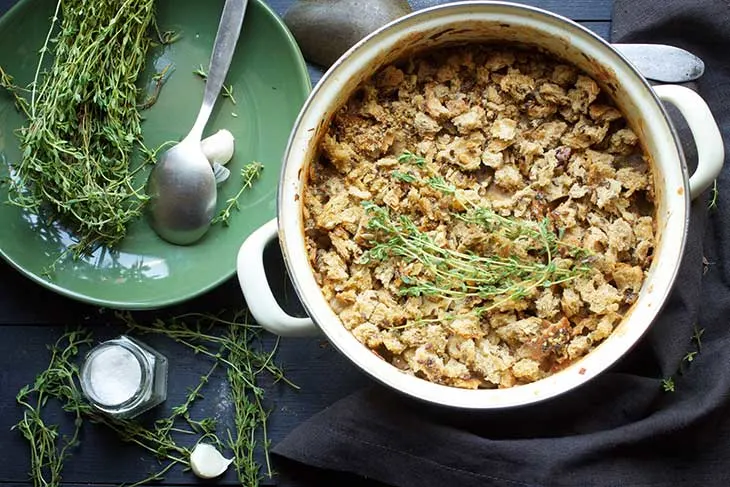 This vegetarian cassoulet is a French-inspired slow-cooked white bean casserole recipe you'll love! This hearty white bean stew is the perfect comfort food to enjoy on a lazy day.
Cook Time
1 hour
30 minutes
Total Time
1 hour
40 minutes
Ingredients
250g (2 cups) Champignon mushrooms, diced
1 large yellow onion, sliced
3 garlic cloves, minced
2 medium carrots, sliced
2 celery sticks, diced
120ml (½ cup) dry white wine
500g (2 cups) dry small white beans, Cannellini soaked overnight, drained and rinsed
750ml (3 cups) vegetable broth
2 Tbsp tomato paste
1 bay leaf
4 sprigs fresh thyme
2 Tbsp olive oil
salt and pepper, to taste
For the topping:
4-5 slices of whole grain bread
2 Tablespoons olive oil
1 tsp garlic powder
pinch of salt and pepper
Optional: Make my vegan minced meat rolls and add them on top or top with tiny bits of baked or fried smoked tofu.
Instructions
Heat the olive oil in a large pot, over medium heat.
When hot, add the onions, garlic, carrots, and celery. Sauté for about 10 minutes, until the veggies are tender.
Add the white wine and bring to a simmer. Cook for about 5 minutes.
Add the mushrooms, beans, broth, tomato paste, bay leaves, and thyme to the pot. Bring to boil.
Let them cook on low heat for about an hour or until the beans are tender. Add salt and pepper to taste.
While the beans are cooking, preheat the oven to 200C
Line a baking tray with baking paper, crush the bread into small crumbs and spread them in a single layer on the tray. Sprinkle with olive oil, garlic powder, salt, and pepper. Bake the bread crumbs about 7 minutes or until dry and crunchy. Take it out from the oven and set aside to cool.
When the beans are cooked, top the cassoulet with your breadcrumbs and transfer the pot to the oven.
Cook until golden - 5-10 more minutes.
Nutrition Information
Yield
6
Amount Per Serving
Calories

400
Total Fat

13g
Carbohydrates

58.3g
Protein

12.6g